If you're looking to grow your library of games while spending as little as possible, then you'll want to check out this epic new promotional sale at GameStop which includes several essential games on PS5, Nintendo Switch and Xbox Series X.
For a limited time, GameStop is offering a buy-one-get-one-free deal on select video games. At the time of writing, there are exactly 40 games included in this deal. This promotional sale is also available at physical GameStop locations, although stock may differ from what is available online. Just remember that you'll get the cheaper game of the two you pick for free.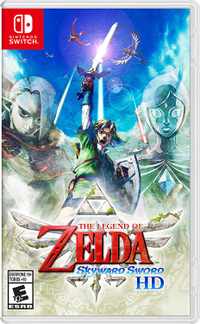 Buy one get one free on select video games @ GameStop
GameStop is running a pretty epic buy-one-get-one-free promotional deal across 40 titles on PS5, Nintendo Switch and Xbox Series X. This offer is available both online and in stores. You'll get the cheaper of the two games you pick for free. Some of our favorite games in the deal include Zelda: Skyward Sword HD, Bayonetta 3, Elden Ring, Deathloop and Marvel's Midnight Suns.
GameStop isn't just using this as a way to shift copies of unwanted games either. This promotional sale includes some seriously excellent titles for all three main consoles. For starters, on Nintendo Switch, you can pick from the likes of The Legend of Zelda: Skyward Sword HD, Bayonetta 3, Mario Golf Super Rush and Octopath Traveler 2. Plus, Pokemon Brilliant Diamond and Pokemon Shining Pearl are also included.
PS5 players don't have quite as many options, but the deal does include relatively new releases Forspoken and The Callisto Protocol. Or you could grab critical-acclaimed titles Deathloop or Tales of Arise. Brutally challenging RPG Elden Ring is also part of the deal, but disappointingly it's only the PS4 version that is included. The same goes for Like a Dragon: Ishin. Of course, you can play the PS4 versions of these titles on a PS5 console, but you won't get the graphical upgrades available in the native next-gen ports.
Xbox players haven't been left out either. The super underrated Marvel's Midnight Suns is included in the deal, as well as another superhero game, Gotham Knights. The Xbox picks are rounded out by last year's Saints Row reboot, Madden NFL 23, NHL 23 and Back 4 Blood.
While not every game in this GameStop sale is a winner (we're not sure many people will opt for Call of Duty Vanguard or Battlefield 2042), there are more than enough must-play titles included to make picking just two a tough task. Plus, if you're looking to save more money, the PlayStation Spring Sale continues to rumble on and offer some epic discounts on some of the best PS5 games.