A Virtual Private Network (VPN) protects you online and masks your real IP address to hide your activity and personal information from anyone watching. However, VPNs can be expensive, so by using a VPN free trial you can ensure you're signing up to a service that works for you.
That said, many of the best VPN providers don't really offer a free trial – only a money-back guarantee. While these do require money upfront, I've always found the refund procedure to be very straightforward, and the fact of the matter is that if you want one of the highest-rated VPNs, this is the route to take.
I've tested all the contenders in terms of speed, unblocking capability, security, value for money, and of course, free trials. Read on to find out which VPNs you can try on for size risk-free before committing. However, if you're in a hurry, here are my top 3 picks right now: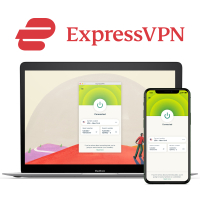 1. ExpressVPN – test the best service risk-free for 30 days
ExpressVPN is the best in the business, offering unrivaled privacy and effective content unblocking. With beginner-friendly apps for multiple device types, 24/7 professional support, and an auto-connect feature, it's perfect for anyone using a VPN for the first time.
It offers a generous 30-day money-back guarantee and although there's no true free trial, you get 1 year of unlimited cloud storage and 3 months of extra protection for free if you go for the 12-month subscription.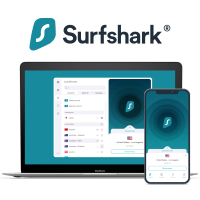 2. Surfshark – bargain provider offers genuine VPN free trial
Surfshark is your best bet if you want a single VPN subscription to share with all your family members and friends. With the fastest speeds in the industry and servers in more countries than rivals ExpressVPN and NordVPN, Surfshark is a seriously good pick no matter what you need a VPN for.
At less than $2.50 a month it's great value, and makes no sacrifices when it comes to security and streaming. Besides the standard 30-day money-back guarantee, it also offers a 7-day free trial on mobile so that you can test the service without putting any money on the line.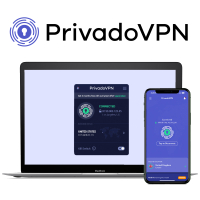 3. PrivadoVPN – try its free version for as long as you want
PrivadoVPN is my top free pick. It's easy to use, fast, and it offers unlimited simultaneous connections even on the free plan. You can use the free plan for as long as you want to without ever committing to a paid plan.
The free plan comes with good streaming support as well, while the paid plans offer a lot more servers and better connection speeds. You can also try out a premium plan risk-free with a 30-day money-back guarantee.
The best VPN free trials available today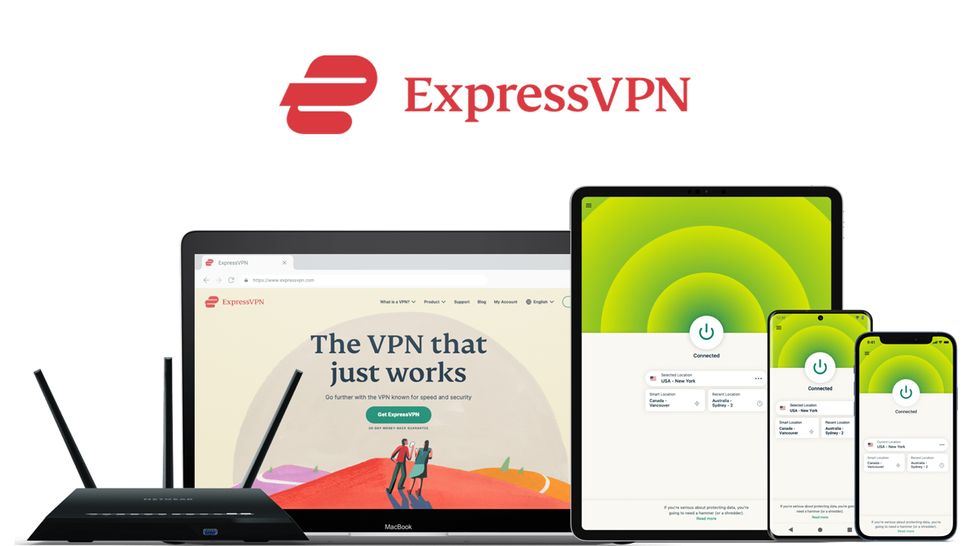 Subscribe if:
✔️ You want the full security suite with a free trial: ExpressVPN leaves nothing on the table security-wise, with ad and malware blockers, a native password manager and a proven no-logs policy.
✔️ You want class-leading privacy and security: ExpressVPN provides the very best cover in terms of privacy and security out of all the VPNs I've tested.
✔️ You want a straightforward and easy-to-use VPN: as one of the most beginner-friendly VPNs, ExpressVPN comes with friendly 24/7 support, tons of helpful tutorials, and easily navigable apps so that you find it easy to use the service even if you aren't tech-savvy.
Avoid if:
❌ You're on a budget: ExpressVPN delivers good value for its price, but if you're after a budget VPN consider Surfshark or PrivadoVPN.
❌ You want a VPN for your Linux device: ExpressVPN allows installations on Linux devices, but you won't get a graphical user interface (GUI).
Bottom line: ⭐⭐⭐⭐⭐
ExpressVPN is my #1 VPN and although it doesn't really offer a free trial, a 30-day money-back guarantee makes up for that by allowing you to try the service risk-free. It's super secure, great for streaming, offers good speeds and is reliable – quite simply the best on the market.
Whether you're considering services with a VPN free trial or not, ExpressVPN should be at the very top of your list. With excellent security credentials and brilliant support, it really is the full package – and a trial is the cherry on top.
This British Virgin Islands-based provider effortlessly unblocks every streaming platform in sight, including Netflix, BBC iPlayer, Amazon Prime Video, YouTube, and more. Although not as fast as NordVPN or Surfshark, ExpressVPN still offers speeds of up to 560Mbps, which is much more than the average domestic connection.
With a wide server network in 160 individual locations, including 26 in the Asia-Pacific region, you'll never face any buffering issues, no matter where you are.
ExpressVPN runs on just about everything, from Windows, Mac, and iOS to Android and Linux. It also has tailor-made apps for Chromebooks, Amazon Fire TV, Kindle Fire, and routers. There's also a unique "MediaStreamer" tool to securely stream on devices that don't natively support a VPN, such as smart TVs and gaming consoles.
Besides a foolproof kill switch, ExpressVPN apps have an auto-connect feature to ensure you're always connected to the VPN and your internet traffic remains protected at all times.
The RAM-only servers erase all user data after every boot, offering an additional layer of security. If authorities come knocking, ExpressVPN won't have any information to show them, because it won't be stored in the first place. What's more, the provider employs a proprietary Lightway protocol for better speeds and more reliable connectivity.
With 8 simultaneous connections, ExpressVPN is an ideal choice for small families or individuals with multiple devices. However, if you want protection for more devices, services like Surfshark with unlimited simultaneous connections will serve you better.
Admittedly, ExpressVPN's free trial isn't truly a free trial – you have to pay to get access – but if you want to try my top-rated VPN for size, it's worth it. If it doesn't fit, then just contact the super-helpful support team to terminate the contract within 30 days and you'll get every penny of your money back – no matter how much you've used it.
Swipe to scroll horizontally
ExpressVPN test results

| Feature | Comments | Rating |
| --- | --- | --- |
| Design | Clean interface and everything is easy to find without a lot of clutter | ⭐⭐⭐⭐⭐ |
| Ease of use | Excellent for beginners new to VPNs, and very configurable for more tech-savvy users | ⭐⭐⭐⭐⭐ |
| Performance | It's fast enough for anything you may need it for, but Surfshark and NordVPN are faster | ⭐⭐⭐⭐ |
| Unblocking | Unblocks every streaming platform with ease except a couple of niche Netflix locations | ⭐⭐⭐⭐ |
| Security and privacy | Jam-packed with security features and free add-ons and will protect your data at all times | ⭐⭐⭐⭐⭐ |
| Customer support | 24/7 friendly and professional assistance by agents, and very helpful guides | ⭐⭐⭐⭐⭐ |
| Price | It's worth splurging on but cheaper options are available | ⭐⭐⭐ |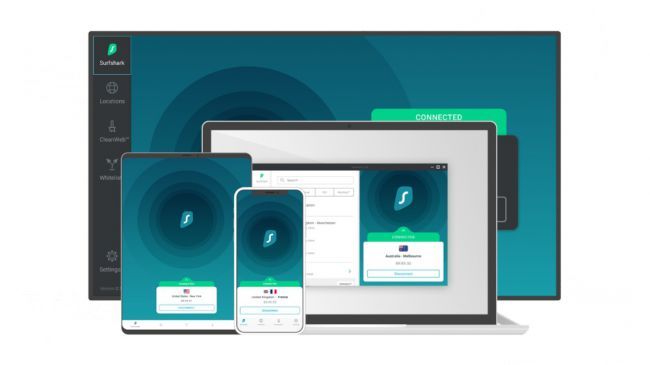 Subscribe if:
✔️ You want unlimited simultaneous connections: you can cover any number of devices with Surfshark, even on its 7-day free trial.
✔️ You want a VPN that's rapid: Surfshark is the fastest service I've tested, with a peak speed of 950 Mbps. Your online experience, be it browsing or streaming, will be lag-free and smooth.
✔️ You want a bargain VPN: Surfshark is more affordable than most of its competition and provides a premium package for a fraction of the price.
Avoid if:
❌ You want a foolproof kill switch: Surfshark's kill switch works perfectly fine most of the time but it's not as consistent and reliable as that of NordVPN or ExpressVPN.
❌ You want a VPN for torrenting: Surfshark is perfectly serviceable for torrenting, but ExpressVPN and NordVPN are better.
Bottom line: ⭐⭐⭐⭐½
Surfshark is faster than any other VPN I've tried and coupled with its unlimited simultaneous connections and superior unblocking, it makes for a very compelling package, especially for the budget conscious. Try it risk-free with first a 7-day truly free trial and then a 30-day money-back guarantee.
In my hands-on Surfshark review, I found that it offers a seriously tempting cheap VPN option – at less than $2.50 a month, it undercuts pretty much all the competition while retaining great functionality. With easy-to-use apps, servers in over 100 countries, and a fully audited no-logs policy, Surfshark packs a serious punch for a fraction of the price of premium VPNs.
However, if you're not sold on signing up for a whole two years to get that price, Surfshark also offers a seven-day VPN free trial for Android, iOS, and macOS devices.
There's a bit of faffing about to get it, but when signing up for a plan on mobile, you're able to start a free trial with no payment for seven days. Then, with the logins created on your phone, you'll be able to use the VPN on your desktop. What's more, VPN usage is unlimited in that period, so you can genuinely get a feel for how Surfshark works.
If you don't want to mess around on mobile to get those seven days free, Surfshark also offers a generous 30-day money-back guarantee, so whichever way you go, you'll be able to get a VPN free trial and test the service out.
Surfshark comes with unlimited simultaneous connections, meaning you can protect any number of devices, from your family members to friends and then some, with just one Surfshark subscription. Also, the VPN won't log any device out, even on the free trial.
The provider was able to access geo-restricted content of Netflix, iPlayer, Disney Plus, Hulu, and more without missing a beat in my latest round of testing. With peak speeds of 950 Mbps, it's easily the fastest VPN I've tested, ahead of the likes of NordVPN and ExpressVPN. The overall streaming experience with Surfshark is a delight, as its cookie-, pop-up-, and ad-blocker does well to provide a disturbance-free binge session.
The only chink in the armor is Surfshark's kill switch – in my testing I was able to break it. However, it's unlikely to be exposed to such testing conditions in everyday usage, so I won't hold it against what is an overall excellent value-for-money package.
Swipe to scroll horizontally
Surfshark test results

| Feature | Comments | Rating |
| --- | --- | --- |
| Design | Fun and intuitive design that's also beginner-friendly | ⭐⭐⭐⭐⭐ |
| Ease of use | One of the best providers for newbies, and very smooth to navigate | ⭐⭐⭐⭐⭐ |
| Performance | The fastest among all the VPNs I've tried | ⭐⭐⭐⭐⭐ |
| Unblocking | Easily unblocks almost every streaming platform there is | ⭐⭐⭐⭐ |
| Security and privacy | Minor issues with the kill switch but no dearth of security offerings | ⭐⭐⭐⭐ |
| Customer support | The library of help articles can be hard to navigate but 24/7 reliable support makes up for it nicely | ⭐⭐⭐⭐ |
| Price | Can't beat a superb blend of high-end features and low prices | ⭐⭐⭐⭐⭐ |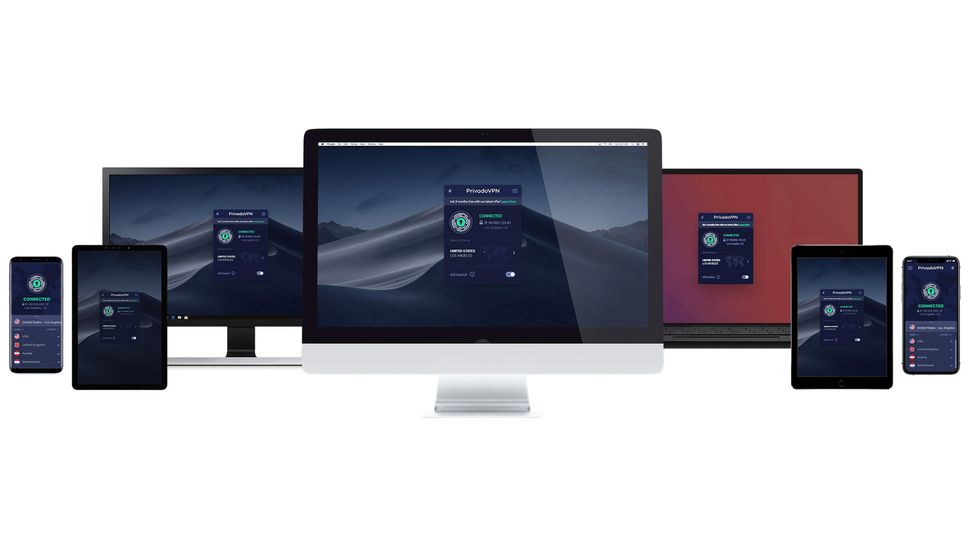 Subscribe if:
✔️ You want a feature-rich free service: PrivadoVPN's free version is the best there is, with access to servers in 10 countries and premium features, including a kill switch, split tunneling, and always-on VPN.
✔️ You want to stream content for free: PrivadoVPN is one of the few VPNs to offer unblocking capabilities on its free plan. You can watch some Netflix libraries and BBC iPlayer without subscribing.
✔️ You want a decent VPN with a lower price: PrivadoVPN is priced at less than $2 a month on its 2-year plan, making it one of the most affordable options on the market today.
Avoid if:
❌ You want a free provider with unlimited data: although feature-packed, PrivadoVPN's free version limits users to 10GB of data per month.
❌ You want a VPN with lots of servers: PrivadoVPN has just 395 servers in 48 countries, which is nowhere near the likes of NordVPN, ExpressVPN, or Surfshark.
❌ You want a VPN that has verified its claims: PrivadoVPN is yet to go through an independent audit, although we hear that one is in the works.
Bottom line: ⭐⭐⭐⭐
PrivadoVPN is an ideal choice if you're looking for a free service to keep you safe and stream with. It offers ample server locations and decent speeds, but the highlight is its streaming support on even the free version. All the paid plans come with a 30-day money-back guarantee so make sure you enjoy the app before committing.
While PrivadoVPN is relatively new on the scene, it's made some serious waves by providing a powerful free VPN that's very capable, as was found in my PrivadoVPN Free review and detailed PrivadoVPN review.
Privado's biggest draw is the fact that the free version is free forever, and it also provides more functionality than most of the free competition. It's secure and easy to use and even works as a free Netflix VPN – almost unheard of in today's market. Besides Netflix, the free version is also a good BBC iPlayer VPN.
As you'd expect, it's backed up by industry-standard AES-256 encryption, offers OpenVPN, IKEv2, and WireGuard connections (although WireGuard isn't available on the Mac VPN and the OpenVPN speeds are below average), and is decently fast at around 350 Mbps in my latest tests.
The 10 GB monthly data limit, although not a match for Proton VPN's unlimited bandwidth, is generous and on par with its rivals. It offers 13 different server locations across 10 countries, which is much better than others that only offer 3 or even a single country. What's more, even if you run out of data, you'll be able to use the VPN, albeit at much lower speeds – 1 Mbps.
The free version doesn't fall short on the security front, either. It offers a very capable kill switch, an always-on VPN feature, and split tunneling – the latter gives you the liberty to route some of your applications through the VPN while others will have direct and normal access to the world wide web.
Privado's paid plan offers 10 simultaneous connections, and with a price of less than $2 a month on its 2-year plan, PrivadoVPN offers great value for money. That said, the service isn't without its demerits – the VPN hasn't gone through an independent audit, leaving its privacy claims a guess at best.
Overall, while the interface and feature list can't match up to the big boys just yet, PrivadoVPN is a quality free service that's great value even when you decide to upgrade.
Swipe to scroll horizontally
PrivadoVPN test results

| Feature | Comments | Rating |
| --- | --- | --- |
| Design | A clutter-free and colorful design | ⭐⭐⭐⭐ |
| Ease of use | Simple apps across the board, and all very easy to use | ⭐⭐⭐⭐ |
| Performance | It's fast enough for just about everything but no match for the likes of Surfshark and NordVPN | ⭐⭐⭐ |
| Unblocking | Very good, with the free plan really standing out. | ⭐⭐⭐⭐ |
| Security and privacy | Good privacy features but hasn't yet gone through an independent audit | ⭐⭐⭐⭐ |
| Customer support | Friendly support staff but not enough help articles on the website | ⭐⭐⭐ |
| Price | One of the best bargain picks, and there's a free plan as well | ⭐⭐⭐⭐⭐ |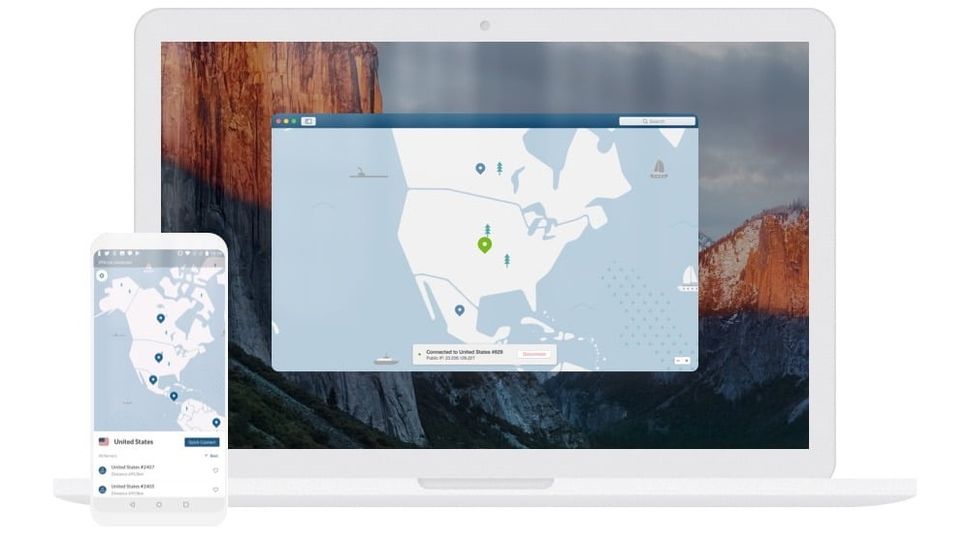 Subscribe if:
✔️ You want a top streaming VPN with a free trial: with over 5,000 servers around the world, NordVPN can unblock any streaming platform you'd like it to, including niche locations like Japan.
✔️ You want built-in antivirus: NordVPN tops an already impressive security suite with antivirus at no extra charge.
✔️ You want the perfect quality-cost mix: NordVPN delivers on all counts, be it speed, security, unblocking, or ease-of-use, making it an ideal solution for those looking for a well-rounded VPN.
Avoid if:
❌ You want a VPN for your mobile: NordVPN mobile apps are not the worst of the lot – they're just less intuitive and easy to use than ExpressVPN and Surfshark apps.
❌ You want to protect a lot of devices: NordVPN offers 6 simultaneous connections, which is a little stingy. Have a look at Surfshark or PrivadoVPN, as both of them offer unlimited simultaneous connections.
❌ You want access all over the world: NordVPN is present 60 countries. If you want a greater range, providers like ExpressVPN and Surfshark will be more ideal.
Bottom line: ⭐⭐⭐⭐
NordVPN is an excellent all-purpose VPN that rarely disappoints. It's fast, reliable, great for beginners, and overall very value for money. The provider knocks it out of the park when it comes to streaming and unblocks every platform with ease. While its free trial is complicated to access, a generous 30-day money-back guarantee means you can test the service without putting any money on the line.
My NordVPN review found the big-name service to be seriously impressive, and I had to include it in this guide because while its genuine free trial is complicated to access, it's up there with the top VPNs with a 30-day money-back guarantee, anyway.
Nord's trial is similar to Surfshark's in that it's only available from the Google Play store – but you'll be able to use the account you create on your phone to protect your desktop too. It might be a bit of a workaround, but it's worth it to avoid paying anything for seven days, and you'll get access to all the features available on a full plan right away.
If that's not long enough, you can continue your trial with no risk by making the most of the provider's generous 30-day money-back guarantee – have a quick tester before you pay anything, and then take a deep dive over a month to see if it's really worth your money.
Be aware that refunds are not available directly from Nord for purchases made through the Apple App store – you need to go to Apple to get one. To avoid any issues like that, we'd recommend signing up on desktop, or at least through the NordVPN website on your iPhone.
NordVPN is great for streaming, with 5,000+ servers in 60 countries and access to geo-restricted content of pretty much every streaming platform you'd like to watch – Netflix, Hulu, Prime Video, iPlayer, 10Play – you name it, and NordVPN will unblock it. Nord averages a solid 850 Mbps on most days, making it a close runner-up after Surfshark in terms of speed.
If you've got tons of devices, Nord's limit of 6 simultaneous connections might be an issue, especially if you plan on sharing withyour family or friends. If you think this will be an issue, check out Surfshark, PrivadoVPN, or Private Internet Access –all of which offer unlimited connections.
The pricing is a mixed bag. It's not as cheap as Surfshark but certainly more affordable than ExpressVPN. On the bright side, you're getting one of the most secure VPNs. Besides an intuitive ad and malware blocker, there's even a built-in antivirus for extra safekeeping. Double VPN, an independently audited no-logs policy, and special obfuscated servers are just the cherry on top.
Swipe to scroll horizontally
NordVPN test results

| Feature | Comments | Rating |
| --- | --- | --- |
| Design | A fun and intuitive design, but not the most clutter-free | ⭐⭐⭐⭐ |
| Ease of use | Generally pretty simple, although the mobile apps aren't perfect | ⭐⭐⭐⭐ |
| Performance | Lightning-fast speeds, and one of the very fastest | ⭐⭐⭐⭐ |
| Unblocking | A champion of Netflix unblocking but is excellent with every other streaming platform too | ⭐⭐⭐⭐⭐ |
| Security and privacy | One of the most complete security suites with built-in antivirus and a verified no-logs policy | ⭐⭐⭐⭐⭐ |
| Customer support | 24/7 friendly and professional customer support with tons of helpful guides | ⭐⭐⭐⭐⭐ |
| Price | Great value for money, but slightly more expensive than some other options | ⭐⭐⭐⭐ |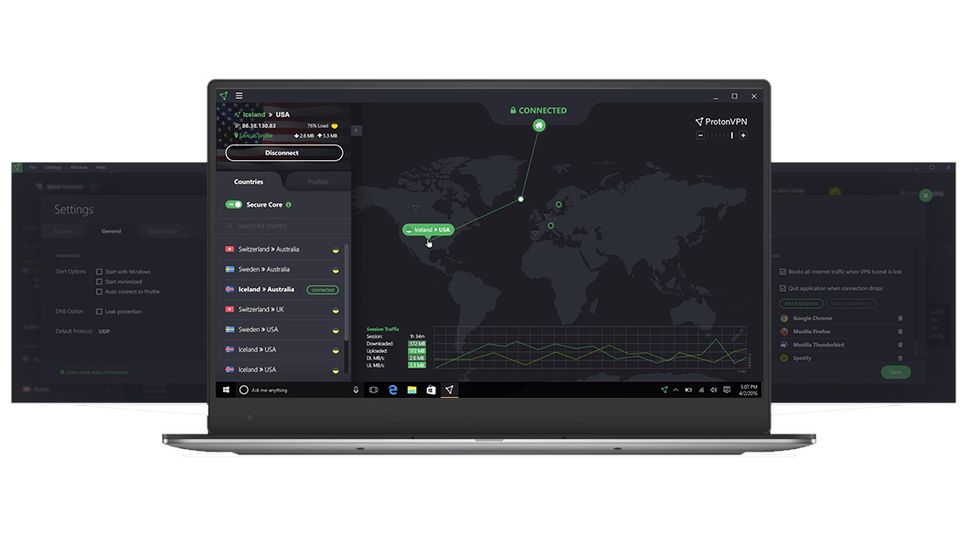 Subscribe if:
✔️ You want a free service: Proton VPN offers a free plan that grants access to over a hundred servers in three countries and offers unlimited data with customer support and no ads.
✔️ You want a reliable and trustworthy VPN: Proton VPN is a Swiss provider with an open-source platform, an independently audited no-logs policy, and an always-on VPN feature for unparalleled security.
✔️ You want decent simultaneous connections: with Proton VPN's paid plan, you can protect up to 10 devices at the same time, which should be more than enough for individuals and even mid-sized families.
Avoid if:
❌ You want a cheap provider: Proton VPN is on the expensive side and while it does its best to justify its asking price, Surfshark and Privado VPN are cheaper alternatives.
❌ You want to stream Japanese Netflix: Proton VPN is a decent VPN for streaming, unblocking platforms left and right, but the Japanese Netflix library proved to be too much for it.
Bottom line: ⭐⭐⭐⭐
Proton VPN has a great free plan that offers unlimited bandwidth and a smooth online experience with no ads. As an open-source platform based out of Switzerland that has undergone independent audits, it's highly reliable, and excellent streaming support on its paid plans is just the upgrade a premium user would look for.
In my Proton VPN review I found the Swiss provider had made some great improvements, on both its free and paid plans. The former means that you'll be able to test this privacy-focused service out for free, for as long as you want, which is a big bonus for those unsure of what VPN to pick.
The free plan isn't limitless like Proton's paid plans, and understandably so. However, it'll give you access to 100+ servers across 3 countries – including dedicated servers for accessing unbiased Deutsche Welle news – unlimited bandwidth, and decent customer support.
If you want the full package, the 2-year plan will cost you $4.99 a month. That unlocks Proton's Secure Core servers, priority support & live chat, and its excellent streaming performance. While it's a little more expensive than rivals like Surfshark and NordVPN, the free version allows you to make sure it suits you before committing.
On its paid plan, Proton VPN unblocks a good number of locations, including some hard-to-crack countries like Japan. And with streaming platforms like Disney Plus, Prime Video, BBC iPlayer and more, it's smooth sailing.
Note that Proton VPN doesn't unblock much on its free plan – that's something we've only seen PrivadoVPN do. That said, you'll be able to try out its unblocking capabilities risk-free with the 30-day money-back guarantee after you've purchased a paid plan.
Proton VPN is a force to reckon with as far as privacy and security are concerned. It's based out of Switzerland, a country with strict privacy laws and outside the jurisdiction of the US and EU. Its NetShield – a unique implementation of the conventional ad blocker – will protect you from malware hidden in images, scripts, and similar elements that you often download from the internet.
An always-on VPN feature, which is very similar to ExpressVPN's auto-connect feature, re-establishes connection with a Proton VPN server in the unlikely scenario of the connection failing. This feature is activated by default on Proton VPN's iOS VPN app, but Android VPN users will have to turn it on manually.
With 10 simultaneous connections, Proton VPN edges past ExpressVPN and NordVPN but is still behind Surfshark's unlimited simultaneous connections. Speeds are decent – not the greatest I've seen but with a proprietary VPN Accelerator technology that claims to amp up server speeds by up to 400%, you can rest assured of a consistent and lag-free experience.
Swipe to scroll horizontally
Proton VPN test results

| Feature | Comments | Rating |
| --- | --- | --- |
| Design | The design is very clean and intuitive, and the dark mode is a standout | ⭐⭐⭐⭐ |
| Ease of use | The mobile apps are on par with the big names in the industry, but some of the desktop features need some time getting used to | ⭐⭐⭐⭐ |
| Performance | Even with technologies to amp up server speeds, it's only moderately fast | ⭐⭐⭐⭐ |
| Unblocking | Excellent streaming support on the paid plan | ⭐⭐⭐⭐ |
| Security and privacy | Swiss privacy, open-source apps and independent audits are all green flags | ⭐⭐⭐⭐⭐ |
| Customer support | The response time is middling but plenty of help guides available | ⭐⭐⭐⭐ |
| Price | Cheaper alternatives are available, but there's a free plan for normal usage | ⭐⭐⭐ |
Update notes
If you've visited this page before, you'll notice that I've expanded on the provider reviews and added boxes alongside each one of them to make it easier for you to compare key elements at a glance.
The new "Avoid If" boxes aim to highlight the slight shortcomings of the providers, giving you a very transparent view so that you can find the most ideal pick for your particular use case.
You'll also find a box after every review that contains one-line commentaries on different aspects such as design, performance, ease of use, and more. Last but not least, I've updated all facts and figures to represent the most up-to-date information.
What makes a good VPN free trial
The most useful part of a VPN free trial is being able to test the full service before committing. So, while free-forever services are useful in a pinch, it's difficult to judge how effective the premium version will be when you upgrade.
True free trials can also be very short – we're talking a matter of days – and you may find that it runs out before you get the chance to test out everything you want.
That's why we recommend taking advantage of a money-back guarantee. While you have to pay upfront, you'll get at least a month to test the service, and in our experience most providers make it quick and easy to claim your refund.
We've named ExpressVPN as the best free trial VPN, as you'll have a month to test the highest-rated VPN on the market. However, we've also included some providers with free versions and true free trials – all you need to do is pick the one that fits you best.
VPN free trial FAQ
What is a VPN free trial?
Different VPN providers offer different ways for users to get some experience using their software without any monetary risk, and now that VPNs have become more mainstream, developers are becoming more generous with their trials.
The most common way you'll find to try out a VPN for free is the 'money-back guarantee'. Most providers are very fair and do refund you no questions asked
Rarer is the true VPN free trial, in which you'll be able to test drive the full VPN for a limited time. However, it's not common to find a trial longer than seven days, and that leaves the chance that you won't be able to fully explore the VPN.
Finally, we enter the realm of 'free versions'. Essentially, these VPNs are free for an indefinite time, but they're usually weak versions of a provider's full, paid-for service.
Why do VPN providers offer free trials?
It's a combination of genuinely helping the user choose a service more effectively, and getting you used to its apps and ingrained in its ecosystem.
Obviously, the VPN wants you to sign up and spend money, but the almost universal money-back guarantee means you shouldn't be afraid of claiming back if you don't like a certain VPN.
Remember, the consumer is king, so take every chance you can get to ensure you're spending your money wisely.
How can I get my money back on a 30-day VPN free trial?
Most VPNs that offer money-back guarantees – and all of those on this list – are established companies known for their fairness and holding up their side of the bargain.
If you've paid up for a VPN and decided it's not for you, you're well in your rights to get in contact and request a refund. This is usually done over email, but if you visit the provider's website you'll also be able to seek help from the 24/7 customer support.
You're likely to be asked why you're choosing to terminate your contract, but if you're within the money-back time-frame, you're guaranteed to be refunded almost immediately.
Should I get a free service?
If you're going to be using your VPN for anything bandwidth-intensive like torrenting, or keeping it on for long periods of time, a free service's drawbacks will become noticeable very quickly.
While, for example, Hotspot Shield's 500MB-a-day allowance is generous and allows you to use it every day, for activities like streaming and torrenting you'll run out pretty quickly.
Also, paid-for VPNs are more likely to have watertight privacy policies, and securing your privacy is one of the most important VPN uses. So, if you're using a VPN as a security tool you might want to think twice about where your free service is getting its revenue from.