15 Google Home Smart Speakers, Ranked from Best to Worst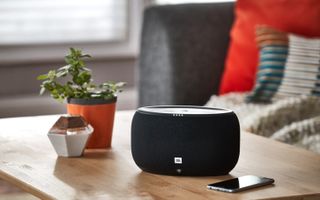 In its battle with Amazon Alexa for smart home supremacy, Google has let other companies add its voice-powered Google Assistant into their own smart speakers. Using Google Assistant, you can not only control your smart home devices, such as lights and locks, using your voice, but also stream music, make restaurant reservations, look up recipes and more. Google has also made YouTube Music free (with ads) on all Google Home speakers. We've tested more than a dozen speakers with Google Assistant built in; here are the 15 best Google Home speakers, ranked from best to worst.
On Sept. 9, Google is releasing the Nest Hub Max ($229), a 10-inch smart display with a 6.5MP camera and support for smart home devices. Make sure you check out all our favorite smart speakers powered by Alexa, Google Assistant, and Siri on our best smart speakers page.
For more Google Assistant-related tips, tricks, and how-tos, check out our complete guide to Google Assistant.
Credit: JBL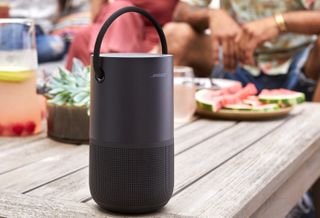 Bose Portable Home Speaker
Rating: Coming soon
Bose recently announced an advanced edition to it's smart speaker lineup. The Bose Portable Home Speaker ($349) boasts Bose-caliber sound, plus Google Assistant integration and total portability. The battery powered speaker is one of the most impressive wireless ones we've heard of so far, but we'll see how it fares when we conduct a hands-on review in coming weeks.
The Bose Portable Home Speaker will be available on September 19th.
Credit: Bose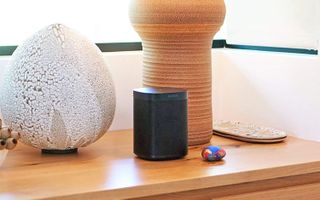 Sonos One
Rating: 4.5/5
Our favorite-sounding Alexa speaker is now our favorite-sounding Google Assistant speaker. The Sonos One is compact, yet delivers excellent audio. Plus, you can sync two Ones for true stereo sound, and they work with a huge number of streaming music sources, including Spotify, Apple Music, Google Play Music, MLB Gameday Audio and Napster. At $199, it's the best price-to-performance smart speaker around.
Using Sonos' app, you can switch between Alexa and Google Assistant (sorry, you can't use both simultaneously). However, with Google Assistant, grouping speakers by voice and calling are not currently supported. Also, the Sonos One does not support Alexa drop-in, calling, and messaging.
Credit: Sonos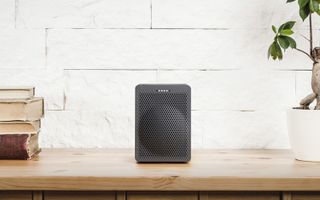 Onkyo Smart Speaker G3
Rating: 4.5/5
This small rectangular speaker packs a 3.1-inch woofer and 0.8-inch tweeter that deliver loud audio with detailed, full bass and clear vocals — some of the best we've heard from a smart speaker. We liked the look of the Onkyo G3's wood case, which is available in white or black. The top has controls for volume, play/pause, Bluetooth pairing and muting the microphone, and you can connect the speaker to either 2.4-Ghz or 5-Ghz Wi-Fi networks. Its one limitation is that you can't use it to make calls using Google Assistant.
Credit: Onkyo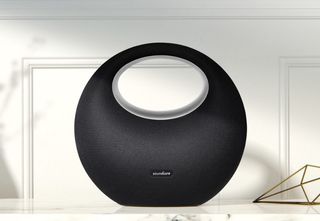 Soundcore Model Zero+
Rating: 4.5/5
The Model Zero+ proves speakers can have brains and beauty. The unit's mod design helps it stand out from the crowd, but it's the wide soundstage that really sets it apart. The Model Zero+ packs in two woofers, two tweeters and two passive radiators and includes Dolby Audio to fill the room with well-balanced sound. It also features a battery that lasts for five hours and an auxiliary input for wired connections. While it's more expensive than many speakers with Google Assistant, the premium is worth it if you care about style and audio quality. Soundcore also offers the $200 Model Zero, which lacks Google Assistant.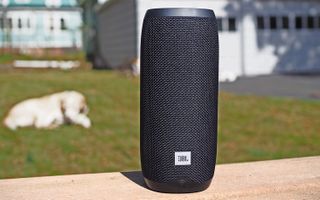 JBL Link 20
Rating: 4.5/5
If you're looking for a portable smart speaker, the JBL Link 20 is it. Not only does its battery last for up to 10 hours, but this mesh-covered speaker can also withstand being submerged in water for up to 30 minutes. So, if you leave it out in a rainstorm, it should be OK. And it sounds great, with well-balanced treble, bass and midtones. It's also loud enough, up to 90 decibels, to fill an outdoor patio. However, you can't make calls using Google Assistant.
Credit: Tom's Guide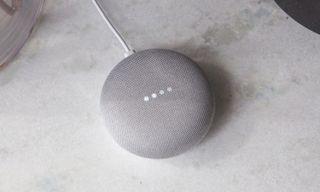 Google Home Mini
Rating: 4/5
Google's answer to the Echo Dot, the Google Home Mini is much more attractive and has much better audio than the second-generation Dot. We love its cloth-covered exterior and surprisingly loud speaker. The only caveat is that Google disabled the Mini's touch controls after they malfunctioned on a number of speakers. Regardless, it's a great and inexpensive way to get Google Assistant wherever you want it. Google now offers the Mini in four colors: Dark gray, light gray, coral, and minty green.
Credit: Tom's Guide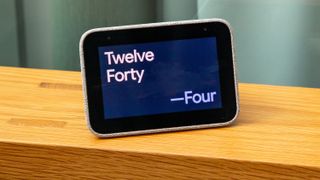 Lenovo Smart Clock
Rating: 4/5
The Lenovo Smart Clock is our favorite Google Assistant-powered alarm clock. With a four-inch display, it's the perfect device to fit on your bedside table. You can choose from a number of different clock faces in various colors and styles. At night, Google dims the clock's display and plays relaxing ambient noises. There's even decent audio -- certainly better than you might expect from an alarm clock.
Credit: Tom's Guide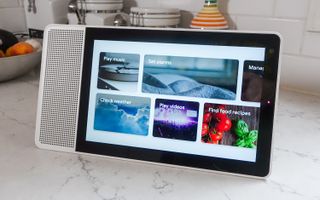 Lenovo Smart Display
Rating: 4/5
While the Amazon Echo Show was the first smart display, the Google Assistant-powered Lenovo Smart Display is better in most regards. Available in 7- and 10-inch sizes, Lenovo's device has a sharper screen and more stylish design, and it provides greater interaction than the Show when you're doing things such as controlling smart home devices or looking up recipes.
Credit: Tom's Guide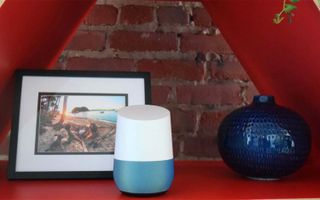 Google Home
Rating: 4/5
Google's first smart speaker, the Google Home has a friendly, vase-shaped design with a bottom cover that can be swapped out. (This is such a good idea that Amazon copied it for its second-generation Echo.) The Google Home delivers good sound — and booming bass — for the price and can be used to control Chromecast devices. It's a bit long in the tooth, though, so we expect Google to come out with a new version relatively soon.
Credit: Tom's Guide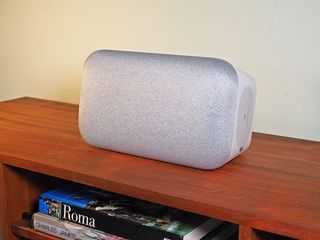 Google Home Max
Rating: 4/5
For those who want a smart speaker that really delivers the boom, the Google Home Max is it. Inside this large, 13.2 x 7.4 x 6-inch case are dual 4.5-inch woofers and dual 0.7-inch tweeters, which automatically adapt their output to the room in which you place the speaker. While its sound is great, at $349, the Max is one of the most expensive smart speakers around.
Credit: Tom's Guide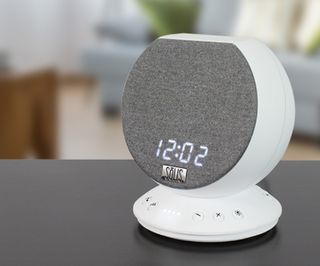 Solis SO-2000
Rating: 4/5
iHome isn't the only one with a Google Assistant-powered alarm clock. Solis' SO-2000 has two 5-watt speakers that deliver powerful (but not quite premium) audio. It has a number LED clock that automatically sets the time from the Google Cloud, and a number of physical buttons to control the sound and display. It measures 7 x 6.25 x 5.5 inches, and is surprisingly light for its size. While it's a bit of an odd design, it should fit well in a modern home.
Credit: Solis
Google Home Hub
Rating: 3.5/5
Google is finally taking on the Echo Show with its own smart display. The Google Home Hub is a smart display small enough not to crowd your counter, with easy phone calling and seamless YouTube and Google Photos integration. However, it's a bit too small to watch movies or TV on, and the sound lacks strong bass.
Credit: Tom's Guide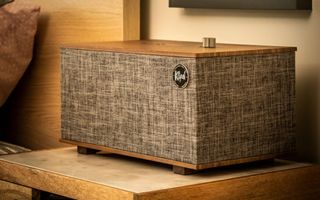 Klipsch The Three
Rating: 3.5/5
On the basis of sound quality alone, Klipsch's The Three with Google Assistant beats every other speaker in this race. But that $499 price tag — ouch! If you prize robust bass, balanced well with treble and mids — and are a fan of mid century modern chic — The Three may be worth it. It's a big speaker (13.7 x 8 x 7 inches), and it packs in two 2.25-inch drivers and a 5.25-inch subwoofer to drive its full sound. Given that the non-Google Assistant version of The Three has additional features, such as an RCA input and a phono preamp, I wish Klipsch had included them here too. For this much money, I don't think it's too much to ask for at all. Credit: Klipsch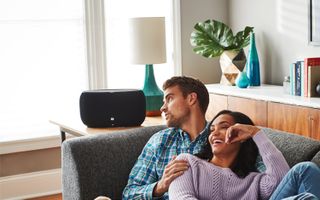 JBL Link 500
Rating: 3.5/5
Another big speaker (14.6 x 7.9 x 6.2 inches), the JBL Link 500 has two 3.5-inch woofers and two 0.8-inch tweeters that produce a wide sound field. However, the bass didn't really kick in until we cranked the speaker's volume higher than 50 percent, and there's no 3.5mm input. Also, the Link 500 doesn't let you use Google Assistant to make phone calls.
Credit: JBL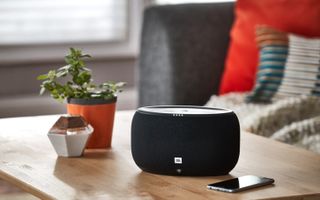 JBL Link 300
Rating: 3.5/5
Essentially a smaller version of the Link 500, the JBL Link 300 measures 9.3 x 6 x 5.3 inches and has just one 3.5-inch woofer and one 0.8-inch tweeter. Surprisingly, we liked the audio better from the 300 than the 500; the former has more-balanced audio (trebles could be better) and a wider sound field. Alas, no calls via Google Assistant.
Credit: JBL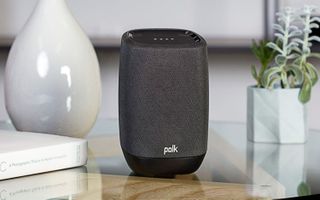 Polk Assist
Rating: 3.5/5
Polk's take on a Google Assistant smart speaker is solid, but doesn't stand out from the crowd. Available in black or gray, the 7.5 x 4.7-inch unit produces good bass, but it lacks the detail and rich midrange that Onkyo's G3 offers. The top slants a bit to improve access to the volume, play/pause and Google Assistant buttons — a nice design touch. One advantage over the G3: the indicator lights turn off when Google Assistant isn't performing an action. Unfortunately, it can't make calls.
Credit: Polk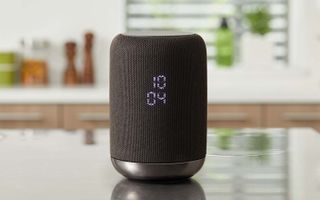 Sony LF-S50G (3.5/5)
Rating: 3.5/5
Uniquely among Google Assistant smart speakers, the Sony LF-S50G has a small LED panel that shows you the time, making it a handy bedside companion. Its 1.9-inch driver and 2.1-inch subwoofer produce full audio (though less-defined bass than the Onkyo G3 provides). The Sony speaker also has hands-free gesture controls, but we found them to be unreliable.
Credit: Sony