Picking the best soundbar can solve many of your TV sound issues. Can't hear what's being said on your TV? A soundbar's dialog settings can help. Do big-budget blockbusters lack the explosive sound to match the on-screen images? A good soundbar will bring movie soundtracks to life.
All the soundbars listed below have the kind of performance to match today's vibrant big screen images. We spend hours testing soundbars at home just as they're intended to be used and rate them on ease of setup and daily use, dialog sound quality, power output, design, and of course how well they create an immersive surround sound experience for several listeners.
Read on to discover the right soundbar for you. And don't forget, you'll find lots more info in our in-depth standalone reviews, covering installation, customization, and performance. Just follow the link at the end of each product summary to learn more.
What are the best soundbars to buy right now?
Best soundbar with Dolby Atmos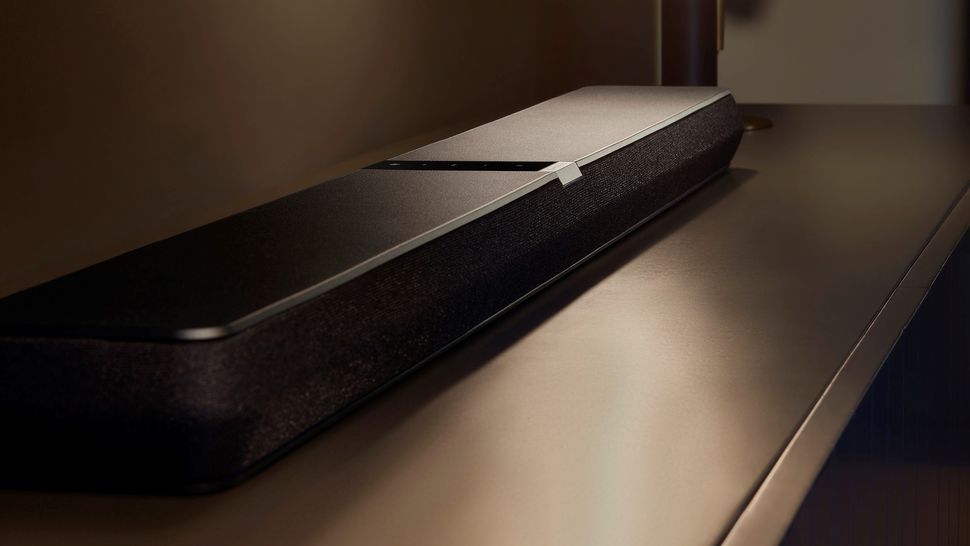 More affordable than the luxury Devialet Dione (top), the Bowers & Wilkins Panorama 3 is another single soundbar solution from a respected Hi-Fi brand. The speaker configuration integrates forward-firing left, right and center channels, while the two built-in subwoofer drivers handle cinematic low frequency rumble. There's no standalone subwoofer supplied. Dolby Atmos support is catered for using two up-firing drive units in the to bring a sense of height when streaming compatible soundtracks.
The Panorama 3's powerful amp handles big dynamic shifts in movie soundtracks with ease and is expressive and articulate where music is concerned too. It's extremely well judged and coherent with all kinds of music and movie content, while Dolby Atmos content projects well and in all directions for an immersive listening experience. There's real width to the soundstage the Bowers & Wilkins establishes, and there's a proper sensation of movement as effects pan from one side of the stage to the other as soundtrack are served up with plenty of confidence and no little style.
Read our full Bowers & Wilkins Panorama 3 review.
Best value soundbar with a wireless subwoofer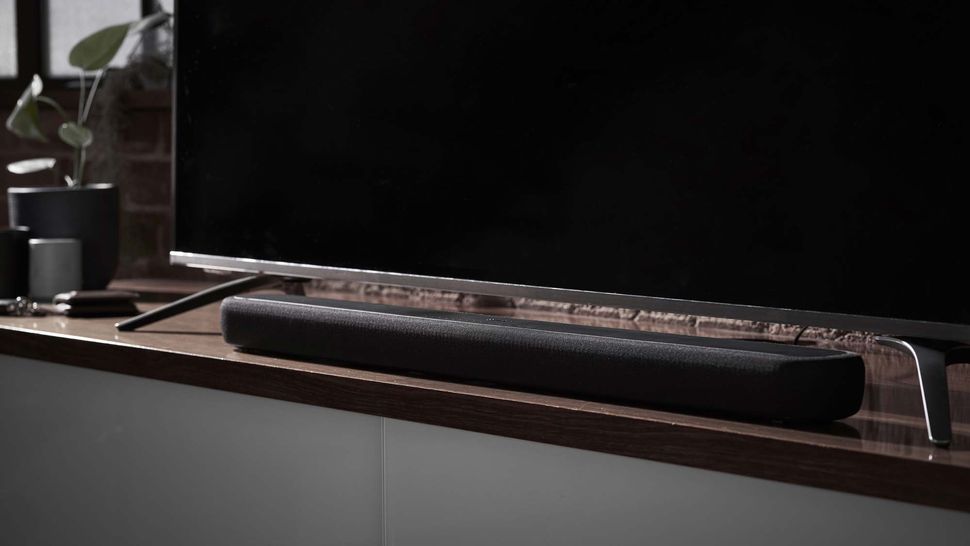 Launched in 2019 and still going strong, the YAS-209 soundbars is aimed at delivering great features at an affordable price. This excellent package comes with a slender main soundbar partnered to a wireless subwoofer to boost low-end frequencies.
Although primarily aimed at boosting TV sound, it doubles as a great-sounding music system and has Alexa voice assistant onboard, too. The smart and versatile combo brings movie soundtracks to life with a rich and powerful sound, and has an impressively wide soundstage when 3D Surround mode is enabled. Movie dialog is easy to understand and has excellent depth and gravitas. We just wish there was more than one HDMI port on the back, but even so, the YAS-209 has a lot to offer at the price. Bag it while you still can.
Read our full Yamaha YAS-209 review.
Best home cinema soundbar package in a box
The Samsung HW-Q990B is the equivalent of the old home theater in a box packages. Buy one and right out of the box you have yourself an 11.1.4 surround sound system that is powerful and sleek while still being easy to set up and install.
If you like your soundbars loud and don't have neighbors to worry about, you're going to love it. With a claimed 656W total power output, it's hard not to be impressed by the output of this speaker. The Adaptive Sound uses built-in microphones to adjust the output to your surroundings, and can help boost the height speakers. In terms of clarity and depth of sound, there's a lot to like here and delivers detailed audio and impressive Dolby Atmos sound. See where it ranks on our best Dolby Atmos soundbars page.
It's not quite as feature-complete as we'd like at this price point, but if you're looking for a strong soundbar that can rattle the windows, the Samsung HW-Q990B is worth auditioning in your home theater.
Read our full Samsung HW-Q990B review.
Best soundbar for wall mounting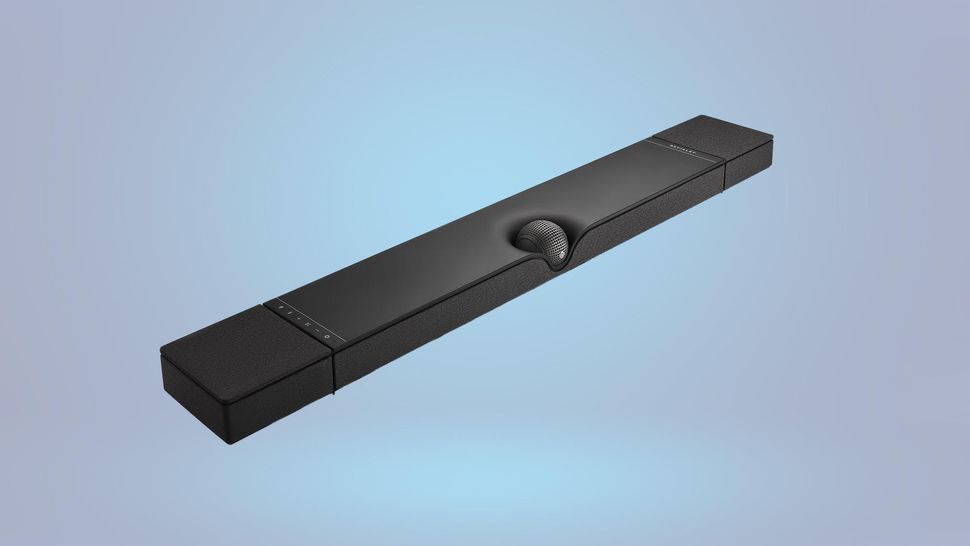 If you're in the market for some high-end luxury, Devialet's Dione do-it-all TV speaker won't disappoint. The Dione is an elegant soundbar with 9x full-range aluminium speaker drivers and 8x aluminium long-throw subwoofer drivers integrated into its slender dimensions. There's no separate subwoofer.
The Devialet Dione delivers high quality movie and music sound, and can handle Dolby Atmos content. Movie sound is dynamic and expansive, and also surprisingly nuanced to bring details to life. Width and height soundstage elements with Dolby Atmos content are deeply effective. For a soundbar that goes without the low-frequency reinforcement of a partnering subwoofer, the straightforward amount of bass the Dione is able to produce really is quite remarkable.
A weight of 26.5 pounds (around 6 pounds heavier than the Sony HT-A7000 below), means a structural wall is essential to carry the Dione securely. It may be one of the most expensive standalone soundbars we've heard, but it balances strong networking features, has hi-res audio support, and delivers some of the best movie and music sound we've heard. This is a must-hear soundbar solution those how care as much about listening to music as they do movie soundtracks.
Read our full Devialet Dione review.
Best soundbar for Sonos ecosystems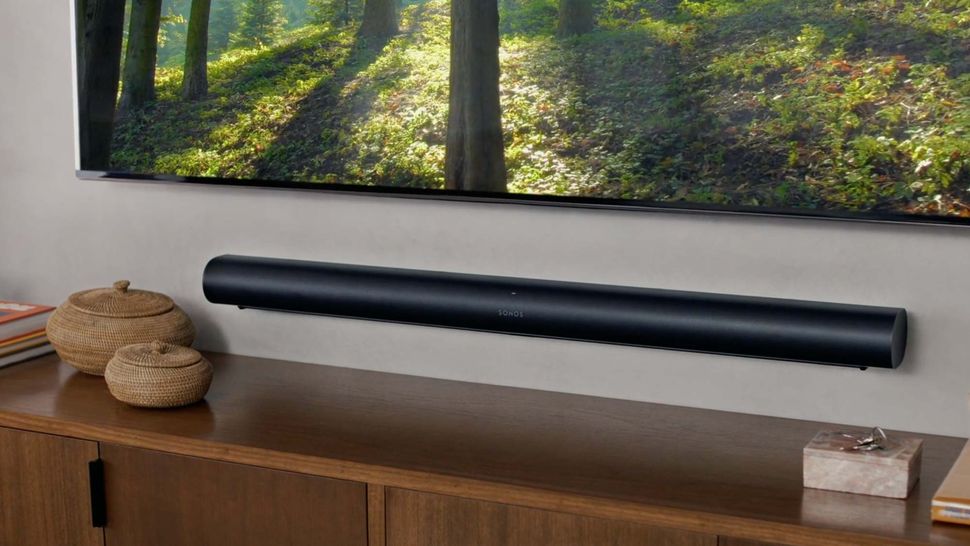 The Sonos Arc is the company's best soundbar and stands out with its gorgeous curved design, which is built to be a centerpiece of your living room as much as it's meant to enhance your TV's sound. Sonos doesn't mention the audio configuration, but nevertheless it doesn't skimp on sound performance, delivering deep bass and clear treble for your favorite movies and TV shows. There are no height speakers built into the Sonos Arc to take care of Dolby Atmos content from the soundbar itself, but you can easily add a pair of Sonos Era 300 rear surrounds to get the full effect from the immersive format.
Thanks to Sonos' TruePlay technology, the Arc can automatically tune itself to whatever room it's in to deliver the crispest, most accurate audio possible. It also supports voice controls via Alexa and Google Assistant, making it one of the smartest soundbars you can buy. If you have a larger entertainment area, the Sonos Arc is one of the smartest soundbars out there, and a great starting block to an immersive multiroom movie and music system.
Read our full Sonos Arc review.
Best soundbar for home cinema and hi-res music format support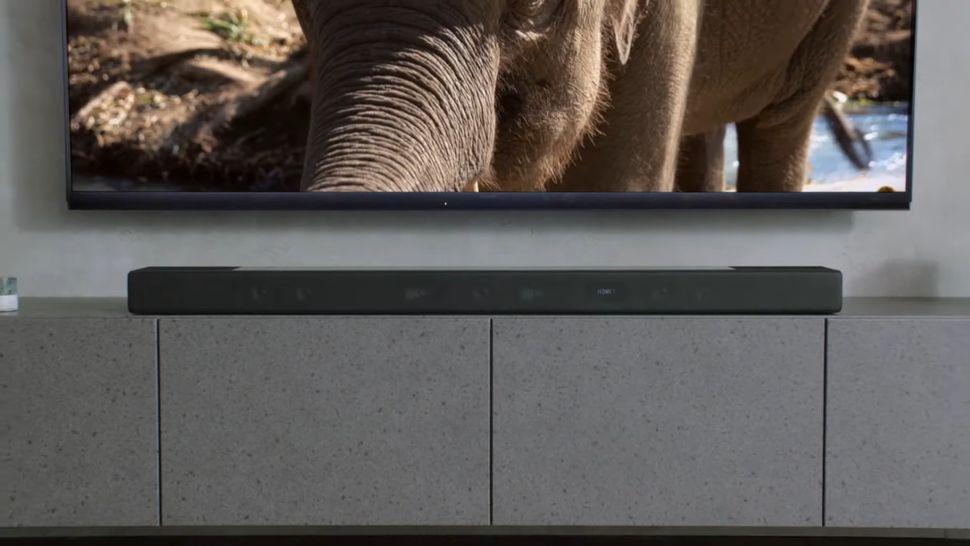 The Sony HT-A7000 is a standalone soundbar with full support for Dolby Atmos soundtracks and hi-res audio. Much like the Bowers & Wilkins Panorama 3, the Sony is an elegant TV speaker solution that uses up-firing speakers to achieve a sense of height with immersive sound formats. The only downsides are the difficult to decipher front panel display and the lack of a standalone subwoofer, which could be a downside for those seeking total cinematic satisfaction.
Nevertheless, the Sony's impressive sound as a standalone soundbar achieves a wrap-around cinematic effect, and Dolby Atmos material has a more enveloping effect thanks to the Sony's format handling. Dialog was clear during our testing and has enough weight to give booming voices gravitas to carry them with conviction. The price may be slightly higher than several standalone soundbar rivals, but the solid performance and Sony brand experience make it a worthwhile consideration.
Read our full Sony HT-A7000 review.
Best soundbar for small rooms
No soundbar packs huge audio into a tiny package quite like the Polk MagniFi Mini does. This unassuming speaker will fit seamlessly into any setup, and delivers crisp dialog and deep bass with the help of its included wireless subwoofer. Plus, with Google Cast support, the MagniFi Mini doubles as a great home music speaker.
The MagniFi Mini gets loud enough to fill most bedrooms and small apartments, and we found it reliable for getting immersed in movies and TV shows. Factor in a handy remote and an easy setup process, and you've got the best soundbar out there for folks short on space. And at $300, it won't set you back much, either.
Read our full Polk MagniFi Mini review.
Best Bose soundbar
Bose's first soundbar to support immersive surround sound technology through Dolby Atmos, also offers multiroom audio, integrated voice assistants and there's even room for expansion via wireless Bose surrounds and a wired subwoofer. Like the Sonos Arc it's priced at $899, but the Bose separates itself with a smaller and more sleek design, but while it sounds good overall, it can't match the Arc when it comes to bass and virtual surround sound.
Easy to setup with plenty of options to help you tune the sound to your own surroundings, the Bose performs well with movies, although the addition of a subwoofer would give movie soundtracks a useful further boost. Dolby Atmos effects come across well, but bass levels can get a bet overzealous when playing music. All-in-all, the Bose is well-featured and a good choice for those already signed up to its ecosystem but ultimately is outperformed by the Sonos Arc at the same price.
Read our full Bose Smart Soundbar 900 review
How to choose the best soundbar for you
4 things to consider when buying the best soundbar for you
1. Soundbar size: There are a number of factors that play into deciding which soundbar you should buy. Size will likely be prohibitive for most customers; you obviously need a soundbar that will suit your TV and space constraints within your entertainment console. And, because a soundbar is one of the centerpieces of your home theater setup, it has to look good and fit stylistically.
Then you have to factor in the size of the room you're dealing with, and the distance viewers would typically be sitting from the TV. If you're dealing with a larger space, it's probably best to target soundbars that come with a subwoofer — you'll surely appreciate the extra bass.
2. Dolby Atmos: More and more of the best soundbars are embracing Dolby Atmos, which is a surround sound technology designed to simulate the immersive 3D audio you'd get from a movie theater. The big difference between Atmos and traditional surround sound is that you'll hear sound move up and down and not just side-to-side, allowing you to get extra immersed when, say, a car flies overhead in an action movie. For more a in-depth explanation and to find out how to get it, see Dolby Atmos explained.
3. Connectivity: Connectivity is crucial too, both in terms of wired and wireless access. Not every soundbar comes with an HDMI port; some force you to make do with optical audio. That's perfectly fine if you want to use your TV as a pass-through, but those who are in dire need of more HDMI ports — because their capacity is limited between game consoles, streaming boxes and so on — will need to prioritize options that offer those additional connections.
4. Pricing considerations: Obviously, price is a big consideration when looking for the best soundbars. Although there are always exceptions, big-name brands will typically command a bit extra, but generally speaking, the less you spend on a soundbar the greater the chance that sound and features will be compromised. Going for a budget option isn't always the best choice, as any money you save on your purchase won't do you much good if the sound quality is poor.
As the saying goes: timing is everything; and right now there are plenty of sales on with many of our favorite models discounted at online retailers, meaning you can bag a bargain for even less. Bookmark our best tech deals page to keep track of the latest savings.
Where to place a soundbar for the best sound
Getting the best sound from a soundbar isn't tricky, but there are some basic placement factors to get right. Along with guidance provided in the maker's set-up instructions, the shape of the soundbar itself should offer some clues as to how best to position it in your room.
As with all speakers, the first thing to remember is that they need space to do their job, particularly if your soundbar has upward or side-firing drivers as can often be found in models with Dolby Atmos support. It's not a good idea to place a soundbar behind a TV or in line with any other objects as this will have an impact on how effectively the speakers are able project sound to your seating area. Also, if you place a soundbar too far inside a TV cabinet, it won't project sound out to your sofa as effectively. The TV cabinet enclosure could also have a detrimental effect on the overall quality of the sound.
Generally speaking, a soundbar should ideally be placed centrally with the screen (this helps aesthetically, too) in as much free space as is practical. It can be placed either above or below the TV screen. Many soundbar owners place the soundbar beneath their screen at the foot of the TV stand. This close proximity between sound and screen helps make it feel like the sound and picture are coming from the same location and in sync.
If you're placing a soundbar on top of the TV stand just beneath the screen, be careful to avoid fouling the bottom of the screen and obscuring the lower part of the picture. This may also block signals to the IR sensor from your remote control. If this does happen, a good solution is to raise the TV up slightly or place the soundbar on a lower shelf of the TV stand. If the soundbar does foul the TV's IR sensor, check to see whether it comes with an IR repeater.
Most soundbars are tabletop designs, meaning they can easily be placed on a TV cabinet without taking up too much room. Some soundbars can also be wall mounted, although you'd be wise to check the maker's instructions and consider any structural factors before embarking on wall mounting any soundbar.
Lastly, pay attention to whether your soundbar has any rear bass ports or rear speakers designed to bounce sound off nearby walls behind the TV, say. Ideally these need be kept free from any immediate obstructions that get in the way of speaker's soundwaves, but close enough to any wall structures to allow them to perform effectively.
Always check the maker's guidance for placement advice on your specific soundbar speaker system to make sure you're getting optimal performance and the best sound.
How we test the best soundbars
When testing for inclusion in our best soundbars page, we play a range of media — including movies, music and games — in order to evaluate overall sound quality. We also test any companion software that may come with a soundbar, and factor in how easy it is to set up and use each device.
Other features we consider include a soundbar's inputs, outputs and ability to be wall mounted, all of which determine how well it will work with your home entertainment setup. We also take into account each soundbar's wattage, its supported audio channels and whether it includes a subwoofer — all factors that greatly affect how each speaker will sound in your living room.
Once testing is completed, we rate the best soundbars based on our five-point system (1 = worst, 5 = best). Products that hit nearly every mark are awarded an Editor's Choice badge.
Find out how we test for more information on our reviewing procedures.
Contributions from: Nick Pino, Simon Lucas, Michael Gowan
More from Tom's Guide