If you've got a good TV, it deserves to be paired with one of the best soundbars. With multiple drivers covering a wider area in front of your screen, even a relatively affordable soundbar can outperform the integrated speakers on most TVs.
The issue is that as TVs become more compact, their speakers shrink, becoming quieter and losing they dynamism. Even the best TVs aren't exempt from this, so a soundbar makes a great upgrade — and could even form the basis of a much more ambitious surround sound system. To make sure you're choosing the right 'bar for the job, simply read on: we've ranked the best soundbars according to our own in-house testing.
Editor's Note: The Tom's Guide Awards 2021 for audio have been announced, and the Creative Stage V2 has won the Best soundbar award! Head to the audio awards page to see all the winners and recommended runners-up.
The best soundbars: News and upcoming releases (updated December 7)
Phillips just launched the B8905 Soundbar, a model that comes with 3.1.2 channels to fill any room with loud, crystal-clear sound. It also offers the full Dolby Atmos experience and DTS Play-Fi compatibility for $599.99.
Hisense announced its new soundbar lineup, highlighted by the flagship HS312 3.1 Channel Soundbar, which combines six 30W speakers and a 240W subwoofer with Dolby Atmos. An HDMI (eARC) cable is also included to easily connect to HDTVs.
The Sennheiser Ambeo has been updated with support for Sony 360 Reality Audio, enabling 3D music playback from the all-in-one speaker.
What are the best soundbars?
Our top all-round pick is the Yamaha YAS-209. With its excellent sound, bundled subwoofer, and built-in Alexa assistant, the YAS-209 is a superb deal that will happily serve most users.
If you want a more premium option, we're also big fans of the Sonos Arc, though this Dolby Atmos-supporting soundbar is going through a stock shortage at the moment. Those on tighter budgets, meanwhile, should consider the Creative Stage V2: a simple yet very capable soundbar/subwoofer combo that won't take up too much space.
Here's our full list of the best soundbars on sale right now.
The best soundbars you can buy today
The Yamaha YAS-209 is an excellent package for the price, getting you great overall sound, a wireless subwoofer for beefy bass and Alexa support for handy voice controls. The soundbar itself is one of the sleeker models we've tested, with a 36-inch design that should look great under most TVs.
The soundbar's four 1.75-inch drivers deliver immersive sound for movies and shows. What's more, the built in Alexa functionality makes it easy to control any smart device in your home — even when the soundbar is off. We wish there was more than just one HDMI port on the back, but even despite that nitpick, the YAS-209 offers a lot to like.
Read our full Yamaha YAS-209 review.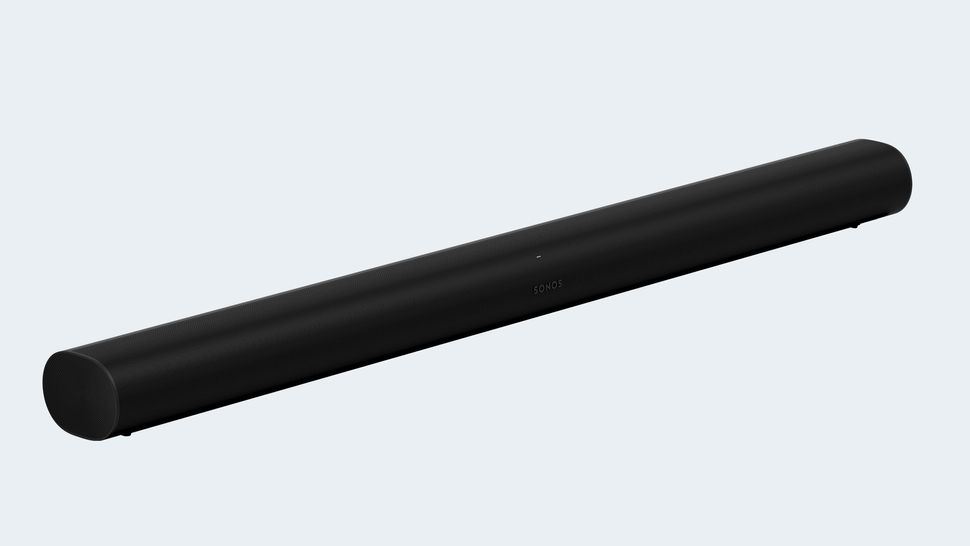 The Sonos Arc is the best soundbar you can buy if you're willing to splurge. This $799 premium speaker stands out with its gorgeous curved design, which is designed to be a centerpiece of your living room as much as it's meant to enhance your TV's sound. And it certainly doesn't skimp on sound performance, delivering deep bass and clear treble for your favorite movies and TV shows complete with Dolby Atmos support.
Thanks to Sonos' TruePlay technology, the Arc can automatically tune itself to whatever room it's in to deliver the crispest, most accurate audio possible. It also supports voice controls via Alexa and Google Assistant, making it one of the smartest soundbars you can buy. If you have a larger entertainment area — and a large budget, the Sonos Arc is the top premium soundbar out there.
Read our full Sonos Arc review.
Cheap and compact but deceptively rich-sounding, the Creative Stage V2 is another fantastic choice for those on tight budgets. The dedicated subwoofer treats lower frequencies much better than the majority of cut-price standalone soundbars, and the clearness of dialog impressed in our testing.
There's also a "Surround" mode that widens the soundstage beyond the Stage V2's modest dimensions, and you can tweak the sound even further with bass and treble boost settings. Connectivity is very good for the money, too — in addition to the expected optical and 3.5mm inputs, there's HDMI ARC, USB and Bluetooth to play with too.
Read our full Creative Stage V2 review.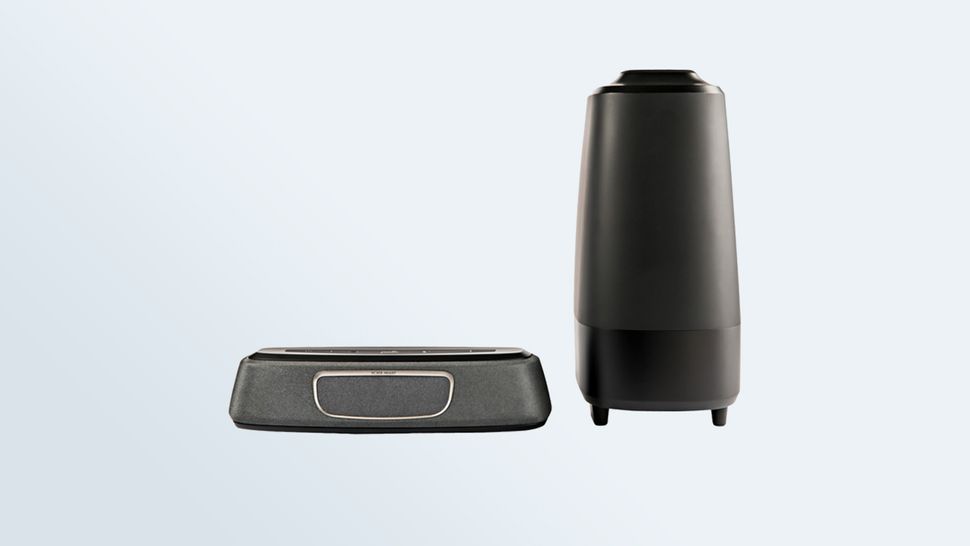 No soundbar packs huge audio into a tiny package quite like the Polk MagniFi Mini does. This unassuming speaker will fit seamlessly into any setup, and delivers crisp dialogue and deep bass with the help of its included wireless subwoofer. Plus, with Google Cast support, the MagniFi Mini doubles as a great home music speaker.
The MagniFi Mini gets loud enough to fill most bedrooms and small apartments, and we found it reliable for getting immersed in movies and shows. Factor in a handy remote and and an easy setup process, and you've got the best soundbar out there for folks short on space. And at $300, it won't set you back much, either.
Read our full Polk MagniFi Mini review.
Adjustable sound and loads of features make the Yamaha YAS-108 a solid sub-$200 soundbar. It delivers crisp treble and a wide sound field, and even without a subwoofer, it produces plentiful bass. There are a few mix-and-match sound modes like 3D Surround, Surround, Stereo, Clear Voice, and Bass Extension, each one well-engineered and suitable for select content. We recommend Surround for movies and TV shows. We also appreciate how easy it is to set up, either underneath your HDTV or mounted onto the wall. The design isn't much to brag about and has a cheap fabric cover that doesn't do much for its appearance. Luckily, it isn't a dealbreaker.
Read our full Yamaha YAS-108 review.
An upgrade to one of the best soundbars available, the second-gen Sonos Beam brings a new CPU, tweaked profiles, more audio formats, and HDMI eArc support into the mix. The drivers have been re-tuned, resulting in a crisper central channel that emphasizes vocal clarity and dialog. Dolby Atmos and other home-theater sound formats grant you numerous ways to experience wide 3D sound in your living room. Other unique features like NFC for seamless setup, as well as TruePlay to curate sound to your space and optimal couch position, bring more value to this small speaker system. It also pairs perfectly with 55-inch (or smaller) HDTVs.
You should know that Sonos products don't come cheap and the $500 price tag on this beauty might be a bit steep for the average consumer. Those who can afford it will find this to be a welcome addition to their ecosystem of Sonos products.Bottom of Form
Read our full Sonos Beam (Gen 2) review.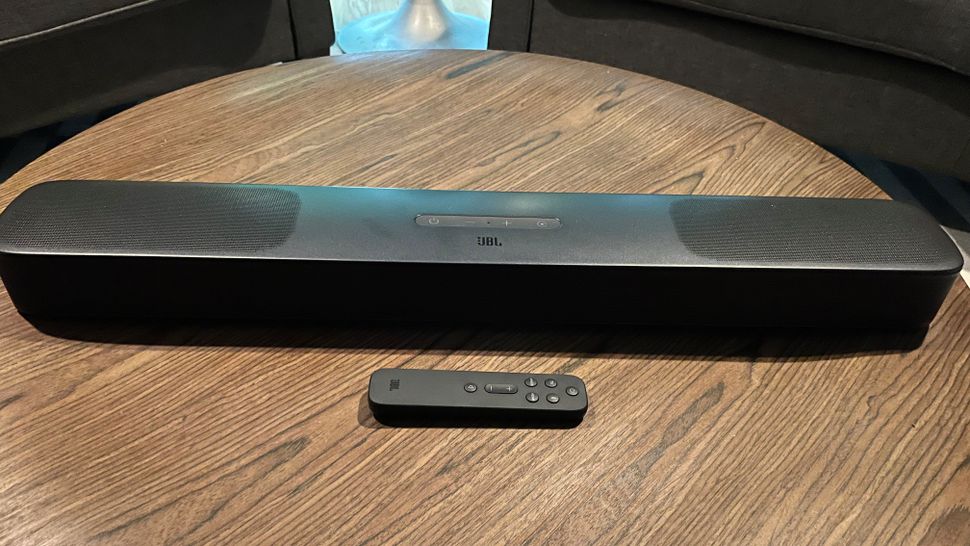 Yet more proof that you don't need to spend big to get quality Dolby Atmos integration, the JBL Bar 5.0 MultiBeam defies its standalone form factor with a respectable attempt at digital surround sound — not to mention powerful bass, even without a subwoofer.
Although we'd have liked a few more ways to manually adjust the sound output, the Bar 5.0 MultiBeam also features a handy auto calibration feature that tunes Atmos playback for the dimensions of your living room specifically. This helps contribute to a strong sense of audio positioning, again something you can't always be sure about with single soundbars. Still, it works, and is just another reason the Bar 5.0 MultiBeam is one of the best soundbars.
Read our full JBL Bar 5.0 MultiBeam review.
The Sonos Beam is a small, affordable and great-sounding soundbar that also doubles as a neat smart home gadget. This speaker has full Alexa integration, allowing you to, say, control your Fire TV with just your voice, or ask about the weather or control your smart lights while binging Netflix from the couch.
It also delivers big on the audio front for its price, with a wide soundstage and crisp dialogue that will make your favorite movies and shows sing. We'd really like the Beam to embrace Bluetooth (you'll need the Sonos Move for that), but it's still an excellent choice if you want an Alexa-ready soundbar with great performance.
Read our full Sonos Beam review.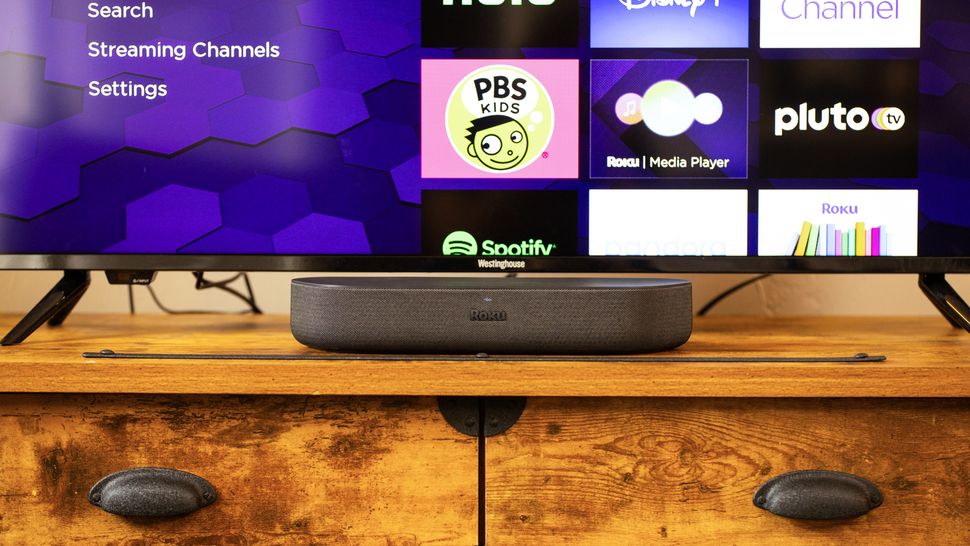 The Roku Streambar is Roku's second soundbar outing, and just might be the company's best yet. This unique all-in-one device is both a compact soundbar and a 4K Roku streaming player at once, allowing you to enjoy great sound for shows and movies while tapping into your favorite streaming services all from the same hardware.
Don't let its size fool you, though — the Streambar delivers impressive sound for its size and price. Packing four 1.9-inch drivers, this small soundbar can easily fill a living room with crisp audio for your next Netflix or Disney Plus binge. And since you're getting Roku software inside, you'll be able to watch just about every streaming service out there, with an intuitive interface and an included remote for navigation. Better yet, you can pair the Streambar to the Roku TV Wireless Speakers and Roku Wireless Subwoofer if you want even more immersive sound.
Read our full Roku Streambar review.
Take the clean appearance of Harman Kardon's wireless speakers and combine it with the ultramodern appearance of the Bowers & Wilkins Zeppelin and you get the Cleer Crescent. However, this soundbar isn't just about its striking looks. Underneath the wide, golden wedge design are some serious specs, including 8 front-facing, full-range drivers and 2 larger woofers. The Crescent produces wide sound that is elevated through three distinct playback modes: Room Fill for consistent sound to fill up large spaces, Stereo Widening to expand the soundstage, and 3D to create digital 3D surround sound effects. All of them work well, along with the built-in Google Assistant.
One caveat about 3D Mode is that you need to be in a small spot for the Crescent's beamforming technology to deliver the desired effects. The speaker doesn't come cheap either.
Read our full Cleer Crescent review.
How to choose the best soundbar for you
There are a number of factors that play into deciding which soundbar you should buy. Size will likely be the most immediately prohibitive for most customers; you obviously need a soundbar that will suit your TV and space constraints within your entertainment console. And, because a soundbar is one of the centerpieces of your home theater setup, it has to look good and fit stylistically.
Then you have to factor in the size of the room you're dealing with, and the distance viewers would typically be sitting from the TV. If you're dealing with a larger space, it's probably best to target soundbars that come with a subwoofer — you'll surely appreciate the extra bass.
Ports and connectivity is crucial too, both in terms of wired and wireless access. Not every soundbar comes with an HDMI port; some force you to make do with optical audio. That's perfectly fine if you want to use your TV as a pass-through, but those who are in dire need of more HDMI ports — because their capacity is limited between game consoles, streaming boxes and so on — will need to prioritize options that offer those additional connections.
Finally, more and more of the best soundbars are embracing Dolby Atmos, which is a surround sound technology designed to simulate the immersive 3D audio you'd get from a movie theater. The big difference between Atmos and traditional surround sound is that you'll hear sound move up and down and not just side-to-side, allowing you to get extra immersed when, say, a car flies overhead in an action movie. There are already lots of soundbars that support Atmos, including the LG SJ9, Sony HT-ST5000, and Yamaha YSP-5600. For more on the technology, check out our complete guide to Dolby Atmos.
How we test the best soundbars
When testing for inclusion in our best soundbars page, we play a range of media — including movies, music and games — in order to evaluate overall sound quality. We also test any companion software that may come with a soundbar, and factor in how easy it is to set up and use each device.
Other features we consider include a soundbar's inputs, outputs and ability to be wall mounted, all of which determine how well it will work with your home entertainment setup. We also take into account each soundbar's wattage, its supported audio channels and whether it includes a subwoofer — all factors that greatly affect how each speaker will sound in your living room.