The best outdoor speakers combine solid sound with rugged build to withstand the elements of a life outside. As all-weather speakers we've tested every model for their ability to shrug off splashes and a little light rain, to designs that are sufficiently protected to allow them to be left outdoors the whole year round. From the cozy confines of a patio to large backyards or public parks, with one of our best outdoor speakers to hand, you'll be able to rock out to party tunes, or create a more relaxed sound vibe wherever the mood takes you.
In this buying guide, we've tested and rated each model in areas including sound quality, durability and battery life. We've tried each in different locations to see how they perform for a life outdoors.
The best outdoor speakers available to buy right now
The best outdoor speakers have to withstand the elements and deliver robust bass, crisp treble and full midrange with enough power to be heard over both the wind and the chatter of a party. These Polk speakers check all the boxes, and still usually cost less than $200.
At 8.6 x 6.7 x 5.7 inches, the Atrium 4s are small enough so that they won't dominate your landscape and big enough to deliver full sound. While they don't have much bass, they produce more low end than other outdoor speakers of similar size. With a 4.5-inch mid-woofer/tweeter and a 0.8-inch tweeter inside each speaker, the Atrium 4 aptly handled both the distorted guitars of classic rock and the thumping bass of hip-hop while producing clear vocals.
If you want more bass and have the space (and some extra cash), consider Polk's larger Atrium 5 speakers, which come with 5-inch midrange woofer/tweeters.
Read our full Polk Atrium 4 review.
The Anker Soundcore 3 is an amazing little Bluetooth speaker for outdoor sounds. For just over $50, this tiny powerhouse delivers loud, well-balanced sound within an IPX7-rated design that can survive water, dust, while the robust rubberised outer case takes care of protection from every day knocks. The speaker lasts up to a whopping 24 hours, thanks to Anker's best-in-class battery technology, and the Soundcore 3's dual tweeter drivers and central mid/bass woofer allied to a passive bass driver and Anker's BassUp technology, ensure you'll get powerful sound in any setting.
The Soundcore's compact, 6.75 x 2.25 x 2.25-inch design makes this speaker perfect for tossing into your bag for a quick road trip, and SharePlay allows multiple Soundcore speakers to be synced for an even bigger sound. It's also available in blue, red and silver colors for a little extra cost in addition to the standard slick black we tested.
Read our full Anker Soundcore 3 review.
Like the bigger, more expensive Sonos Move, the Roam is a portable smart speaker that slots seamlessly into any Sonos multi-room system you might have. Its outdoorsy credentials mainly come from even better weatherproofing: with an IP67 rating, the Sonos Roam is protected against dust ingress and can survive full submersion in water, let alone a little rain.
Just because it has Wi-Fi capabilities doesn't mean you need to shackle the Roam close to your house, either. The 10-hour battery might not trouble the most long-lasting Bluetooth speakers, but it can take advantage of its handy Auto TruePlay feature wherever it is. This automatically adjusts the sound output to best suit the environment, even in an open space like a park.
Read our full Sonos Roam review.
If you subscribe to the "go big or go home" school of outdoor entertaining, the AW-650 speakers are some of the best outdoor speakers you can buy. These monsters of rock measure 15 x 11 x 9.5 inches and feature a 6.5-inch woofer and 1-inch tweeter. The result is thunderous bass and crisp, full vocals that can easily overpower the ambient noise of the outdoors when you want.
The AW-650 speakers are built like a tank, with a UV-resistant ABS plastic polymer enclosure that's backed by Klipsch's lifetime warranty. And at 9 pounds each, you'll want to make sure you securely mount them if you choose to place them up high; they would also work well at floor level.
Read our full Klipsch AW-650 outdoor speaker review.
V-Moda's fantastic track record with headphones should already tell you that their first-ever Bluetooth speaker, the Remix, is a solid performer. This well-built and stylish speaker delivers booming bass, warm highs, and crisp mids, plus it comes with an integrated headphone amplifier. It even plays high-res audio formats (FLAC, ALAC, AIFF, WAV, and DSD). There is multiroom solution for the Remix, but at least you can daisy-chain multiple speakers to achieve stereo surround sound. Craftsmanship is also superb with the sides of the speaker made of black plastic, while the front is made of black 3D-printed fiber; V-Moda lets you customize the design for a premium.
A full charge keeps this bad boy operating at 10 hours within a 50-foot range, which is much higher than the 33-feet range that V-Moda advertises. The current price drop should also make this an enticing purchase for those who want a mini boom box that pumps out loud sound.
Read our full V-Moda Remix review.
When it comes to the best outdoor speakers, the Yamaha NS-AW150W hit a sweet spot in sound, size and cost. They deliver good overall sound, with especially crisp treble and full vocals. The bass isn't as powerful as others among the best outdoor speakers, but few this size hammer out the low end well.
The speakers produce a crisp sound with some bass, though the low frequencies may get lost among ambient sounds. The sound is also fairly narrow, meaning it doesn't spread as widely across an open backyard. Still, they produce good vocals and crisp treble, and throw in a bit of bass too — all for just $99 for the pair.
Read our full Yamaha NS-AW150W review.
If you're looking for the best outdoor speaker that you can take on the go — and in the pool — the UE Megaboom 3 is the way to go. Large for a Bluetooth speaker but still fully wireless and portable, the UE Megaboom 3 pumps booming sound out of its attractive, portable frame. It also carries an IPX7 waterproof rating, meaning it can sit by the pool, on the beach or even get dunked underwater and keep on ticking.
The Megaboom 3 also stands out thanks to its 20-hour battery, which should have your outdoor pool parties filled with music all day long. Better yet, you can pair the Megaboom 3 to other UE speakers for the ultimate stereo experience. Overall, the UE Megaboom 3 is the perfect pick for those who want an outdoor speaker that can go anywhere — and sound great doing it.
Read our full UE Megaboom 3 review.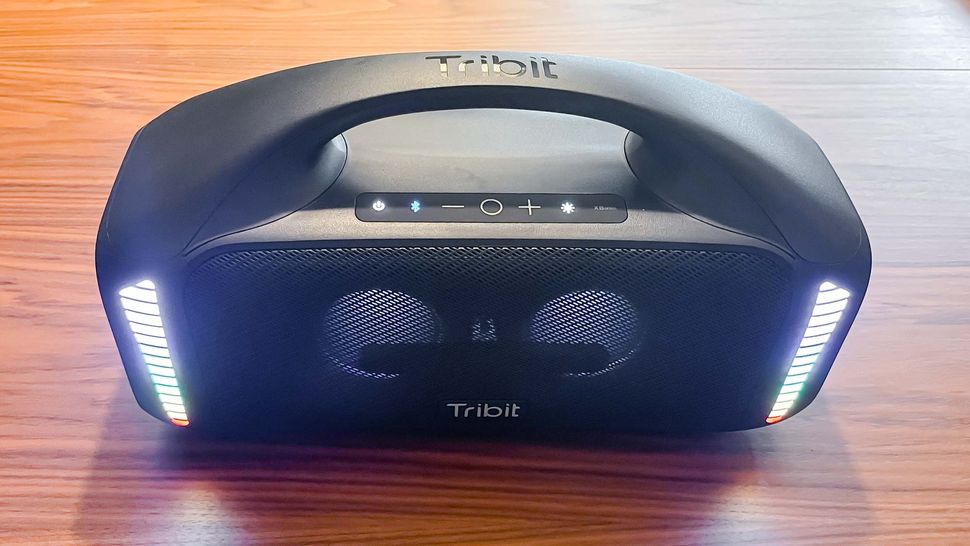 While it costs about $200, the StormBox Blast is not nearly as expensive as some extra-large portable Bluetooth speakers like UE's Hyperboom and JBL's Boombox 3, but it sounds nearly as good, making it something of a bargain compared to other extra-large portable Bluetooth speakers.
If you're looking for a big speaker that can withstand the elements, the Tribit StormBox Blast has a lot going for it. It fills whatever space you are in with bassy sound and vocals sound clear. You can boost the bass further with the XBass button on the speaker, and you can link two StormBox Blasts together for an even bigger sound. It can play all day without needing a recharge, and it's waterproof so you don't have to worry about it falling into the pool or getting rained on for a while. And it puts on a light show if you want some visuals to go with your audio.
Read our full Tribit StormBox Blast review.
The UE Wonderboom 3 is one of the most well-rounded Bluetooth speakers under $100 that we've reviewed. Balanced sound and a portable design make it a great companion, while the Outdoor Boost feature does its job. And for most people 14 hours of battery life is plenty.
If you think you need beefier sound or a longer battery life, the Megaboom 3 might be worth the investment. It also can be paired with additional UE speakers for stereo sound. Charging the Ultimate Ears Wonderboom 3 is our only real disappointment. Going from dead, the speaker took over two hours to reach the chime that indicates a full charge. This is probably due to Micro-USB charging, which is rather outdated, and we wish it had USB-C charging like most of my other devices. Otherwise, the UE Wonderboom 3 is one of the best options for the price.
Read the full UE Wonderboom 3 review.
Need an outdoor speaker that also doubles as a portable Bluetooth speaker? The Sonos Move will fit the bill and then some. This beefy Bluetooth speaker offers Sonos' signature high-end soundscape on top of a 10-hour battery that should last through all of your backyard festivities.
On top of offering rich bass and crisp dialogue, the Sonos Move is one of the best outdoor speakers for folks who want smart features. The speaker supports both Alexa and Google Assistant for voice controls, and can switch from Bluetooth to Wi-Fi on the fly, making it ideal for just about any outdoor setting. Plus, Sonos' Auto TruePlay technology uses microphones to automatically tune the speaker for its surroundings. Add support for all major streaming services on top of all that and you have the ultimate outdoor portable speaker.
Read our full Sonos Move review.
A great alternative to the Megaboom 3 is JBL's IP67-rated Charge 5. High-grade waterproofing is combined with strong protection against dust and grit, to the Charge 5 is ideal for beach trips and pool parties. There are smaller Bluetooth speakers, but this one is still compact enough to stuff in a backpack.
As with the rest of the Charge range, the Charge 5 can also double up as a power bank for phones and tablets — so if playing music is sapping your phone, you can top it up with the very speaker you're playing through. And if you don't need this feature, you'll get a very healthy 20 hours of listening time from a full charge.
Read our full JBL Charge 5 review.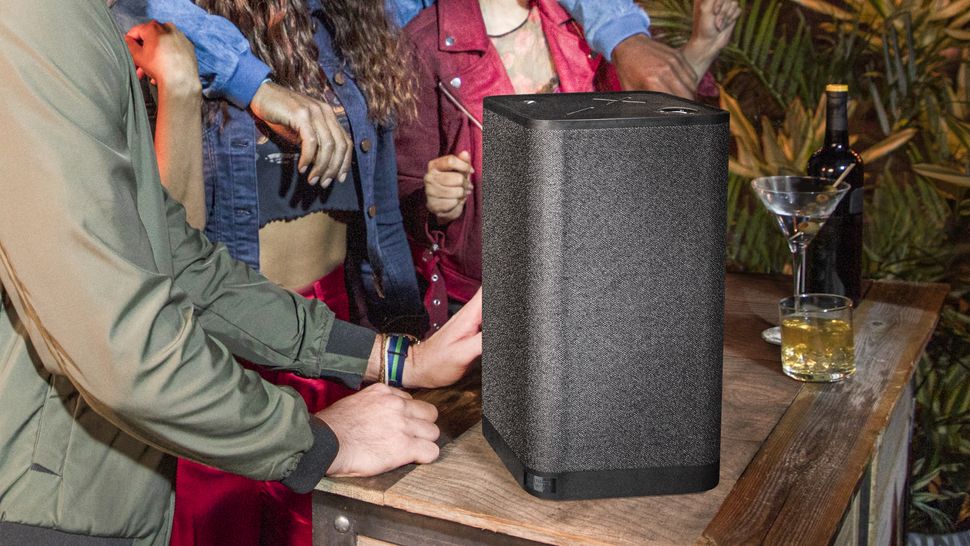 The UE Hyperboom blends the size and power of a true outdoor speaker with the versatility of a Bluetooth speaker. This 14-inch tall speaker offers huge, balanced sound for outdoor gatherings and cookouts, and lasts for 24 hours on a charge to power your patio hangs all day and night.
The Hyperboom is also IPX4 rated, making it able to withstand splashes and drizzles. With easy Bluetooth pairing to any mobile device, big bass and sharp high-end, the Hyperboom is one of the best outdoor speakers you can buy for social gatherings.
Read our full UE Hyperboom review.
How to choose the best outdoor speakers for you
Along with price, there are several other factors to consider when choosing the best outdoor speakers.
Design: As you shop for outdoor speakers, the first thing you'll want to look for is weather-proofing. Outdoor speakers should be at least partially water-resistant, and if you want to leave them outside all the time, they should be fully waterproof with an IPX7 rating. The next thing you'll want to consider is how the speakers will be connected. Many outdoor speakers are wired, so you'll need a power source. If that's not doable in your backyard or patio, then you will want to concentrate on portable Bluetooth speakers.
Sound quality: Next, think about how big your space is and what kind of volume level you'll require. If you have a small patio or mainly want music for dinner parties, a smaller set of outdoor speakers may be perfectly adequate. But if you have a large suburban backyard or want to host crowded dance parties, you may want to shop for larger speakers with more audio capacity.
Different models offer different sound, and some models offer personalized sound via companion app, which allows the user to create their own profiles and tweak EQ levels to their hearing.
Battery life: Most outdoors speakers are also portable and typically manage around 15 to 20 hours.
Accessories: Make sure there's a power/charging cable at the very least, and a user guide.
Pricing considerations: Last but not least, there's cost. Outdoor speakers can get pricey, as they need to be tough and rugged enough to withstand the elements. You can still find great sets at any budget level. Note that Bluetooth speakers are generally going to be more expensive.
Although there are always exceptions, big-name brands will typically command a bit extra, but generally speaking, the less you spend on an outdoor speaker the greater the chance that sound and features will be compromised. Going for the budget option isn't always the best choice, as any money you save on your purchase won't do you much good if you're constantly needing to recharge your audio gear, or the sound quality is poor.
As the saying goes: timing is everything; and right now many of our favorite models are discounted at online retailers, meaning you can bag a bargain for even less. Bookmark our tech deals pages to keep track of the lowest prices.
How we test the best outdoor speakers
For the best outdoor speakers, we look at a number of factors. We start with audio quality: how bass, mid-range, treble and vocals sound. Are they balanced? What kind of woofer, midrange driver and tweeter do the speakers have? We also look at size and range to determine how the outdoor speaker will sound in different settings, from a large backyard to a smaller patio or deck. Will the speaker be able to fill various areas or are they better in certain set-ups?
Naturally the best way to answer these questions is to play a variety of music genres, outside in the conditions you'd normally expect to find these speakers.
Next, since these are outdoor speakers, we have to take weatherproofing into consideration. Are they temperature and water resistant? Does the speaker's housing ward off against bugs and dust? Other factors include how easy it is to mount/install the speakers along with using any smart technology features.
And we want to test a variety of outdoor speakers at different price points, so that we can recommend one for every type of budget. If you want something even more affordable, check out the best cheap Bluetooth speakers — though only some of these will offer waterproofing.
Contributions from: Michael Gowan, Kate Kozuch
Find out how we test for more information on our reviewing procedures.
More from Tom's Guide