The best outdoor speakers combine smooth sounds with rugged protection against the elements. Sometimes it will be enough to shrug off a light rain shower; sometimes it will be enough that you can leave your speaker, or speakers, outdoors for the whole year round.
And that's an appealing prospect: from the cosy confines of a patio to large backyards and public parks, you don't have to resort to headphones if you want to enjoy great music outside. So, in addition to some weather-resistant picks from our best Bluetooth speaker and best waterproof speaker rankings, we've gathered together the best outdoor speakers that you can enjoy with the knowledge that they'll stay working come rain or shine.
What are the best outdoor speakers?
The best outdoor speakers combine great sound, durable construction and helpful features, but won't break the bank as you outfit your backyard or patio. The speakers on our list all meet these criteria, and we've tested them all extensively.
Based on this testing, the best outdoor speaker right now is the Polk Atrium 4, which offers quality audio and a sturdy design for a good price. The larger Atrium 5 set is also great if you're willing to pay more, but the sheer value of the Atrium 4 is hard to pass up.
Want something more portable? The Sonos Roam is a tiny but great-sounding speaker with high-grade protection against dust and water. If your Wi-Fi signal extends to your yard, you can even use its smart features like voice controls. The JBL Go 3 makes a much cheaper yet still fully waterproof alternative to the Roam, too.
The Klipsch AW-650 is another great option, provided you can find room for it. If you can, you'll be rewarded with huge sound that's ready for any outdoor party.
Read on for all of our picks for the best outdoor speakers.
The best outdoor speakers available now
The best outdoor speakers have to withstand the elements and deliver robust bass, crisp treble and full midrange with enough power to be heard over both the wind and the chatter of a party. These Polk speakers check all the boxes, and still usually cost less than $150.
At 8.6 x 6.7 x 5.7 inches, the Atrium 4s are small enough so that they won't dominate your landscape and big enough to deliver full sound. With a 4.5-inch mid-woofer/tweeter and a 0.8-inch tweeter inside each speaker, the Atrium 4 aptly handled both the distorted guitars of classic rock and the thumping bass of hip-hop while producing clear vocals.
If you want more bass and have the space (and some extra cash), consider Polk's $150 Atrium 5, which come with 5-inch midrange woofer/tweeters.
Like the bigger, more expensive Sonos Move, the Roam is a portable smart speaker that slots seamlessly into any Sonos multi-room system you might have. Its outdoorsy credentials mainly come from even better weatherproofing: with an IP67 rating, the Sonos Roam is protected against dust ingress and can survive full submersion in water, let alone a little rain.
Just because it has Wi-Fi capabilities doesn't mean you need to shackle the Roam close to your house, either. The 10-hour battery might not trouble the most long-lasting Bluetooth speakers, but it can take advantage of its handy Auto TruePlay feature wherever it is. This automatically adjusts the sound output to best suit the environment, even in an open space like a park.
Read our full Sonos Roam review.
If you subscribe to the "go big or go home" school of outdoor entertaining, the AW-650 speakers are some of the best outdoor speakers you can buy. These monsters of rock measure 15 x 11 x 9.5 inches and feature a 6.5-inch woofer and 1-inch tweeter. The result is thunderous bass and crisp, full vocals that can easily overpower the ambient noise of the outdoors when you want.
The AW-650 speakers are built like a tank, with a UV-resistant ABS plastic polymer enclosure that's backed by Klipsch's lifetime warranty. And at 9 pounds each, you'll want to make sure you securely mount them if you choose to place them up high; they would also work well at floor level.

If you don't need to fill a huge area with sound, the JBL Go 3 could serve well as a budget-friendly option. It may be small but it's certainly not poorly-made, earning itself the same IP67 rating as the Sonos Roam: enough for both heavy-duty waterproofing and strong protection against dirt, sand or dust ingress.
The sheer affordability is another enticing factor, and we got twice the "official" 5 hours of battery life on medium volume, though for entertaining large backyard parties you may need something more powerful. For lower-key trips outdoors, though, the Go 3 very much has its benefits.
Read our full JBL Go 3 review.
With big bass and full vocals, the Dual LU53 speakers are a steal for about $50. The 10.1 x 7.3 x 7.3-inch three-way speaker houses a large 5.3-inch woofer, a 1-inch midrange driver and a 0.8-inch tweeter. The drivers help it produce enough bass to be heard outdoors while the vocals remain prominent in the mix.
Although not as crisp or as detailed as the Atrium 4s, the Dual LU53's bigger size creates a wide soundstage that can entertain the crowd at your next barbecue. Don't mix up the LU53 with the cheaper Dual LU43 — there's a world of difference between the sound of the two models.

Need an outdoor speaker that also doubles as a portable Bluetooth speaker? The Sonos Move will fit the bill and then some. This beefy Bluetooth speaker offers Sonos' signature high-end soundscape on top of a 10-hour battery that should last through all of your backyard festivities.
On top of offering rich bass and crisp dialogue, the Sonos Move is one of the best outdoor speakers for folks who want smart features. The speaker supports both Alexa and Google Assistant for voice controls, and can switch from Bluetooth to Wi-Fi on the fly, making it ideal for just about any outdoor setting. Plus, Sonos' Auto TruePlay technology uses microphones to automatically tune the speaker for its surroundings. Add support for all major streaming services on top of all that and you have the ultimate outdoor portable speaker.
Read our full Sonos Move review.
If you're looking for the best outdoor speaker that you can take on the go — and in the pool — the UE Megaboom 3 is the way to go. Large for a Bluetooth speaker but still fully wireless and portable, the UE Megaboom 3 pumps booming sound out of its attractive, portable frame. It also carries an IPX7 waterproof rating, meaning it can sit by the pool, on the beach or even get dunked underwater and keep on ticking.
The Megaboom 3 also stands out thanks to its 20-hour battery, which should have your outdoor pool parties filled with music all day long. Better yet, you can pair the Megaboom 3 to other UE speakers for the ultimate stereo experience. Overall, the UE Megaboom 3 is the perfect pick for those who want an outdoor speaker that can go anywhere — and sound great doing it.
Read our full UE Megaboom 3 review.
A great alternative to the Megaboom 3 is JBL's IP67-rated Charge 5. High-grade waterproofing is combined with strong protection against dust and grit, to the Charge 5 is ideal for beach trips and pool parties. There are smaller Bluetooth speakers, but this one is still compact enough to stuff in a backpack.
As with the rest of the Charge range, the Charge 5 can also double up as a power bank for phones and tablets — so if playing music is sapping your phone, you can top it up with the very speaker you're playing through. And if you don't need this feature, you'll get a very healthy 20 hours of listening time from a full charge.
Read our full JBL Charge 5 review.
The AWR-650-SM is much more than a disguised rock; like the base Klipsch AW-650, it also delivers spectacular sound. The housings of these ingeniously designed speakers are made to resemble 17-inch-high hunks of either sandstone or granite, depending on the overall aesthetic of your patio or garden. The undersides are slathered with sealant, and the wiring is thick and waterproof. But on the inside, Klipsch has packed these faux boulders with punch: dual 0.8-inch tweeters and a 6.5-inch woofer deliver superior sound quality, with brass that pops and bass that comes in heavy and authoritative.
The biggest knock on these rocks? Price. Each one will set you back almost $300, and they really should be experienced as a pair. The 13-pound weight is not terribly heavy, but these are clunky to carry. But if you're willing to go the distance for maximum outdoor sound and minimal footprints around your grounds, pony up a few extra clams for these secret speakers.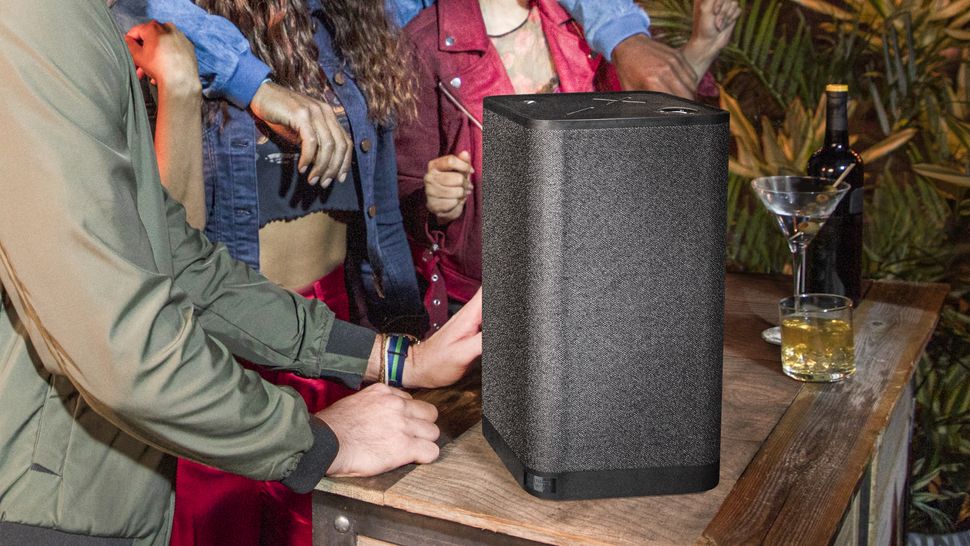 The UE Hyperboom blends the size and power of a true outdoor speaker with the versatility of a Bluetooth speaker. This 14-inch tall speaker offers huge, balanced sound for outdoor gatherings and cookouts, and lasts for 24 hours on a charge to power your patio hangs all day and night.
The Hyperboom is also IPX4 rated, making it able to withstand splashes and drizzles. With easy Bluetooth pairing to any mobile device, big bass and sharp high-end, the Hyperboom is one of the best outdoor speakers you can buy for social gatherings.
Read our full UE Hyperboom review.
How to choose the best outdoor speakers for you
As you shop for outdoor speakers, the first thing you'll want to look for is weather-proofing. Outdoor speakers should be at least partially water-resistant, and if you want to leave them outside all the time, they should be fully waterproof with an IPX7 rating. The next thing you'll want to consider is how the speakers will be connected. Many outdoor speakers are wired, so you'll need a power source. If that's not doable in your backyard or patio, then you will want to concentrate on portable Bluetooth speakers.
Next, think about how big your space is and what kind of volume level you'll require. If you have a small patio or mainly want music for dinner parties, a smaller set of outdoor speakers may be perfectly adequate. But if you have a large suburban backyard or want to host crowded dance parties, you may want to shop for larger speakers with more audio capacity.
Last but not least, there's cost. Outdoor speakers can get pricey, as they need to be tough and rugged enough to withstand the elements. You can still find great sets at any budget level. Note that Bluetooth speakers are generally going to be more expensive.
How we test the best outdoor speakers
For the best outdoor speakers, we look at a number of factors. We start with audio quality: how bass, mid-range, treble and vocals sound. Are they balanced? What kind of woofer, midrange driver and tweeter do the speakers have? We also look at size and range to determine how the outdoor speaker will sound in different settings, from a large backyard to a smaller patio or deck. Will the speaker be able to fill various areas or are they better in certain set-ups?
Naturally the best way to answer these questions is to play a variety of music genres, outside in the conditions you'd normally expect to find these speakers.
Next, since these are outdoor speakers, we have to take weatherproofing into consideration. Are they temperature and water resistant? Does the speaker's housing ward off against bugs and dust? Other factors include how easy it is to mount the speakers and to use any included features like smart technology.
And we want to test a variety of outdoor speakers at different price points, so that we can recommend one for every type of budget. If you want something even more affordable than what's on this list, check out the best cheap Bluetooth speakers — though only some of these will offer waterproofing.