When shopping for the best cheap soundbars, your goal is to seek out a model that can produce high-quality sound without bleeding your wallet dry. They can serve the same role as the overall best soundbars, putting the audio that comes out of your TV's speakers to shame by creating a livelier listening experience. Everything from movies to shows, concerts to sporting events, Instagram clips to iPhone videos will receive a sonic boost, and you can enjoy this without blowing through your entire budget.
The market has many great options available that go for half, and in some cases, a third of what some premium models sell for. We've compiled a list of the best cheap soundbars and ranked them based on performance and value. Keep in mind that all our selections fall under $150.
Read on to find out more about the best cheap soundbars you can buy.
What are the best cheap soundbars?
In the No. 1 spot on our best cheap soundbars list is the Vizio SB3820-C6. This inexpensive soundbar is an elite performer that pairs perfectly with larger TVs. It measures 38 inches long and pumps out wide sound to fill your entire living room with full bass and crisp treble. Build quality is as good as what you'll find on pricier soundbars. We also recommend the Vizio SB2920, a 29-inch sound with solid audio output that costs less and sits handsomely below smaller TVs.
A close runner-up is the Creative Stage V2. This low-priced soundbar delivers clear, articulate sound, highlighted by powerful bass that the accompanying subwoofer handles with ease. There are built-in bass and treble controls, plus the bundled remote comes programmed with a variety of functions that simplify usage. The TCL Alto 6 isn't far behind, another model packaged with a subwoofer that offers strong sound and smart features like Roku integration.
Proceed forward to see our full list of picks for the best cheap soundbars.
The best cheap soundbars you can buy today
The Vizio SB3820-C6 is the best cheap soundbar you can get, hands down. It's a single penny under $100, and you'll have a hard time believing you only spent that little on it — it neither looks nor sounds cheap. Thanks to its two 2.75-inch drivers, it produces clear, resonant dialog and good bass for a unit without a subwoofer. The 38 x 3 x 3-inch unit is a good match for larger TVs, and the width helps it create a wide soundstage. It has plenty of power to fill your room with sound. In addition, It doubles as a very capable music speaker, too — something few soundbars under $100 can claim.
The SB3820-C6 has just about every way to connect to your TV or monitor that you could need, except HDMI. The included remote is also well built and handy — again something few cheap soundbars include. More expensive soundbars will produce more encompassing sound and come with a subwoofer, but the SB3820-C6 will meet the audio needs for most people.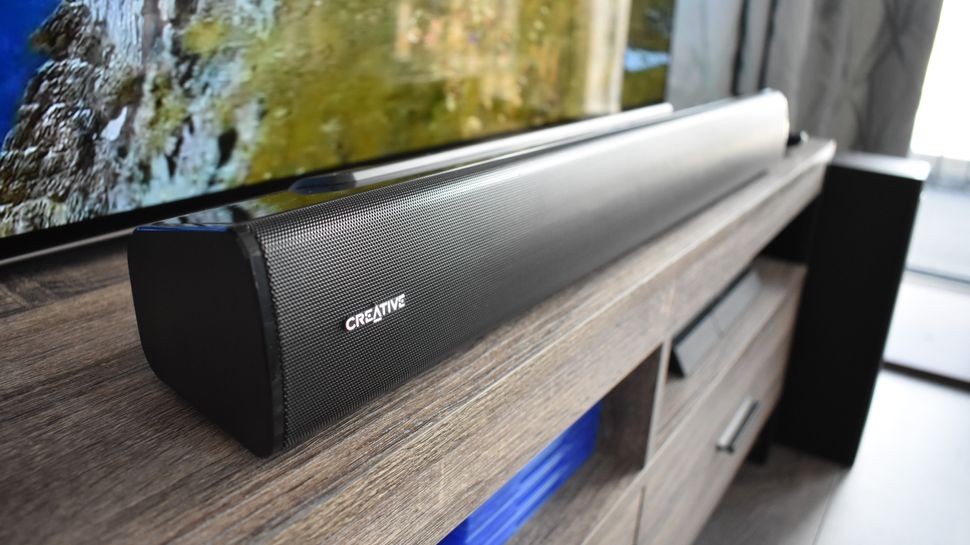 While not quite as dirt-cheap as the Vizio SB3820-C6, the Creative Stage V2 still offers incredible value for money. In addition to a sleek soundbar with a relative bounty of connectivity, including HDMI ARC, the small outlay also gets you a dedicated subwoofer to help pump out impactful bass.
Sound quality is very good overall, and can be tweaked to match what you're watching. For instance, you can choose to boost the bass or treble at any time, and there are "Dialog" and "Surround" to try out as well. The latter doesn't provide digital surround sound per se, but does widen the soundstage for more exciting action scenes.
Read our full Creative Stage V2 review.
The Alto 6 Plus is even cheaper than the Stage V2, and it also has its own dedicated subwoofer — only this one is wireless. It's powerful, too, proving more than capable of filling out movie action scenes or music playback with deep, rumbly bass.
The downside is that this low-end isn't as tightly controlled as it is on pricier soundbar/sub combos, and your options for adjusting the sound profile are relatively limited. But we were still impressed with how forceful the Alto 6 Plus sounded in our testing, and its simplicity means that home theater beginners might actually appreciate how easy it is to complete setup.
Read our full TCL Alto 6 Plus review.
Vizio has a variety of soundbar and subwoofer bundles to choose from, but our current favorite is the V-Series 2.1 Home Theater Soundbar V21-H8. The speaker itself has a nondescript, minimalist design that blends nicely into any home theater setup. There are numerous inputs to hook up other media devices, including televisions, gaming consoles, and any Alexa, Google Assistant or Siri smart speaker. Bundled with the combo is a highly functional remote to enable playback, volume, and even DTS Virtual:X and DTS TruVolume, which help produce bigger and more encompassing sound. Staying in standard mode will also reward your ears with clear voices and full midtones.
Bass fanatics might enjoy the emphasized low end that comes out of the small subwoofer, but critical listeners won't since it lacks precision and creates muddiness on certain songs and soundtracks.
Read our full Vizio V-Series 2.1 Home Theater Soundbar V21-H8 review.
One of Roku's earliest experiments in the audio space, the Streambar Pro is an impressive device that stuffs a 4K Roku streaming player into a tiny soundbar. Virtual surround sound is available right out of the box to fill up your living room. Bass is decent considering there's no subwoofer bundled with the package. It also comes with one of the most user-friendly remotes available, which features a button for voice search and headphone jack for private listening.
Lack of Dolby Atmos support will disappoint those seeking a more immersive listening experience. So will the laggy performance when going through the menus and app. Nonetheless, to get quality sound and Roku functionality from a speaker makes this a sweet deal.
Read our full Roku Streambar Pro review.
Another good option for smaller TVs is the LG SK1. Its compact design only includes two speakers for a modest 40W output, but that's still enough to provide a tangible boost to lower-spec TVs.
The plug-and-play setup, simple interface and included remote also help streamline everyday usage, which might be ideal if you just want a better TV speaker without a ton of extras. Still, we'd recommend turning on the Bass Blast mode for some extra low-end punch, and you can connect a Bluetooth device if you ever want to use the SK1 as a music speaker as well.
Read our full LG SK1 review.
If you want better sound, but don't have a good place to put a soundbar, a soundbase — which goes under your TV stand — could be the solution. Pyle's 20.6 x 12 x 3-inch PSBV600BT is one of the few soundbases you'll find for such little cash. The PSBV600BT uses its 12-inch depth to its advantage by including a woofer in the unit, which results in big, booming bass. It also has enough power to fill a large room with sound. With optical digital, 3.5mm and stereo RCA wired connections, along with Bluetooth for wireless, this Pyle soundbase is likely to be compatible with your TV. (However, it lacks HDMI.) The unit can support TVs up to 110 pounds.
The bass can overwhelm the treble and midrange, though, and dialog and vocals can get lost in the mix. The included remote is quite small and not very useful.
The 10.8 x 2.4 x 2-inch Torpedo Plus has something other cheap soundbars don't: a 5.5-hour battery, which makes it convenient to take it anywhere you want to watch TV. The unit also has a sharp design, making it stand out from the field. The Torpedo Plus serves up clear dialog, but lacks any bass to speak of. The crisp treble tones help provide details in music and movie soundtracks. The Torpedo Plus creates a wide soundfield when you engage 3D surround mode.
Due to its small size, this soundbar is a better complement to a laptop or tablet than a full-sized TV. The soundbar suffered from interference when connected via Bluetooth and only features one wired connection option for 3.5mm. It also lacks a remote so you have to adjust the volume on the unit itself.
How to choose the best cheap soundbar for you
The best cheap soundbar for you depends on the features, connections and size that will help you most enjoy watching movies and TV. None of these cheap soundbars come with a subwoofer, but some deliver more bass — a key feature if you like the tactile rumble that comes when watching action scenes. Think about if you need a remote; only some of these include them.
You'll also want to pay attention to the audio outputs on your TV or monitor. Since none of these cheap soundbars comes with HDMI, the next best option is optical digital or coaxial digital audio. If your set doesn't offer those, look for a soundbar with stereo RCA or 3.5mm inputs. Another important consideration is the size of your TV — larger TVs look and sound best when paired with larger soundbars. But if your space is limited, a small soundbar is better than no soundbar at all.
How we test the best cheap soundbars
We test soundbars for vocal clarity and low-end effects by watching a variety of movies and TV shows, including video in action and drama genres. We also listen to various songs ranging from rock to hip hop to acoustic to evaluate music performance. We benchmark volume using an app that measures decibels.
Ease of use depends on how quickly and simply we can connect the soundbar to the TV and how easily we can make adjustments to the sound quality. We'll let you know if this process is particularly easy or difficult, though cheap soundbars pretty much never require specialist audio knowledge to set up.