When shopping for the best cheap soundbars, your goal is to seek out a model that can produce high-quality sound without bleeding your wallet dry. They can serve the same role as the overall best soundbars, putting the audio that comes from your TV's built-in speakers to shame by creating a livelier and more engaging listening experience. Everything from movies to TV shows, concerts to sporting events, social clips to YouTube videos gets a sonic boost, and you can reap these rewards for less you than think.
The TV soundbar market has plenty of great alternative options available that cost half, and in some cases, a third of what some premium models sell for. We've compiled a list of the best soundbars we've heard under $300 and ranked them based on their sound quality and features.
Read on to find out more about the best cheap soundbars you can buy.
What are the best cheap soundbars?
The Creative Stage V2 takes the top spot in our updated list of the best cheap soundbars available to buy today. This low-priced soundbar delivers clear, articulate sound, highlighted by powerful bass that the accompanying subwoofer handles with ease. There are built-in bass and treble controls, plus the bundled remote comes programmed with a variety of functions that simplify usage.
Even with a higher MRSP than the Creative, (although it can currently be found discounted to $249), the Polk is a great budget soundbar. It packs huge audio into a tiny package quite like the Polk MagniFi Mini does. This unassuming speaker will fit seamlessly into any setup, and delivers crisp dialogue and deep bass with the help of its included wireless subwoofer. Plus, with Google Cast support, the MagniFi Mini doubles as a great home music speaker.
In third place The TCL Alto 6 isn't far behind and is another model packaged with a subwoofer that offers strong sound and smart features like Roku integration.
Update: The Sonos Ray is official, and it costs $279. Read our Sonos Ray review for availability information and our first impressions.
Read on to see our full list of picks for the best cheap soundbars that we've reviewed and rated.
The best cheap soundbars (updated May 23)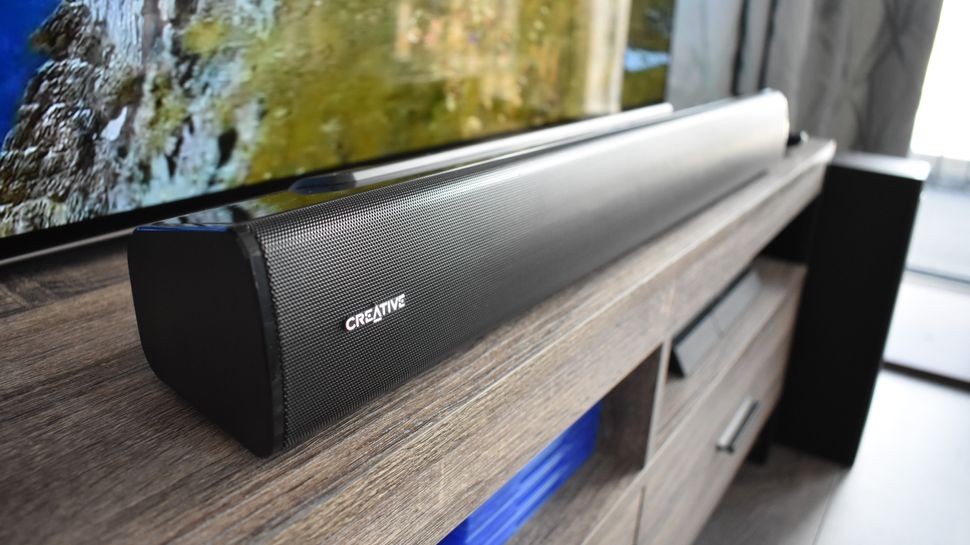 The Creative Stage V2 soundbar is incredible value for money. In addition to a sleek soundbar with a relative bounty of connectivity, including HDMI ARC, the small outlay also gets you a dedicated subwoofer to help pump out impactful bass.
Sound quality is very good overall, and can be tweaked to match what you're watching. For instance, you can choose to boost the bass or treble at any time, and there are "Dialog" and "Surround" to try out as well. The latter doesn't provide digital surround sound per se, but does widen the soundstage for more exciting action scenes.
Read our full Creative Stage V2 review.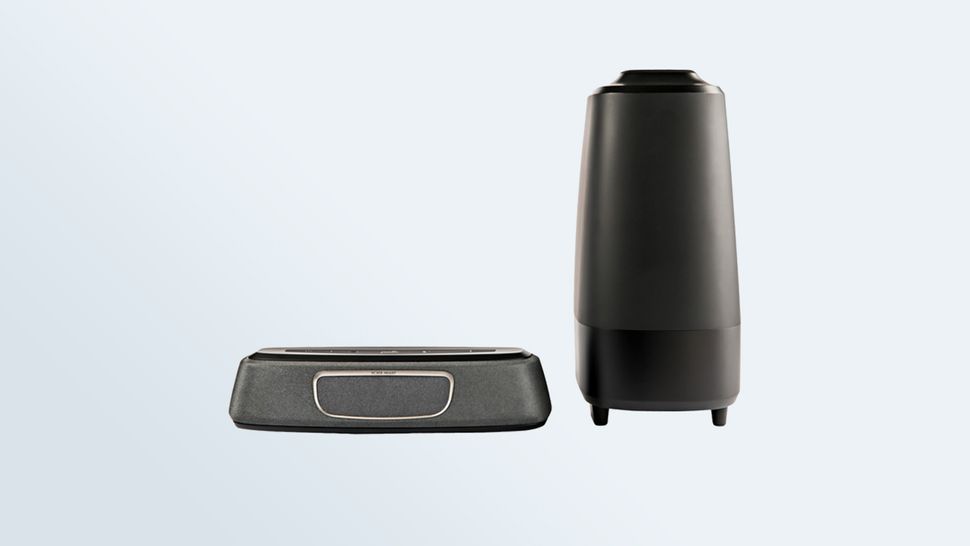 No soundbar packs huge audio into a tiny package quite like the Polk MagniFi Mini does. This unassuming speaker will fit seamlessly into any setup, and delivers crisp dialogue and deep bass with the help of its included wireless subwoofer. Plus, with Google Cast support, the MagniFi Mini doubles as a great home music speaker.
The MagniFi Mini gets loud enough to fill most bedrooms and small apartments, and we found it reliable for getting immersed in movies and TV shows. Factor in a handy remote and an easy setup process, and you've got the best soundbar out there for folks short on space. And at $300, it won't set you back much, either.
Read our full Polk MagniFi Mini review.
The Alto 6 Plus is even cheaper than the Stage V2, and it also has its own dedicated subwoofer — only this one is wireless. It's powerful, too, proving more than capable of filling out movie action scenes or music playback with deep, rumbling bass.
The downside is that this low-end isn't as tightly controlled as it is on pricier soundbar/sub combos, and your options for adjusting the sound profile are relatively limited. But we were still impressed with how forceful the Alto 6 Plus sounded in our testing, and its simplicity means that home theater beginners might actually appreciate how easy it is to complete setup.
Read our full TCL Alto 6 Plus review.
Vizio has a variety of soundbar and subwoofer bundles to choose from, but our current favorite is the V-Series 2.1 Home Theater Soundbar V21-H8. The speaker itself has a nondescript, minimalist design that blends nicely into any home theater setup. There are numerous inputs to hook up other media devices, including televisions, gaming consoles, and any Alexa, Google Assistant or Siri smart speaker.
Bundled with the combo is a highly functional remote to enable playback, volume, and even DTS Virtual:X and DTS TruVolume, which help produce bigger and more encompassing sound. Staying in standard mode will also reward your ears with clear voices and rich mid frequencies.
Bass fanatics might enjoy the emphasized low end that comes out of the small subwoofer, but critical listeners won't since it lacks precision and creates muddiness on certain songs and soundtracks.
Read our full Vizio V-Series 2.1 Home Theater Soundbar V21-H8 review.
One of Roku's earliest audio products, the Streambar Pro is an impressive device that stuffs a 4K Roku streaming player into a tiny soundbar. Virtual surround sound is available right out of the box to fill up your living room. Bass is decent considering there's no subwoofer bundled with the package. It also comes with one of the most user-friendly remotes available, which features a button for voice search and headphone jack for private listening.
Lack of Dolby Atmos support will disappoint those seeking a more immersive listening experience. So will the sluggish performance when going through the menus and app. Nonetheless, to get quality sound and Roku functionality from a speaker makes this a sweet deal.
Read our full Roku Streambar Pro review.
Another good option for smaller TVs is the LG SK1. Its compact design only includes two speakers and claims a modest 40W power output, which is enough to outperform many TV audio systems.
The plug'n'play setup, simple interface and included remote also help streamline everyday usage, which might be ideal if you just want a better TV speaker without a ton of extras. Still, we'd recommend turning on the Bass Blast mode for some extra low-end punch, and you can connect a Bluetooth device if you ever want to use the SK1 as a music speaker as well.
Read our full LG SK1 review.
How to choose the best cheap soundbar for you
The best cheap soundbar for you depends on the features, connections and size that will help you most enjoy watching movies and TV. Some of these soundbars come with a subwoofer — a speaker dedicated to producing the tactile rumble that's evident when watching action movies. Think about whether you need a remote as some designs are better than others.
You'll also want to pay attention to the audio outputs on your TV or monitor. The majority of the soundbars now come with an HDMI port for audio output from your TV, but the LG SK1 offers optical digital only. Another important consideration is the size of your TV — larger TVs look and sound best when paired with larger soundbars. But if your space is limited, a small soundbar is likely to be better than no soundbar at all.
For more TV and soundbar info, check out our helpful guides on choosing the right big-screen TV for you, the best TVs right now and how to improve your TV sound.
How we test the best cheap soundbars
We test soundbars for vocal clarity and low-end effects by watching a variety of movies and TV shows, including video in action and drama genres. We also listen to various songs ranging from rock to hip hop to acoustic to evaluate music performance. We benchmark volume using an app that measures decibels.
Ease of use depends on how quickly and simply we can connect the soundbar to the TV and how easily we can make adjustments to the sound quality. We'll let you know if this process is particularly easy or difficult, though cheap soundbars pretty much never require specialist audio knowledge to set up.