The best waterproof cameras can open up a new world of shooting opportunities at the beach or pool, but they have other abilities too.
As well as being waterproof, most are also among the best rugged cameras, as they're built to withstand shock, drops and extreme temperatures. Some also capture GPS data, so you can see where you were at the time you took the photo.
All of which makes them ideal for hiking and camping trips, where the weather could change quickly and they're more likely to get dropped — and also a good choice for handing off to clumsy kids.
After testing a number of models, we think the best waterproof camera is the Olympus Tough TG-6. Versatile yet fairly easy to use, it offers great quality photos and beautiful video at 4K resolution. It has a higher-resolution display than its predecessor, as well as a few other minor improvements. It's water-resistant to 15 meters (about 50 feet), and is shockproof and freeze-proof. Plus, Olympus makes a bunch of accessories, such as an underwater case, should you want to take it deeper. That doesn't mean it's the right camera for you though, and there are plenty of others to choose from. So, read on for our full selection of the best waterproof cameras.
The best waterproof cameras you can buy today
The Olympus Tough TG-6 is the best waterproof camera overall for its versatility and ease of use. It sports a 12-megapixel sensor, f/2.0 lens, Olympus' TruPic VIII image processor, and a 4X optical zoom. It's capable of shooting 4K video at 30 fps, as well as slo-mo 120 fps video at 1080p. It has a number of underwater shooting modes, as well as a macro system, so you can get up close and personal with aquatic life.
The TG-6 is waterproof to 50 feet (15 meters), which isn't as good as the Nikon Coolpix W300 below, but which should be more than sufficient for snorkeling. Should you want to take it deeper, Olympus makes a waterproof case. The camera is also shock-resistant up to seven feet, and can operate in temperatures as low as 14 degrees Fahrenheit.
The TG-6 also includes what Olympus calls a Field Sensor System, which tracks your movement, temperature and location, so that you can see your stats later, or embed that info directly into your footage.
Our favorite deep-diving camera, Nikon's 16-MP Coolpix W300 has the same 100-foot water resistance as the previous model, the AW130, while increasing shock-resistance to withstand falls from heights of up to 7.9 feet. We liked that it includes a slightly more powerful 5x zoom lens (from 24mm-120mm) than the Olympus lens (24mm-100mm), which is helpful for capturing close photos and video footage without degrading image quality, which happens when you use digital zoom.
The W300 can capture video at up to 4K at 30 fps, and will even let you shoot and save stills in the middle of recording a video. We liked the variety of video settings, including time-lapse and superlapse movie mode.
The W300 sports a built-in GPS, altimeter, depth gauge and point-of-interest mapping. And like all of Nikon's recent cameras, it features the company's Snapbridge tech so you can connect your phone to your camera using NFC, Bluetooth and Wi-Fi for super-simple photo sharing. The Coolpix W300 is available in yellow, black and orange.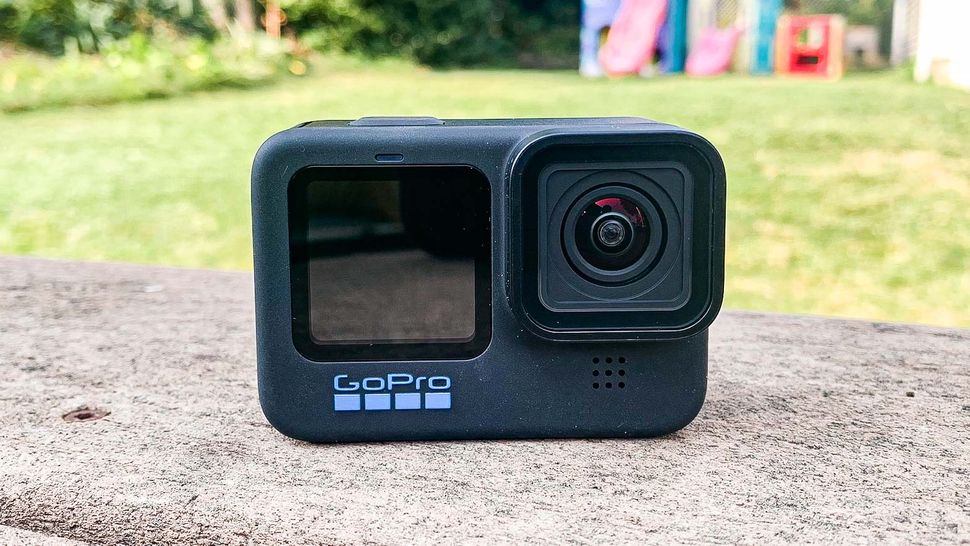 While the outside hasn't changed from the Hero9 Black, the GoPro Hero10 Black sports a new and improved processor on the inside, which translates to video recording as high as 5.3K/60 fps, as well as 2K video at 240 fps, and 4K video at 120 fps. On top of that, it has a larger 23MP image sensor, and manages to shave off a tiny bit of weight.
What's most impressive is the Hero10's upgraded image stabilization; you can now tilt the camera as much as 45 degrees and it will still smooth things out for you. However, this puts a serious dent on battery life, which is unchanged from the Hero9. But, you can use the same battery, as well as the same accessories, as before.
Read our full GoPro Hero10 Black review.
If Olympus' and Nikon's cameras are too pricey for your budget, FujiFilm's FinePix XP140 may be more to your liking. This camera costs a shade under $200, making it the best waterproof camera for those on a budget. It's waterproof to 82 feet — deeper than the Olympus, but shallower than the Nikon — can withstand drops from about 6 feet, and can withstand temperature ranges from 14 degrees to 104 degrees Fahrenheit.
The FinePix XP140 has a 16MP sensor, an ISO range of 100-12800, and a 5X optical zoom lens that goes from 28-140mm (35mm equivalent). It can also shoot 4K video, albeit at a low frame rate of 15 fps, so videos may look a bit choppy. A Cinemagraph Mode lets you take still images with moving elements, and a Smile Shutter feature will automatically take a shot when you can see everyone's teeth. It also has Bluetooth to make it easier to transfer photos from the camera to your smartphone or tablet.
How to choose the best waterproof camera for you
As with any camera, the first consideration when buying a waterproof camera is your budget. Our two top picks — the Olympus Tough TG-6 and the Nikon Coolpix W300 — each cost more than $350. The Fujifilm FinePix XP140, on the other hand, is available for less than $200, making it a good budget pick.
You'll also want to consider where you plan to use the camera. If you're snorkeling, then a waterproof camera that's good to 50 feet should suffice. But, if you're planning on taking it scuba diving, you'll want something that can go deeper.
If you're really into adventure sports, the GoPro Hero9 Black is your best option, as it's the most compact, has the best image stabilization, and can be mounted virtually anywhere. Plus, it now has a front-facing screen— making it much easier to frame yourself in your shot.
Tips for improving your underwater photos
There are many scenarios in which a waterproof or rugged camera can help capture unique photos or video. Here are some tips to really make the most of those images.
Make sure the compartments are sealed. If you let water get into the camera, it will be damaged, and will most likely not work again. It's important to read the instructions on waterproof-and-rugged models, if only to prevent such damage.
Use a harness to carry your camera. Some camera manufacturers make chest straps so that you can shoot with your waterproof camera, hands free. It can make for some powerful point-of-view style photos and video.
Add a selfie stick. Although some have badmouthed these accessories, they can be useful by providing a new point of view. Just be careful not to bump into those around you. Also, be aware that some types of venues, like museums and stadiums, often ban selfie sticks.
Get a flash diffuser. Some waterproof-and-rugged cameras have impressive macro, or close-up, features, but light is limited underwater. Fit a circular flash diffuser around your camera lens and you'll get much better illumination for your small-scale subjects.
Waterproof cases and housings
If you already own a (non) waterproof camera, and don't want to purchase a new camera to go scuba diving or snorkeling, there's a whole constellation of accessories available to make them waterproof. But be sure to find out the depth the housing is rated for, as this will determine how far underwater you can take your camera or smartphone once it's in the housing.
For stand-alone cameras, you'll want to look at both accessories created by your camera's brand and at third-party accessories by brands such as Ikelite and Aquatec. For point-and-shoots, you'll be able to find cases that range between $200 and $500. But if you're looking to put an advanced interchangeable-lens camera, like a DSLR or a mirrorless camera, into a waterproof housing, you'll have to spend quite a bit of money: prices can range between $750 and $1,500.
For smartphones, you generally don't get anywhere near the waterproofing in a standard case that you get with stand-alone camera housing. Waterproof smartphone cases might provide you with the ability to go only 6 or 7 feet underwater, and often for only a small period of time, like an hour. You'll pay anywhere from $15-80, but if you want to go scuba diving with your phone in a case, the suitable models generally cost more than $100.
Be sure to check out all of our camera picks:
Best cameras | Best DSLR cameras | Best action cameras | Best point-and-shoot cameras | Best instant cameras | Best mirrorless cameras | Best cheap cameras | Best GoPro camera | Best GoPro accessories | Best drones | Best 360 cameras | Best iPhone lenses | Best iPhone tripods |DSLR vs. mirrorless | Best Nikon accessories | Best Sony a6000 accessories

The best apps and software for editing, managing, and sharing your photos:
Best photo organizer apps | Best photo storage sites | Best photo editing software | Best photo editing apps | Best photo collage apps