Investing in one of the best ring lights is crucial if you want to improve the quality and feel of your online content creation, video calls, photography and selfies.
These simple rings of light usually use LEDs to produce a soft, continuous glow, producing flattering shadows and giving you a ring-shaped glow in your eyes. By using one, you'll always look your best on screen and in photos.
Ring lights are also commonly used for macro or product photography, where they can sometimes be affixed around a camera or lens for even lighting around a subject.
The best ring lights work with both cameras and smartphones (we've actually got a specific list of the best ring lights for phones). So if you've just bought a new phone with an incredible camera or have invested in a new vlogging camera to take your TikTok videos to the next level, you'll want to invest in a suitable ring light to give your content that professional edge.
Westcott's 18-inch Bi-Color LED Ring Light Kit ($179) is the best ring light overall, with an intuitive design, user-friendly controls and solid built quality. The Nanolite Halo 16C is another good choice, offering lots of versatility and touch controls. However, if you're on a tighter budget or simply need something different, you'll find something to suit among our picks of the best ring lights. All you have to do now is read on.
The best ring lights you can buy today
If you're looking for a versatile ring light kit that has a professional build quality and provides you with lots of features and options, the Westcott 18-inch Bi-Color LED Ring Light Kit with Batteries and Stand will fit the bill. Westcott has a long history producing top-notch lighting equipment for pros, and is an excellent choice, whether you're using it for vlogging, live streaming, capturing video or shooting still photos for portraits, food, still life and many other types of genres.
This ring light has user-friendly controls and a hassle-free setup, and it claims to have high color accuracy. It also has a built-in diffuser which produces soft, beautiful lighting that fills in shadows on your subject's face with iconic catchlights in the eyes.
You get lots of options with this model: it can be used with a phone or nearly any type of stand-alone camera, since the kit comes with two cold-shoe mounts and a 1⁄4-inch-20 mounting option.
It runs on the included AC power adapter or, when you're far from a power outlet, on the two included NP-F750 lithium-ion batteries. These provide up to 70 minutes at full power, according to the manufacturer. It's also fully dimmable and equipped with an adjustable color temperature ranging from 3200K to 5600K in increments of 25 Kelvin. And all of the components can fit into an included carrying case, for easy travel and storage.
This Nanlite Halo 16C is one of several ring lights the company has in its product line, ranging from 14 to 19 inches in diameter. This 16-inch model is well suited to many uses, including beauty lighting, vlogging, live streaming, makeup application and tutorials, portrait photography and small product photography.
What makes this one of the best ring lights is that it offers variable color settings (including an RGBWW feature) and the ability to change the brightness of the light. The USB pass-through feature is another useful addition, as this lets you charge a phone while it's positioned in the fixture, ensuring you won't lose power during your shoot.
Other interesting touches include a unique touch-control design — rather than traditional knobs — for adjusting the color of the light, and built-in wireless (so you can control the fixture remotely from your phone or other mobile device). In addition to the ring light, this model comes with a mirror, carrying case, AC adapter and smartphone bracket.
This 18-inch Neewer ring light has a fixed color temperature of 5500K, which matches a daylight-balanced light source. However, it also includes two color filters (white and orange), made from high-light-transmission plastic, which allow you to easily switch temperature from 5500K to 3200K. There's also a stepless dimming knob, which lets you adjust the brightness.
This portable LED kit also comes with a 61-inch light stand, constructed from aluminum alloy, giving it exceptional strength. It also has a 360-degree rotatable smartphone holder, plus a Bluetooth receiver for controlling your ring light remotely. Oh, and it even comes with a handy carrying bag.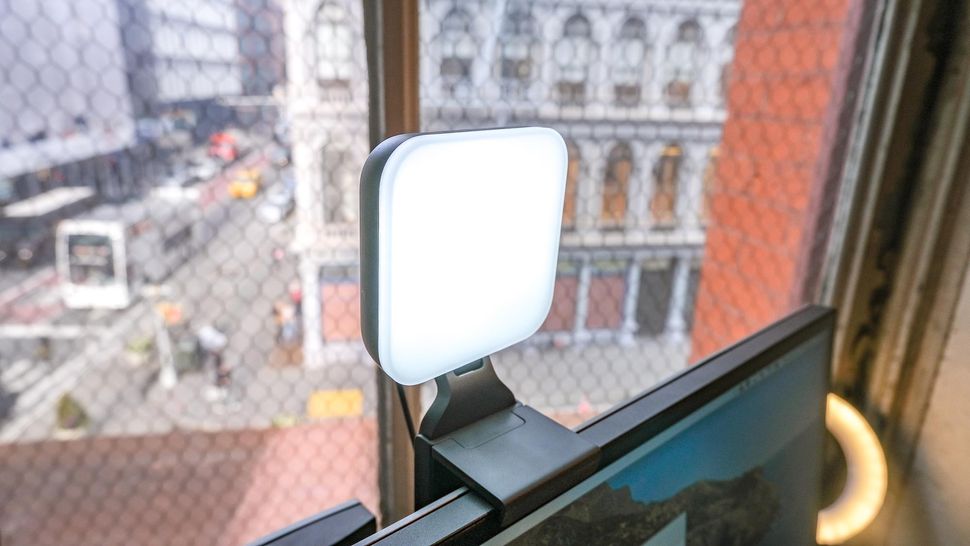 The Logitech Litra Glow performs the same function as the best ring lights, but it's not actually a ring; rather, it's a cube. On the plus side, it's small and requires less desk space than some of the larger options in our list, but on the flip side it's not something you can mount a camera or phone into the middle of for easy streaming on the go.
With that in mind, the Logitech Litra Glow is more a tool for lighting your work video calls or Twitch streaming sessions than it is a full-fledged do-everything option — but within its ideal use-cases, it excels. Setup is super-simple and integration with Logitech's G Hub gives you full control over its functions. Better still, if you have a Logitech keyboard or mouse you can use them to turn it on and off, or change settings. It does a great job of lighting calls and never once gave us a headache in our testing, while its $60 price puts it squarely in the middle of the best ring lights.
Read our full Logitech Litra Glow review.
As you might expect from its name, the Rotolight Ultimate Vlogging Kit is designed for content creators making videos or streaming to YouTube, TikTok and Instagram. With that in mind, it comes with a mini tripod that can turn into an extended camera grip: very helpful if you often switch between shooting in a studio and on the go.
The ring light itself is decent, rather than class-leading: color temperature is fixed unless you use filters and there's no way to adjust the brightness. But if you're looking for something small, portable and well priced, this could be the right ring light for your phone.
Like Westcott and Nanlite, Godox has a good reputation for making quality lighting products. The LR150 is no exception, which is why it makes our list of the best ring lights.
On the light itself, there are two knob controls to adjust the color temperature (3000K to 6000K) and brightness of the light. It comes with a power supply, but no batteries, which makes this more suited for studio or home scenarios. It also comes with a built-in USB port to keep your smartphone charged. A nice extra on this ring light is that it lets you rotate the light head 180 degrees horizontally. The included tripod stand, meanwhile, can extend up to 78 inches.
There are several mounting options, including a tripod ball head, which lets you use a DSLR or mirrorless camera. Plus, you have the ability to mount up to five phones at the same time on this model. And as a nice extra, the back of the light comes in two colors — pink and black.
Much like the Logitech Litra Glow, we like the Elgato Key Light Mini because it offers a different path to illumination as a ring light alternative. Small and light enough to hold in your hand if you need to move and direct its lighting on your on, the Key Light Mini's internal 4000 mAh power supply lasts a while on a single charge (and charged speedily via USB-C in our testing).
But while we're slightly annoyed by the fact that it doesn't come with a stand, tripod (we used one of our own in the above photo) or mount, its quite-strong magnetic back makes it truly unique. No matter where you go, you'll be able to adjust it on the fly. It works with Elgato Stream Decks for your home setup, but it's also adjustable on the fly (brightness and warmth) via Android, iPhone, PC and Mac devices. Some of the below ring lights are rechargable, but the Key Light Mini is that plus so much more.
The Raya Bendie-Brite Folding USB Bi-Color LED Ring Light is the best ring light if you're on the road a lot and want a ring light that can travel with you. It's lightweight (weighing less than a pound) and can fold in half, so you can take it with you to shoot your vlogs or video chats or capture some casual selfies. However, although it's small, it has some more advanced features, such as the ability to adjust the color temperature and brightness for your project via touch-sensitive controls.
The Raya Bendie-Brite ring light can be powered from a USB port (from a computer, laptop or tablet). That means you can avoid lugging around an AC adapter. (The manufacturer recommends that If you're only carrying a smartphone, use a small power bank to run the light when you're ready to record or talk.) The ring light also comes with a flexible phone arm that fits most smartphones. Plus, the included ball head gives you the option of mounting the light on a desktop tripod. There's even a built-in cold shoe to add a microphone or accessory arm to your setup.
The QIAYA selfie ring light is the most lightweight of the products we looked at for this guide. In fact, it's also compact, enough so that you can easily carry it around in your pocket. Overall, it has a very simple, straightforward design, but doesn't provide a lot of options when you compare it to more expensive models.
However, for the price, it's quite a useful selfie light that allows you to set the brightness at three different levels. It can also be used with a variety of devices, including a smartphone or laptop, which can be useful when you have a meeting and want to make the lighting look soft and natural. It's ideal for those photographers who want to shoot casual selfies or video clips. It can also be controlled wirelessly.
Although this inexpensive ring light has a barebones design and feature set, it can be used on various mobile devices, including most phones and tablets, as well as on laptops. The model also lets you adjust the strength of the light's brightness by setting it to low, normal or high.
What's nice about this ring light is that it's small in size and lightweight, so it will fit into many pocketbooks, or even a jacket pocket. It comes with a USB micro cord, in order to recharge the unit's battery. The manufacturer claims this ring light has a battery life of 1-5 hours.
How to choose the best ring light for you
With so many ring lights available at so many different price points, how do you choose which model is right for you?
Price
First, consider how much you're willing to spend. The models in our guide give you rough estimate of the price range of ring lights, which can run as little as $6 or a much as $189. However, there are pricier ring lights available for more professional or specialized uses. For example, some models can cost as much as $500, but are extremely powerful and versatile.
Use cases
Think about how you want to use the ring light. Are you just capturing casual photos on your phone? Then, you won't need to spend a lot of money. But what if you are producing a weekly video podcast or episode for your YouTube channel? Then, you'll want to pay more for a ring light that gives you more options.
Features
Do you need a ring that lets you adjust the light's color temperature or brightness? Or do you need the option of powering the ring light either by an AC adapter or using batteries?
Size
Additionally, consider the size of the light: some are quite small and portable, which means you can take them on the road with you; others are larger and heavier, which may weigh you down.
Why not check out our other photography picks:
It's important that your other kit matches up to your competent new ring light. Make sure you read our guide to the best cameras if you're thinking about upgrading kit. Already know which side you're taking in the mirrorless vs DSLR debate? You'll want to read our picks of the best DSLR cameras or best mirrorless cameras. On a tight budget? Make sure to read our picks of the best cheap cameras. You need to be a dab hand in the edit suite these days for your photos to stand out online, so make sure you read our guides to the best photo editing software and best photo editing apps. The same goes for video too, so consider finding out what we think is the best video editing software, best free video editing software and best video editing apps. Finally, all those photos and videos are going to need to go somewhere, so make sure you know all about the best photo storage sites if your drives are already nearing full.