Puffy Lux Hybrid mattress review in brief
The Puffy Lux is a six-layer hybrid mattress made with springs and foams. We slept on it for two weeks, invited others to give their opinions, and ran a series of tests to see how it compares to the rest of today's best mattresses.
Puffy Hybrid Lux specs
Type: Hybrid
Materials: Memory foam, other foams, coils
Firmness: 5-7/10 (we rate it a 5/10)
Depth: 12 inches
Trial period: 101 nights
Warranty: Lifetime (estimated to last 10 years)
Price bracket: Premium
The main thing you'll notice about the Puffy Lux is that it's really very soft. The brand rates it between a 5 and 7 out of 10 in terms of firmness, and we'd say it's a 5. You'll sink deeply into the mattress, but it doesn't have the traditional body contouring feel you'd expect from memory foam – instead it's more springy.
While that might appeal to those whose preference is for a plush-feeling bed, we suspect it won't be supportive enough for most people. That was true for our main tester, who felt their hips dipped too low in any sleep position. A potential exception might be lightweight individuals who like to sleep on their side.
Elsewhere, the Puffy Lux performed better. This mattress offers good temperature regulation – perhaps thanks to the springs within the design, which create space for air to circulate. It also boasts excellent edge support, and those with fidgety partners will appreciate the mattress' motion isolation capabilities.
The extras are decent: a 101 night sleep trial and lifetime warranty (undermined slightly by the fact that Puffy says its predicted lifespan is somewhat shorter at 10 years). However, we're struggling a little to justify the price tag, which even with regular discounts sits right at the top of the upper-mid price bracket, making it pricier than many of the other entries in our best hybrid mattress ranking. Read on for our full Puffy Lux mattress review.
Puffy Lux Hybrid mattress review: Price
Firmly a premium mattress at full MSRP
Usually on sale, at the top of upper-mid price bracket with discounts
Bonus deals can include pillows, sheets, and mattress protector
The Puffy Lux Hybrid mattress is the second most expensive mattress from the Puffy brand and falls right on the cusp between upper-mid and premium price brackets when on sale. Without a sale, it's solidly a premium mattress. There are no customizations – like firmness or height – available.
Twin size: MSRP $1,749 (usually sold at $999)
Full size: MSRP $2,049 (usually sold at $1,299)
Queen size: MSRP $2,249 (usually sold at $1,499)
King size: MSRP $2,449 (usually sold at $1,699)
Cal king size: MSRP $2,449 (usually sold at $1,699)
Split king size: MSRP $3,598 (usually sold at $2,098)
The Puffy Lux Hybrid does seem to stay consistently on sale. At time of writing, anyone who buys a Puffy Lux Hybrid gets $750 off and a sleep bundle that includes pillows, a mattress protector, and a sheet set. If you're interested in keeping up with sales from mattress brands, take a look at the Tom's Guide mattress sales guide.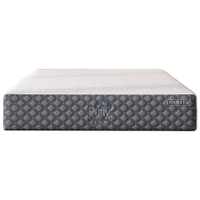 See the Puffy Lux Hybrid at Puffy
The Puffy Lux Hybrid is a soft mattress that does a good job with motion isolation, edge support, and temperature regulation. It comes with a lifetime warranty, and 101 night sleep trial. Regular sales knock a big chunk off ticket price, and include extras like sheets and a mattress protector.
Puffy Lux Hybrid mattress review: Design
Hybrid mattress with six layers of foam and coils
Stain-resistant cover that can be removed and washed
Base cover has gripping features so mattress doesn't slide
The Puffy Lux Hybrid has six layers, with the bottom layer being a Grip Base Cover, designed to 'grip' the bottom of your bed frame so the mattress doesn't move. Directly above that is a 7-inch layer with individually pocketed coils surrounded by high-density foam. The next layer is two inches of humidity-resistant foam, designed to assist with airflow and manage temperature.
A 1.5-inch layer of pressure relieving foam and a 1.5-inch layer of gel-infused foam make up the top two layers. The former is designed to contour the spine and lower back while the latter assists with dispersing heat from the body. We're not entirely clear whether these are memory foams or not, but in our experience they feel and behave more like low-density polyurethane foam than traditional memory foam. We'll get into this more in the 'Comfort' section.
The final layer of the Puffy Luxe Hybrid is a stain-resistant cover with clouds stitched on it. It's stain-resistant, but you can also unzip the cover from the mattress and throw it in the washing machine for easy cleaning. There are no handles anywhere to help with moving the mattress around.
Puffy Lux Hybrid mattress review: Comfort
Incredibly soft surface with a sink-in feel
Lacks support around the hips in any position
Foams have a springy feel, rather than traditional memory foam 'hug'
The Puffy Lux Hybrid is advertised as 'medium-plush' with a 5-7 rating on the firmness scale. However we think it is better described as 'soft' and thus more of a 5 on the firmness scale (possibly even a 4.5). When we placed a 15lb weight in the middle of the mattress, it sunk about half an inch.
Although the sleep surface is very soft, the Puffy Lux Hybrid doesn't offer much at all by way of body contouring. Instead, the upper layers of foam are bouncy, spongy, and don't really respond with support to the weight of a body. Because of this, we did not think the mattress did a good job on pressure point relief, support, or spinal alignment.
Our main tester weighs 180 lbs and is 5'5", and is a diverse sleeper who enjoys sleeping on their back, stomach, and side. Many of the best mattresses for side sleepers are on the softer side, because the plusher surface allows the hips and shoulders to sink in slightly, removing potential pressure build up in these areas. However, our main tester tried to sleep on their side, their hips sank too far, which caused discomfort in their lower back. Similarly, the weight of their stomach didn't have enough support to sleep face down.
In fact, they could only rest comfortably on this mattress while sleeping on their back, with their hands close to their sides and without a pillow. When they slept with a pillow, their head and upper body felt too propped up and their lower body was too far into the mattress. In terms of spinal alignment, it wasn't great.
We still wouldn't really recommend this mattress for back sleepers, because this position typically requires a medium-firm mattress in order to keep the spine properly supported and prevent back pain in the medium-to-long term.
In short, we think this mattress will be too soft for most people, although a possible exception might be lightweight side sleepers, who know they have a preference for a plush sleep surface.
Our tester had a neighbor come by and lie on the Puffy Luxe Hybrid to get another opinion. The neighbor usually sleeps on their side on an all-foam GhostBed Luxe mattress and weighs 220lb. They described the Puffy Luxe Hybrid as "fluffy" and "soft," noting how much they sunk in, especially their bottom half. While they believe the GhostBed Luxe to be soft, they say it's a different kind of soft, one with more push back and contouring than the Puffy Luxe Hybrid. They also felt it didn't offer much support for someone of their size.
Puffy Lux Hybrid mattress review: Performance
Minimal motion transfer – good for couples
Hybrid design contributes to good airflow and temperature regulation
Edge support is great around the entire perimeter
We tested this mattress during the first two weeks of March in North Texas. It was fairly warm during this time, between 50-75 degrees Fahrenheit during the day, with temperatures dropping to the 40s and 50s at night. The mattress was covered in microfiber sheets and a thin comforter. In addition to sleeping on the Puffy Lux Hybrid mattress, we used weights to run various tests to assess the mattress' comfortability, edge support, and motion isolation capabilities.
Temperature regulation
The Puffy Lux Hybrid does a great job at temperature regulation. Despite the coils being wrapped by foam, they still allow airflow through the mattress (this is the reason that most hybrid mattresses sleep cooler than all-foam models). Two other layers – a climate comfort foam placed above the coils and a gel-infused foam located right below the cover – assist in dispersing heat and generating more air flow.
We do have to preface this all by saying that our tester is not a particularly hot sleeper and that they tested this mattress in March when nights were fairly cool. Our tester's house never got warmer than 60 degrees at night during the testing period. Even so, we think this mattress wouldn't create a hot sleeping experience in the summer thanks to the hybrid design. If you know you struggle with overheating, it could be worth checking out a specialist model instead, such as those included in our best cooling mattress ranking.
Score: 4.5 out of 5
Motion isolation
To test the Puffy Lux Hybrid's motion transfer capabilities, we placed a wine glass in the center of the mattress and dropped a 15lb dumbbell weight at different distances. The wine glass didn't move when the dumbbell was dropped 25 inches away, but it wobbled when we dropped the dumbbell four inches away and shook slightly when the weight was dropped 10 inches from the glass.
Overall, we'd say that this mattress' upper foam layers absorb movements well, and offers above-average motion isolation. This mattress would be a good choice for people who have partners who move in their sleep, or who don't want to wake up when their partner gets in and out of bed.
Score: 5 out of 5
Edge support
The Puffy Lux Hybrid offers good support around the perimeter of the mattress. This is likely due to the hybrid design. When sleeping on the mattress, our tester did not feel like the mattress dipped near the edge and they never felt at risk of rolling or slipping off either.
The 12-inch height of the mattress makes getting in and out of the bed easy. When sitting along the edge, our tester felt supported. For those who prefer the numbers, we placed a 15lb weight along the corners and the sides of the mattress. The dumbbell sunk half an inch and sat firmly in place.
Score: 4.5 out of 5
Puffy Lux Hybrid mattress review: Delivery & setup
Free delivery via Fed-Ex in 2-5 business days
Plastic cutter provided to remove plastic
Off-gassing smell for weeks
Delivery can take 2-5 business days, so we were glad FedEx delivered the mattress in three days. After removing the cardboard box and placing the rolled-up mattress on a bed frame, we found a large plastic cutter that looked like a letter opener. We've received some of these in the past and have not found them to be useful in removing the plastic wrapped around the mattress, however, we quickly realized that the plastic was too tightly wrapped and if we used scissors we would probably cut into the mattress by accident. The plastic cutter made cutting into the super tight plastic easy.
When the mattress started to expand, we noticed two flat pillows had been packaged on the bottom of the mattress. Moving the Puffy Lux Hybrid onto the platform bed wasn't too difficult, though handles on the side would've been helpful. The mattress expanded to its full height in 30 minutes.
The most unpleasant part of the unboxing experience was a pungent off-gassing smell to the mattress and pillows. The smell remained strong over the course of testing and made it very difficult to fall asleep. The Puffy Lux Hybrid Mattress is made with CertiPUR-US certified polyurethane foams, and the odor is unlikely to be harmful. Although the smell has lessened, we can still notice it.
Puffy Lux Hybrid mattress review: Customer reviews
Reviews aren't separated by model
Positive overall reviews for all three Puffy mattress models
No search function or star-rating breakdown
At first glance, it looks like the Puffy Lux Hybrid has a five-star rating from 11,933 reviews (April 2023), but on closer inspection, it seems that this score is for all of Puffy's three mattresses combined. The lack of search function makes it almost impossible to filter out reviews for the Lux Hybrid specifically. (Frustratingly, Puffy does ask reviewers to answer questions based around sleep position, if they share the bed, and even what mattress size they purchased, but just doesn't ask which mattress they're talking about. We suspect this might be a hangover from a time when there was only one mattress in the range, but it'd be helpful if Puffy was able to update this.) There's no option to filter by star rating either.
We did scroll through many reviews to see if we could get a sense of customer thoughts on the Puffy Lux Hybrid. Of the reviews we could tell were specifically related to the Puffy Lux Hybrid mattress, customers raved about its motion isolation capabilities and softness, and there was also plenty of enthusiasm for the bonus items like sheet sets and pillows. We only came across one four-star review specifically for a Puffy Lux Hybrid (remember, not all reviewers say which mattress they tested). They didn't point out any reason why they rated it as four stars.
We wish we could offer more insight into the customer reviews, but because of how Puffy has designed its review section, we cannot.
Should you buy the Puffy Lux Hybrid mattress?
The Puffy Lux Hybrid is a super soft mattress that delivers good motion isolation and temperature regulation. It's advertised as a 5-7 on a firmness scale, but in our opinion, a 5 is more accurate, and our main issue our testers had was that it was far too soft to be comfortable in any sleep position. When you lay on the mattress, expect to sink into the foam as there is little push back, support, or contouring. Lightweight side sleepers, or anyone who has a preference for a very plush mattress, might get on well with this model.
The Puffy Lux Hybrid is pretty much always on sale, but even at discounted price it falls right at the very top of the upper-mid price bracket. Although we believe in investing as much as you can in the best mattress for you, we are inclined to say that this is a little overpriced. The foams don't behave how we'd expect for a premium model, and overall there's a lack of contouring, support, or positive spinal alignment.
Thankfully, the mattress comes with a 101-night trial period, so as long as you test the mattress for 14 days, you can get a full refund and free returns if you don't find the Puffy Lux Hybrid suitable for your sleep experience. While the price includes a lifetime warranty, Puffy specifically says the mattress will only last 10 years.
Puffy Lux Hybrid mattress review: Alternatives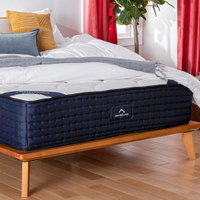 DreamCloud Luxury Hybrid Mattress
The DreamCloud is a hybrid mattress with a cloud-like and supportive design, and a mid-range price. It's perfect for combi-sleepers and delivers fantastic motion isolation so you won't feel your partner move at night. Head to our DreamCloud mattress review to find out more.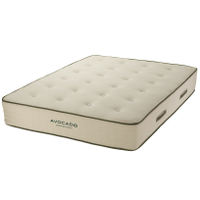 Avocado Green Mattress
For about the same price as the Puffy Lux Hybrid Mattress, you can get a fully organic, toxic-free mattress – the Avocado Green Mattress. This hybrid mattress has more support and pressure relief capabilities. It's much firmer than the Puffy Lux, although there is the option to add a pillow top for more cushioning. Read our Avocado Green mattress review for more info.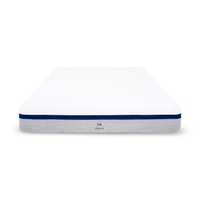 Helix Midnight mattress
If your preference is for a softer mattress, our favorite is probably the Helix Midnight. This hybrid mattress offers excellent pressure relief and a cradling sleep feel that's especially comfortable for side sleepers. The temperature regulation is good, and it's much cheaper than the Puffy. Read our full Helix Midnight mattress review for more.