Casper Snow mattress review in brief
The Casper Snow mattress fuses an ergonomic design with cooling technology for an all-around comfortable sleep experience. Released in April 2023, this is Casper's second specialty cooling mattress following the Casper Wave Hybrid Snow, which ranks among the best mattresses of the year for people seeking powerful temperature regulation at night to prevent overheating.
So how does the Casper Snow fare against its rivals? To find out, we slept on a king Casper Snow hybrid mattress for three weeks, testing it in all key areas of performance. You can scroll down for our in-depth review, but if you're in a rush here's the quick version...
Casper Snow mattress specs
Type: Hybrid
Materials: Polyurethane foam, memory foam, encased springs
Firmness (1-10): Medium-firm (7/10)
Depth: 12 inches
Trial period: 100 nights
Warranty: 10 year limited warranty
MSRP: $1,495 - $2,395
The Casper Snow is a comfortable mattress thanks to its three-zoned memory foam layer, responsive coils, and loads of cooling tech – perforated AirScape foam, Heat Delete Bands, and a top cover woven with specialty cooling yarn. While the mattress doesn't feel cool to the touch, the Casper Snow's temperature regulation is otherwise very good. Our testers braved a Midwestern summer and didn't overheat once when sleeping on this bed.
At 12 inches tall, this medium-firm mattress has just the right amount of give to it. Our reviewer found it to be supportive but nicely cushioned, and quite comfortable for side, back, and stomach sleeping.
However, this isn't a perfect mattress. Edge support isn't great for sitting, so it's not ideal for someone who needs to sit on the very edge of the mattress and push off to get out of bed. On the flip side, didn't find edge support to be an issue while sleeping – we could sleep right up to the edge without any problems. Motion isolation isn't fantastic, either. If you're sensitive to movement and your sleeping partner moves around a lot, you'll probably feel it.
While it falls at the lower end of the top pricing tier, and it's not one of Casper's cheaper mattresses, its level of comfort makes it worth the price for many. Casper's description of the mattress focuses on its temperature regulation and overall comfort for any sleeping position, and we think it measures up to that. If you're willing to spend extra on a good cooling mattress yet find the cost of the Casper Wave Hybrid Snow too prohibitive, the Casper Snow is a sound alternative.
It comes with a 100-night mattress trial, which is still plenty of time to acclimate yourself but meager compared to similarly-priced beds. A 10-year warranty also applies, as does free shipping. An upgrade to white glove delivery is available for $199 more. Curious to learn more about the Casper Snow's performance and cost? Keep reading...
Casper Snow mattress review: Price
Sits in the premium price bracket overall
Occasional sales knock 20% to 25% off
Extras (trial & warranty) a little stingy for the cost
In terms of price, the Casper Snow Mattress sits in the premium tier overall and somewhere in the middle of the brand's own range. Casper offers four mattress models that are cheaper and three that are more expensive. A queen retails for $1,995 while a twin XL – the smallest price size on offer – is $1,495.
Casper isn't one of those brands that permanently has sales ongoing, but around national holidays you will often see discounts of 20% or occasionally 25% off (our Casper mattress sales guide goes into this in more detail).
Here's a rundown of the ticket prices for each size. (Note – there's no regular twin size option.)
Twin XL MSRP: $1,495
Full MSRP: $1,895
Queen MSRP: $1,995
King MSRP: $2,395
California King MSRP: $2,395
Casper doesn't throw in freebies with purchase like some companies do, but you can save money by buying one of Casper's bundles. For instance, a Casper Snow mattress bundle that includes a Casper Snow Hybrid pillow and a mattress protector is on sale for 25% off.
Otherwise, your best bet is to wait for a major holiday. Casper participated in this year's Labor Day mattress sales by offering up to 20% off mattresses. You can also anticipate savings from Black Friday mattress deals, which often yield the lowest prices of the year ahead of the Cyber Monday mattress deals. Bookmark our mattress sales hub so you never miss a bargain.
Standard with all Casper mattresses is a 100-night trial, a 10-year warranty, and free delivery and returns. While those amenities may seem meager relative to cost, they're still decent. However, the premium Saatva Classic mattress and the mid-range Nectar mattress each include a full year's trial and a lifetime warranty.
Casper does offer one delivery upgrade for an extra $199. It comes with in-home setup and optional removal of your existing mattress.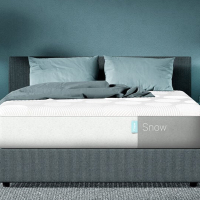 See the Casper Snow mattress from $1,495 at Casper
The Casper Snow Mattress is a hybrid mattress that's specially designed to regulate temperature so you can stay cool as you sleep. Suitable for side, back, and stomach sleepers, we found it both comfortable and supportive. The Casper Snow Mattress comes with a 100-night trial period, 10-year warranty, and free shipping and returns.
Casper Snow mattress review: design
A 12" hybrid with three primary layers
Loaded with Casper's advanced cooling tech
Three-zoned memory foam for relief and support
The Casper Snow Mattress consists of three primary layers: a layer of breathable polyurethane foam, a middle layer of zoned memory foam, and a durable base of encased springs with a foam border.
The topmost AirScape foam layer is perforated and infused with phase-changing material to prevent the trapped air that often makes memory foam mattresses sleep hot. Underneath that is a layer of memory foam with three ergonomic zones for pressure relief and alignment. Casper's proprietary Heat Delete bands are sandwiched in between those foam layers to continuously move excess heat away from the body.
At the bottom is a firm border of foam for edge support to make getting in and out of bed easier. There are also individually-pocketed coils to lend support and reduce motion transfer.
Topping it all off is a CoolTouch Cover woven with specialty cooling yarn that promises to move heat away 20% faster than other Casper mattresses. It's not removable so you'll want to add a mattress protector to save it from stains, spills, and allergens.
The Casper Snow has a similar build to the luxury Casper Wave Hybrid Snow mattress – the latter sports a more advanced cooling cover, three layers of AirScape foam (instead of one), and continuous ergonomic zones for full-body support and relief. Those upgrades also cost around $1,500 more.
Like many of the best hybrid mattresses, Casper uses CertiPUR-US foams that are low in VOC (Volatile Organic Compound) emissions and free from toxic chemicals.
Casper Snow mattress review: support and comfort
A medium-firm mattress with a 7 out of 10 rating
Zoned Support relieves pressure and keeps your spine aligned
Some side sleepers may need something softer
Our primary reviewer prefers a mattress that offers full support and yet a good amount of softness, and the Casper Snow Mattress fits the bill. Casper is a little vague on firmness rating, referring to it as 'medium' but awarding it a 5 out of 7 on its 'ergonomic support' scale. Our reviewer would agree with these assessments.
The sleep surface is comfortable; you sink in slightly, but not too far. Our reviewer felt that the mattress was responsive and well-cushioned, and it molds to your body shape pretty well. Our reviewer has some issues with their back at times, but felt properly aligned and supported on the Casper Snow Mattress. There was no pain around the hips, shoulders, or knees. However, after being in the same side position for a while, sometimes our primary tester felt a bit of pressure or dullness (not quite a soreness) in the hip or shoulder that would necessitate the need to turn – some side sleepers, and especially those of below-average body weight, might prefer a softer mattress to avoid potential pressure build-up.
Our primary reviewer is a side sleeper who occasionally naps on their back. Their partner, our secondary reviewer, regularly sleeps on their stomach, side, and back. Both agreed the mattress was comfortable in all positions. Generally, side sleepers will want a medium to medium-firm mattress (at least 5 on a scale of 1-10) while stomach and back sleepers will want medium-firm to firm (at least 7 on a scale of 1-10). This is because side sleepers will want some give around the shoulders to avoid too much pressure building up, but they can get away with some softness without it lacking support around the lower back. However, back and stomach sleepers need more firmness to keep the spine in neutral alignment and prevent the hips from dropping too low.
Both the primary and secondary reviewers have average-to-small bodies, so they can err more on the softer side. Heavier bodies will probably want to err on the firmer side.
Our reviewer conducted a support test using a 15-pound kettlebell weight. The reviewer placed the weight in the center of the mattress to measure the amount of sinkage. The weight sunk about 1.75 inches into the mattress.
Casper Snow mattress review: performance
Average motion transfer – not ideal for light sleepers
Very good temperature regulation
Edges are supportive for sleeping, not sitting
Our primary reviewer and their partner slept on a king Casper Snow mattress for three weeks. We tested it and rated it in all major areas of performance: motion isolation, edge support, and cooling. Here's how we fared...
Motion isolation
Motion transfer refers to your ability to feel movement that's occurring on other parts of the mattress, such as from a partner or a pet. Of course, you don't want to be able to feel others' movements, especially if you're a light sleeper.
Our primary reviewer is an extremely light sleeper who shares a bed with a partner and a dog. They've never slept on a mattress with motion isolation, though foam-based mattresses tend to be better than traditional spring mattresses in this respect.
The Casper Snow Mattress had decent enough motion isolation, but nothing spectacular. Our primary reviewer could feel their partner's movements, but they weren't magnified, either. By contrast, our secondary reviewer is a deep sleeper and never felt the effects of our primary tester's frequent tossing and turning in the night.
To test motion isolation more objectively, we placed an empty wine glass in the center of the mattress and dropped a 15lb weight at varying distances from the glass to see if the wine glass stayed upright or fell.
Dropping the weight four inches from the wine glass caused it to topple over immediately. When we moved the drop point to 10 inches, the glass still fell over (albeit more slowly). Dropping the weight from 25 inches away, the wine glass wobbled a bit but didn't fall over.
Based on our drop test and real-world experience: if you're a light sleeper who shares a bed with a restless partner or someone who operates on a different schedule, the responsiveness of the Casper Snow hybrid will be a disadvantage. The best memory foam mattresses generally do a better job of absorbing movement – though there are hybrids that get it right, too, like the Dreamcloud - read our DreamCloud mattress review to learn more about that model.
Score: 3.5 out of 5
Temperature regulation
Why does a mattress need to be 'breathable'? Because being too warm at night is known to disrupt sleep. Some mattress materials are better at dispersing heat than others. Foam tends to trap heat, so mattress manufacturers often add special features to increase airflow and shift heat away from the sleeper.
Casper includes multiple technologies in order to allow the customer to sleep cooler. The mattress is topped with a CoolTouch Cover made of a special cooling yarn. Just below the cover is a layer of perforated foam with phase change material to help promote airflow. Meanwhile, a set of Heat Delete Bands sandwiched between the Snow Hybrid's two foam layers keep heat moving away from the body. The individually wrapped springs do their part to prevent heat from being trapped in the mattress, as well.
We found these features to be quite effective during a Midwestern summer and didn't sleep hot on this mattress at all. (However, we used a combination of a ceiling fan, central A/C, and a window A/C unit to keep the ambient temperature around 65 to 70 degrees.) We used only a sheet – no mattress cover – and the mattress felt slightly cool to the touch. We also used a top sheet and occasionally a light quilt as well. The most important part was the mattress did not trap body heat, so we felt it lived up to the 'Snow' part of its name.
If you're eyeing the Casper Wave Hybrid Snow mattress but can't stretch your budget that far, you'll still fare well with less expensive the Casper Snow – even if the Wave Hybrid Snow sleeps one degree cooler, according to Casper. However, they're both premium options so if you're hoping to save some cash, browse our guide to the best cooling mattresses for more affordable options that don't skimp on comfort.
Score: 4 out of 5
Edge support
Edge support is important for two reasons. First of all, if you sleep near the edge of your mattress, you don't want to worry that you might roll off. If edge support is terrible, it effectively decreases your mattress' amount of usable area. Second, some people need the strong support of a mattress edge for pushing off in order to get out of the bed – or perhaps you might like to sit on the edge of the bed while you put on your shoes. Also consider that poor edge support might lead to premature sagging around the perimeter of the mattress.
While sleeping on the Casper Snow mattress, our reviewer felt fully supported, even right up to the very edge of the mattress. They felt no fear of rolling off. However, sitting on the edge of the bed felt very different, and not nearly as supportive. The edges seem to be about the same all the way around the mattress – not great for sitting.
For a more objective view, we placed a 15lb kettlebell along the perimeter of the mattress. Regardless of whether we placed the weight on the right, left, or bottom, the sinkage was still the same at 1.75 inches. This was the same measurement we got when placing the weight in the center of the mattress and while this amount was fairly nice for sleeping, we found it's not great for pushing off the edge to standing if you need that extra bit of support.
Score: 3 out of 5
Casper Snow mattress review: Delivery and setup
Ships free and arrives vacuum-sealed in a box
In-home setup is available for $199 more
Hardly any off-gassing smell
Getting the Casper Snow Mattress delivered was pretty much like getting any standard package. Our reviewer got a heads-up that it would be arriving on a certain day with a general time window and although they were home, the box was dropped off without them even knowing.
The Casper Snow is a typical mattress-in-a-box – it arrives vacuum-sealed and rolled up tightly in a box. Our reviewer needed a bit of help from their partner to get the box inside and placed on the bed frame because the king-size mattress is quite heavy at just under 130lbs. (In-home delivery and setup are available for an extra $199 if you'd rather go that route.)
Once in place, it was easy to slide the mattress out of the box and remove the plastic wrap. It took only a few minutes to inflate and then it was ready to sleep on the same night.
There was no noticeable off-gassing smell at all, although this experience will vary based on the size of your room and how soon you unbox your mattress.
Casper Snow mattress review: customer reviews
4.6 out of 5 stars from over 180 Casper shoppers (September 2023)
Lots of praise for overall comfort and cooling
Some say adding a protector dulls the cooling effect
Beyond the experiences of our two-person testing panel, what do everyday customers think of the Casper Snow hybrid mattress? At Casper.com, it has a 4.6 out of 5-star rating from over 180 reviews as of September 2023. Meanwhile, it has a 4 out of 5-star rating from nearly a dozen reviews at Amazon. (Keep in mind that the Casper Snow was just released in April 2023.)
Quite a few reviewers agree with us that this is a comfortable mattress with enough support to avoid common aches and pains that crop up while sleeping. Multiple shoppers even claimed their previous aches disappeared when they switched to this mattress. Many customers who identify as hot sleepers say the Casper Snow allows them to sleep comfortably without overheating.
Negative feedback focused on two things: the mattress being too firm (which is subjective) and the cooling effect not working once you put a mattress protector or topper on it.
Should you buy the Casper Snow mattress?
Our testers enjoyed the Casper Snow mattress so much that they decided to replace their traditional innerspring mattress. It's comfortable both in terms of ergonomics and temperature. While the motion isolation isn't perfect, we don't expect it to be. It's about as good as it can be for our 'princess and the pea' reviewer.
The lack of edge support for sitting wasn't an issue for our reviewer, but it may be for others – particularly if you're on the larger side. If you need that firm edge to push off from when getting out of bed, we can't recommend this one for you.
We would recommend this mattress equally for side sleepers, stomach sleepers, and back sleepers, as well as lighter and heavier bodies since the mattress is so supportive yet it softly molds to your body's shape. As a side sleeper, our reviewer did notice some slight pressure build-up. Lighter-weight side sleepers might want to opt for something more plush and in that instance we'd recommend reading our Helix Midnight mattress review for a bed that's well-suited to side sleeping.
Note that the Casper Snow Mattress has a 100-night sleep trial period, which is on the shorter side these days. Most mattress companies offer at least 200 nights.
Ultimately, choosing a mattress is a very personal decision. One person's 'too firm' is another person's too soft.' The Casper Snow is expensive for a mostly-foam hybrid mattress that comes shipped in a box – we reckon the Snow technology is to blame for the higher-than-average cost – but it's otherwise worth the investment if you want something cooling and supportive.
Casper Snow mattress review: Alternatives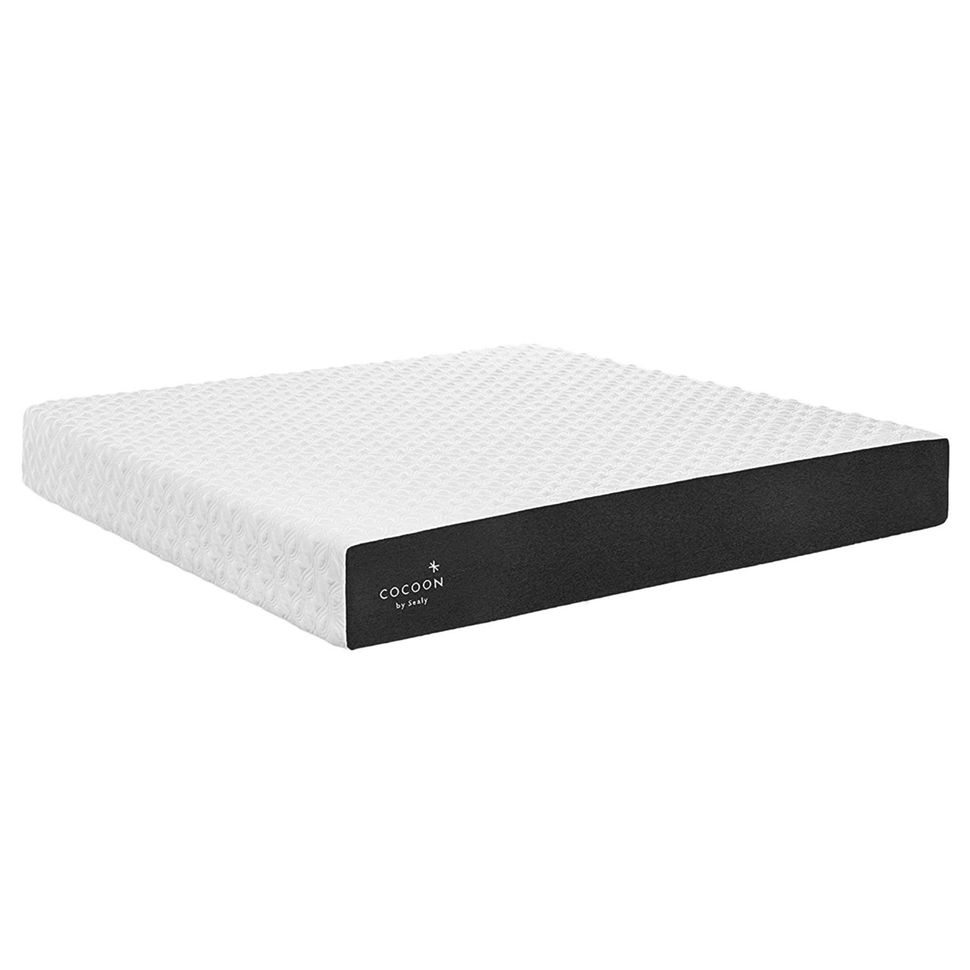 If you're looking for a budget cooling mattress, consider the Cocoon Chill Mattress, which is always on sale for 35% off. You'll get a lot for your money with a medium-firm mattress that boasts excellent pressure relief, great cooling (for a foam mattress), superb motion isolation, and a fantastic price point. However, it doesn't offer much contouring and lacks strong edge support, as we explain further in our Cocoon Chill Mattress review.
The Casper Wave Hybrid Snow is the upgraded version of the Casper Snow, designed with continuous ergonomic zones and extra cooling technology that allows it to sleep up to six degrees cooler than a standard Casper mattress (versus a five-degree differential for the Casper Snow). In our Casper Wave Hybrid Snow review we found it supportive and cooling, but like the Casper Snow hybrid it also suffers from weak edges. Oh – and the Wave Hybrid Snow retails for about $1,500 more.
The Saatva Classic is a premium innerspring mattress that comes in three firmness levels and two different heights to better suit your body. The Classic starts at about the same price as the Casper Snow but the flexibility in build justifies the cost – as does the year-long trial period, the lifetime warranty and free in-home setup with old mattress removal. In our Saatva Classic mattress review we found that it slept cool while providing exceptional pressure relief, especially for back pain.