Samsung heads into the Galaxy Unpacked event on July 26 facing something it hasn't before when introducing new foldable phones — competition.
During past reveals of new versions of the Galaxy Z Fold and Galaxy Z Flip, Samsung was essentially competing with itself. Yes, there were other foldables out there, but many were only available in a limited number of countries and the few that enjoyed wide availability simply weren't up to snuff.
But the competition for the best foldable phones has been upended in the past few months, with the arrival of both the Google Pixel Fold and Motorola Razr+. For the first time, phone makers other than Samsung are producing quality foldable devices — and in many ways, these new phones are outperforming their well-established rivals.
The Galaxy Z Fold 5 and Galaxy Z Flip 5 are both expected to debut at Galaxy Unpacked. New phones always face their fair share of questions when they launch, but with the Pixel Fold and Motorola Razr+ having successful debuts of their own, the questions feel a bit more pointed for the Galaxy foldables this time around.
Here are the biggest questions we're asking about the Galaxy Z Fold 5 and Galaxy Z Flip 5 heading into the upcoming Galaxy Unpacked, along with the answers Samsung could provide based on the latest rumors.
Will Samsung's foldable displays still have a crease?
Look, this isn't just a Samsung problem. All foldable phones have a crease running down their display where the screen folds. But some do a better job of disguising it than others, which is a feat that's bedeviled Samsung up until now.
That could be changing with this year's Fold and Flip models. Both the Galaxy Z Fold 5 and Galaxy Z Flip 5 are rumored to be getting a new hinge. This waterdrop-style hinge would allow part of the phone's display to roll inside the phone's main body, which would either make for a more shallow crease or eliminate it altogether.
That obviously would be a positive step since one of our complaints in our Galaxy Z Fold 4 review was how the crease in that phone's display remained visible and distracting. The crease is pretty prominent on the Galaxy Z Flip 4, too. So any steps Samsung could take to address this long-standing issue would be welcome.
There's another potential benefit to the rumored hinge improvement. It could make both Samsung foldables more dust resistant than they have been in the past. That would alleviate concenrs about dust finding its way into the phone's moving parts causing damage over time. But there may be a downside, too — one report suggests that the Flex mode on Samsung's foldables could be compromised. Flex mode splits the display in half, turning one part of the screen into a control center — it's particularly handy for watching videos.
Clearly, when Galaxy Unpacked gets underway, all eyes are going to be on the hinges of Samsung's new foldables — including any repercussions stemming from a potential new design.
Can Samsung improve the battery life on its foldable phones?
Getting either the Galaxy Fold or Flip to last a long time on a charge has been a persistant problem. It's certainly understandable — there's more screen space to keep powered up and only so much room in the phone for a battery.
Still, the numbers don't lie. The Galaxy Z Fold 4 lasted 9 hours and 28 minutes on our battery test, but we had to turn off the phone's adaptive refresh rate to hit that mark. Otherwise, the Galaxy Z Fold 4 would have pooped out a little after 8 hours. An average smartphone holds out for around 10 hours on our test.
It's the same story with the Galaxy Z Flip 4. That phone lasted around 8.5 hours with its adaptive display feature enabled.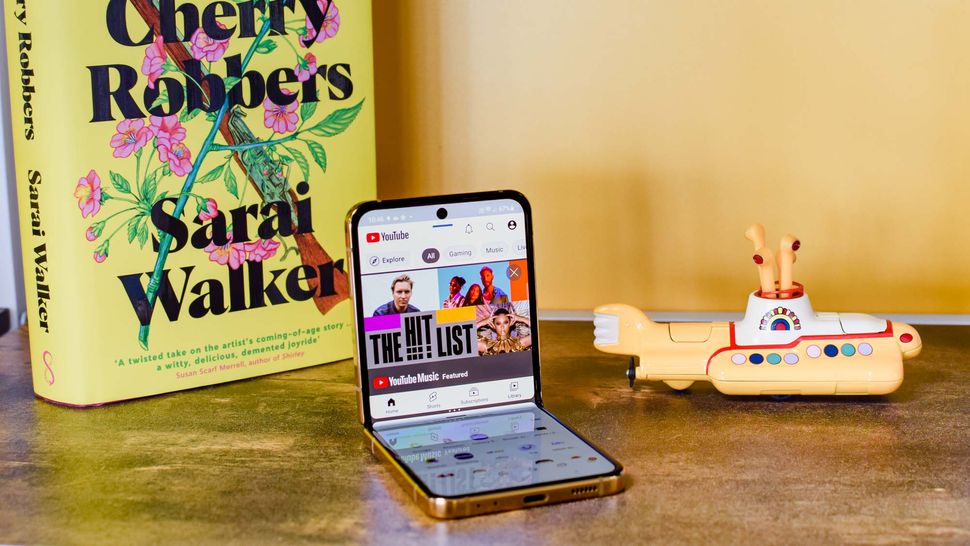 Here's where the competition is outpacing Samsung. Both the Pixel Fold and Motorola Razr+ bested the average smartphone time when we ran our battery test on those phones (though in the Pixel's case, it was with the higher refresh rate on the display turned off). Clearly, the Galaxy Z Fold 5 and Z Flip 5 need to up their staying power.
This may be a case where it's Qualcomm's Snapdragon silicon to the rescue. Both new Samsung phones are tipped to feature the Snapdragon 8 Gen 2 as their chipset. That system on chip has a strong reputation for power management, evidenced by the fact that it's the engine for several phones on our best phone battery life list, including the Galaxy S23 Ultra. We're guessing that Samsung is hoping for a similar battery life boost for its foldable phones.
Will the camera improvements continue?
Samsung made big improvements to the Galaxy Z Fold 4 cameras, with a triple camera setup that's in line with the base model Galaxy S phone. For that reason, we wouldn't expect major changes for the Galaxy Z Fold 5's camera setup, though some leakers have raised the possibility of new sensors that improve image quality.
Apart from the Galaxy Z Fold's lackluster under-display selfie cam, it's not the Samsung foldable that needs a big camera boost. The Galaxy Z Flip 4 is still making do with a pair of 12MP exterior cameras that have seen few improvements from previous models.
There's a possibility that changes with the Galaxy Z Flip 5, as one report claims the upcoming flip phone will feature "clear improvements in camera... matching the level of the Galaxy S23." The challenge, of course, is how Samsung pulls that off, as most rumors tip the Galaxy Z Flip 5 to offer the same setup as the current Flip. One possible change looks to be a bigger sensor for the main camera, which would capture more light for improved photo quality.
In our Motorola Razr+ vs. Samsung Galaxy Z Flip 4 face-off, Samsung's flip phone won the camera comparison. The rumored change described above would help the new model keep and even extend its edge over Motorola's otherwise impressive foldable.
What will the Galaxy Z Fold 5 and Flip 5 prices be?
It's widely believed the Galaxy Z Flip 5 will keep the $999 price of its predecessor. But then, pricing hasn't been an issue for that model since Samsung made it the first foldable you could buy for less than $1,000.
Instead, it's the Galaxy Z Fold 5 that's drawing the attention, not only because of the lofty $1,799 cost of its predecessor, but because the Google Pixel is listed at that price at well. If Samsung can find a way to shave even a couple hundred bucks off the price of the Galaxy Z Fold 5, that would given the new model a leg up on its competition.
One leaker suggested Samsung was considering doing just that, which is encouraging. But other rumors raise the possibility of a price hike for the Galaxy Z Fold 5, citing higher costs for some components. If that does happen, it would be a missed opportunity for Samsung, given the Pixel Fold's $1,799 cost.
Can the Galaxy Fold and Flip stay ahead of the competition?
As mentioned at the outset, this is the first time Samsung is introducing new foldables with some stepped-up competition from other phone makers. And the new Galaxy Z Fold and Galaxy Z Flip models will have some high bars to clear.
Take the Motorola Razr+, which matches the Galaxy Z Flip's flip phone-style design. It features a much larger outer display than the you'll find on the Galaxy Z Flip 4, which makes Motorola's foldable a lot friendlier to use. Whether by coincidence or by design, the Galaxy Z Flip 5 is tipped to feature a larger cover display of its own.
In a similar vein, the Pixel Fold has distinguished itself from the Galaxy Z Fold 4 with a cover display that's not as cramped as the one on Samsung's phone.
In other words, Motorola and Google have figured out ways to make phones that are similar to what Samsung offers, but distinctive in their own way. Now we're waiting to see whether Samsung can re-establish the uniqueness of its foldable devices.
We should find out one way or the other in less than two weeks.
More from Tom's Guide