It's hard to believe we're already 5 years into the foldable phone revolution, but here comes the Samsung Galaxy Z Fold 5, which promises several upgrades.
So what's different this time? A new hinge that could minimize the crease, a lighter design and faster processor are all rumored, plus camera upgrades and MAYBE a cheaper price. And Samsung can't sit still, because it faces real competition from the likes of the Google Pixel Fold and upcoming OnePlus Fold.
Here's the biggest Galaxy Z Fold 5 rumors so far.
No crease?!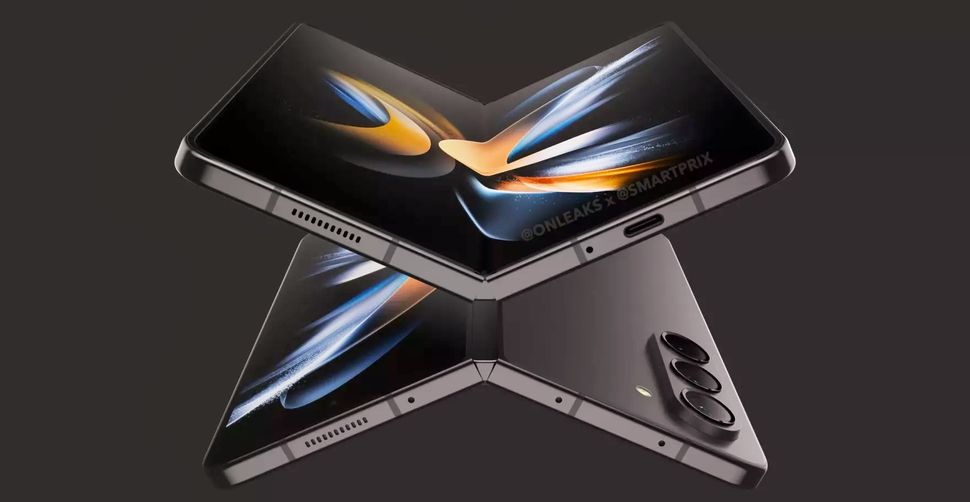 The Galaxy Z Fold 5 is tipped to feature a new waterdrop-style hinge, which would enable a portion of the inner screen to roll inside the phone's main body to prevent the display from creasing.
I doubt the crease will go away but it could certainly be less noticeable, and was fairly prominent on the Z Fold 4. This same hinge could make the Z Fold 5 more durable, with Korean publication The Elec saying that the Z Fold will be able to withstand 300,000 folds, up from 200,000 on the Fold 4.
Lighter and thinner design
One of the complaints I have about the Pixel Fold is that it's a pretty hefty 10 ounces, but the Galaxy Z Fold 5 could be very light — for a foldable. One leaker says the Z Fold 5 could be just 8.9 ounces, compared to 9.28 ounces for the Fold 4.
You can also expect a thinner design, too. The leaker OnLeaks says the Z Fold 5 will measure 0.24 inches thick when open and 0.53 inches when closed. The Z Fold 4 was 0.25 inches and 0.62 inches thick when open and closed.
It fully closes (no gap)
This move is long overdue, but leaked images for the Z Fold 5 — which have since been pulled — show a design that doesn't have a gap between the halves when closed. This is important because previous Folds made it all too easy for lint and other debris to get caught in that crevice.
Speaking of durability, the Galaxy Z Fold 5 could see an upgrade to IP58 certification, which would add dust resistance to water resistance. But more recent leaks have shot that down, so you better get a Galaxy Z Fold 5 case regardless.
Cameras
The bad news is that the Galaxy Z Fold 5 is expected to feature the same specs with a main 50MP sensor, 12MP ultra-wide and 10MP telephoto camera. We're probably still getting the same 3x optical zoom, too, which would be behind the 5x zoom on the Pixel Fold.
The good news is that leaker Yogesh Brar says that the Z Fold 5 will have new image sensors, so hopefully the photo quality will improve. In our Galaxy Z Fold 4 vs Pixel Fold face-off, Samsung actually beat Google in low-light, so new sensors might be enough. The wimpy 4MP under-display camera on the Z Fold 4 definitely needs an upgrade though.
Serious power
The Galaxy Fold 5 should feature the same Snapdragon 8 Gen 2 chip for Galaxy as the Galaxy S23 series, which means you should expect one of the fastest Android phones money can buy. And you should at this price.
In our benchmarks the Galaxy S23 Ultra trailed the iPhone 14 Pro Max on Geekbench in terms of overall performance but it beat the iPhone on the 3DMark graphics test. So the Z Fold 5 should be a big-screen beast when it comes to gaming. The Z Fold 5 should also start with a robust 12BGB of RAM, which is great for multitasking.
Lower price?
This is the juiciest Galaxy Z Fold 5 rumor out there. The leaker Revegnus on Twitter says that the Z Fold 5 "will see a slight reduction in price compared to its predecessor."
So that could maybe mean $100 to $200 less money for the Z Fold 5, and every little bit helps when the Z Fold 4 started at $1,799. That's the same price as the Pixel Fold, so Samsung could be trying to undercut its new rival.
Colors
The Galaxy Z Flip series usually gets the more fun color options, but leaker SnoopyTech has leaked three Galaxy Z Fold 5 colors for this year. They include Icy Blue, Cream and the classic Phantom Black.
Outlook
When you add it all up, the Galaxy Z Fold 5 upgrades are not exactly monumental, and there's even been a report that Samsung's own employees see the Z Fold 5 as boring. You also likely won't see a wider front display — which would be nice — or a slot for the S Pen, which will probably continue to be an optional accessory.
But if Samsung can deliver better cameras, better performance and less of a crease in a lighter design, it could be the foldable phone to beat. Especially if that price drop rumor is true.
More from Tom's Guide