The Google Pixel Fold is very late to the foldable phone party, but I'm not complaining because there's finally some real competition for Samsung in the battle for best foldable phone. And Google seems to be aiming right for the perceived weaknesses of the Galaxy Fold series with its debut device.
Hate the thickness of the Galaxy Z Fold 4? The Pixel Fold is the thinnest foldable yet. Wish the front display wasn't so squished? The Pixel Fold's cover display has a wider aspect ratio. Google even claims that its hinge is the most durable out there based on its own drop tests. (Do not drop yours.)
Alas, the Pixel Fold does not beat Samsung on price. The Pixel Fold starts at $1,799, which is exactly what the Galaxy Z Fold 4 costs. (And what the Galaxy Z Fold 5 is expected to cost when it arrives later this year.) Also, the bezels on this foldable are pretty thick and the crease is pretty visible. I had a chance to go hands on with the Pixel Fold and these are my impressions so far.
Google Pixel Fold specs
Swipe to scroll horizontally
| | |
| --- | --- |
| Starting price | $1,799 |
| Cover display | 5.8 inches OLED (2092 x 1080) |
| Main display | 7.6 inches OLED (2208 x 1840) |
| Refresh rate | Up to 120Hz for both |
| CPU | Tensor G2 |
| RAM | 12GB |
| Storage / Expandable? | 256GB / 512GB |
| Rear cameras | 48MP (f/1.7), 10.8MP ultrawide (f/2.2), 10.8MP telephoto (5x optical zoom) |
| Front camera | 9.5MP (f/2.2) |
| Inner camera | 8MP (f/2.0) |
| Video | 4K video up to 60 fps |
| Battery size | 4,821 mAh |
| Wired charging speed | 30W |
| Wireless charging? | Yes |
| Size open | 6.2 x 5.5 x 0.2 inches |
| Size closed | 5.5 x 3.1 x 0.5 inches |
| Weight | 10 ounces |
| Colors | Obsidian, Porcelain |
Google Pixel Fold release date and price
The Google Pixel Fold is available for pre-orders starting now (May 10) and the device goes on sale in June. Verizon has shared that its Pixel Fold release date is June 27, and we will post the dates for AT&T and T-Mobile once we have them.
Just be prepared to spend serious money. The Pixel Fold starts at $1,799 for 256GB of storage, and you'll pay $1,919 if you want 512GB. At least Google's Pixel Fold pre-order deal is tempting. You can get a free Pixel Watch worth $349.
See our guide on how to pre-order the Pixel Fold to get the best deals and see my interview with Google Pixel Fold product manager George Hwang for more on Google's pricing strategy and what you get for your money.
Google Pixel Fold design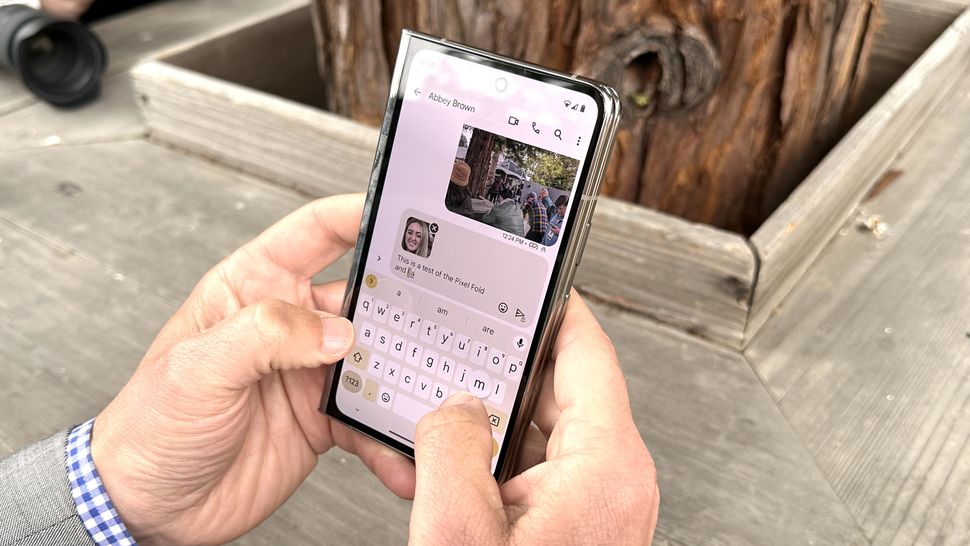 The first thing you notice about the Pixel Fold is that the 5.8-inch cover display is wide enough that you don't feel squished when trying to type. This is a welcome change compared to the taller but narrower 6.2-inch front screen on the Galaxy Z Fold 4.
During my hands-on time I had no problem typing out a quick message, which is good because you don't need to use the main screen to get stuff done.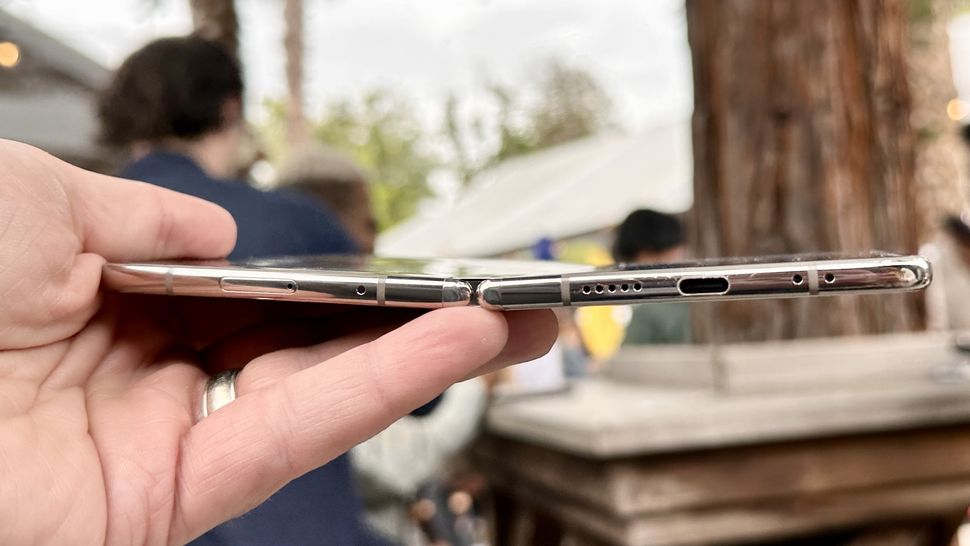 Open the Pixel Fold up and you'll be impressed with just how thin this thing is. It measures just 0.2 inches thick, which is the thinnest of any foldable. The Galaxy Z Fold 4 is 0.25 inches. It may not seem like much, but I could see myself using the Pixel Fold more to read for longer stretches because of this advantage.
It's not all good news, though. The Pixel Fold weighs 10 ounces, compared to 9.28 ounces for the Z Fold 4. And the Galaxy Z Fold 5 is tipped to be even lighter. We're also not fans of the fairly large bezels around the Pixel Fold's display.
The Pixel Fold seems pretty tough, though. The Pixel Fold's 180-degree fluid friction hinge is designed to be folded over 200,000 times and Google says that its hinge is the most durable. You also get IPX8 water resistance (think rain and water spills.) My only complaint about the hinge is that the phone doesn't seem to fold fully flat when open.
The Pixel Fold comes in two colors: Obsidian and Porcelain. I prefer the black since it hides the big bezels a bit better.
Google Pixel Fold modes and multitasking
The Pixel Fold offers a number of usage modes thanks to its flexible design. There's a hands-free tabletop mode, which positions the device just like a laptop. This comes in handy for video calls, watching videos and taking photos without a tripod. And you can can use a palm gesture to snap pics from a distance.
You can also use the Pixel Fold in tablet mode, and Google says it has optimized more than 50 of its app for the big screen. Plus, it's working with third-party apps like TikTok, Spotify, Asphalt 9 and Disney Plus to make sure they work well on the large canvas.
Similar to the Galaxy Z Fold, you can run two apps side by side on the Fold's large display, as well as drag and drop content between windows — such as Google Photos and Messages. And there's a taskbar to more easily switch between apps, which disappears when not in use.
During my Pixel Fold hands-on time, I liked how I could start a YouTube video and then use tent mode to keep watching on the outside display in tent mode. You can also do the same thing with Google Meet calls.
The coolest trick is yet to come with Android 14. In the future you'll be able to do a live translation between two people with one person looking at the Pixel Fold's inner display and the other person viewing the cover display.
Google Pixel Fold displays
The Pixel Fold's dual displays both offer up to 120Hz refresh rates and look fairly bright.
The 5.8-inch OLED cover display has a resolution of 2092 x 1080 pixels and is rated up to 1,550 nits of peak brightness and 1,200 nits with HDR content. The inner 7.6-inch display has a resolution of 2208 x 1840 pixels and isn't quite as beaming with 1,450 nits of peak brightness and 1,000 nits with HDR.
The good news is that the Guardians the Galaxy Vol. 3 trailer looked immersive on the 7.6-inch display. But the crease was noticeable at certain angles especially since we were outdoors during the hands-on session.
The Pixel Fold's front is protected with Gorilla Glass Victus while the inside panel uses ultra thin glass with a protective plastic layer.
Google Pixel Fold cameras
The Pixel Fold packs a trio of rear cameras. There's a 48MP main sensor, a 10.8MP ultrawide camera and a 10.8MP telephoto camera with a 5x optical zoom and 20x Super Res Zoom (digital).
The cover display houses a 9.5MP front camera for selfies, and there's also an 8MP inner camera for selfies and video calls. If you're not satisfied with those options, you can leverage the rear camera selfie mode and use the main 48MP sensor to snap shots by flipping the cover display out.
I was impressed with the camera quality during my brief hands-on time, with a sharp looking portrait of my colleague Kate. Plus, with a 5x optical zoom, you could make out fine detail in her hair when we zoomed in.
Google Pixel Fold performance
The Pixel Fold is powered by Google's Tensor G2 chip and 12GB of RAM, so you should have plenty of oomph for multitasking. There's also 256GB of storage, although you can spring for the 512GB version.
During my hands-on time, the performance seemed fairly smooth but I experienced a couple of bugs. For example, sometimes an app wouldn't orient properly when going from tablet mode to tent mode. But hopefully Google can work out the kinks.
Google Pixel Fold battery and charging
The Pixel Fold packs a 4,727 mAh battery. The good news is that this is bigger than the 4,400 mAh battery in the Galaxy Z Fold 4. However, Google doesn't have the best reputation for battery life, so we'll see if it can somehow land on our best phone battery life list.
The Pixel Fold supports 30W wired charging, which is the same as the Pixel 7 series. The device also supports Qi wireless charging.
Google Pixel Fold outlook
Overall, I have a mixed reaction to the Pixel Fold. I love the outer display, how thin this foldable is and the fact that Google has thought through all the ways you can use this device when it comes to optimized apps and split-screen multitasking. I'm also encouraged by the camera system and the 5x telephoto zoom.
However, the bezels on the Pixel Fold are pretty chunky at this stage of the game and the crease could be more subtle. And while the $1,799 price matches the Galaxy Fold series, it's still exorbitant.
We'll bring you our fully rated Pixel Fold review as soon as we can.