It's about flippin' time. The Google Pixel Fold finally joins the foldable phone party that has been absolutely dominated by Samsung. And this is not a me-too device. The Pixel Fold stands out with a wide front display that's easy to use, the thinnest design on a foldable and — of course — Pixel-grade cameras.
I've been using the Pixel Fold for several days, and I have to say it's the first foldable phone I actually picture myself using on a daily basis. Google has done a remarkable job nailing the software here. The split-screen multitasking is quite intuitive, and there's plenty of apps optimized for the Fold's big internal 7.6-inch display (though there should be more).
The performance and battery life on the Pixel Fold are both solid, too. But what about that $1,799 price? It is super expensive, just like the Galaxy Z Fold 5. There's some other trade-offs as well. But as you'll see in my Google Pixel Fold review, Google hasn't just joined the best foldable phone party — it has crashed it in spectacular fashion.
Update: We have revised the rating of the Google Pixel Fold to 4 stars due to some apps not taking full advantage of the widescreen display. This should improve over time.
Google Pixel Fold review: Price and release date
The Google Pixel Fold goes on sale through wireless carriers June 27; you can also order through Google and retailers like Best Buy. The Pixel Fold price starts at a steep $1,799 for 256GB of storage and $1,919 for 512GB.
The good news is that we've seen very aggressive deals for the Pixel Fold. For example, AT&T is offering the Pixel Fold for just $900 if you sign up for a 3-year contract And Verizon is offering $900 off with a qualifying phone trade-in. Be sure to check our Pixel Fold deals page for the latest discounts.
Google Pixel Fold review: Specs
Swipe to scroll horizontally
| | |
| --- | --- |
| Starting price | $1,799 |
| Cover display | 5.8 inches OLED (2092 x 1080) |
| Main display | 7.6 inches OLED (2208 x 1840) |
| Refresh rate | Up to 120Hz for both |
| CPU | Tensor G2 |
| RAM | 12GB |
| Storage / Expandable? | 256GB / 512GB |
| Rear cameras | 48MP (f/1.7), 10.8MP ultrawide (f/2.2), 10.8MP telephoto (5x optical zoom) |
| Front camera | 9.5MP (f/2.2) |
| Inner camera | 8MP (f/2.0) |
| Video | 4K video up to 60 fps |
| Battery size | 4,821 mAh |
| Wired charging speed | 30W |
| Wireless charging? | Yes |
| Size open | 6.2 x 5.5 x 0.2 inches |
| Size closed | 5.5 x 3.1 x 0.5 inches |
| Weight | 10 ounces |
| Colors | Obsidian, Porcelain |
Google Pixel Fold review: Design
The Google Pixel Fold literally puts Samsung on notice in terms of how to make a foldable phone. And it all starts with a front 5.8-inch display that just feels natural compared to the cramped and narrow cover panel on the Galaxy Z Fold 4. The wider aspect ratio makes it easier to use apps and type on the front panel. This is not a preview display — it's a second display.
Another big plus for the Pixel Fold is that this is the thinnest foldable when open, measuring just 0.2 inches thick compared to 0.25 inches for the Galaxy Z Fold 4. When watching videos or using Gmail with the large 7.6-inch display unfolded, the device felt pretty comfortable to hold. However, at 10 ounces this handset is fairly hefty compared to 9.28 ounces for the Z Fold 4. Google's phone will fit in a shirt pocket but it will weigh you down.
The biggest eyesore on the Pixel Fold is the relatively thick bezels around the internal display, It makes this otherwise futuristic handset feel like a throwback. But once you're immersed in content you don't notice the bezels as much. There's definitely a crease here, which you'll notice more in direct sunlight; it's much more subtle indoors, though you'll feel it when you drag your finger across the display.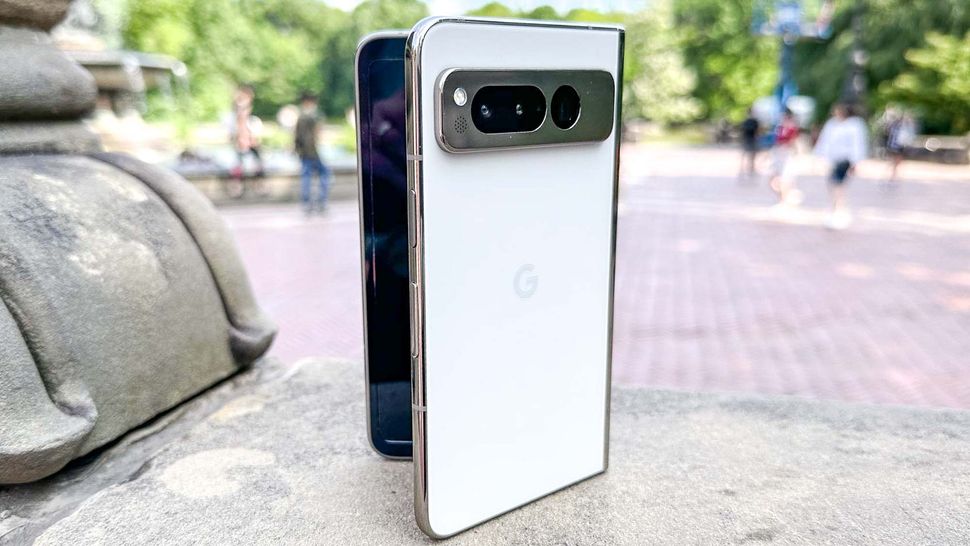 I give Google credit for the Pixel Fold's fluid-friction hinge. It's super smooth in operation and I didn't notice any creaking sounds at all as I have with the Galaxy Fold phones. There's no gap for debris to get in when the phone is closed, and Google claims this is the most durable hinge available on a foldable (though time will tell on that claim).
The Pixel Fold folds out mostly flat, but I wouldn't say it's perfectly so. I'm not sure why I care about that but it's still a bit annoying.
If something happens to your Pixel Fold, you may be able to repair it for yourself. Google is teaming up with iFixit to offer genuine Pixel Fold spare parts and repair guides, including for battery and inner and outer screen replacements.
Update: There have been multiple reports of the Google Pixel Fold suffering screen damage, including dents in the screen and debris getting caught between the bezel and screen protector. Plus bending the phone backwards breaks it in two, something other foldables usually can resist.
Our unit has not exhibited any durability issues but we will report back after additional testing.
With a water resistance rating of IPX8, the Pixel Fold can withstand being submerged in 1.5 meters of water for 30 minutes, but it is not waterproof or dust proof.
The Pixel Fold is available in two colors: Porcelain and Obsidian. I personally prefer the Porcelain model as it pops more, but the black model has a sleek executive vibe going for it.
You may need to watch out for the Pixel Fold's durability: it seems unfortunately easy to damage the inner display.
Google Pixel Fold review: Displays
The Pixel Fold's dual OLED displays are both good, offering plenty of color and wide viewing angles along with smooth 120Hz refresh rates for each panel. I enjoyed watching the Ahsoka trailer as she wielded her dual lightsabers. The characters and scenery really popped, and I can definitely see myself binge watching shows on this panel.
But I have one complaint about the main 7.6-inch screen. It looks great indoors but it can struggle when in direct sunlight. When using the phone out in Central Park on a bright sunny day, it was sometimes hard to make out content on the display. Make sure you turn on adaptive brightness.
Swipe to scroll horizontally
| | | |
| --- | --- | --- |
| | Pixel Fold | Galaxy Z Fold 4 |
| Brightness (Inner/Outer display) | 1,000 / 1,172 nits | 905 / 870 nits |
| DCI P3 color (Inner/Outer display) | 90.1% / 88.4% | 158.7% / 146.7% |
| Delta-E color accuracy (Inner/Outer display) | .05 / .05 | 0.34 / 0.33 |
According to our testing, the Pixel Fold's inner display reached a maximum of 1,000 nits of brightness, compared to 905 nits of brightness on the Galaxy Z Fold 4. The outside 5.8-inch display on the Pixel Fold is considerably brighter, reaching as high as 1,172 nits. That's better than Z Fold 4's 870 nits.
We will be retesting the inner display of the Pixel Fold to confirm our results.
Overall, I preferred framing photos with the smaller external display on the Pixel Fold when outdoors, but the inner display is perfectly fine for watching videos and showing off your photos in the gallery.
Google Pixel Fold review: Software and usage modes
The Pixel Fold makes multitasking a breeze with the way Google has designed the software. There's a dock you can pull up with a quick swipe up. And you can easily run apps side by side. You just drag an app to either side of the screen and you'll be in split screen mode.
From there, you can easily swap sides if you want with a double tap or resize the windows by dragging the middle bar. And when you long swipe from the bottom of the screen your app pairs will be there.
You can also drag content from one side of the display to the other, such as dropping photos into outgoing messages or emails. Part of me likes how Samsung makes the dock always visible if you want it that way, but overall, the Pixel Fold's approach is clean and intuitive.
The Pixel Fold offers multiple usage modes that can come in handy. For example, tent mode is great for watching videos hands-free while you're doing other stuff. And tabletop mode lets you position the phone like a laptop, so that in some apps, you'll see your content at the top and controls on the bottom. I tried this when trying to follow along with a workout in the Peloton app and it worked well.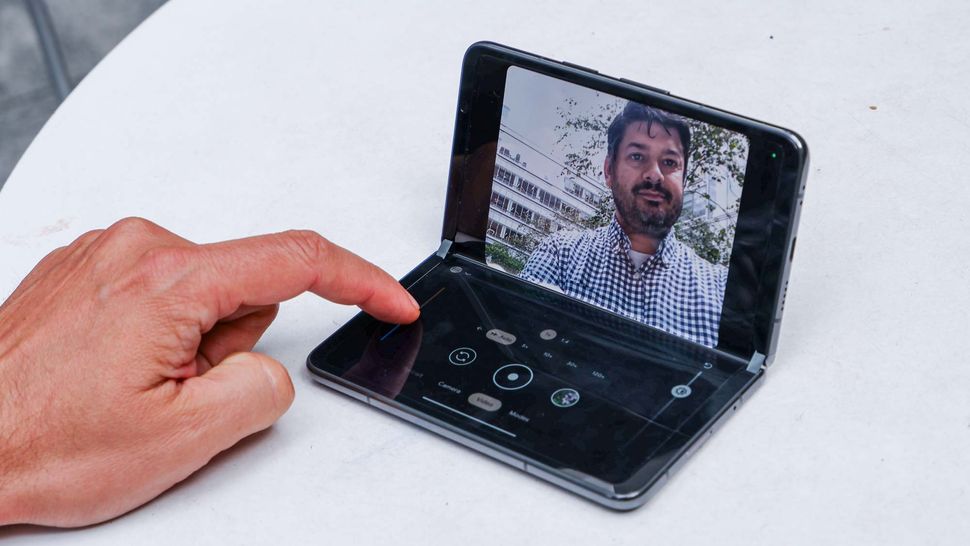 I especially like the tabletop camera mode, which makes it easy to capture photos hands-free without a tripod. I did this while taking a time lapse video and found it very useful. Tabletop mode also comes in handy when you're on a video call. I had a chat with my colleague Kate on the top window while browsing through email and checking Slack in the bottom window. Now that's multitasking.
Google has also optimized a ton of its own apps for the Pixel Fold's big screen, and lots of third-party developers have followed suit. Gmail is especially great on this device, as I like being able to see my inbox on the left and the content of my messages on the right. I also appreciate that TikTok lets you see the videos and comments at once side by side. Spotify has some nice dual-pane action, too. But other apps, such as Slack, just feel like stretched out phone apps.
In other cases, apps don't fill the whole screen like they should, such as with Facebook. Instead, you have to change the display's orientation to not see black bars on either side of the screen. And the user shouldn't have to do that.
If there's one thing I'd like to see Google add to the mix it's more control over which apps continue to run on the front screen when the Pixel Fold is closed. I'd like to see this option added to settings, similar to what Samsung lets you do and the Motorola Razr+. Right now only certain apps continue on the cover display, such as Google Maps and YouTube and other apps that have audio playing in the background.
Google Pixel Fold review: Cameras
The Pixel Fold stays true to the Pixel brand by offering great photo quality, and it starts with a trio of rear cameras with a 48MP main sensor, a 10.8MP ultrawide shooter and a 10.8MP telephoto lens with a 5x optical zoom. Up front, there's a 9.5MP camera, and the inside of the Fold houses a 8MP lens.
If you're looking for an artistic blur to your shots, try the Time Lapse feature, which adds a sense of movement to this small waterfall.
Another neat feature, albeit borrowed from the Galaxy Fold line, is rear camera selfie mode, which enables you to use the rear lenses and to take super sharp self-portraits. And you can take selfies just by holding your hand in front of the camera, although you have to engage the Timer under settings first.
Overall, the Pixel Fold delivers excellent image quality and flexibility. Check out the gallery above and you'll see some captivating shots I captured at Central Park, including a stunning close-up of a daisy fleabane flower, a sharp photo of the Angel of the Waters fountain and a majestic shot of twin buildings across the park with a rippling reflection in the pond.
I put the Pixel Fold up against some of the best camera phones, and Google's foldable certainly holds its own. In this shot of the Bryant Park fountain, I actually prefer the Pixel Fold's shot to the iPhone 14 Pro Max and Samsung Galaxy S23 Ultra. The spouting water looks sharpest through the iPhone but I like the exposure through the Pixel Fold the best, as you can make out more detail in the shadows in the fountain itself. Samsung's shot is a bit too bright and a bit washed-out looking.
In this portrait, all three phones did a fine job with the bokeh effect, but I give the nod to the iPhone 14 Pro Max in this case. It's bright, detailed and offers more contrast than the Pixel Fold. However, I prefer the Pixel Fold's portrait of me over the Galaxy S23 Ultra, whose background is too blurry. The Pixel Fold's detail in my shirt and even the reflection in my glasses is also really impressive.
The Pixel Fold doesn't have a dedicated macro mode like competing flagships, but you can take stellar-looking close-ups if you use Portrait mode. In this shot of a lily, you can make out the veins in the petals and the stigma in the center, but the look isn't as mesmerizing as the 3D-like effect of Samsung's macro shot.
Feeling hungry? The Pixel Fold can take delicious looking food shots, though in this case I give the edge to the Galaxy S23 Ultra. You get more detail both in the tart and in the fruit. And I slightly prefer the iPhone shot, too, which has a warmer tone and better sharpness front to back in the berries.
To test out the optical zoom, I shot the top of the Empire State Building at 5x zoom. The Pixel Fold did a very good job capturing the striations in the stone part of the spire and details in the building. The S23 Ultra's shot looks surprisingly blurry, though its two optical zoom lenses are 3x and 10x. This was in the middle.
Both the Pixel Fold and Galaxy S23 Ultra deliver a great photo of this lion outside the New York Public Library. It's essentially a draw in my book as there's a bit more contrast in the Pixel shot and the S23 Ultra looks a bit sharper.
The Pixel Fold is a champ in low light as you can see in this photo of a solar-powered lantern. The Pixel delivers a brighter image of the colorful lantern, the pool in the background and the light reflecting off the concrete below. The Galaxy S23's pic loses the pool a bit and is a bit dimmer.
The Pixel Fold also beat the iPhone 14 Pro Max in low light with this shot of a golden retriever lying down. You can make out more detail in his fur and surrounding tile, while there's more noise in the iPhone pic.
I shot plenty of video with the Pixel Fold, and it can capture colorful 10-Bit HDR footage at up to 4K at fps. In this clip of a fountain, you can make out individual bubbles as I pan around. Zooming in is more jarring than I like, but the statue itself is super sharp as are the surrounding birds.
Last but not least I put the rear camera selfie mode on the Pixel Fold up against the selfie cameras on the iPhone 14 Pro Max and Galaxy S23 Ultra. The Pixel Fold's image isn't just sharp, it provides the most even-looking skin tone. Yes, it's cheating when you can leverage a 48MP sensor, but I'll take it.
Google Pixel Fold review: Performance
The Pixel Fold packs the same Tensor G2 chip as the Pixel 7 and Pixel 7 Pro, and that's mostly a good thing. But don't expect the Fold to outperform the Galaxy Z Fold 4 or upcoming Galaxy Z Fold 5 — and especially not the iPhone 14 Pro Max.
Let's start with the good news. The Pixel Fold was generally responsive and snappy, whether I was surfing the web and flipping between tabs or racing around in Asphalt 9. The Call of Duty Mobile experience was fairly fluid as well. Even with multiple enemies on screen trying to mow me down the action didn't slow down.
Swipe to scroll horizontally
| | | | |
| --- | --- | --- | --- |
| | Google Pixel Fold | Galaxy Z Fold 4 | iPhone 14 Pro Max |
| Geekbench (Single/Dual-Core) | 1,390 / 3,291 | 1,366 / 3,707 | 2,510 / 6,307 |
| 3DMark (Score/Frame Rate) | 6,755 / 40.4 | 8,819 / 52.3 | 8,652 / 74 |
| Video Transcode (Adobe Premiere Rush) | 60 seconds | 45 | 30 seconds |
However, I did notice some bugginess at times. On one occasion, the camera app got stuck in a weird vertical aspect ratio and I had to open and close the app. Sometimes the Pixel Fold got confused when I tried to change modes and the screen would briefly stutter. I'm assuming software updates will iron out these and other kinks.
On Geekbench 6, which measures overall performance the Pixel Fold turned in a single-core score of 1,390 and a multi-core score of 3,291. That's not far behind the Galaxy Z Fold 4, but that's running a year-old Snapdragon 8 Gen 1 chip. The newer Snaprdragon 8 Gen 2 chip inside the Galaxy S23 is in the 2,000 range for single core and over 5,000 for multi-core, the same chip coming to the Galaxy Z Fold 5. And the iPhone 14 Pro Max is even faster at over 2,500 and 6,300.
The Pixel Fold also trails competing flagships in graphics performance, as you'll see in our 3DMark test results. When it comes to transcoding video, trailing the Galaxy Z Fold 4 by 15 seconds and the iPhone 14 Pro Max by 30 seconds.
In everyday use the Pixel Fold is a solid performer, but it's definitely not the fastest phone around.
Google Pixel Fold review: Battery life and charging
The Pixel Fold packs a 4,821 mAh battery, which should last you through most of the day based on my experience. One day during testing, I began using the Pixel Fold sporadically starting at 7 a.m., and set about taking photos, surfing the web and playing games. When I stopped at around 10 p.m., I had 28% battery capacity left.
On the Tom's Guide Battery Test, which involves continuous web surfing over 5G at 150 nits of screen brightness, the Pixel Fold lasted 10 hours and 21 minutes in 60Hz display mode. That's pretty good considering that the Galaxy Fold averaged 9:17 with the same display setting. The devices on our best phone battery life list last more than 11.5 hours, but this foldable has a much bigger screen to power.
The Google Pixel Fold supports 30W wired charging as well as Qi wireless charging. We'll update this review with the charging times once we have them.
Google Pixel Fold review: Verdict
The Google Pixel Fold is an exorbitantly expensive smartphone but there's also a lot of versatility here. In fact, the more I used this mini tablet and phone in one, I felt like I was cheating the system with everything the Pixel Fold can do. I really like how easy it is to run two apps side by side, the elegant dock, and the multiple usage modes like tabletop and tent.
The overall design feels durable and polished, despite the large bezels on the inside. And the camera system works very well based on my testing, giving you plenty of creative freedom because of this foldable's sheer flexibility. I also give Google kudos for working to optimize several apps for the huge 7.6-inch panel while making the cover display wide enough to make it usable.
However, the Pixel Fold is fairly heavy even for a foldable phone and there are several very high profile apps that don't work well with its widescreen display. In addition, the bezels could be smaller and the Tensor G2 chip isn't the fastest.
Overall, I think the Galaxy Z Fold 5 has the edge because of it brighter main display, longer battery life and (if you pay extra) S Pen support. But the Pixel Fold is a stellar foldable phone that should make Samsung nervous.