In the summer of 2022, I was experiencing stabbing hip and back pain during pregnancy that worsened when lying down. It ruined my sleep for weeks – even my hybrid mattress struggled to relieve those pressure points for me. Then I remembered I had a review sample of the Tempur-Pedic Tempur-Adapt mattress topper tucked away. As soon as I put it on my bed, I felt relief.
I now recommend it to anyone dealing with similar pain, and this Black Friday there's 40% off the Tempur-Adapt Topper at Tempur-Pedic to help you get that relief for less. It normally costs $419 for a queen, but with the brand's official Black Friday mattress deal you can get a queen for $251.40. That's a juicy price cut and superb value for money.
I rate the Tempur-Adapt bed as the best mattress for deep and lasting pressure relief, but as a luxury mattress it's very expensive. If you want to reduce hip and back pain when lying down, and you have a few hundred (not thousand) dollars to spend on a solution, I highly recommend the Tempur-Adapt Topper instead. Especially at 40% off in the Black Friday sales. You get free two-day shipping too.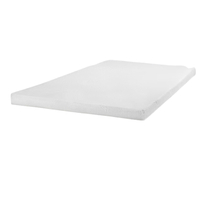 Tempur-Adapt Topper by Tempur-Pedic
Was: from $319
Now: from $191.40 at Tempur-Pedic
Saving: up to $187.60
Summary: I rate the Tempur-Adapt Topper as the best mattress topper for most people seeking pressure relief and higher levels of physical comfort in bed. It may look like just another giant slab of foam, but there's NASA magic at work here. Tempur foam was designed by the space giant as a way to cushion astronauts' bodies during take-off. If it's good enough for NASA, it's definitely good enough to take the pressure off your shoulders, back, knees and hips in bed. And that's the other big draw with this 3" topper: the Tempur-Adapt Topper supports all sleep positions, especially side sleepers like me. My only caution is that it sleeps warm: I'm a hot sleeper anyway and while the Tempur-Adapt didn't cause overheating, I struggled to find a cool spot after lying on it for hours. Still, for me, that's a price I was willing to pay to have such an excellent level of pressure relief at a fraction of the cost of a Tempur bed.
Price history: There are monthly Tempur-Pedic mattress deals to reduce the cost of the brand's mattresses and toppers, and 40% is the highest discount I've ever seen on the Tempur-Adapt Topper. (Tempur's cooling topper has had a 52% discount in comparison). In past Black Friday sales Tempur-Pedic hasn't gone higher than 40% off the Tempur-Adapt Topper, so I'd be very surprised if it unleashed a bigger price cut next week. As this current 40% saving is set to end on Monday 20 November, and I can't guarantee it will be replaced or extended, I'd recommend buying now.
Benefits: Free shipping | 10 year warranty
Do mattress toppers help with back pain?
Yes, mattress toppers help with back pain but it depends on the type of back pain (is it chronic or temporary) and where it's located (upper or lower back) and the bed topper you're thinking of buying.
Like a lot of people, I used to assume that the firmer the topper, the better for back pain. Not so. In fact, and something I learned when researching mattresses for back pain, medium-firm beds and toppers are recommended by chiropractors and physical therapists as a good option for most back pain sufferers.
That feel is affected by the firmness of your mattress though. I'd suggest buying a softer, contouring topper if your mattress is too firm for your back pain. If your mattress is too soft for you to sleep comfortably with back pain, buy a thicker, firmer topper made from latex to balance out the plushness of your bed. If you decide it's time to buy a new mattress instead, take a look at our guides to the best mattresses in a box and the best hybrid mattress – my top type of bed for most people and many are on sale this holiday season.