If owning your own Peloton bike doesn't signal that you are the epitome of health, then what will? All jokes aside, Peloton exercise bikes provide a great way to stay fit at home and make sure you keep progressing and hitting your fitness goals via the live classes and feedback provided. And now, as part of some of the best Black Friday deals, you can get the original Peloton bike for considerably less.
Right now, the Peloton bike is just $1,095 at Amazon, that's $350 off its original price. Over last year's Cyber Monday deals, we thought we had seen the Peloton bike hit its lowest sale price at $1,145, but this year's early Black Friday offer has topped this and we love to see it.
We don't know how long this 24% discount will stick around, so check this deal out now while you can.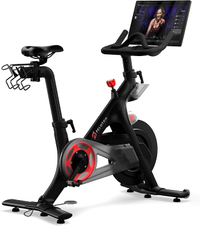 Peloton Bike: was $1,445 now $1,095 @Amazon
Level up your home workouts and pedal your way to your biggest fitness goals while enjoying the supportive and encouraging classes through the 22-inch HD touchscreen. The Peloton offers a 'near silent' experience while riding, meaning you can work out whenever you like without disturbing your neighbors. Buy yours now and save $350! You can also check this model out on the Peloton website here.
This is a pretty mega deal happening within the Peloton sale. Not only is this a compact exercise bike for using and storing away neatly in your home but it's also adjustable, meaning the whole household can get fit together. If the 22-inch screen isn't big enough for you, there is the option to mirror the display on a smart TV, providing a superb immersive experience.
In our Peloton bike review, we spoke about how we loved doing the live classes during testing. The exercise bike brand reveals weekly live classes allowing users to plan out their workout schedule each week, helping you to stick to your goals. It's hard to tire of this bike when the workouts are so rich in variety, for example, you can do Tabata rides, interval and arm rides, low impact or endurance rides, and the list goes on.
We must note that the Peloton All-Access Membership is not included in your purchase and must be bought separately in order to access Peloton content on your Bike. This costs $44 per month, but will be accessible to your household so perhaps you could strike up a deal with your partner or roommate and bring down the cost a little between you both.
Looking for some new sweat-wicking gear? Check out this deal: Amazon's best-selling Under Armour workout T-shirt just crashed to $9 before Black Friday. Or if you are looking to invest in a new Garmin fitness tracker you might find this article helpful: Garmin Fenix 7 vs Fenix 7 Pro: Which running watch should you buy?