Under Armour knows how to make a good-looking, high-performance workout tee, and we're here for it. The bestselling Under Armour Tech 2.0 T-shirt is still on sale for a limited time for Cyber Monday sales with prices starting at $9 on various colorways and sizes.
I've stolen the UA Tech tee from my boyfriend multiple times to go running in, and I love how loose and breathable the fabric is. Right now you can pick up the UA Tech 2.0 T-shirt for as little as $9 @ Amazon in the men's model, or pick up the similar Under Armour Tech T-shirt in women's for just $15 @ Amazon for a more sculpted look. I've trained in (and fallen in love with) both, so you're in safe hands whichever you pick.
You can choose from a huge range of colors and sizes for men's and women's models, including standard and tall for men.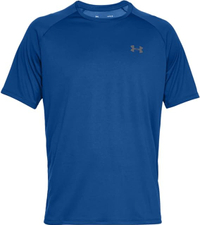 Under Armour Tech 2.0 (men's) T-shirt: was $25+ now $9 @ Amazon
Save a staggering 63% on the most popular men's activewear t-shirt on Amazon. Discount is subject to chosen sizes and colorways and prices start upward of $25 before discount. The tee has pulled in over 87k reviews and wearers love the loose fit and moisture-wicking materials.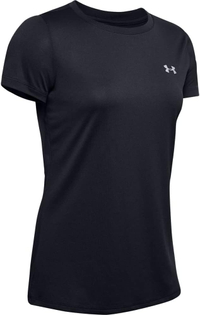 Under Armour Tech (women's) T-shirt: was $25+ now $16 @ Amazon
You can also pick up a similar model in women's sizes for less during Cyber Week sales. The UA Tech tee is quick-drying and super soft, wicking sweat during workouts and using a 4-way stretch construction to help you move freely.
Under Armour Tech and Tech 2.0 workout T-shirts: moisture-wicking and loose-wearing
The men's Under Armour Tech 2.0 workout T-shirt pulls in over 87k on Amazon and currently stands as Amazon's best-rated tee in the men's activewear category. Not only is the design extremely good-looking, but the UA tech fabric is ultra quick-drying, soft and stretchy. I've worn the men's and women's when diving into the wardrobe in search of a workout top, and the UA Tech tee is one of my current favorites.
The short-sleeve design comes in an inclusive number of sizes and various attractive colorways, made from 100% polyester. It's loose and light and has kept me cool during longer runs in warmer weather while wicking sweat to keep me dry. I've read the reviews, and many people say the loose fit and airy feel is perfect for the gym environment. If you opt for a tall size, expect 2"/5cm extra length compared with regular sizes with adjustments on the sleeve length.
Workout T-shirts aren't exactly renowned for taking up space in your wardrobe, but I love how lightweight the shirt is, stowing away in one of the best gym bags without taking up much-needed weight or space.
Other Cyber Monday workout deals we love
We've been on a mission at Tom's Guide to find the best fitness deals on workout clothes as we move toward the winter months. If you're looking to stock up, our fitness writer has already found deals on Arc'teryx along with tips for staying dry while biking in the rain.