The best cheap headphones are all about getting maximum quality for the smallest possible investment. That's not to say that these are just the cheapest working headphones and earbuds we can find; we've tested them all to make sure that despite their low prices, they really can deliver on sound quality, comfort and practicality.
These aren't the best headphones overall, and you won't find advanced features like active noise cancellation here. But what you will find is a wide selection of reliable headphones and highly portable earbuds that will serve up music and podcasts for a fraction of the price — sometimes lower than a mere $20. Read on to find out our best cheap headphone picks and leave those purse strings unstretched.
What are the best cheap headphones?
Our top pick of the best cheap headphones is the Plantronics BackBeat Go 600, a winning blend of wireless Bluetooth convenience and powerful, bass-heavy sound. This set of over-ear headphones comfortable, too, thanks to the lightweight build.
In second place is the JLab Go Air Pop. This is something very rare indeed: a pair of true wireless earbuds, and pretty good ones too, for $20. It even comes IPX4-rated, so it could act as a budget alternative to the best sports earbuds if you want something that can resist rain and sweat.
We've also added the Mpow 059 Lite to the #3 spot. Like the BackBeat Go 600, this is a deceptively high-performing pair of over-ear headphones, complete with the convenience of Bluetooth connectivity. It's light and comfy, and is cheap even compared to most of the other headphones on this list.
The best cheap headphones you can buy today
The BackBeat Go 600 is one of those models you'll want to keep on your budget wish list if you desire strong audio performance highlighted by powerful bass response and crisp highs. A bass mode is programmed into these cans that accentuates the low end, though the default soundstage is great on its own. You get a full suite of controls split between the two earcups that are easy to operate too.
Having up to 18 hours of playtime on a single charge is incredibly generous when factoring price into the equation. Also, Plantronics bundles an aux cable with the headphones, so you can continue listening in passive mode when the battery dies. Build quality isn't much to brag about, but the light plastic frame makes these headphones comfortable and portable-friendly. Now you see why we have these bad boys ranked No. 1 on our best cheap headphones list.
It turns out you don't have to spend more than $20 to purchase a top-notch AirPods alternative. The JLab Go Air Pro is proof, housing a dynamic soundstage and 32-hour battery inside a sturdy, IPX4-protected design for sweat and water resistance. Three EQs are programmed into the buds, each one capable of enhancing sound quality based on your preference. Bass Boost is self-explanatory, while Balanced gives audio a neutral presence and JLab Signature offers a bit of both; we recommend sticking with the latter.
Up to 8 hours per charge is generous for buds this inexpensive, so is bundling the buds with a compact charging case that holds 4 extra charges and comes with an integrated USB cable for charging on the go. The different color options are enticing too: Black, Lilac, Rose, Slate, Teal.
Read our full JLab Go Air Pop review.
It can be difficult to find a comfortable pair of over-ear headphones for less than $20, but the Mpow 059 Lite manages it. And with wireless connectivity, no less — Mpow promises up to 60 hours of music and talk time from a single charge, and there's a 3.5mm jack if you ever need to switch to wired mode.
Low weight and a decent amount of padding also means this pair of headphones isn't as fatiguing as a lot of cut-price cans, and although its promise of "Hi-Fi" audio proves too tricky to fulfil, the 059 Lite doesn't sound bad at all. The bass response is strong, and trebles can cut through when needed.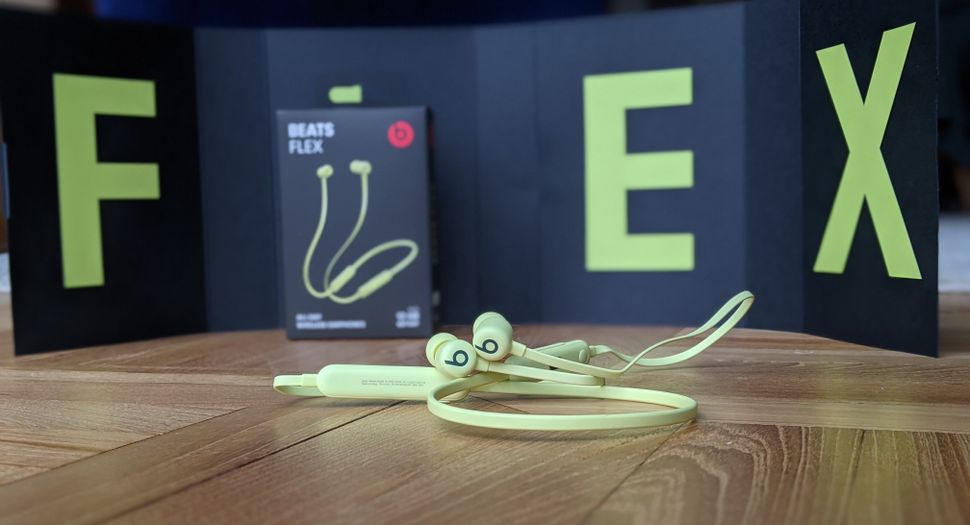 Did you ever think Beats would release $50 wireless earbuds? Neither did we, but fortunately for budget shoppers, the Flex is a no-brainer purchase if you want many of Beats' hallmarks (e.g. flashy design, long playtimes, acceptable call quality) in a super-affordable package. Even with Apple's older W1 processor at the helm, you're given plenty of useful features to work with, including easy pairing with iDevices, Fast-Fuel technology to speed up charging, and audio sharing. We're also surprised by how good the audio quality is on these buds, particularly with movies and podcasts.
It is disappointing to see that there is no water or sweat resistance, plus the bass levels don't knock as hard as they should for a device bearing the Beats logo. However, performance is equally balanced in almost every category.
See our Beats Flex review.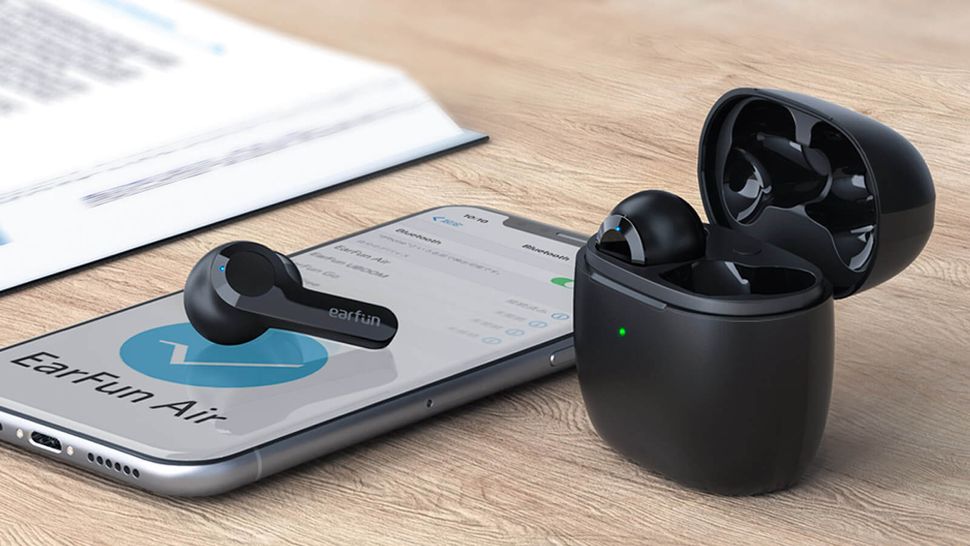 The EarFun Air ranks at No. 1 on our list of the best fake AirPods for many reasons. Let's start with audio, which is bright and crisp to hear vocals and instruments more distinctly. This level of sound translates well to videos and podcasts as well. Second, the noise-cancelling mics do a fantastic job of limiting the number of ambient noises that enter phone or video calls. Bluetooth 5.0 functions well, providing strong connectivity and up to 50 feet of wireless listening. Then there's the design, which is clearly inspired by the original AirPods, but sleeker and sturdier with IPX7 certification, making these buds waterproof.
Fit is often loose, though you can customize it by swapping out the installed tips for any of the three different size pairs in the box; the AirPods doesn't even come with ear tips. The touch controls could also use some work, but with some patience, you'll have a full suite of functions that can be enabled through basic tap gestures.
Read our full EarFun Air review.
JBL is responsible for some of the best cheap headphones below the $100 mark and the Tune 500 is one of its finest options. Hidden underneath the flexible, sturdy plastic frame are JBL's patented Pure Bass drivers that pump out serious lows; the bass response is thunderous at high volume. JBL's profile leans towards the warm end, which is good news for music lovers who want more thump in their sound. The soft-padded ear cushions and headband add comfort to the equation, allowing users to enjoy music for long stretches.
Sadly, the headphones (like many wired models) don't come with volume controls, so you'll have to do so manually on your smartphone or MP3 player. Thankfully, the sound doesn't distort or become unbearable when listening at high volumes, though others around you will notice sound bleeding from the cans.
At 10.6 ounces, they aren't light and clamp down on both the ears and skull to create some discomfort after an hour of listening. The plastic design also looks more appealing in the photos than in person. Nonetheless, these shortcomings take a backseat to the OneOdio Studio's remarkable sonics, which solely keep this model ranked high on our best cheap headphones list.
Powered by 50mm neodymium drivers, the OneOdio Studio serves up hi-def audio at an unbeatable price. Lows, mids, and highs are well-balanced, offering controlled bass and precise sound reproduction. The headphones sound great by themselves, though you have the option of hooking them up to other audio devices like a portable amp to take in deeper, fuller sound. We also love how you can daisy-chain them to another set of headphones and share music with others. Noise isolation is another area of strength for these cans, as the over-ear design helps create a tight seal to block out high-frequency noises.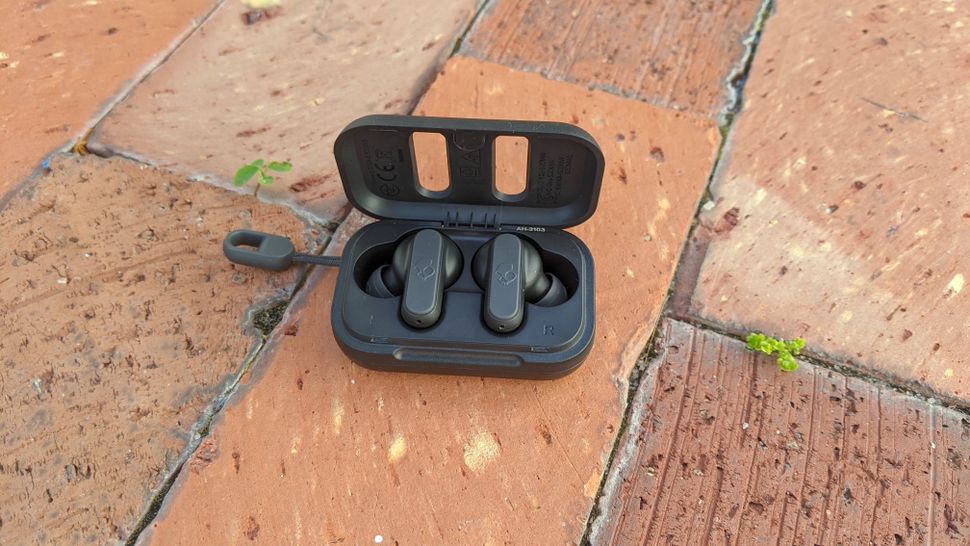 We suspect that for most people, "cheap" wireless earbuds would cost somewhere in the $100 dollar range, but the Skullcandy Dime delivers surprising quality for a fraction of that. Besides sounding better than we would ever have expected, their compact design is fully waterproof to the IPX7 standard: something even a lot of top-tier buds don't bother with.
Is there a catch? Battery life could be a lot better — you only get about 3.5 hours of playback per charge — and the touch controls aren't as reliable as we'd like. But hey, they let you ditch wires completely and only cost $25. That's worth some misfiring sensors.
Read our full Skullcandy Dime review.
The Plantronics BackBeat 500 is an excellent pickup for the price. Battery life is its biggest selling point, generating 18 hours of playtime on a single charge and featuring a Deep Sleep mode that can keep the headphones on standby for six months. You're also getting some surprisingly good sound out of these on-ears that rivals models in the sub-luxury range ($150 and up). Bass is emphasized to give listeners a warm and energetic presence on hip-hop and rock tracks.
The athletic-inspired design is light and durable, but the headphones don't provide the greatest comfort after 60 minutes of wear. It also lacks the sweatproof aesthetics of the BackBeat 500 Fit, which isn't a huge deal unless you plan on working out with these on your head. They could also benefit from better isolation, as external sounds make their way into the ear canal.
Some wireless headphones age well, and the Jabra Move Wireless is one of them. Nearly six years old, these colorful cordless cans still deliver clear, balanced sound, courtesy of Jabra's proprietary Digital Signal Processor (DSP). You'll get a nice blend of lows, mids, and highs that not many models can match at this price point. The lightweight design is comfortable on the head and when worn around the neck. Build quality is decent with a pliable frame and dirt-resistant headband. We're also attracted to the stylish colors: Coal (Black), Cayenne (Red), and Cobalt (Blue).
Battery life will seem super short compared to modern standards: 8 hours on a single charge doesn't seem like a lot. The control scheme could have also been programmed better, as the touch sensors often confuse tap gestures.
Read our full Jabra Move Wireless review.
How to choose the best cheap headphones for you
Just because you're spending less doesn't mean you're settling for less. You want to get the most bang for your buck when shopping for the best cheap headphones, and the one way to ensure this is by checking off a few essentials from the list.
Audio takes precedence over all other features. You want headphones that produce clean, balanced sound and solid bass. Some models might even offer built-in equalizer options (e.g. JLab) to personalize the soundstage based on your hearing.
Design comes second, which includes build quality, along with comfort and fit. Look for headphones that are durable and pliable; you want to know these things can survive whatever daily abuse you put them through. They should also feel cozy and pleasant on the skull when worn for long stretches, while creating a seal around the ears to keep out external noises.
Keep in mind that cheaper headphones are often wired, though if you're looking for a cord-free experience, there are plenty of wireless headphones available as well. Just make sure they come with at least 15 hours of playtime on a full charge and Bluetooth 4.0.
How we test the best cheap headphones
As with most of our headphone roundups, we based our list of the best cheap headphones not only on price, but also design, sound, and ease of use. Available features such as controls, mics, and digital assistant support are tested as well.
Our reviewers wear each pair of headphones for 2 hours at a time throughout the testing phase. From there, they evaluate how comfy and securely they fit, along with how well they isolate noise.
For sound quality, we evaluate volume, clarity, and fullness by listening to many songs across different music genres. This includes hip hop, rock, jazz, classical, and electronica just to name a few. Movies, podcasts, and video games are considered, when necessary. Our reviewers make phone calls to assess call quality and microphone performance too.
After testing is completed, our reviewers rate the best cheap headphones on Tom's Guide five-point system (1 = worst, 5 = best). Products that hit nearly every mark receive an Editors' Choice badge.