Best Comedy Movies on Netflix March 2019
All of the laughs
The comedy section on Netflix can feel too full of stand-up specials from people you've never heard of, making it hard to find the actual comedy films you're looking for. Fortunately for you, we've collected a list of the funniest movies on the streaming service. From hilarious comic book capers to outlandish dark comedies, cult classics and gut-busting true stories, we've got laughs for everyone, young and old.
And in addition to the movies listed here, the cult classic comedy Wet Hot American Summer is now back on Netflix, coming in the new March arrivals along with the teenage rom-com Nick and Norah's Infinite Playlist. Later this month, the painfully funny Kung Fu Hustle (March 15) comes to Netflix.
Credit: Marvel Studios
Ant-Man and the Wasp (2018)
Available on Netflix U.S. only.
The best part about a superhero movie sequel is that you've already established the hero's world, and now you get to have fun. Here, in Paul Rudd's second feature-length film as Ant-Man (aka, Scott Lang), we get a movie that can play gigantic-size-based jokes for big laughs from the first moments. So, when a giant pigeon shoves its head against a shrunken car, inhabited by Lang and Hope van Dyne (Evangeline Lilly), it's not for shock value, but for the absurd yuk that can be provided only by a pigeon towering overhead. Oh, and did I mention Paul Rudd? The king of the underachievers is back for more, and he's joined by the scene-stealing Michael Peña, who's often even funnier than his co-stars as Luis, one of Lang's partners in their X-Con (get it, they're ex-cons) Security group. — Henry T. Casey
Credit: Marvel Studios
Thor: Ragnarok (2017)
Available on Netflix U.S. only.
Thor, the armored himbo of the Marvel Cinematic Universe, had never really been in on the jokes of his previous movies and appearances. Thankfully, that changes in director Taika Waititi's Ragnarok, a brilliant series of misadventures that helped us find moments of humor before Infinity War snapped away our funny bones. And sure, Tessa Thompson's Valkyrie spends the film dealing with some pretty deep, dark stuff, but that doesn't deflate this laugh-filled movie. From the fourth-wall-breaking opening scene, where Thor cheekily narrates his peril and mocks his captor, to every single scene with Jeff Goldblum, who's practically playing himself turned up to 11 in the Grandmaster, you'll need a second viewing to catch all of the jokes you laughed through the first time. The film is elevated to comic gold, though, thanks to a stellar supporting cast, including a surprisingly immature Hulk (Mark Ruffalo), Karl Urban's amazingly dumb Skurge and Waititi's voice work as Korg. — Henry T. Casey
Credit: Marvel Studios
The Big Short (2015)
Available on Netflix U.K. only.
Before director Adam McKay tackled George W. Bush whisperer Dick Cheney in Vice, but not as far back as when the director was making the Anchorman movies, he tackled the heady and complicated subject of corruption in the U.S. mortgage market. The result is a wisecracking, funny, "true" take on what was a time of utter devastation for millions of homeowners but a license to print money for some plucky investors. The problem was that what the investors were doing was highly immoral — shorting the housing market. A brilliant ensemble cast, including Christian Bale, Steve Carell and Ryan Gosling, punctuates this fast-paced ride that miracuously manages to explain complicated economics while still keeping you thoroughly entertained. — Marc Chacksfield
Credit: Paramount Pictures
Obvious Child (2014)
Available on Netflix U.S. only.
Star Jenny Slate faces a gargantuan task in Obvious Child: reduce the stigmas surrounding abortion and make audiences laugh. In the former, at least, she succeeds massively as Donna Stern, an aspiring stand-up whose one-night stand leaves her with more material than she can handle. The film's humor may seem a tad adult or dark to those not ready for it; the first joke riffs on the wear and tear a single day can do to underwear. But the movie earned praise from critics for its realistic portrayals of relationships, standing as a romantic comedy that doesn't feel far-fetched. — Henry T. Casey
Credit: A24
Spring Breakers (2013)
Available on Netflix U.S. and U.K.
From the opening credits and first scene — which transitions from a loud, nudity-filled spring break to a silent moment of teens taking bong rips while My Little Pony plays in the background — you'll have an idea if Spring Breakers is right for you. Director Harmony Korine is known for dark, graphic films, and Spring Breakers is no exception, except for being drenched in neon lighting. That's because its main characters — Candy (Vanessa Hudgens), Faith (Selena Gomez), Brit (Ashley Benson) and Cotty (Rachel Korine) — are a group of college students who need more money for spring break and decide to rob a diner to get it.
You might wonder how this qualifies as a comedy, until you hear and see James Franco shouting, "spring breaaaak," in his role as a rapper/dirtbag/drug dealer named Alien. He will remind some of the rapper Riff Raff, who once claimed he would sue the film's makers. — Henry T. Casey
Credit: A24 Films
Magic Mike (2012)
Available on Netflix U.K. only.
There's a joy to the camaraderie in Magic Mike, in which a troupe of dudes with defined abs shake what their daddies — and a ton of cardio — gave 'em. These stars of the Xquisite strip club in Tampa, Florida, include Dallas (Matthew McConaughey), the club's owner who rocks a southern drawl that will be familiar to anyone who knows the actor's work, and the titular Mike (Channing Tatum), who's secretly saving money to start a furniture business. The Steven Soderbergh-directed film takes a turn for the dark when Mike meets Adam, a college dropout trying to make ends meet, and gets sucked into a seedy underbelly. — Henry T. Casey
Credit: Warner Bros.
Pitch Perfect (2012)
Available on Netflix U.K. only.
Kay Cannon was one of the shining writing credits on the sitcom 30 Rock, so it is no surprise that her script for Pitch Perfect is, well, a pitch-perfect take on competing high-school acapella singing groups. Anna Kendrick leads a fantastic cast of singing hopefuls who try to reinvent the Barden Bellas, with performances ranging from fresh-faced goodies to a more modern pop mashup. Forgoing the gloopiness of Glee, Pitch Perfect is one of those rare teen movies that everyone can watch without cringing. The less said, though, about its sequels, the better. — Marc Chacksfield
Credit: Universal Pictures
Attack the Block (2011)
Available on Netflix U.K. only.
An alien threat has landed in London, but rather than the army, secret agents or some kind of cosmic adventurer, the first line of defence is a gang of teenagers from the local council estate. John Boyega, Jodie Whittaker and Nick Frost all star as various people living in the apartment block, starting off as indifferent or antagonistic to each other, but finding themselves forced to work together. With the local police and an angry drug dealer also posing problems, the group has no choice but to take them all on at once, with only their wits and the contents of their flats to help them. It's down-to-Earth sci-fi with a thick vein of humour running through it, and that helps solidify the movie's unique and very entertaining charm. — Richard Priday
Credit: Sony
Scott Pilgrim vs. the World (2010)
Available on Netflix U.S. only.
The stars must have aligned perfectly when it came time to cast Edgar Wright's adaptation of Bryan Lee O'Malley's beloved visual-novel series about the troubles of dating. Besides the power pairing of Wright and O'Malley, you have Chris Evans and Brandon Routh, who have played Captain America and Superman, respectively; the inspired casting of Mary Elizabeth Winstead as Ramona Flowers, the titular character's mysterious girlfriend; Jason Schwartzman as the detestable Gideon Graves; and Arrested Development stars Michael Cera and Mae Whitman. Add to that Brie Larson, Aubrey Plaza and Anna Kendrick, and Scott Pilgrim vs. the World really is a supergroup of comedy and nerd culture combined, doused with a generous helping of video game, music and comic references. It's equal parts a celebration and a critique of hipsters, set to a score by Radiohead producer Nigel Godrich and Beck. What more could you possibly ask for? — Adam Ismail
Credit: Universal Studios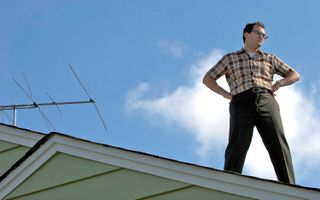 A Serious Man (2009)
Available on Netflix U.S. only.
If you love the Coen brothers' dark humor, everyman protagonists and overtones of American Judaism, then you'll find A Serious Man to be a delightful film. (If you don't like those things, then it's still at least delightfully weird.) The fantastically talented Michael Stuhlbarg stars as Larry Gopnik, a 1960s physics professor whose bland, moderately satisfying life starts going to shambles all at once. His wife is having an affair, his son is about to be bar mitzvahed, his student is trying to bribe him, his brother is sick, and his rabbi is unreachable. Has God picked Larry for a Job-like trial — or is midcentury suburbia just crushing his spirit, like everyone else's? If you can laugh at other people's misery, then you'll think A Serious Man is a riot. — Marshall Honorof
Credit: Focus Features
The Informant! (2009)
Available on Netflix U.S. only.
Here, Matt Damon takes a sharp a turn from his usual steel-jawed leading roles to be the pudgy Mark Whitacre, who works in the high-stakes world of … agriculture. While his mission may not be as dangerous as one of Jason Bourne's, he's still bound to secrecy, as he's turning state's evidence to the FBI. Whitacre has seen too much corporate malfeasance to keep it to himself. And this would all be good and noble, but Whitacre's not clean; he's conning everyone around him. — Henry T. Casey
Credit: Warner Bros.
Burn After Reading (2008)
Available on Netflix U.S. and U.K.
The Coen brothers know a good farce when they see one, and few sectors are as ripe for ridiculous satire as the U.S. intelligence industry. While the film features a murderers' row of top-tier talent, including George Clooney, Frances McDormand and Tilda Swinton, it's star John Malkovich (playing an analyst who gets canned and goes haywire) who steals much of the show. And whichever scenes he can't make off with are dominated by Brad Pitt's Chad Feldheimer, an aloof personal trainer who falls into this story of inept espionage. — Henry T. Casey
Credit: Focus Features
Hot Fuzz (2007)
Available on Netflix U.S. and U.K.
The middle installment of Edgar Wright's Cornetto trilogy stars Simon Pegg is Nicholas Angel, a hot-shot officer sent away from London because he was making everyone else look bad, while Nick Frost is reluctant bobby Danny Butterman, only in the job because his dad (played by Jim Broadbent) is in charge of the local police station. While on its surface, the town of Sandford is quiet and perfect, Angel, assisted by Butterman, finds a horrific conspiracy that threatens the whole community. At its core, this film is a strong buddy comedy, but the icing on the cake is the rural British spin it puts on classic action and cop movie tropes. — Richard Priday
Credit: Rogue Pictures
Superbad (2007)
Available on Netflix U.K. only.
It's been well over a decade since Superbad hit the big screen and revolutionized high school comedies for the millennial generation. Written by Seth Rogen and directed by Evan Goldberg, the movie is a day in the life of two high schoolers, unsurprisingly called Seth (Jonah Hill) and Evan (Michael Cera), who want to get drunk and get with two girls. Over the course of the day, we get an idea of their lives in the crudest of ways. But beyond the fantastically funny sex jokes and crass comedy, there's an underlying feeling of change throughout the movie that you can only get from a teenage tale. — Marc Chacksfield
Credit: Columbia/TriStar
Bruce Almighty (2003)
Available on Netflix U.S. only.
Bruce Almighty came out back when the simple promise of seeing Jim Carrey do funny things for 2 hours was enough to make a movie. But Bruce Almighty isn't just a disposable vessel for the talented actor; it's also a creative comedy premise, executed well. Bruce Nolan is a local reporter whose humdrum life never seems to live up to its potential, no matter how hard he tries. Bruce takes his anger out on God — who, as it turns out, was listening to Bruce's prayers. God (Morgan Freeman, naturally) offers Bruce the chance to be an all-powerful deity for a week, and Bruce's attempts to fix things invariably make everything worse. Bruce Almighty toes the line between silly and sweet almost perfectly, and it even has something worthwhile to say about the Big Man himself. — Marshall Honorof
Credit: Universal Pictures
The Hitchhiker's Guide to the Galaxy (2005)
Available on Netflix U.S. only.
"In the beginning, the universe was created. This has made a lot of people very angry and been widely regarded as a bad move." If your dog-eared copy of "The Hitchhiker's Guide to the Galaxy" was your constant companion through middle school, you'll be pleased to know that its big-budget Hollywood adaptation kept a lot of the book's humor, weirdness and cheerful nihilism intact. Martin Freeman stars as bathrobe-clad Brit Arthur Dent, who finds himself swept up on an intergalactic adventure along with his best friend, the incognito alien Ford Prefect (Mos Def). Their goal is to find the Ultimate Question behind life, the universe and everything, as they already know the ultimate answer, which is 42. Sam Rockwell steals the show as Zaphod Beeblebrox, the empty-headed president of the galaxy. — Marshall Honorof
Credit: Touchstone Pictures
Being John Malkovich (1999)
Available on Netflix U.K. only.
Spike Jonze, initially famed for his frenetic music videos, made his debut as a movie director with Being John Malkovich. This twisted piece of comedy fantasy is based on the idea that a floor in an apartment building is actually a portal into the mind of actor John Malkovich. OK, that's an over-simplification for a movie that has many twists and turns and brilliant performances, but it's a brilliant premise. Thankfully, it's also a premise that is wonderfully accepted by Malkovich, who does a brilliant sendup of himself. While the other cast members are as off-kilter as you would expect (especially Cameron Diaz, playing against type), the script is the real star here. It's full of offbeat moments and never quite goes where it seems to be headed, and this is thanks to the wonderful mind of Charlie Kaufman. Jonze and Kaufman reunited again for the also-brilliant Adaptation, but Malkovich is their best, most unusual work. — Marc Chacksfield
Credit: Universal Studios
Lock, Stock and Two Smoking Barrels (1998)
Available on Netflix U.S. only.
While director Guy Ritchie would soon flame out, his first feature film put him on the map and set high expectations for his future. Lock, Stock is dripping with style as a crime-comedy ensemble spectacular, lead by star-making performances from Jason Statham (The Transformer and Crank movies) and Vinnie Jones, a retired footballer. Oh, and for the ultimate chuckle, the singer Sting acts, or at least tries to. — Henry T. Casey
Credit: Universal Pictures
Fear and Loathing in Las Vegas (1998)
Available on Netflix U.S. only.
Take one unfilmable novel, mix in Johnny Depp, who shadowed and became great friends with the main real-life protagonist, Hunter S. Thompson, and add a director whose former life was in Monty Python. What you end up with is a surreal, fugue state of a movie that may not always work, but you will go through the whole thing with one big smile on your face. Based on Thompson's road trip across America, accompanied by his lawyer and a car full of drugs, Fear and Loathing in Las Vegas plays out (we're guessing, ahem) like one big LSD trip that takes in the heady vistas of Vegas and its surrounding desert. Packed with visual moments that will stay with you and screwball comedy scenarios that are sometimes too weird to even seem remotely true, this is the ultimate road-trip movie that's less about the road and more about the trip. — Marc Chacksfield
Credit: Universal Pictures
Friday (1995)
Available on Netflix U.S. only.
Friday marries the delightful, relaxed pacing of a Richard Linklater movie (Slacker, Waking Life) with the hilariously crass humor that you expect from stars Ice Cube and Chris Tucker. Even if you've never seen Friday, you're likely more than familiar with some of its most iconic moments (preserved in GIF form) and dialogue (this is where SportsCenter anchors found "Bye, Felicia"). — Henry T. Casey
Credit: New Line Cinema
Ghostbusters (1984)
Available on Netflix U.S. only.
When you get four talented comedians together to make a movie, you're almost certainly going to get something funny. But it's remarkable when you also get a worthwhile sci-fi/horror flick out of the effort. Ghostbusters stars Bill Murray, Dan Aykroyd, Harold Ramis and Ernie Hudson as the titular team of paranormal investigators. At first, the team operates like a group of exterminators, taking down small-scale hauntings all over New York City. But the stakes get higher as the Ghostbusters take on body-possessing demons, ancient Sumerian gods and, most frightening of all, the Environmental Protection Agency. With plenty of slapstick, wordplay and wry commentary, Ghostbusters is a comedy classic with an all-star cast. Unfortunately, neither the sequel nor the reboot quite figured out how to recapture the magic. — Marshall Honorof
Credit: Alamy
Stripes (1981)
Available on Netflix U.S. only.
Originally meant for Cheech and Chong, Stripes is one of the many films that helped cement Murray as a comedic titan. Once co-star and co-writer Ramis reworked the script for Murray, everything fell into place to tell the story of John Winger, who loses everything, including his job as a cabbie, and decides to join the Army. It's a sendup of the lowered standards that allow the armed forces to fill basic training with a bunch of schlubs, including a ton of young, up-and-coming actors (John Larroquette, Judge Reinhold, Timothy Busfield and Bill Paxton).— Henry T. Casey
Credit: Alamy
Life of Brian (1979)
Available on Netflix U.S. and U.K.
It doesn't have quite the laughs of Holy Grail, but this Life of Brian still offers a delightful sendup of big-screen biblical blockbusters that works in a few sly jabs about groupthink, governments and religion. Life of Brian was controversial in its day, though 40 subsequent years of increasingly coarser comedy make the once-shocking jokes seem gentle. And whatever else you can say about Life of Brian, you won't find many other movies setting their show-stopping musical number during a crucifixion. — Philip Michaels
Credit: Alamy
Monty Python and the Holy Grail (1975)
Available on Netflix U.S. and U.K.
Monty Python's second movie is easily the best and most quotable of the British comedy troupe's big-screen efforts. From Knights Who Say Ni to the airspeed velocity of assorted swallows, Grail offers a number of classic gags that will delight hardcore Python fans while also easing newcomers into Monty Python's distinctive comic sensibilities. There's a loose plot here about King Arthur's quest to find the Holy Grail, but it's just an excuse to have John Cleese, Michael Palin and the rest of the Pythons run roughshod over history. — Philip Michaels
Credit: Alamy