Peacock has slowly become one of the best streaming services, and the best Peacock movies are a major key as to why. While three of our picks just left (say goodbye to Brokeback Mountain, F9 and Keanu), three more have sprouted up in their place.
While some subscribe to Peacock for the service's solid shows (we love We Are Lady Parts and Poker Face) and some of its live events (sports, SNL and WWE included), the service has slowly collected an excellent cinematic library.
So, we've decided to dig through Peacock and put together a list of the movies that Peacock subscribers have no excuses about. Some appear on our regular roundup of the new movies and shows to watch every weekend, while others are outright classics you need to see to be a true fan of the genres they represent.
We make this list by diving deep in the Peacock archives, and using both our own expertise and the wider critical consensus. And we're going to keep it up to date as movies come and go from Peacock.
The best movies on Peacock to stream now
Scott Pilgrim vs. The World (2010)
Never thought to ask yourself if "bread makes you fat?" Well, Scott Pilgrim did, and that's just the tip of why he's a unique guy.Scott (Michael Cera) took too many years to get over his ex (Brie Larson), and that's just the backdrop for one of the most rewatchable movies on this list. On his way to personal redemption he doesn't realize he needs, Scott makes the mistake of dating a high schooler (Ellen Wong) while flirting girl of his actual dreams (Mary Elizabeth Winstead) in the next scene. Oh, and while you might love its excellent classic gaming aesthetic, its fantastic supporting cast help make Scott Pilgrim vs. The World a must-see.
Genre: Comedy
Rotten Tomatoes score: 82%
Stars: Michael Cera, Mary Elizabeth Winstead, Ellen Wong, Kieran Culkin, Anna Kendrick, Brie Larson
Director: Edgar Wright
Watch now
Bridesmaids (2011)
Annie (Wiig) is excited that she's been chosen to be the maid of honor by her best friend Lillian (Maya Rudolph). But as she goes out into the chaos of Lillian's wedding, she does so armed with none of the financial or romantic success her bestie has. And without money, being a maid of honor is a tricky task.
Oh, and making matters worse, Annie deals with the affluent Helen (Rose Byrne), a fellow bridesmaid who seems to have it all. It all simmers to a boil, and threatens Annie and Lillian's friendship.
Oh, a bit of a bonus recommendation: if you've already seen Bridemaids, after you rewatch it look up Paul Feig's A Simple Favor, one of his lesser-known (but still excellent) films starring Anna Kendrick and Blake Lively.
Genre: Comedy
Rotten Tomatoes score: 89%
Stars: Kristen Wiig, Maya Rudolph, Rose Byrne, Melissa McCarthy, Rebel Wilson, Ellie Kemper, Chris O'Dowd
Director: Paul Feig
Watch now
Superbad (2007)
High-school seniors Seth (Jonah Hill) and Evan (Michael Cera) may spend all their time together, but that's about to end. College is coming, and they're both going to different universities, but life is also starting to change. Seth's crush on Jules (Emma Stone) keeps getting him into trouble, especially when his big mouth says he can buy alcohol for her party.
This promise sends the friends into a while night of chaos, and almost have to rely on Fogell (Christopher Mintz-Plasse) who thinks McLovin' is a good name for a fake ID. Full of heart and crude humor, Superbad spawned many an imitator.
Genre: Comedy
Rotten Tomatoes score: 88%
Stars: Jonah Hill, Michael Cera, Seth Rogen, Bill Hader, Emma Stone, Christopher Mintz-Plasse
Director: Greg Mottola
Watch now
Emma. (2020)
Emma (Anya Taylor-Joy) is determined in life, and that doesn't just include her own. Harriet (Mia Goth) is both her latest friend and project, and needs a husband. So it's no shock that Emma is going to get her one.
This take on Emma may not aim for a modernization (Clueless) or some other twist, but it works thanks to a cast with chemistry and charm. Oh, and de Wilde's "Emma." is also an absolutely gorgeous film, worth watching for the costume and set design alone.
Genre: Romantic drama
Rotten Tomatoes score: 86%
Stars: Anya Taylor-Joy, Mia Goth, Johnny Flynn, Miranda Hart, Bill Nighy, Josh O'Connor, Callum Turner
Director: Autumn de Wilde
Watch now
Polite Society (2023)
Youthful rebellion is often seen as career ambitions that parents just don't understand, just as Ria (Priya Kansara) finds when she declares she wants to be a stunt woman. Her sister older sister Lena (Ritu Arya) supports this goal, while her parents do not.
The bad news for Ria, though, is that her sister's support may fade as she's pulled into a relationship with a new suitor. The bad news for Lena? Well, this guy's got a bad family. Good thing her sister knows how to kick butt.
Critics praise Polite Society for rearranging the family drama in a new and inventive way. Kansara gets a lot of praise for her performance making the film stand out, though it's also an impressive debut film for director Nida Manzoor.
Genre: Action comedy
Rotten Tomatoes score: 91%
Stars: Priya Kansara, Ritu Arya, Nimra Bucha, Akshay Khanna, Seraphina Beh
Director: Nida Manzoor
Watch now
Cocaine Bear (2023)
Exactly what its name says it is, Cocaine Bear is all about a bear that happens to stumble onto a duffel bag full of the titular drug. And, somehow, it's (loosely) based on a true story. It all begins when a drug drop goes wrong, and drug kingpin Syd White (Liotta, in his final role) has to track bag after bag of coke down through the Chattahoochee–Oconee National Forest.
Except he sends his employees Daveed (Jackson Jr.) and Eddie (Ehrenreich), the latter of whom is his depressed son who's still mourning the loss of his wife. Those two don't exactly do anything right, and are a bit too late, thanks to said bear. Youths, punks and park rangers also get tied up in this farcical and hilarious adventure.
Cocaine Bear is buoyed by a much stronger cast than its premise should have, as director Elizabeth Banks managed to recruit a fantastic cast including Keri Russell and Margot Martindale.
Genre: Comedy
Rotten Tomatoes score: 67%
Stars: Ray Liotta, O'Shea Jackson Jr., Alden Ehrenreich, Keri Russell, Jesse Tyler Ferguson, Margot Martindale, Isiah Whitlock Jr.
Director: Elizabeth Banks
Watch now
Brokeback Mountain (2005)
Ennis (Ledger) and Jack (Gyllenhaal), a pair of cowboys turned sheep herders, maintain the calm pastures of Brokeback Mountain together. Off the clock, after a stuttery start, the two begin a secret affair that Ennis tries (and fails) to deny. The two even brawl, though, before they go back to their regular lives.
Forever changed by their connection, Ennis and Jack both spiral once they try and go back to their previous lives off the mountain. Brokeback Mountain was applauded for the fantastic performances from its leads — who were both nominated for Academy Awards — and Ang Lee's direction.
Genre: Drama
Rotten Tomatoes score: 88%
Stars: Heath Ledger, Jake Gyllenhaal, Anne Hathaway, Michelle Williams, Linda Cardellini, Anna Faris
Director: Ang Lee
Watch now
F9: The Fast Saga (2021)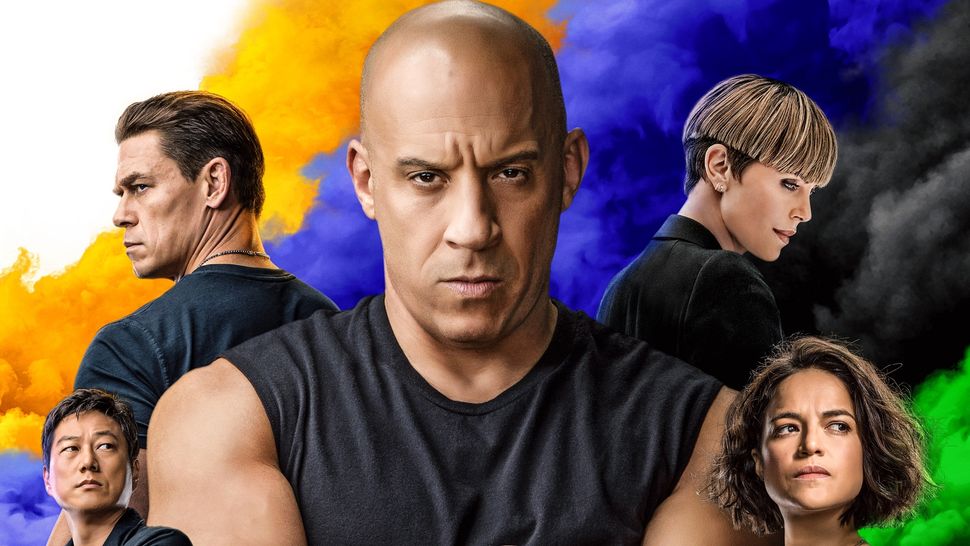 F9 is a story of familial revenge. Dom (Vin Diesel) may be all about family, but tell that to his estranged brother Jakob (John Cena), who pops back up and is working with Fast villain Cipher (Charlize Theron). And while they have a plan to hack the world, an old member of the F&F family shows up to help save the day.
Packed with insane car stunts that make you feel like you're watching a kid do impossible things with his toys, F9 is a proper escalation of the wildness that the Fast series has provided.
Genre: Action
Rotten Tomatoes score: 59%
Stars: Vin Diesel, Michelle Rodriguez, Tyrese Gibson, Ludacris, Charlize Theron, John Cena
Director: Justin Lin
Watch now
Keanu (2016)
Cousins Rell (Jordan Peele) and Clarence (Keegan-Michael Key) are no action heroes. Rell's using a kitten named Keanu to get over a breakup, and Clarence's confidence is all talk. But when a cat-napping sends them into the bowels of gang leader Cheddar (Method Man), the two have to fake it til they make it ... out alive.
Key and Peele make this silly and improbable story work thanks to their comedic chemistry and relatability.
Genre: Action comedy
Rotten Tomatoes score: 78%
Stars: Jordan Peele, Keegan-Michael Key, Method Man, Luis Guzmán, Nia Long, Will Forte
Director: Peter Atencio
Watch now
The 40-Year-Old Virgin (2005)
Electronics store employee Andy (Steve Carell) has it all, at least in terms of the posters, toys and gadgets in his apartment. His coworkers, though, soon discover that he's also got one thing they don't: his virginity. And, seeing as Andy is 40, they see this as a flaw they need to change immediately.
While the guys can get pretty crude, this Judd Apatow movie has a ton of heart underneath its immaturity. It's also ultimately quotable, with memorable lines such as Andy's comparison that involves a "bag of sand."
Genre: Comedy
Rotten Tomatoes score: 85%
Stars: Steve Carell, Catherine Keener, Paul Rudd, Seth Rogen, Jane Lynch, Romany Malco
Director: Judd Apatow
Watch now
Knock at the Cabin (2023)
M. Night Shyamalan, riding high off of the success of OLD, adapted author Paul G. Tremblay's book Cabin at the End of the World into a movie that doesn't take the same twists — but still packs a lot of punch. And it all kicks off as Wen (Cui) is trying to enjoy a vacation in the woods with her fathers (Eric (Groff) and Andrew (Aldridge).
Unfortunately, soft-spoken Leonard (Bautista) arrives with a trio of acquaintances, who warn of an apocalypse. The only answer is one that Eric and Andrew refuse to consider.
And while Knock at the Cabin is plenty divisive, the anchoring performance from Dave Bautista as the intimidating Leonard keeps the film going.
Genre: Thriller
Rotten Tomatoes score: 67%
Stars: Dave Bautista, Jonathan Groff, Ben Aldridge, Nikki Amuka-Bird, Kristen Cui, Abby Quinn, Rupert Grint
Director: M. Night Shyamalan
Watch now
Tár (2022)
Lydia Tár (Cate Blanchett) is shattering glass ceilings in the world of classical music. Not only is she the first female chief conductor of the Berlin Philharmonic, ready to publish a book about herself titled Tár on Tár and preparing for a massively important live performance of Mahler's Fifth Symphony. But underneath the seams, rumors and accusations of Tár's misdeeds threaten to ruin her career.
Not only is the film Tár praised for Blanchett's measured yet riveting performance, but it's also gotten a lot of praise for how it chooses to tell its story. It doesn't seem interested in answering all of your questions, but it's exploration of a success story that's unraveling doesn't exactly need those truths.
Genre: Drama
Rotten Tomatoes score: 91%
Stars: Cate Blanchett, Noémie Merlant, Nina Hoss, Sophie Kauer, Mark Strong
Director: Todd Field
Watch now
M3GAN (2022)
Yes, M3GAN — which stands for Model 3 Generative Android — is definitely one of the best movies on Peacock. Definitely silly, the story of the doll brought to life by AI and cares far too much about the girl that it's programmed to protect, M3GAN is part horror and part camp. And while the movie is all about the doll, the plot revolves around computationally-capable toy designer Gemma (Allison Williams), who is forced to adopt her niece Cady (Violet McGraw) after a tragic (but, still, kinda funny), accident.
And while Gemma's not a great parent, she realizes that Cady might get along with the smart doll she's invented. Unfortunately, pairing M3GAN with the young girl leads to utter chaos. Also, Ronny Chieng (The Daily Show) puts in a fantastic supporting performance as Gemma's results-driven boss.
Genre: Campy horror
Rotten Tomatoes score: 93%
Stars: Allison Williams, Violet McGraw, Ronny Chieng, Jenna Davis (M3GAN's voice), Amie Donald (M3GAN)
Director: Gerard Johnstone
Watch now
Night of the Living Dead (1968)
If you trace the path of infection of zombies in TV and movies, from The Last of Us to its deepest origins, you'll find George A. Romero's debut film from 1968. The original Night of the Living Dead focuses on a pack of survivors fleeing into an abandoned house due to a peculiar phenomenon of dead bodies rising from the nearby graveyard with a case of the munchies.
Shot in black and white, Night of the Living Dead's aesthetic offered something new for the time by taking everything away from those fleeing the undead. The result is an unsettling movie that created a genre, and is one of the best movies on Peacock.
Genre: Zombie horror
Rotten Tomatoes score: 96%
Stars: Duane Jones, Judith O'Dea, Karl Hardman, Marilyn Eastman, Judith Ridley, Keith Wayne
Director: George A. Romero
Watch now
More of the best movies to watch online
Since you probably have more than Peacock, you should also bookmark our other movie roundups. We've got the best Netflix movies with Originals and licensed classics, and the best movies on Amazon Prime Video, too.
Of course, we can't skip over the best streaming service, so check out the best HBO Max movies to make sure you're using the home box office as best you can.