Peacock has slowly become one of the best streaming services, and the best Peacock movies are a major key as to why. While four of our picks just left (say goodbye to If Beale Street Could Talk, Step Brothers, What's Love Got To Do With It and Easy A — now one of the best Netflix movies), four more have sprouted up in their place.
While some subscribe to Peacock for the service's solid shows (we love We Are Lady Parts and Poker Face) and some of its live events (sports, SNL and WWE included), the service has slowly collected an excellent cinematic library.
So, we've decided to dig through Peacock and put together a list of the movies that Peacock subscribers have no excuses about. Some appear on our regular roundup of the new movies and shows to watch every weekend, while others are outright classics you need to see to be a true fan of the genres they represent.
We're going to keep adding to this list, but with representation from a modern action classic, the new horror king's latest flick, an Oscar-buzz driver and multiple beloved comedies, our guide to the best movies on Peacock should have you busy through Oscar season. The next big movie coming to Peacock is the Puss in Boots sequel, one of the top movies to watch online this week.
We make this list by diving deep in the Peacock archives, and using both our own expertise and the wider critical consensus. And we're going to keep it up to date as movies come and go from Peacock.
The best movies on Peacock to stream now
Jurassic Park (1993)
Director Steven Spielberg has made many films, but none is quite as perfect and rewatchable as Jurassic Park. The tale of the ultimate theme park that nobody thought enough about, Jurassic Park shows what happens when scientists are so preoccupied with whether or not they could do something, and they didn't stop to think if they should. Or at least that's what Dr. Ian Malcolm (Jeff Goldblum) thinks.
But once we're off to the races, and see that the scientists really thought they could contain dinosaurs brought back to life, Spielberg delivers a great ensemble action movie. If you thought the likes of Scream's Ghostface killers and Halloween's Michael Myers were the best creepy threats, then I'm guessing you've never met a velociraptor.
Genre: Action/adventure
Rotten Tomatoes score: 91%
Stars: Sam Neill, Jeff Goldblum, Richard Attenborough
Director: Steven Spielberg
Watch now (opens in new tab)
Tár (2022)
Lydia Tár (Cate Blanchett) is shattering glass ceilings in the world of classical music. Not only is she the first female chief conductor of the Berlin Philharmonic, ready to publish a book about herself titled Tár on Tár and preparing for a massively important live performance of Mahler's Fifth Symphony. But underneath the seams, rumors and accusations of Tár's misdeeds threaten to ruin her career.
Not only is the film Tár praised for Blanchett's measured yet riveting performance, but it's also gotten a lot of praise for how it chooses to tell its story. It doesn't seem interested in answering all of your questions, but it's exploration of a success story that's unraveling doesn't exactly need those truths.
Genre: Drama
Rotten Tomatoes score: 91%
Stars: Cate Blanchett, Noémie Merlant, Nina Hoss, Sophie Kauer, Mark Strong
Director: Todd Field
Watch now (opens in new tab)
Nope (2022)
Otis Jr. (aka "OJ," played by Daniel Kaluuya) and Emerald ("Em," Keke Palmer) Haywood inherited their way into the horse-training business. At Haywood Hollywood Horses, Otis trains horses to get them ready to be involved with big productions, and Emerald, well, she's around to be the social face of the business. But when a mystery arises above their ranch, the Haywood siblings and their neighbors have to think fast if they want to survive.
And when Nope dives into its suspenseful second and third acts, you'll be white-knuckling the nearest arm-rest or hand as you wonder what you're seeing. A fantastic and thrilling ride awaits everyone at the end of the road, but just make sure you avoid trailers — the final commercials reveal too much.
Genre: Sci-Fi thriller
Rotten Tomatoes score: 83%
Stars: Daniel Kaluuya, Keke Palmer, Stephen Yeun, Brandon Perea, Michael Wincott
Director: Jordan Peele
Watch now (opens in new tab)
M3GAN (2022)
Yes, M3GAN — which stands for Model 3 Generative Android — is definitely one of the best movies on Peacock. Definitely silly, the story of the doll brought to life by AI and cares far too much about the girl that it's programmed to protect, M3GAN is part horror and part camp. And while the movie is all about the doll, the plot revolves around computationally-capable toy designer Gemma (Allison Williams), who is forced to adopt her niece Cady (Violet McGraw) after a tragic (but, still, kinda funny), accident.
And while Gemma's not a great parent, she realizes that Cady might get along with the smart doll she's invented. Unfortunately, pairing M3GAN with the young girl leads to utter chaos. Also, Ronny Chieng (The Daily Show) puts in a fantastic supporting performance as Gemma's results-driven boss.
Genre: Campy horror
Rotten Tomatoes score: 93%
Stars: Allison Williams, Violet McGraw, Ronny Chieng, Jenna Davis (M3GAN's voice), Amie Donald (M3GAN)
Director: Gerard Johnstone
Watch now (opens in new tab)
Men In Black (1997)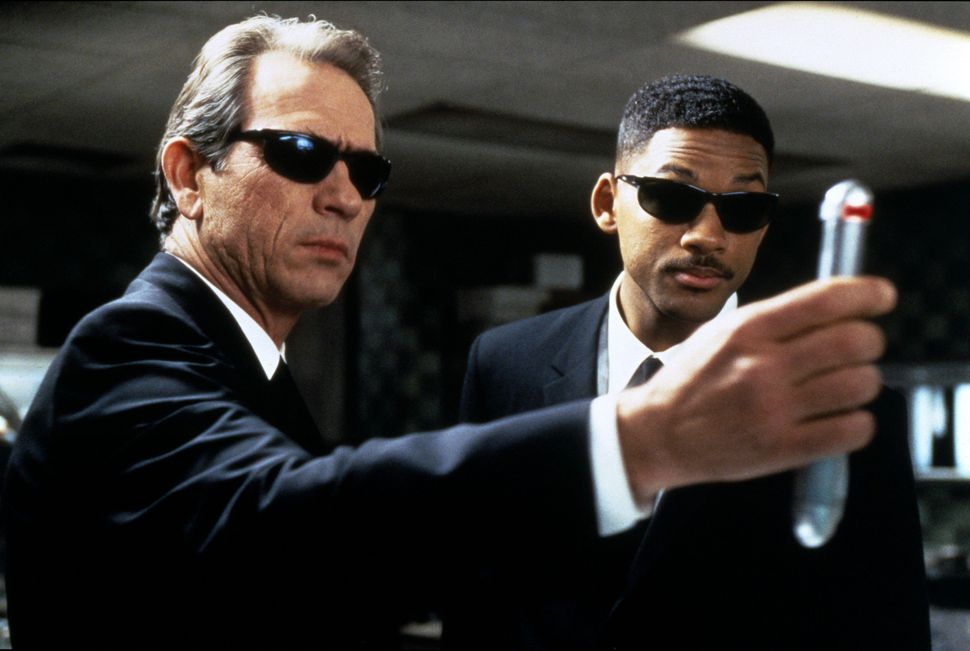 James Darrell Edwards III (Smith) is having one hell of a career transition. Once just a simple NYPD detective, James falls down the proverbial rabbit hole when following a criminal on the run. Soon, he meets Agent K (Jones), who brings him into the Men in Black organization, a long established group that is basically the FBI but for alien activity. Here, James becomes Agent J, and gets a bevy of new toys. Armed with memory-eroding neuralizers, Agents J and K follow a series of leads to solve a mystery that threatens life on Earth.
Incredibly watchable (and rewatchable), Men in Black thrives off of Smith and Jones' effortless chemistry, as the former is the young and annoying rookie to the latter's grizzled veteran. A fantastic supporting cast and delightful (especially for their era) visual effects will keep you entertained throughout.
Genre: Sci-Fi comedy
Rotten Tomatoes score: 91%
Stars: Will Smith, Tommy Lee Jones, Linda Fiorentino, Vincent D'Onofrio, Rip Torn
Director: Barry Sonnenfeld
Watch now (opens in new tab)
John Wick (2014)
Whether you've still yet to watch a John Wick movie, or you're a regular at The Continental (Mr. Wick's hotel of choice), it's always a good time to hit play on the first John Wick film. Its premise is far from simple — a slightly-underground culture of hitmen and assassins lurk in every corner you're not in at the moment — and its action is even more complicated. But the cause of all the drama is simple: a very bad person killed the dog that John Wick (Reeves) loved, and now Mr. Wick is out for revenge.
John Wick basically invented a new version of fight scenes for movies with its "Gun Fu" that combines firearms with multiple combat styles, including grappling and hand-to-hand combat. Silly and amazing, John Wick was so good they're gonna keep making more of them until they get tired.
Right now, Peacock is the best place to watch the John Wick movies online, as it has the first three.
Genre: Action thriller
Rotten Tomatoes score: 86%
Stars: Keanu Reeves, Michael Nyqvist, Alfie Allen, Adrianne Palicki, Bridget Moynahan, Dean Winters, Ian McShane, John Leguizamo, Willem Dafoe
Director:
Watch now (opens in new tab)
Shaun of the Dead (2004)
If you've never seen Shaun of the Dead, you need to fix that right now. The satirical comedy that the zombie movie industry so duly needed, Edgar Wright's breakthrough movie focuses on a slacker (Pegg) who may have in fact needed the apocalypse to get his life together. Unfortunately, not everyone's going to survive that.
Both a funny relationships comedy about a bromance that refuses to evolve, and a movie about a breakup that's happening during the end of the world, Shaun of the Dead is all about keeping you on your toes. And director Edgar Wright wraps all these different moods up so well that his film career blossomed after its release.
Genre: Comedic horror
Rotten Tomatoes score: 92%
Stars: Simon Pegg, Kate Ashfield, Nick Frost, Lucy Davis, Dylan Moran, Bill Nighy
Director: Edgar Wright
Watch now (opens in new tab)
The Host (2006)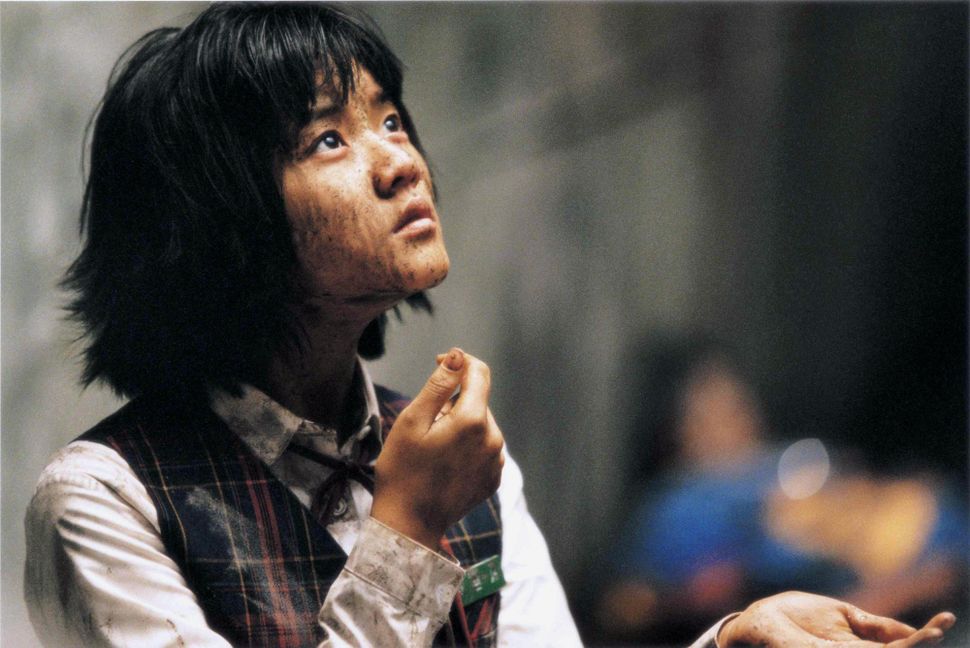 So, if you liked Shaun of the Dead, or thought it would be better about a bumbling dad and his family, then you might love The Host. Director Bong Joon Ho (Parasite) delivered a fantastic mix of monster movie and family comedy with this film where a mutated beast emerges from South Korea's Han river to terrorize the public.
Unfortunately for father Park Kang-du (Song Kang-ho), the beast absconds with his daughter Hyun-seo (Go Ah-sung). And while he's going to try and get her back, she meets a new friend in the beast's lair who proves just as helpful. On top of that, the government shows up, and a conspiracy is revealed. Inventive and fun, The Host is a must-see for fans of comedic horror.
Genre: Action/Comedy
Rotten Tomatoes score: 93%
Stars: Song Kang-ho, Byun Hee-bong, Park Hae-il, Bae Doona, Go Ah-sung, Oh Dal-su
Director: Bong Joon Ho
Watch now (opens in new tab)
Night of the Living Dead (1968)
If you trace the path of infection of zombies in TV and movies, from The Last of Us to its deepest origins, you'll find George A. Romero's debut film from 1968. The original Night of the Living Dead focuses on a pack of survivors fleeing into an abandoned house due to a peculiar phenomenon of dead bodies rising from the nearby graveyard with a case of the munchies.
Shot in black and white, Night of the Living Dead's aesthetic offered something new for the time by taking everything away from those fleeing the undead. The result is an unsettling movie that created a genre, and is one of the best movies on Peacock.
Genre: Zombie horror
Rotten Tomatoes score: 96%
Stars: Duane Jones, Judith O'Dea, Karl Hardman, Marilyn Eastman, Judith Ridley, Keith Wayne
Director: George A. Romero
Watch now (opens in new tab)
Scarface (1983)
Often imitated, never duplicated and manic on a sky-high level, Tony Montana (Pacino) is a drug lord who stands alone. And Montana gets all the time he needs to be more than just a caricature of his industry. Brian De Palma's epic film stretches out over nearly three hours, and in it we see Montana rise from hitman and immigrant to kingpin who finds himself in the targets of the Miami police.
While Scarface isn't for everyone, it's impossible to deny Al Pacino's intensity as Montana. Scarface's version of Miami is ultimately memorable as well, with vibrant colors and Giorgio Moroder's thumping score.
Genre: Crime drama
Rotten Tomatoes score: 81%
Stars: Al Pacino, Michelle Pfeiffer, Steven Bauer, Mary Elizabeth Mastrantonio, Robert Loggia
Director: Brian De Palma
Watch now (opens in new tab)
Winter's Bone (2010)
Before the Hunger Games hit the big screen, many knew Jennifer Lawrence was going to be a star because of Winter's Bone. Ree Dolly (Lawrence) is a teen who's sadly pushed into being the responsible one far too early, as her criminal father is on the run and her mother's mentally checked out. And things ramp up in drama when Ree finds out her father put their home up for bond — which forces her to hunt him down in Missouri's Ozarks mountains.
While this wasn't Lawrence's first film role, she was still lauded heavily for delivering such an impressive performance as a newcomer. And she helps ground the misery of Winter's Bone by giving you someone to root for, even though you know Ree shouldn't be in this situation.
Genre: Drama
Rotten Tomatoes score: 94%
Stars: Jennifer Lawrence, John Hawkes, Kevin Breznahan, Dale Dickey, Garret Dillahunt, Sheryl Lee, Tate Taylor
Director: Debra Granik
Watch now (opens in new tab)
More of the best movies to watch online
Since you probably have more than Peacock, you should also bookmark our other movie roundups. We've got the best Netflix movies with Originals and licensed classics, and the best movies on Amazon Prime Video, too.
Of course, we can't skip over the best streaming service, so check out the best HBO Max movies to make sure you're using the home box office as best you can.