Choosing from the best family movies on Netflix isn't easy, even with a new addition here and there. Netflix's always losing licensed movies, giving us reasons to update this list to make sure it reflects the current options. Making matters worse, Netflix's Children & Family Movies section is packed with films of questionable quality, and it takes a lot of time to sift through all of them to find something that works for you and your crew.
Our latest picks are fresh off the new on Netflix list, and offer wholly new stories — no sequels — to entertain. And no matter how many movies Disney Plus takes away (to fill its list of the best Disney Plus movies), Netflix still has a ton of stuff the whole family can watch.
And while Netflix gets tons of big name family fare you don't need us telling you is there — hi, Minions: Rise of Gru — it does offer plenty of good quality programming off the beaten path. Oh, and Netflix does lose the occasional movie, such as when Labyrinth left Netflix (again).
We've put together a master list of the best family movies on Netflix, which continues to keep a spot on our best streaming services with a mix of popular and quality (rare that the two meet) films that everyone can enjoy. Oh, and if this list doesn't give you enough of what you're looking for, check out our guide to the best Netflix alternatives to expand your options.
We consider ratings from both Common Sense Media and Rotten Tomatoes, but neither is exactly the end-all be-all for deciding what's truly one of the best family movies on Netflix. Trying to keep your kids away from inappropriate content? Check out our guide on how to set up Netflix parental controls. And be sure to research the best Netflix VPN if you're on a family vacation and want to keep them entertained with their favorite shows.
And after the kids nod off, consider our best shows on Netflix list. In search of lighter fare? Here's the best comedies on Netflix. If you've had enough of live action, check out the best Netflix anime movies and shows.
The best family movies on Netflix today
Rescued by Ruby
Daniel O'Neil (Grant Gustin) is a Rhode Island state trooper who wants to join the K-9 search and rescue team. Despite repeated rejections, he keeps trying even harder after learning his wife is pregnant. In a twist of fate, Daniel crosses paths with Ruby, a hyperactive half-border collie with a history of failed adoptions from the local shelter. Recognizing a kindred spirit in Ruby, Daniel takes a leap of faith, adopting her to train as his search and rescue partner. Together, the pair overcome all odds to become who they were truly meant to be. - BV
100% Rotten Tomatoes
Common Sense Media says: ages 8 and up
Watch now
The Sleepover
Clancy Finch (Sadie Stanley) is a teenager with a crush and a rebellious streak. She finds her world turned upside down when her mother Margot's (Malin Akerman) past catches up with them. Margot, a former member of a crime syndicate now in witness protection, is forced to confront her old life when a viral video blows her cover. The Finch children, along with Clancy's friend Mim (Cree Cicchino) and brother Kevin's (Maxwell Simkins) friend Lewis (Lewis Jaye), become accidental heroes as they embark on a mission to save their parents.
67% Rotten Tomatoes
Common Sense Media says: ages 8 and up
Watch now
Puss in Boots: The Last Wish
Yes, even though this column steers readers away from pablum, we're recommending the latest edition of the Shrek Cinematic Universe. That's because Puss in Boots: The Last Wish is far better than you might expect. Its titular feline (voiced by Antonio Banderas) is going through the physical manifestation of that old "nine lives" thing as death haunts him, while he starts wondering if he spent his first eight lives well.
Features a fantastic supporting vast of voice actors, including Florence Pugh as Goldilocks and What We Do In The Shadows favorite Harvey Guillen as new canine character Perro.
95% Rotten Tomatoes
Common Sense Media says: ages 8 and up
Watch now
Nimona
This luxuriously-animated movie is all about odd allegiances. Nimona (Chloë Grace Moretz) is a shape-shifter whose people have been targeted by the knights of the kingdom. But, then, knight Ballister Boldheart (Riz Ahmed) is framed for the murder of the queen of this futuristic world — and needs Nimona's help to clear his name.
Critics praise Nimona for its positive messages, but also note that it may be a little too violent for some. Others, demand a sequel.
97% Rotten Tomatoes
Common Sense Media says: ages 11 and up
Watch now
Groundhog Day
Curmudgeons who get a second chance are always useful for teaching kids life lessons, but weatherman Phil (Bill Murray) needs many more opportunities to get his situation together. Groundhog Day finds Phil living the titular 24-hour window over and over again, until he can figure out what he's getting wrong.
Murray owns the film with an excellent comedic performance, but a supporting cast filled with talent such as Andie MacDowell, Chris Elliott, Stephen Tobolowsky and Brian Doyle-Murray make it more of a group effort.
97% Rotten Tomatoes
Common Sense Media says: ages 11 and up
Watch now
Spider-Man
While younger single-digit members of your family may not be ready for Spider-Man's web of drama, the first Sam Raimi Spider-flick is an action-packed movie that most of the family can enjoy. Tobey Maguire is an excellent Peter Parker, embodying the wholesomeness that is true to the character and the ambition for more that gets him in trouble.
The biggest trouble for younger audiences may be the death of Uncle Ben, and how Peter internalizes the grief of his decision. Still, Spider-Man is a superbly acted story of an underdog who manages to overachieve.
Note though, that you can only watch this if you have a non-ad-supported Netflix plan.
90% Rotten Tomatoes
Common Sense Media says: ages 11 and up
Watch now
Chicken Run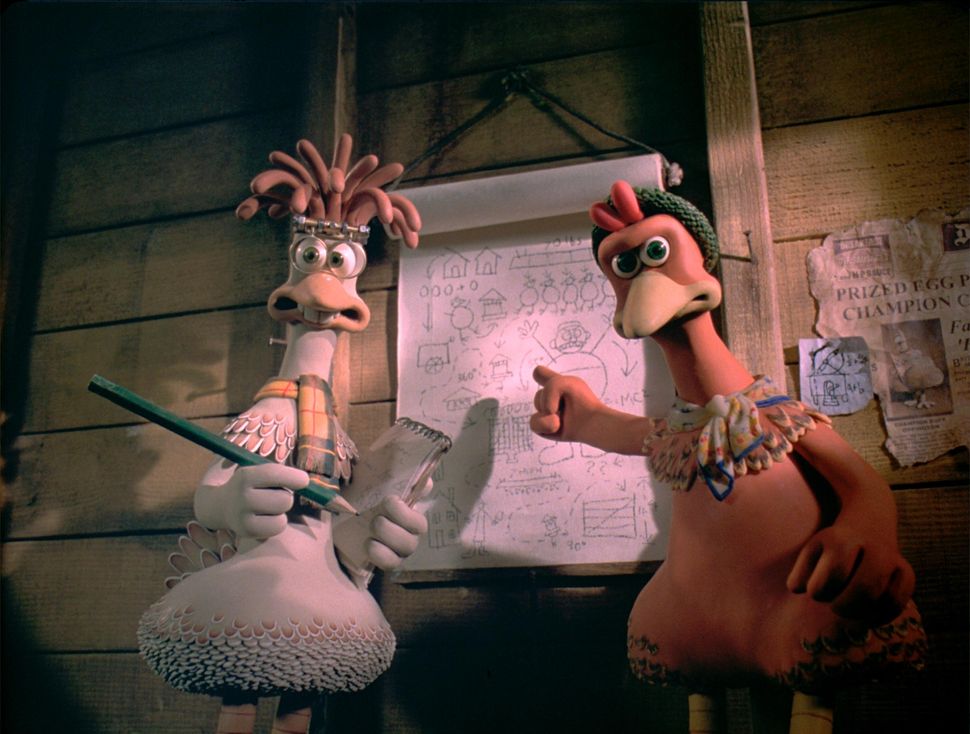 Just in time to get ready for Netflix's upcoming sequel, the original Chicken Run is now streaming on Netflix. This film focuses on a Yorkshire, England farm where Mrs. Tweedy (Miranda Richardson) have been pushing hens to make as many eggs as possible. But when they get a hold of a new contraption that creates chicken pies out of chickens, all the fowl get deservedly afraid. The chickens, doing their best to escape, are led by Ginger (Julia Sawalha), but they need the help of an American rooster named Rocky (Mel Gibson) to learn how to escape.
Beloved for its stop-motion animation, Chicken Run is bolstered by a clever script and genuine, emotional story. A strong alternative to the neon soaked animated movies that fill Netflix's virtual shelves.
97% Rotten Tomatoes
Common Sense Media says: ages 7 and up
Watch now
Chupa
If you've ever wondered "What if they made a new E.T., but it was about a furry creature of myth, still hunted down by weirdos?" Well, Netflix did it, turning the lroe of the chupacabra into an adorable little fur-ball. Fortunately for Chupa, he's found by kind, young Alex (Evan Witten), who's desperate for a friend after dealing with bullies at school.
Alex meets Chupa on a vacation with his father (Demián Bichir), and the family works to protect their new friend from a selfish scientist (Christian Slater) with ulterior motives. Critics call Chupa sweet and enjoyable, though they note it doesn't reinvent the wheel.
58% Rotten Tomatoes
Common Sense Media says: ages 9 and up
Watch now
Enola Holmes 2
Sequels, often, benefit from having their predecessor done the heavy-lifting needed to establish a world that characters (and audiences) can have fun in. So, now that young Enola (Millie Bobby Brown) Holmes is ready to break out of the shadow of her famous brother (Henry Cavill) and start her own agency, she's also old enough to learn that the world won't take a young girl seriously as a detective.
Fortunately, she meets Bessie (Serrana Su-Ling Bliss), a factory girl in desperate need of help finding her missing sister. So, while audiences are entertained, they'll actually also get an education about the 1888 matchgirls' strike.
94% Rotten Tomatoes
Common Sense Media says: ages 12 and up
Watch now
Roald Dahl's Matilda the Musical
Not every child is raised by parents who care about their education, and not every family can make it to a Royal Shakespeare Company performance. And so we talk about Netflix's new adaptation of Roald Dahl's Matilda the Musical. Applauded for solid performances all-around — Emma Thomson and Lashana Lynch were expectedly fantastic, while newcomer Alisha Weir also dazzles — this film is proof that Netflix can make some of the best family movies, period. And credit to director Matthew Warchus and screenwriter Dennis Kelly for sprinkling in the appropriately small amount of risk and danger on top.
92% Rotten Tomatoes
Common Sense Media says: ages 8 and up
Watch now
The Sea Beast
Netflix is slowly hitting its stride again when it comes to family-friendly animated movies, and The Sea Beast is the latest piece of proof in that favor. This aquatic adventure finds the orphaned Maisie (voiced by Zaris-Angel Hator) stow away on a pirate ship run by monster hunters, led by Captain Crow (Jared Harris). But there's a beast known as The Red Bluster that's terrorizing the seas and causing trouble for the crew. Soon, Maisie and the captain's adopted son Jacob Holland (Karl Urban) are separated from the rest of the crew, and need to survive on their own.
94% Rotten Tomatoes
Common Sense Media says: ages 8 and up
Watch now
Sing 2
Families may have already seen the box-office smash Sing 2, but we doubt many will be able to stop themselves from streaming it. One of the best family movies on Netflix for its engaging soundtrack and fun performances, Sing 2 finds Buster Moon (Matthew McConaughey) bringing back the gang for one big new show on a new stage. This time, though, they need the help of Clay Calloway (Bono), a rockstar lion who's been in hiding.
71% Rotten Tomatoes
Common Sense Media says: ages 7 and up
Watch now
Apollo 10 1/2: A Space Age Childhood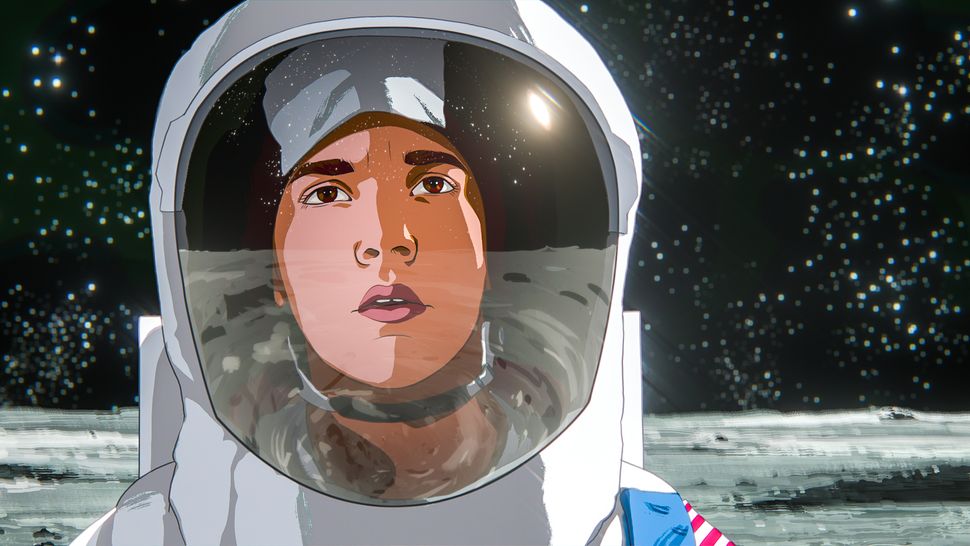 Netflix's original animated kids movies typically go CGI and neon, so color us surprised and delighted to find that Richard Linklater is at the helm for Netflix's latest great movie for families. This time, Linklater is using his love of rotoscope animation to recreate what it was like to be a child during the space race. The film is told through two perspective, a child named Stan who dreams of being in space, and the astronauts and mission control team working during the first moon landing.
92% Rotten Tomatoes
Common Sense Media says: ages 10 and up
Watch now
Hilda and the Mountain King
If your family hasn't watched Netflix's excellent animated series Hilda yet, now's the right time — as its sequel movie just came out. This wonderful show has a brilliant wholesome energy to it, with charm and emotional resonance. This feature-length episode looks at one of the show's biggest questions, "what's up with the human/troll conflict?" and does so with a traditional manner: a fish out of water story. The plot is simple, the titular Hilda wakes up with the body of a troll, and is now tasked with two missions: regain her human form and save the city of Trolberg.
97% Rotten Tomatoes (audience score)
Common Sense Media says: Not reviewed yet
Watch now
Klaus
Don't think we need a Santa origin story? Sorry, while the movie industry has made many of us grinches when it comes to films that explain where long-loved characters come from, Klaus breaks the mold. This gorgeous animated film tells a tale set in the fictional town of Smeerensburg, Jesper (voiced by Jason Schwartzman) is a spoiled postman who somehow makes friends with — you guessed it — Klaus (voiced by J.K. Simmons), the local toymaker. Older audiences will appreciate veteran actors including Joan Cusack and the late Norm Macdonald.
94% Rotten Tomatoes
Common Sense Media says: ages 6 and up (plus, a Common Sense Selection pick for Families)
Watch now
Vivo
Hamilton creator Lin-Manuel Miranda wrote eight original songs for the movie, which fuses his Broadway rapping style with the sounds of Cuba. Vivo follows the titular kinkajou (Miranda), a talented musician who busks in the streets of Havana with owner Andrés (Juan de Marcos). After a tragedy, Vivo journeys to Florida to deliver a love song to the famous singer Marta Sandoval (Gloria Estefan). Along the way, he makes some unlikely friends and connects in his grief with Andrés' grandniece Gabi (Ynairaly Simo).
86% Rotten Tomatoes
Common Sense Media says: ages 6 and up (plus, a Common Sense Selection pick for Families)
Watch now
Escape The Undertaker
OK, this one may be best for kids who are a little older (CSM ranks it for ages 9 and up), but this digital choose-your-own adventure movie offers something your kids may not have seen in a while. You make the decisions for WWE Superstars The New Day, who have decided to stop by The Undertaker's creepy mansion. The chemistry between the trio (Big E, Kofi Kingston and Xavier Woods) is hilarious, and it's perfect for younger and older children alike. Having trouble with inputting your selection? Netflix customer service might be able to help.
No Rotten Tomatoes score
Common Sense Media says: ages 9 and up
Watch now
The Mitchells vs. The Machines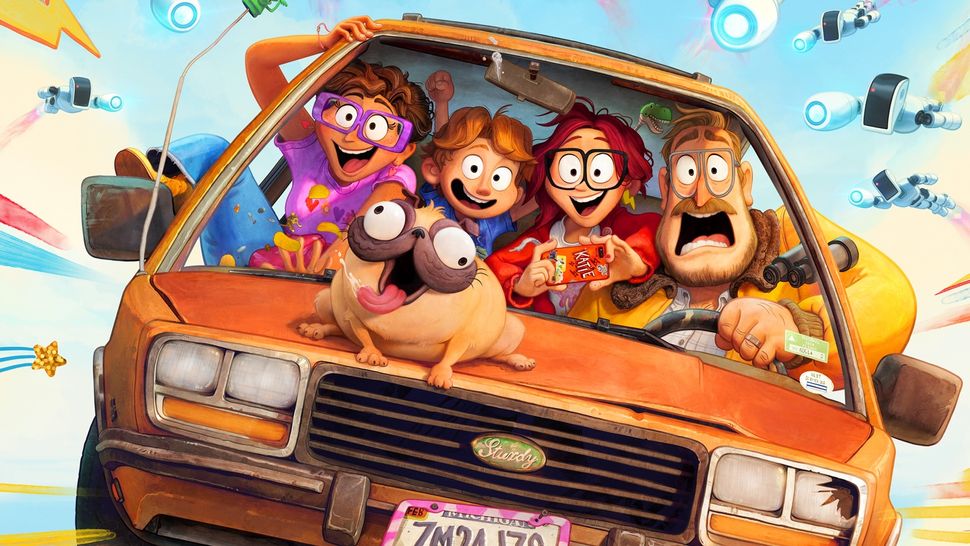 The latest addition to this list of the best family movies on Netflix, The Mitchells vs. The Machines is an animated film that has something for everyone. Its visuals astound (as we expected from the team behind Spider-Man: Into The Spider-Verse), and its cast is filled to the brim with top players including Abbi Jacobson, Danny McBride, Maya Rudolph, Eric Andre and Olivia Colman.
And the story is simple until it's chaos: the Mitchell family is out for a road trip right before daughter Katie starts film school. But, then, the robot uprising begins. You know, all our smart tech has finally had enough of us, and is going to take over. It's the inevitable moment we all saw coming, and the exact last thing a family would want when they're on the road and reliant on technology. Too fantastic? Check out our guide to the best Netflix documentaries.
97% Rotten Tomatoes
Common Sense Media says: ages 8 and up
Watch now
My Octopus Teacher
Tired of zany and too-wacky Netflix animated movies filled with animals who talk and prattle on too long? Looking to give your kids a completely different kind of movie night? Audiences 8 and up (according to Common Sense Media) will enjoy this documentary about a filmmaker who needs to get away from it all — and retreats to the shores of South Africa.
Diving in the local kelp forest, he meets an octopus who becomes his new friend. The two spend nearly a year together, and their connection is genuine and powerful.
95% Rotten Tomatoes
Common Sense Media says: ages 8 and up (plus, a Common Sense Selection pick for Families)
Watch now
Wish Dragon
Kids will flock to Sony Pictures Animation's Wish Dragon for the colorful designs and zany antics, but their parents will keep paying attention because of a stellar cast of voice actors. The likes of John Cho, Constance Wu, Bobby Lee and Jimmy O. Yang lend their voices to project that will surely speak to younger audiences.
Din (voiced by Jimmy Wong) is a college student with large dreams and a small budget, who is helped by Long (Cho) a wish-granting dragon. Think Aladdin, but slightly more relevant. Oh, and one more item for its credibility: Jackie Chan produced Wish Dragon.
68% Rotten Tomatoes
Common Sense Media says: ages 8 and up (plus, a Common Sense Selection pick for Families)
Watch now
Enola Holmes
Families looking for a fun and lively action-filled mystery should stream Enola Holmes. The film stars Stranger Things' Millie Bobby Brown, who brings modern sensibilities to days of yore. And, yes, Enola is from that Holmes family. But her brothers Sherlock (Henry Cavill) and Mycroft (Sam Clafin) are among those who don't know quite what to make of how their little sister is remarkably free-spirited for her time. Brown thrives in the role, mixing the fourth-wall breaking fun that seems to only make it to older female characters such as Fleabag. But parents don't need to worry about the show being too adult, aside from some fight scenes employing knives and guns. For movies from a different historical era, check out our guide to the best Presidents' Day movies. Also, Enola Holmes 2 is almost here!
91% Rotten Tomatoes
Common Sense Media says: ages 10 and up
Watch now
Jingle Jangle: A Christmas Journey
Seemingly a near-instant classic, Jingle Jangle: A Christmas Journey is the unexpected holiday season hit is one of the best family movies on Netflix — especially during the holiday season. A gigantic musical film, filled with joy and excitement — plus a top-tier cast — this John Legend-produced film has won applause all over, from critics to fans. We'll keep plot details minimal, but the film centers around a toymaker who's lost his smile, but may get his exuberance back when he's reunited with his intelligent granddaughter. Want more holiday cheer? Here's how to watch Elf online.
92% Rotten Tomatoes
Common Sense Media says: ages 8 and up
Watch now
The Willoughbys
Silly yet grounded in real emotional truths, The Willoughbys is a success that proves the Netflix animated films team should be up there with the best. The story is relatable as well, with Willoughby siblings Tim (Will Forte), Jane (Alessia Cara), Barnaby A and Barnaby B (both voices by Seán Cullen) devise the ultimate plan for freedom from their parents. And the kids aren't wrong for this either: mom and dad are too occupied with their never-ending love for one another to care for the kids. The Willoughby kids plan, though, is a bit crazy: sending their parents on a vacation so dangerous that the kids will likely be orphaned by the end. Feel like you've hit a wall on content in Netflix? Check out our guide to the best Netflix alternatives.
90% Rotten Tomatoes
Common Sense Media says: ages 8 and up
Watch now
John Mulaney & The Sack Lunch Bunch
Are your kids not exactly traditional? Parents of kids with particularly unique and slightly mature tastes in TV and movies should consider John Mulaney & the Sack Lunch Bunch for the next movie night. In this film, the titular comedian (who is also great on HBO Max's The Not-Too-Late Show with Elmo) runs through all of the standard kids content tropes with a sly wit and a lot of kindness. Younger kids may not "get" it, but parents who are fans of Mulaney's will likely wonder why all kids-friendly content can't be this intelligent. It's also got musical numbers, to keep the especially young crowd from getting bored.
96% Rotten Tomatoes
Common Sense Media says: ages 8 and up
Watch now
Pokemon Mewtwo Strikes Back: Evolution
A CGI remake of the original Pokemon film, Mewtwo Strikes Back: Evolution is both familiar but new. It focuses on what happens when the iconic Pokemon trainer Ash (and his fellow trainers) discover the massively powerful Mewtwo, a psychic Pokemon who is a massive threat. While it's not high art, it's still a decent choice for family movie night if and when your kid just got into the Pokemon world. Especially since the original is not on Netflix. Mewtwo will also teach kids about when you shouldn't judge others.
44% Rotten Tomatoes
Common Sense Media says: ages 8 and up.
Watch now
Invader Zim: Enter the Florpus
Netflix rebooted the Nicktoon classic Invader Zim with this 71-minute film that's easily one of the best family movies on Netflix — especially for younger parents. Just like the classic show, Florpus offers a wild manic energy with some jokes that kids won't get and parents will chuckle at. Reviews point to the film's amazing eye candy and endearing energy levels, and small nods to other classic animated shows. If your kids love this film, maybe it's time to dig up the original series or get them started on Adventure Time.
100% Rotten Tomatoes
Common Sense Media says: ages 8 and up.
Watch now
The Boy Who Harnessed The Wind
This inspiring film — set in a small farming village in Malawi — will pull audiences in with the presence of lead actor (and director) Chiwetel Ejiofor. The award-winning actor doesn't take up too much of the film, though, giving proper time to lead Maxwell Simba, who plays a 13-year-old boy named William. While William's story may read like a middle-school assignment, his education is taken away before he conceives a windmill-power generator to solve his town's problems, it's the kind of motivational story that science-obsessed kids might love.
85% Rotten Tomatoes
Common Sense Media says: ages 12 and up.
Watch now
Rocko's Modern Life: Static Cling
For slightly older kids and parents on the younger end, Rocko's Modern Life: Static Cling is both proudly progressive and delightfully nostalgic. Not only does the series match the original Nicktoon's vibe, but its approach to identity and transgender roles should be inspiring to other family programming looking to take the leap. And at only 45 minutes, this special won't take a huge bite out of your night.
91% Rotten Tomatoes
Common Sense Media says: ages 10 and up.
Watch now
White Fang
Inspired by Jack London's novel, White Fang will capture the imaginations of those who love pets and nature. Tracing the story of a wolfdog's life, as he moves between three masters, this wonderful animated movie comes to us from France, where it was originally titled Croc-Blanc. Voice acting work comes from beloved names such as Parks and Recreation stars Rashida Jones and Nick Offerman, as well as Paul Giamatti.
88% Rotten Tomatoes
Common Sense Media says: ages 10 and up.
Watch now
Next Gen
Parents looking for a futuristic animated film for their middle-school-aged (and up) kids that successfully manages to be appropriate and entertaining should check out Netflix's Next Gen. Featuring voice acting from John Krasinski (The Office) and Charlene Yi (Paper Heart), who play an AI and a young girl, respectively, who unite to stop a baddie. Next Gen is a sci-fi adventure movie that keeps its action scenes kid-friendly with laser blasts and explosions, while staying away from the more grizzly stuff.
60% Rotten Tomatoes
Common Sense Media says: ages 8 and up.
Watch now
Pee-wee's Big Holiday
Parents of a certain age, who would be eager to introduce their kids to Pee-wee Herman and his manic energy, will find Pee-wee's Big Holiday to be one of the best family movies on Netflix. It may not provide as many laughs per minute as previous capers, reviews noted it offers a sweetness that will delight existing fans and kids who can handle some surreal humor.
80% Rotten Tomatoes
Common Sense Media says: ages 11 and up.
Watch now
Yes Day
Allison (Jennifer Garner) and Carlos Torres (Édgar Ramírez) have always said yes to everything. Now that they have kids (Jenna Ortega, Julian Lerner, and Everly Carganilla), they've changed their tune. They have to say no to keep their sanity with all three children to keep the peace, or so they think. When they get wind of a "yes day" where parents can't decline any request, the Torres family jumps in to try and rebuild the growing rift between them and their kids. But as they keep giving in to more outlandish requests, the Torres clan discovers that you need those "no" answers to temper the yesses, but that doesn't mean you can't still enjoy time as a family.
Rotten Tomatoes score: 52%
Common Sense Media says: Ages 8 and up
Watch now
Paddington
In the heart of London, an unexpected visitor from the Peruvian rainforest finds himself far from home. Dubbed "Paddington" (Ben Whishaw) after the train station where he's discovered, this young bear quickly charms the kind-hearted Brown family: Henry (Hugh Bonneville) and Mary (Sally Hawkins). But as Paddington tries to adapt to city life and its challenges, he catches the eye of Millicent Clyde (Nicole Kidman), a taxidermist who wants him on her wall. The Browns must work together to protect their furry family member from a terrible fate, all the while learning a thing or two about each other along the way.
Rotten Tomatoes score: 97%
Common Sense Media says: Ages 6 and up
Watch now
We Can Be Heroes
This standalone flick, set in the same universe as The Adventures of Sharkboy and Lavagirl in 3-D, is all camp, but perfect for the whole family. When the world's mightiest heroes are captured in an epic battle, it's up to their kids to rise to the occasion. Led by Missy Moreno (YaYa Gosselin), who's joined by an ensemble of super-powered kids, this plucky team finds themselves on a mission to stop an alien "takeover." As they venture into the heart of the alien mothership, under the guidance of trainer Grandma Anita (Adriana Barraza), this next generation of heroes proves that sometimes, you need a set of younger hands to save the day.
Rotten Tomatoes score: 74%
Common Sense Media says: Ages 8 and up
Watch now
The Karate Kid (1984)
After Daniel Larusso (Ralph Macchio) and his mom move from New Jersey to Southern California, he finds himself being picked on by Johnny (William Zabka). However, Daniel befriends his apartment building's caretaker, Mr. Miyagi (Pat Morita), who teaches him karate, so that he can take on Johnny in the All-Valley tournament. This classic 80s movie also features a great training montage and the always excellent Elizabeth Shue as Ali "with an I."
Only available on ad-free plans.
Rotten Tomatoes score: 89%
Common Sense Media says: Ages 11 and up
Watch now