5 Reasons to Buy Oculus Go (and 3 Reasons to Skip It)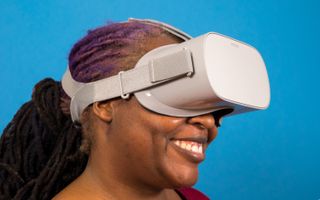 5 Reasons to Buy Oculus Go (and 3 Reasons to Skip It)
The first stand-alone virtual-reality headset for the masses has arrived. But is the Oculus Go for you? For a fairly affordable $199, you get a headset that's both wireless and smartphone-free with a high-resolution display and a robust library of apps and games. However, a couple of drawbacks could give shoppers pause.
Here's what you need to know before you buy.
Credit: Tom's Guide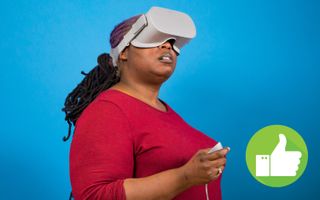 Look, Ma! No wires or phones
That's right: You don't need to plug the Go into a clunky PC or insert your smartphone and drain its battery. The Oculus Go has a Qualcomm Snapdragon 821 processor built into the headset, along with either 32GB ($199.99) or 64GB ($249.99) of storage for you to download all your games and apps. The integrated battery will give you about 2 to 2.5 hours of play time.
Credit: Tom's Guide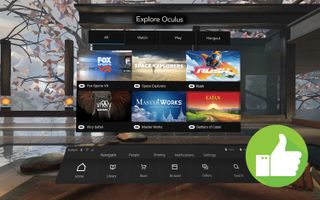 I can see clearly now
Aside from being wireless, the Go's biggest claim to fame is its new 2560 x 1440 fast-switch display. The 2560 x 1400 panel has a higher resolution per eye than both the Oculus Rift and the HTC Vive (2160 x 1200). The fast-switch display means that pixels can change color faster, making for a clearer image with sharper detail and a reduction in motion blur (which may result in less motion sickness).
Credit: Oculus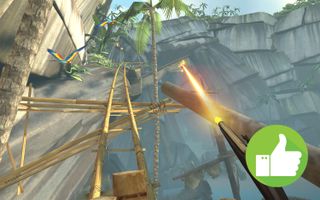 So many apps (and games), so little time
Oculus already offers a full suite of apps and games, thanks to the Samsung Gear VR, so why not share? Oculus Go is launching with 1,000 apps, 100 of which have been modified specifically for the stand-alone headset, so feel free to explore.
Credit: Oculus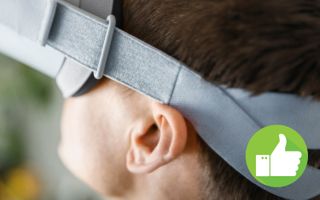 Can you hear me now?
The biggest problem with mobile headsets has been the lack of integrated audio. Not so with the Go. Oculus has added built-in speakers and mics to the Go, so you don't have to futz around with a pair of headphones. (Lenovo's $399 Mirage Solo, another stand-alone VR headset, doesn't sport speakers.) Best of all, the audio on the Go is spatial, delivering full three-dimensional sound. But in case you don't want anyone listening in on your VR session, the Go also has a headphone jack.
Credit: Oculus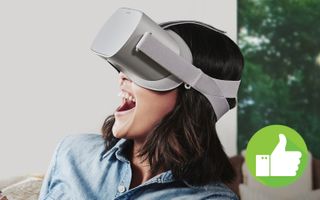 Hey, Oculus
In addition to using the bundled controller, you can navigate the Go with your voice. You can search for or launch apps and recenter your orientation by saying "Hey, Oculus" with a command.
Credit: Oculus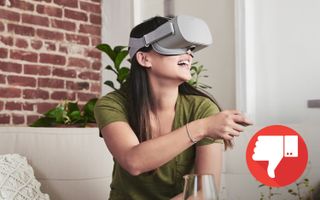 It's a sedentary system
If you're expecting to go galavanting through your living room that has been transformed into a virtual castle, you might want to sit down. No, seriously; have a seat. Oculus Go lacks the internal or external sensors needed to allow room-scale movement. You don't get six degrees of freedom as you do with the Lenovo Mirage Solo headset. That means you won't be able to duck, dodge or lean, and you'll have to enjoy the auspices of VR in your seat (swivel chair preferred).
Credit: Oculus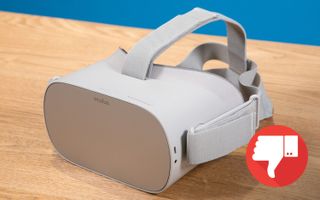 There's no expansion slot
Oculus is selling two configurations of the Go: one with 32GB of storage and the other with 64GB. However, neither device offers a memory expansion slot, which means you'll have to decide which games or apps you're going to delete to make room for the new ones.
Credit: Tom's Guide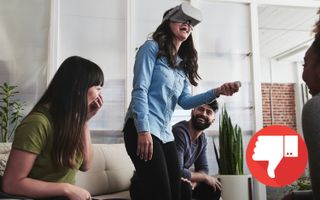 You'll still look like a geek
While we found the Oculus Go pretty comfortable to wear, it's still a rather bulky headset that you wouldn't want to be seen wearing in public. It's a bit on the heavy side, weighing 16.5 ounces. That's more than a Gear VR equipped with a Galaxy S9 (15 ounces).
Credit: Oculus