There are two basic kinds of cameras: smartphones and everything else. Phone cameras have gotten so good that they have mostly killed off the "point and shoot" class of budget devices for capturing daily life.
But the size constraints of a smartphone limit its abilities. Bigger cameras can offer longer zoom, larger sensors that capture better detail, and sophisticated optics for refined effects like shallow depth of field in portraits. This camera buying guide takes you through the limits of smartphones and the added features you can get from other types of devices, such as bridge cameras, DSLRs and mirrorless cameras.
Types of cameras
Phone cameras
Phone Cameras: Key Specs
Price Range: $100 to $1,400
Pros: Easily share images and videos over cellular and Wi-Fi networks; no need to bring an extra camera; huge number of photo apps let you tweak your photos; image quality as least as good as a point-and-shoot's; small sensors provide deep depth of field.
Cons: Tiny image sensors tend to produce digital grain — aka "noise" — in low-light images; small built-in lenses provide limited optical zoom range.
Key Features: Connectivity; convenience; sharing; burst (rapid) shot and panorama modes; image stabilization on some models; 4K and better video on higher-end models.
Key Accessories: Phone cases; photo apps; add-on lenses, grips and tripods in some cases.
The range of smartphones on the market today means a lot of variety in photographic capabilities. In addition to a selfie cam on the front, entry-level smartphones may have just a single rear-facing camera. But higher-end models boast two or even three rear cameras to capture images at different focal lengths. All smartphones come with a moderate wide-angle lens rear camera. Two-camera phones typically add an ultra-wide lens, and three-camera models include a slight telephoto lens that provides a bit of zoom for portraits or other closeups.
Smartphone camera resolution is all over the place. Some smartphone makers, like Apple, hold the line at resolution and focus on increasing the size of the pixels on the sensor, which leads to better images, especially in lower light. The iPhone 12 Pro, for instance, has three 12-megapixel rear cameras (which is plenty resolution for most photography). Other phones max out on resolution. The Samsung Galaxy S21, for example, includes a 64MP camera, and the Xiaomi Mi 10 5G features a 108MP sensor. Such high resolution allows you to crop heavily into a photo and still have plenty of pixels.
Many modern smartphones capture 4K video, and some go up to 8K.
The best smartphone cameras also have more sophisticated software features to improve color, contrast and detail or to perform tricks like erasing stray subjects from the frame or creating a shallow depth of field effect. Better smartphone cameras also include slow-motion video options.
One advantage that the Apple iPhone has over other smartphones is that there are many iPhone lens kits that will help you get more out of that phone's camera.
Can't decide what's right for you? See out lineup of best camera phones.
Mirrorless cameras
Mirrorless cameras: Key specs
Price Range: $500 to $6,500
Pros: Equal to DSLR-level image quality in smaller camera bodies with smaller lenses; fewer moving parts to break; highest burst speeds; some models provide in-body 5-axis image stabilization.
Cons: Fewer lens options compared to DSLRs; lower-end models provide only a rear screen for previewing shots; digital viewfinders may not match the fidelity of a DSLR optical system.
Key Features: Smaller interchangeable lenses; smaller camera bodies; large sensor.
Key Accessories: External flash; external electronic viewfinder; external microphone for video; video light; protective case; bag or backpack for holding entire system.
With their smaller interchangeable lenses, mirrorless cameras (also known as compact system or micro four thirds cameras) offer DSLR quality in a smaller package. Unlike DSLRs, these models don't use a mirror-based optical viewfinder system — allowing them to be smaller and lighter. You instead preview photos using a rear screen and sometimes an LCD or OLED viewfinder.
Lacking a mirror, bridge cameras can generally shoot faster bursts of photos than DSLRs in the same price range. Also, many more mirrorless cameras can shoot video in 4K than can DSLR cameras, so they can be more suited for videographers and vloggers. However, mirrorless cameras as a whole have smaller image sensors than DSLRs, and there's not as wide a range of lenses. For a more detailed breakdown, be sure to check out our DSLR vs. mirrorless camera guide to see which is best for your needs.
Currently, our top pick is the Sony Alpha a6100, but we have other picks on our best mirrorless cameras page, including several other Sony models, the excellent Fujifilm X-T30 and for Canon and Nikon diehards the likes of the Nikon Z5 and Canon EOS M6 Mark II.
DSLR cameras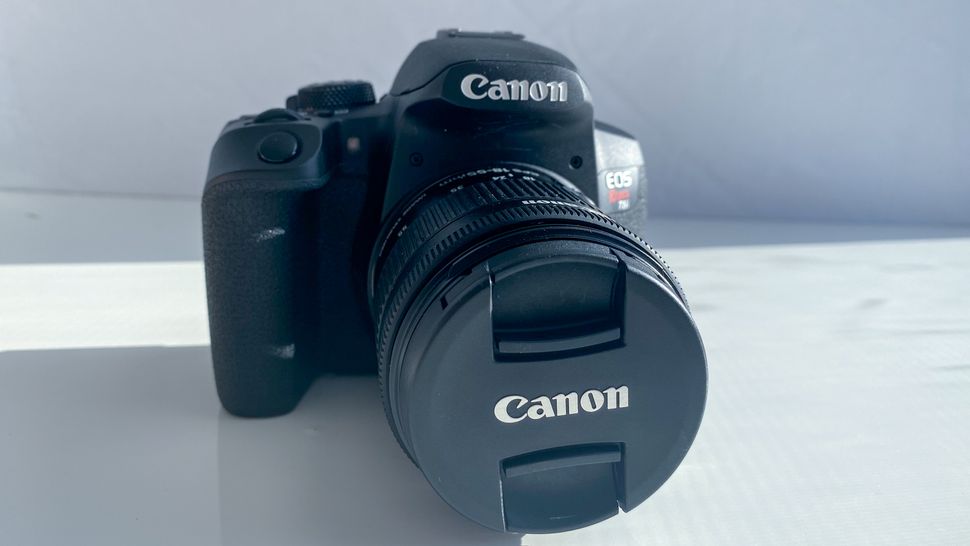 DSLR cameras: Key specs
Price Range: $500 to $6,500
Pros: Widest selection of lenses; larger image sensors capture sharper photos, especially in dark conditions; ability to preview exactly what the lens sees.
Cons: The biggest and heaviest camera type; expensive, especially if you purchase high-quality lenses.
Key Features: Both fully automatic and fully manual controls; interchangeable lens options; burst shooting modes for taking multiple shots in quick succession; optical viewfinder. Higher-end models shoot 4K video.
Key Accessories: External flash; wide variety of lenses; tripod; external microphone for video; video light; remote control
DSLR cameras are more or less the traditional Single Lens Reflex camera adapted for a digital age. Because of their large sensors, these cameras have long been the standard bearers for image quality, going back to the days of film. All DSLR cameras use a mirror and prism-based system that lets photographers see exactly what they're about to shoot through the lens via an optical viewfinder. When you press the shutter, the mirror flips up, exposing the image sensor to light.
DSLRs are among the fastest cameras, and have traditionally been used by sports photographers and photojournalists for action assignments. These cameras use interchangeable lenses, giving photographers a range of options for going wide or zooming in. Because they've been around for so long, DSLRs have the widest range of lenses from which to choose,
Our best pick for everyday shooters is the Canon EOS Rebel T8i, for its combination of features and price. However, we have other picks on our best DSLR cameras page.
Action cameras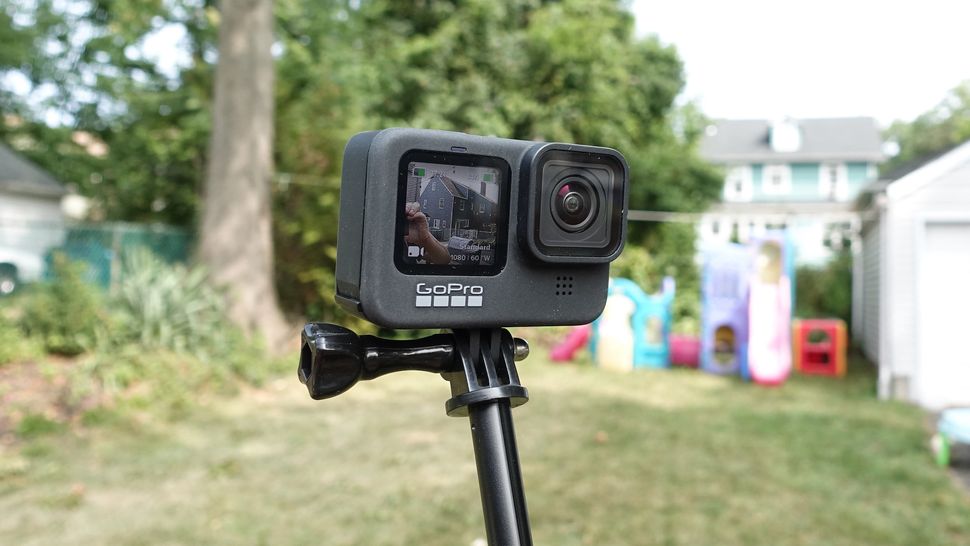 Action cameras: Key specs
Price range: Less than $100 to $600
Pros: Cameras can be affixed to nearly anything. Wide-angle and high-resolution cameras help ensure that you capture the action. Ruggedly built for all kinds of weather. Very compact.
Cons: Typically no optical zoom; generally small sensors limit image quality; awkward to use as a point-and-shoot.
Key features: Image stabilization; high burst rates for photos; wide-angle image capture; ruggedized designs.
Key accessories: A wide variety of mounts for any surface; protective covers, waterproof housings, selfie sticks, steadicam handles, micro-SD cards.
Action cameras do just what the name says. They can handle jolts, water and temperature extremes that you might encounter doing sports and other outdoor activities. These cameras typically capture very wide-angle photos and videos, often at resolutions of 4K or higher, as on the GoPro Hero9 Black (which shoots up to 5K and has motion stabilization).
The cameras are quite compact, generally smaller than point and shoots. Most have a touchscreen on the rear which lets you adjust settings, and many of the better models will let you control them via a smartphone app. See our list of best action cameras to make your choice, though the majority of the top models are made by GoPro.
Point and shoot cameras
Point-and-shoot cameras: Key specs
Price range: Under $100 to $400
Pros: Extremely portable and often small enough to fit into a pocket; fully automated; minimal investment for budget models.
Cons: Image quality not a lot better--and possibly worse--than what you'd get with your smartphone; very small image sensors produce photos with some noise in low light.
Key Features: Portability; automated photo functions; optical zoom lens; built-in image stabilization; rugged and waterproof options.
Key Accessories: SD Memory cards; protective case, hand strap.
Compact, or point-and-shoot cameras are simple models you can often fit in your pocket. Popular models such as the Canon PowerShot ELPH 190 don't offer much benefit over a smartphone camera, except optical zoom, which ranges from about 5x to 12x in this category. More-expensive point-and-shoots may include optical image stabilization as well as Wi-Fi for transferring photos to a smartphone.
Point and shoots can also provide special capabilities, such as rugged, waterproof designs. The Olympus Tough TG-6, for example, can survive under 50 feet of water and function at temperatures down to 14 degrees Fahrenheit.
The point-and-shoot category has also revived instant photography. Inexpensive models from Lomo, Fujifilm and Canon capture images on film or include mini digital printers.
Check our roster of the best point-and-shoot cameras.
Bridge cameras
Bridge cameras: Key specs
Price Range: $400 to $3,300
Pros: Many advanced features in a more-compact design; superzoom lenses let you get very close to the action; both automatic and manual control give you picture-taking convenience and creative options.
Cons: Can't match the quality of mirrorless and DSLR cameras, especially in low light; may perform more slowly than interchangeable-lens cameras; may not be much smaller than mirrorless models.
Key Features: Large sensors or superzoom lenses; all-in-one portable design; tilt-out LCD screen; higher-grade optics than found in point-and-shoots.
Key Accessories: Hand or shoulder strap; protective case; external flash; external stereo microphone for video.
Bridge cameras sit between point-and-shoots and interchangeable lens models. They tend to go in one of two directions: large sensors or long zoom lenses. (Basic physics prevents having both in a compact design.) Large sensors typically measure 1 inch or more, about four times bigger than a point-and-shoot sensor; they may also include ultrafast phase-detection autofocus. These models, such as the Sony RX100 VII, tend to have higher-grade optics than point-and-shoots, such as "fast" lenses with very large apertures for low-light photography and shallow depth of field. They may also have high burst speeds and shoot 4K as well as slow-motion video.
Superzoom camera models range from about 30x to 125x (the Nikon Coolpix P1000) — literally long enough to shoot the Moon in detail. Both types of bridge cameras tend to have large rear-screens and often LCD or OLED viewfinders. Others will have features only found on more advanced cameras, such as multiple mode dials.
Important camera features and specs
Megapixels/Resolution
The amount of megapixels a camera's sensor captures determines how much detail appears in photos and video. But there's a trade-off. Cramming too many megapixels onto a sensor — especially the small chips in point-and-shoot and smartphone cameras — means small pixels with less surface area to capture light. The result can be noisy (grainy) photos, especially when shooting in dim conditions without flash. Bottom line: Don't worry about how many megapixels your camera has. Anything at or above 8MP is fine in a phone or point-and-shoot (although the resolutions can go much higher). Larger cameras typically offer 20 megapixels or more, which is plenty, even for large prints. Read our explainer on How Many Megapixels Do You Really Need.
Aperture
In basic terms, aperture is the size of the opening in a lens. In advanced cameras, such as digital SLRs, mirrorless compact system cameras, bridge cameras, and even many point-and-shoot models, the photographer can manually set the aperture to control the amount of light that reaches the imaging sensor. Look for lenses with a larger maximum aperture — which are inversely expressed with a lower number, such as f/2.8 or f/1.8. They let more light hit the sensor, so you can shoot brighter, sharper images in dark conditions. They can also be set to blur the background, bringing attention to the subject of the photo.
Smartphones tend to have very large apertures, as do some bridge cameras. (But smartphone apertures usually aren't adjustable.) Budget interchangeable lenses (especially zooms) may offer only a max aperture of f/3.5 or smaller. You'll pay a lot more for interchangeable lenses with larger max apertures, such as f/2.8.
MORE: Best Photo Editing Apps

Image Stabilization
Optical technology that helps reduce blur caused by hand shake comes in two varieties: in-lens and in-body. In-lens systems physically shift an element in a lens to counteract shake, allowing them to compensate for some degree of movement along two axes—horizontal and vertical. You'll find two-axis systems in some smartphones, in higher-end point-and-shoot cameras, and in many bridge cameras and lenses for mirrorless and DSLR cameras. Some mirrorless cameras, and even some high-end smartphones, shift the image sensor for stabilization along up to five axes (horizontal, vertical, pitch, yaw and roll). You'll find it in cameras such as the mirrorless Olympus OM-D E-M10 Mark IV and the iPhone 12 Pro Max.
Cheaper smartphones and point-and-shoots, as well as very small cameras such as action cameras and drones, may have only digital stabilization, which uses in-camera software to correct image blur, but results are often not as sharp as with optical stabilization.
Focal Length
Focal length describes how close a lens can make a subject appear. Zoom lenses provide variable focal length, from wide-angle shots to telephoto close-ups. Focal length is specified in millimeters — such as with the roughly 18mm-55mm zoom lens bundled with many DSLR cameras — or by a magnification factor, such as 5x, 10x or 20x. With most cameras, focal length is given as its equivalent on a full-frame camera with the largest sensor type.
DSLR and mirrorless lenses are specified by their actual focal length, which will produce different results on full-frame vs smaller-sensor interchangeable-lens cameras. 50mm on a full-frame camera is roughly equivalent to how you see naturally. Shorter focal lengths are wider and longer ones are more telephoto. Some lenses, called "primes," have a fixed focal length, such as 35mm or 50mm. While less flexible, prime lenses typically produce better image quality and are less expensive than equal-quality zooms because of their simpler design. A good prime lens is generally capable of a larger aperture.
Sensor Type and Size
The sensor converts light into electronic signals to create a picture. Generally speaking, the bigger a sensor, the better the photos. Bigger imaging sensors allow for some combination of more megapixels and larger pixels that can capture more light.
The largest sensor in a consumer camera is the "full-frame" sensor of high-end DSLRs and mirrorless cameras, so named because it's about the same size as a piece of 35mm film. APS-C sensors, which are slightly smaller than full-frame sensors, are in mainstream digital SLRs and many mirrorless cameras. Other mirrorless cameras use sensors slightly smaller than APS-C, known as Micro Four Thirds. Smaller still are the sensors in bridge cameras, which range from point-and-shoot size to slightly larger (but usually smaller than a mirrorless camera's). Finally, cellphones (with a few exceptions) have the smallest image sensors. For more information on sensor size see our explainer How Many Megapixels Do You Really Need.
Virtually all camera sensors today use CMOS chip technology. Variations, such as back-illuminated or stacked CMOS sensors, improve low-light performance.
ISO Rating
ISO speed, a standard used to denote film sensitivity, has carried over to digital cameras. The higher you set the ISO, the more effective the camera is at capturing images in low light without a flash. However, there is a trade-off: Higher ISO sensitivity produces more distortion, or "noise," which shows up as graininess in a photo. All things being equal, a larger sensor — with larger pixels — is capable of better image quality at a higher ISO.
A maximum ISO capability of 6400 or greater will allow you to capture images in dim conditions inside and out, but the amount of noise will depend on the size and quality of the sensor and the ability of the camera's image processor to clean up noise. The highest ISO settings on cameras generally provide poor results.
Shutter Speed
The shutter speed is the amount of time the shutter is open to expose the sensor to light. The faster the shutter speed, the more clearly a moving object can be captured. Shutter speed settings are typically measured in tenths or hundredths of a second.
Cameras capable of faster shutter speeds are better for freezing action, so if you like sports photography, you want a camera that can shoot at 1/500 of second and faster. Many DSLRs and mirrorless cameras are capable of shooting at 1/8,000, which is nice if you photograph car racing, but it's faster than most photographers probably need. Some mirrorless and bridge cameras offer electronic shutters, which are even faster.
Shooting Rate (FPS)
Most cameras have a feature allowing them to capture a burst of images just by holding down the shutter button. Often referred to as continuous shooting or burst mode, these modes are measured as frames per second (FPS). Some DSLRs — and even some point-and-shoots and smartphones — offer burst rates up to 10 fps. All things being equal, cameras without a mirror can shoot even faster using an electronic shutter.
Some mirrorless cameras and cellphone cameras are capable of speeds up to about 20fps. If you like shooting fast action, such as sports, get a camera with a fast burst rate so you can choose the best image from a series. (Make sure this spec is for the number of photos shot with continuous autofocus. Otherwise a lot of your burst shots may be blurry.)
Other Features
HD Video
Once a luxury feature, the ability to record HD video at up to 1080p is now common in everything from smartphone cameras to DSLRs. In fact, Ultra HD (or 4K, which is 3840 x 2160 pixels) video is becoming common in higher-end cameras of all types, including smartphones. Even 8K resolution video (7,680 by 4,320 pixels) is starting to appear in some cameras, such as smartphones and drones.
Frame rates vary, including 60p (i.e. 60 frames per second) for smooth video of fast action, 24fps for a film-like look and even 240fps (in all iPhone 12 models) for playing back footage in slow motion.
Wi-Fi Connectivity
Wi-Fi for sending photos to a smartphone—or controlling a camera from a smartphone—is turning up in more digital cameras these days. The process of pairing a camera to a phone has gotten easier with recent devices.
GPS Tagging
Some cameras (including all smartphones) have built-in GPS to geotag your photos. After your shots are geotagged with latitude and longitude, you can import them into mapping software — such as in Apple's iPhoto — and the images will pop up on a digital map over the location where they were shot.