The Apple Glass augmented reality glasses could be a futuristic wearable product that overlays graphics in the real world around you.
When we first heard word of "Apple Glasses," rumors suggested the lenses would launch as soon as this year. But based on newer leaks and insider intel, the near future Apple augmented reality glasses looks blurry.
A longtime source for Apple product releases believes the release won't happen until 2022. Bloomberg's Mark Gurman said the earliest we'll see them is 2023. Either way, the project is definitely in the works.
Apple Glass is expected to run on Starboard (or perhaps glassOS,) a proprietary operating system uncovered in the final version of iOS 13. The augmented reality framework shows up multiple times in code and text documents, meaning Apple is likely testing activation and application.
Here's everything else we know about Apple Glass, including the potential release date, price, design and specs.
Latest Apple Glass news (Update Sept. 23)
A new Apple Glass patent shows how Apple could protect privacy through various methods, including using a removable camera module.
A patent reveals Apple's "rings" which are designed for tracking finger and hand movements. Those could well improve the capabilities of Apple Glasses if they make it to production
Apple's mixed reality VR headset could arrive as early as next year and will cost $1,000, according to a new leak — but the long-awaited Apple Glass won't be with us until 2025.
Apple Glass release date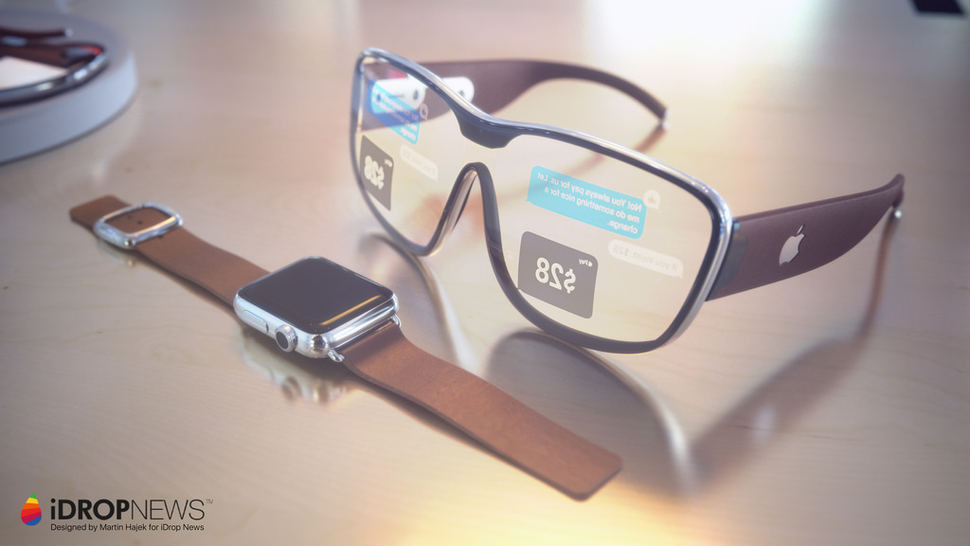 Apple Glass is coming 2023 at the earliest, according to a report from Bloomberg. An Apple VR headset positioned to compete with the Oculus Rift 2 is closer to launch.
But according to TF International Securities analyst Ming-Chi Kuo — perhaps the most reputable and reliable Apple expert — Apple Glass won't be ready to ship until 2022 "at the earliest." However, a presentation shown internally at Apple and leaked to The Information sets the launch date as 2023, as Bloomberg suggested.
All could be wrong — Jon Prosser, a reputable Apple leaker, says Apple Glasses could come sooner than we thought. Prosser believes the launch is aimed for "March-June 2021." But that's come and passed.
Prosser also says the company will announce Apple Glass before it's ready to ship, much like it waited several months to sell the first-generation Apple Watch after its debut. Apple allegedly wants members of the media present for the unveiling, so it could wait until in-person tech events resume.
The company could plan to unveil the lenses as a "one more thing" announcement at its annual fall keynote, according to Prosser.
As of July 10, The Information reported that Apple Glass lenses had passed the prototype stage and entered trial production, and important milestone in bringing Apple's wearable device to market.
Apple VR and mixed reality headset vs. Apple Glass
In addition to Apple Glass, the Apple VR and mixed reality headset is also in the works, and could be less complex and closer to launch.
The Apple VR and mixed reality headset reportedly features ultra-high-resolution screens and a cinematic speaker system that should enable realistic visual experiences, according to people who have seen prototypes.
Those sources also said the headset looks like a slimmer, fabric-swathed, Oculus Quest, but the design isn't final as the company continues testing to determine the ideal fit for most head shapes.
There's no word on price, though we don't expect it to be cheap. The Quest starts at $399, while HTC's Vive costs $799 and Microsoft's HoloLens 2 is a whopping $3,500. Reports claim Apple's headset could be between $1,000 and $3,000 when it launches.
Like its competitors, the Apple VR and mixed reality headset will reportedly benefit from its own App Store, where users can access gaming, video streaming and communications software. Voice assistant Siri will be tasked with controlling the headset, though a physical remote and body tracking controls are reportedly being tested as well.
As for a potential release date, the VR headset is on pace to debut next year and be released in mid-2022.
Apple Glass price
According to Prosser the Apple Glasses are currently priced at $499, plus prescription fees. Now that may seem low, especially compared to competing augmented reality headsets like the Microsoft Hololens 2.
Hololens 2 has a price tag of $3,500 but a big part of of its cost comes from having all the electronics needed to run the AR experience built into the headset.
Apple Glass, rather, will rely on a companion iPhone for processing, so it will have significantly less parts and complexity than Hololens. It'll work more like the Vuzix Blade smart glasses, which have a built-in camera and Alexa integration.
Still, Vuzix Blade starts at $799. Apple's entry point is significantly more accessible, costing as much as some of it's top-specced smartwatches.
Apple Glass features: What they'll actually do
According to a Bloomberg report, the Apple AR Glasses will bring information from your phone to your face. Specifically, the eyewear "are expected to synchronize with a wearer's iPhone to display things such as texts, emails, maps, and games over the user's field of vision."
Apple also has plans for third-party apps, and is considering a dedicated app store, similar to how you get apps for the Apple TV and Apple Watch.
Furthermore, a patent granted to Apple has further fuelled the rumor that Apple Glass won't need prescription lenses as the smartglasses will automatically adjust for people with poor eyesight using an "optical subassembley". However, this patent could be for a standalone smartphone-powered VR headset or a second-generation pair of Apple smartglasses.
Another Apple glass patent describes how you might be able to change out your backgrounds on the fly, similar to zoom. The patent describes how a headset could perform chroma keying, which is replacing a solid color background with something else.
The headset would "format camera images, detect the selected color range and make a composite with the virtual content. "
One Apple Glass patent points to how it could let you view parts of the world you want to see, similar to Google's Street View. The difference is that this view would be projected directly onto the Apple Glass lenses. And you could digitally teleport to different locations.
Apple has a similar feature in the Apple Maps app now called Look Around, but this would be much more immersive on Apple Glass.
A new Apple patent reveals that the Apple Glass may be able to let you change backgrounds on the fly, just like Zoom, too.
One of the more out there Apple patents suggest that Apple Glass could help you see better in the dark, via depth sensors that provide a greater look at the world around you.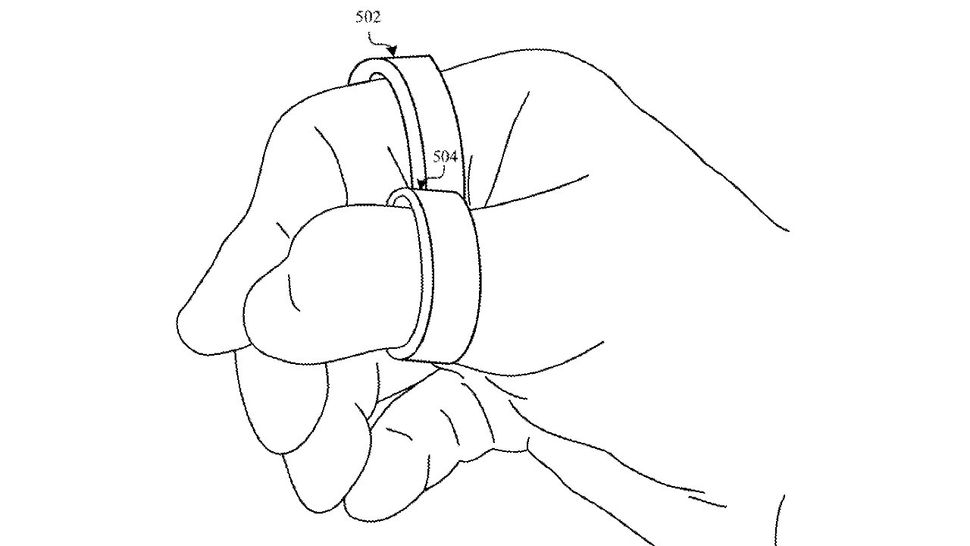 Apple Glasses may also be able to track your finger and hand movements more accurately thanks to some smart rings Apple has patented. Not only will that negate the need for many (if any) external sensors, the system may be more accurate this way.
Plus the rings can detect what a user is holding in their hands, so the Apple Glasses can act accordingly. So if you're holding an Apple Pencil, the glasses will track your movements and translate them into handwritten text.
Apple Glasses design
The most current Apple Glass prototype reportedly looks like an "un-intimidating" pair of plastic glasses, while marketing materials suggest a Clark Kent-esque design.
It has a LiDAR scanner on the right temple, but no other cameras for privacy reasons (although that could change.) The glasses also come with a plastic stand with wireless chargers.
Being an accessory to the iPhone will definitely has implications on the Apple Glass design. Though the glasses won't be lightweight as your Ray-Ban aviators, they could be light enough and comfortable enough to work as everyday glasses.
There are no plans for the first generation of Apple Glass to come in a tinted variety. For the near future, you're stuck using your regular 'ole sun blockers. But if Apple Glass takes off, perhaps the company would consider expanding its offerings.
Apple Glass might also have a modular trick up its sleeve. The rumored pair of mixed reality glasses could feature swappable arms that each supply a distinct purpose or carry out a different function.
As for the Apple Glass displays, the headset may use Sony OLED displays for AR, according to display analyst Ross Young.
Apple Glass specs
There's no known specs about the Apple Glass yet, but we can speculate based on what we know about the current tech. For example, it will at least have the same field of view (52-degrees) and resolution (47 ppi) as the Hololens 2.
If Apple aims to create a true augmented reality solution — as opposed to a heads-up display that shows 2D floating notifications or maps, like Google Glass — it's reasonable to expect the Apple Glasses to connect directly to the iPhone on a dedicated Wi-Fi connection.
If the iPhone has to process all the video captured by the glasses' cameras and send back the 3D imagery to the glasses at a very high frame per second rate (a bare minimum of 60Hz, with a 120Hz refresh being optimal), it will require a much higher bandwidth than what Bluetooth can provide.
As for battery life, we can also expect a minimum of three hours if Apple wants to be competitive although we can assume that people will be more forgiving about this — especially if Apple provides with some kind of wireless charging glasses case that can extend its operative time through the day like with the Apple AirPods.
Apple Glass privacy and patents
A patent spotted by Patently Apple explores a number of ways in which Apple Glass recording can be made obvious to bystanders who would prefer not to be caught on camera.
One option explored by Apple is making the camera module removable. "The modular accessory would also make it possible for venues such as bars and theaters to ban the modular accessory while still allowing the HMD frame (without the accessory) into the venues," the patent reads.
Apple also imagines using lights to show when the device is recording, but unlike the original smart glasses, trying to get around this could ensure that the camera simply doesn't work.
The patent describes how the lights on the camera could pulse in an encrypted pattern, with the lens capturing reflections in the recorded environment. If the camera can't detect the pattern, recording could be disabled according to the patent.
As a third option, Apple suggests an alternative where the camera is always embedded, but disabled unless a modular key is attached to the frames.
Apple Glasses wish list: What we want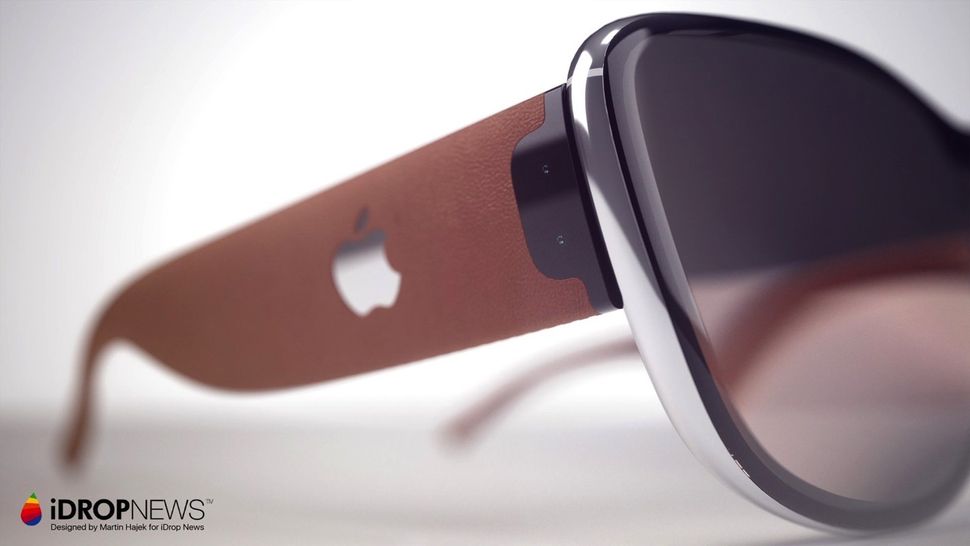 Glasses that look like glasses: We would like some natural looking glasses, like the ones in the concepts that you see on this page. I'm sure that Apple wants the same thing. No one wants AR glasses that look like geek-wear.
AR in full 3D: Some people would like just a heads-up display, but the true power of AR comes from full 3D integration. For Apple Glasses to be successful, you should be able to run any iOS AR app that currently works on the iPhone through the wearable device.
At least 8 hours of battery life: Assuming you're not running 3D AR apps all of the time and are periodically looking at notifications and 2D apps in between, Apple should be able to find a way to make Apple Glasses last through an average workday, though it may not happen in the first generation.
We will keep updating this page as more Apple Glasses rumors and leaks come out. Make sure to bookmark and come back.