Tuft and Needle Original Mattress review in brief
The flagship Tuft and Needle Original mattress is geared toward anyone who wants a comfortable, uncomplicated mattress. It stands out for being a no-frills, budget-friendly memory foam mattress that provides plenty of comfort and support for most types of sleepers.
Like many of the best mattresses, Tuft & Needle hasn't been unaffected by rising costs due to inflation. While these mattresses aren't as cheap as they used to be, the Original still sits on the cusp between lower-mid range and mid-range, with a regular mattress sale taking the price of a queen to just under $800.
We slept on a Tuft and Needle Original mattress for two weeks to gauge how well it performs in a number of areas, from pressure relief to motion isolation. Keep reading to see if this popular mattress-in-a-box is right for you...
At a glance: Tuft & Needle Original
Best for: All sleeping positions, co-sleepers, instances where there's low use
Type: bed-in-a-box
Firmness: medium-firm (6.5/10)
Materials: foam
Depth: 9.5 inches
Weight: 50-94lbs
Sizes: Twin, twin XL, full, queen, king, Cal king
The Tuft and Needle Original mattress consists of six inches of stabilizing support foam, plus three inches of Tuft and Needle's adaptive foam. This proprietary material has been retooled to address common customer concerns with the company's previous iteration of the mattress. (The founders are ex-engineers, after all.)
During our testing period, we found the Tuft and Needle mattress to provide ample comfort whether we were on our back, front, or side. It features the 'hugging' feeling that's standard with a full-foam mattress but you won't sink too deep into it which means you'll be able to switch positions or get in and out of bed without issue.
Although one of the foam layers is infused with graphite and ceramic gel to wick away body heat, our hottest sleepers didn't find it particularly cooling. If night sweats are a primary concern for you, consider the similarly-priced Cocoon Chill Memory Foam mattress, which features a phase-change cover that's cool to the touch. You may also want to opt for a hybrid mattress instead, which typically provides better airflow than its all-foam counterparts (but it is more expensive).
As a basic, dual-layer foam mattress, the Tuft and Needle Original should provide sufficient support for lightweight to average sleepers. Heavier bodies, on the other hand, might find it too soft. In general, the Tuft and Needle mattress would be best suited for instances where there's not a lot of heavy-duty use. In other words, if you need to upgrade a guest bedroom or a child's bed, the T&N would be a fine choice.
Like most other bed-in-a-box services, Tuft and Needle offers a 100-night trial and a 10-year limited warranty. If you're not satisfied with your mattress within the trial period, the company will issue a full refund and donate the mattress to a local charity. (However, the onus is on the customer to find and contact said charity.) Even if you should come across any issues with your Tuft and Needle mattress, you'll be aided by one of the best customer support teams in the industry.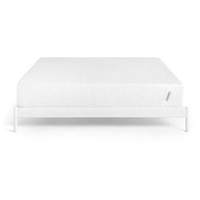 See the Tuft & Needle Original from $745 $633.25 at Tuft & Needle
The Tuft and Needle Original mattress has experienced a steady increase in price — but it's still among the more affordable memory foam mattresses out there. A current 15% off sale knocks the starting price for a queen to $845.75 (reg. $995). You'll get 100 nights to try it out at home, and a 10-year warranty to support your purchase if you opt to keep it.
Tuft and Needle Original Mattress: Materials
The Tuft and Needle Original mattress consists of two layers. On top is three inches of T&N Adaptive foam, which is designed to contour to the shape of your body and relieve pressure along key areas. It's also infused with graphite and cooling gel to help regulate temperature. The remaining 6.5 inches is made up of open-cell support foam for a breathable foundation. It's wrapped in a breathable knit cover.
Caring for the Tuft and Needle mattress is rather simple. You can rotate it every several months to keep it fresh and keep it covered with a mattress protector to help it last longer. (Any stains or spills are spot-clean only.)
Tuft & Needle Original mattress: Price and deals
A competitively-priced mattress, despite gradual price increases
Still cheaper than rivals Casper and Purple
Expect the biggest savings around Black Friday
A hallmark of Tuft and Needle's flagship mattress is its affordable price tag. However, inflation has contributed to steadily rising costs for this American-made bed, but that's hardly a problem unique to Tuft & Needle. We've witnessed this occurrence impact a lot of well-known mattress manufacturers. Right now, a twin retails for $749 and the MSRP of a queen is $995.
Despite the increase, Tuft & Needle's prices are still among the least intimidating when it comes to name-brand mattresses. Plus, regular sales knock anywhere from 10 to 15% off throughout the year — but the brand's largest savings typically happen around Black Friday, when we've seen as much as 30% off.
Here is the official pricing for the Tuft & Needle Original:
Twin: $745
Twin XL: $795
Full: $895
Queen: $995
King: $1,395
California King: $1,395
How do T&N's prices compare to its rivals? The Casper Original mattress starts at $895 for a twin, which is $100 less than a queen-sized Tuft & Needle Original. (Meanwhile, a queen-sized Casper Original mattress costs $1,295.) It's also cheaper than the flagship Purple Mattress, especially for queen-size and up. (A queen Purple mattress retails for $1,399.)
We've seen Tuft and Needle undercut the Nectar Memory Foam mattress in the past; however, Nectar consistently offers one of the best values for mail-order mattresses with $200 off plus up to $499 in premium bedding included free. A queen-sized Nectar mattress retails for $999 — very close to the $995 retail price of a queen T&N mattress — but the current Nectar mattress sales drop that price to $799. There is a chance Tuft and Needle will beat Nectar's prices again. (We recommend checking around Black Friday.)
Tuft and Needle Original: Firmness and comfort
Takes very little time to set up
No sinking feeling
Minimal motion transfer
Tuft and Needle classifies its mattress as medium-firm, with a 6.5/10 rating on the firmness scale. I found this to be an accurate assessment.
When I first sat on the Tuft and Needle Original mattress, I was surprised at how firm it was after just rolling it out. It did take a few hours to fully expand — the company says it may take up to 72 hours — but I was able to sleep on the mattress straight away.
I slept on the Tuft and Needle Original mattress for over two weeks. Tuft and Needle says it takes a week for the mattress to reach its max comfort level. After a brief adjustment period — I was accustomed to sleeping on a flattened coil mattress for years — the mattress and I have settled in quite nicely.
As a side sleeper, I found the Tuft and Needle mattress provided decent support for my back and hips. This translated into fewer bouts of lower back pain. However, I sometimes end up on my stomach by the time I wake up, and this was a less ideal position because my hips slightly sunk into the top foam layer, creating pressure on my lower back.
T&N's adaptive foam comfortably hugged the contours of my body, even as I tossed and turned throughout the night. There's no uncomfortable sinking feeling or obvious shifting, which bodes well for couples; especially anyone with a restless partner.
One area where this mattress fell short for me is its heat-wicking. Despite sleeping on cotton sheets, foregoing a mattress pad, and running central air, I still woke up sweating some mornings. I'm a hot sleeper, so I was banking on the gel-infused foam to successfully keep me cool every night.
Tuft and Needle Original: What we didn't like
Edge support is lacking
May not be enough support for larger people
Tuft and Needle describes the edge support for this mattress as "basic", and we found that to be correct. The edges are soft and thin, and while you can sit or lay on them without causing immediate damage to the mattress, it's not particularly comfortable. (Tuft and Needle's Mint and Hybrid mattress provides more structure around the edges.)
While it's certainly not poorly made, the Tuft and Needle Original mattress may seem flimsy with its two foam layers next to comparable mattresses, which typically have at least three layers. People with larger builds might not find enough support here.
Tuft and Needle Original Mattress: User reviews
Mattresses are subjective. We all have our own preferences, which are affected by factors including our body composition, temperature and sleeping style. So here we've combed through hundreds of Tuft and Needle mattress reviews from customers to paint a more comprehensive picture of the Original.
The mattress is rated 4.6 out of 5 stars from over 30,000 reviews on Tuft and Needle's website (October 2020). Over at Amazon, it averages 4.3 out of 5 stars from more than 10,000 customers.
Positive reviews praise the low price and easy setup. In terms of performance, customers say the Tuft and Needle mattress is excellent at absorbing movement and limiting motion transfer so they're not woken up by their partners.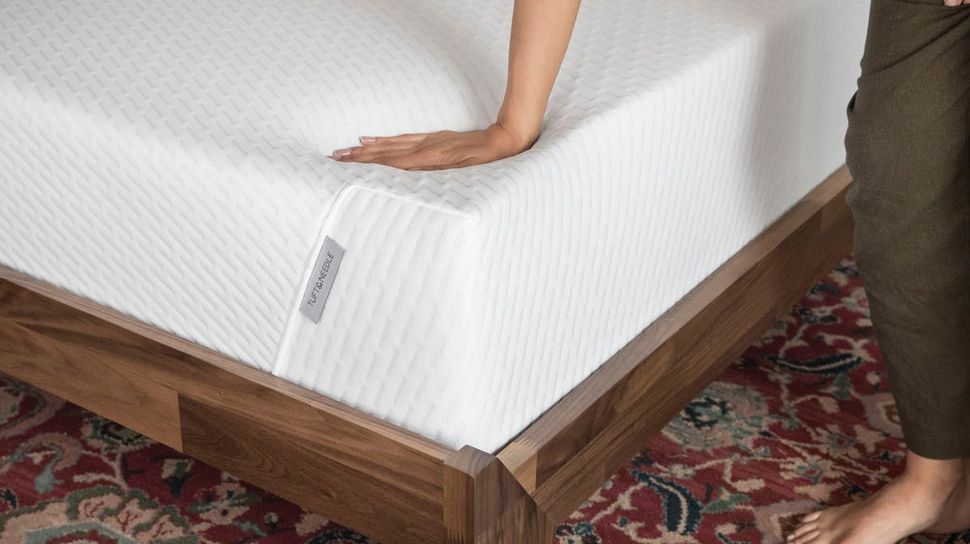 Meanwhile, critical reviews say the mattress doesn't have much longevity and wears out well before its 10-year warranty. This has culminated in complaints of poor sleep quality and back pain from some users.
Also, while I (and many others) find the Tuft and Needle mattress to be medium-firm as advertised, several users claim theirs were too soft to provide sufficient support.
Tuft and Needle is lauded for its attentive customer service regarding refunds and replacements. However, some customers were unaware that the 100-night trial does not apply to Amazon purchases. Mattresses ordered via Amazon have a 30-night trial instead.
Should you buy the Tuft and Needle Original?
If you don't need anything sophisticated, the Tuft and Needle Original mattress should suit you. The top-layer adaptive foam will keep you relatively stable if you move around a lot at night, which makes it a good mattress for co-sleepers with varying schedules or a fidgety partner to consider. Setup is also dead easy and Tuft and Needle's customer support is considered one of the best in the business.
However, many users claim it isn't as durable as some similar memory foam mattresses, with only two foam layers and very little edge support. If longevity is something you're seeking, the Nectar Memory Foam mattress should be on your radar. Not only does it currently undercut Tuft and Needle's prices, but it also comes with loads of free bedding, a lifetime warranty, and a full year to test it out.
If you want the hugging feeling of memory foam but without the heat retention, the Cocoon Chill Memory Foam mattress is loaded with more cooling tech than the T&N Original. It's in a similar price bracket, too, although the current Cocoon by Sealy sale yields stronger prices — a queen is $799 and includes nearly $200-worth of free bedding.
Rising costs risk pushing the Tuft and Needle Original out of budget mattress territory, but it has a solid brand reputation behind it so you needn't worry if anything should go awry with your purchase. That said, we would recommend it for instances where there's little heavy-duty use — for example, if your guest room could use an upgrade or your child is ready to graduate to a 'big kid' bed. We also advise that you keep an eye on Black Friday mattress sales, which is when we normally see Tuft & Needle offer its biggest bargains of the year.