A new Nintendo Switch may be upon us before too long, but in the meantime, I can't get enough of the current model. Whether it ends up being named the Nintendo Switch 2 or The Big N chooses another moniker for its rumored console, the company's next machine will do well to capture my heart like the Nintendo Switch OLED has.
As a diehard OLED obsessive, I think it's a fabulous little device. Hell, it's close to being my favorite gaming machine ever, and it's certainly one of the best handheld consoles of all time. It's far from perfect, though: one area where both the OLED model and standard Nintendo Switch fall down is in the audio department.
As someone who plays their Switch almost exclusively in portable mode, the handheld hybrid's weedy speakers leave a lot to be desired. While I wouldn't go quite as far to call them lifeless, they're definitely not loud enough. Even at max volume, I often struggle to make out dialogue in the likes of the incredible The Legend of Zelda: Tears of the Kingdom.
Recently though, I've fixed my audio woes by adding a game-changing piece of kit to my Switch setup: a pair of impactful Bluetooth speakers.
The Creative Pebble V3 Desktop Speakers are $35 on Amazon, and considering their budget price tag, they absolutely punch above their weight.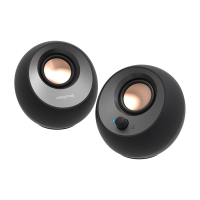 Creative Pebble V3 Desktop Speakers: $35 @ Amazon
As we said in our Creative Pebble V3 review, these stylish little speakers pack in big sound considering their small form factor. Audio is well-rounded and connecting them to your favorite devices either via a USB-C connection or over Bluetooth is simple.
Selling for a relative pittance, the Creative Pebble V3 obviously aren't going to compete with the very best Bluetooth speakers, but they're still a massive leap up from the Switch's internal speakers.
Pairing them with Nintendo's handheld is easy, too. Once you plug the Pebble V3 speakers into a USB hub to give them juice, you're only a few short steps away from setting them up as your default speakers for the little console.
All you have to do is go to System Settings on your Switch, then Bluetooth Audio and finally Add Device. Hold down the Bluetooth button on the Pebble V3 for a few seconds until the Switch recognizes them, and they're good to go.
For context, my Switch never leaves my apartment, which makes pairing it with Bluetooth speakers a no-brainer. If you regularly take your handheld on your daily commute, balancing a couple of speakers on your lap (even small ones) is clearly going to be a no-go.
If you're like me though, and your Switch never crosses the threshold of your abode, pairing Bluetooth speakers with the handheld when it's in portable mode makes complete sense.
Out of the Bluetooth
The added audio oomph the Pebble V3 speakers provide is startling, especially for a budget product. Not only do they get pleasingly loud when you crank them up to full volume, the sounds they provide are well-balanced, with reasonably rich bass adding real texture to the audio experience.
Punchy and well-rounded, they've instantly upped my enjoyment of the recent (and excellent) Switch port of Red Dead Redemption. Woody Jackson's eclectic score wisely pays homage to the works of legendary Italian composer Ennio Morricone, and the game's soundtrack regularly tips its cowboy hat to The Good, the Bad and the Ugly.
You'll obviously need a fair bit of space if you're going to pair your handheld with the Pebble V3, as these aren't wireless speakers — I've carved out some room on my coffee table for my bespoke Switch setup. I've also paired them with my iPhone 14 Pro (which was a doddle), and the audio results are equally as impressive as on Nintendo's teeny machine.
If you regularly play your Switch in portable mode and want to take your audio to the next level, I'd heartily recommend buying Creative's excellent little Bluetooth speakers.
More from Tom's Guide