The best Nintendo Switch games take many forms but rest assured there are a lot of good choices to make when looking for something new on your console.
No matter whether you're using a Nintendo Switch, Nintendo Switch OLED or Nintendo Switch Lite, the 45+ games listed here will help you get the most out of the versatile console. There are all kinds of genres as well as single- and multi-player titles on the list, so whatever mood you're in, you should find something that'll fit.
If you're just getting started with a Nintendo Switch, you might also find our Nintendo Switch OLED starter guide useful, and our list of the first 5 Nintendo Switch games to play. Pokémon fans should also check out our Pokémon Scarlet and Violet review, which breaks down the highs and lows of the latest Pokémon game. You can also check out how to send a Nintendo Switch online app friend request to someone.
The best Nintendo Switch games to play right now
50. Metroid Prime Remastered
Metroid Prime Remastered is a completely overhauled version of the popular, first-person shooter that first released on the Nintendo GameCube. Developer Retro Studios has kept what made the original great while redoing the game's visuals and adding more comfortable, modern controls. Nintendo also released Metroid Prime Remastered at a cheaper price, likely in an effort to give fans of the series something to play while they wait for the launch of Metroid Prime 4.
If you haven't played the first completely 3D Metroid game yet, it once again stars intergalactic bounty hunter Samsus Aran who receives a distress signal from a wrecked ship orbiting around the planet Tallon IV. Once there, Sasmus discovers the ship is actually a Space Pirate research vessel where terrifying genetic experiments are being conducted. In addition to being a short game to finish with just a 15-hour story, Metroid Prime Remastered is also a great jumping-off point for those new to the series.
49. The Legend of Zelda: Tears of the Kingdom
As the follow-up to 2017's Breath of the Wild which launched alongside the Nintendo Switch, The Legend of Zelda: Tears of the Kingdom certainly has big shoes to fill. Even though the game sees you revisit the same map from its predecessor, Nintendo has done quite a lot to mix things up by adding the new Sky Islands as well as some underground areas to explore. Hyrule has changed quite a lot as well and you'll be able to return to locations from the first game to see what's new.
Besides adding more verticality, Nintendo has also completely reworked Link's powers this time around. Gone are your Sheikah Slate abilities from the fist game and they've been replaced by new powers which include Ultrahand, Fuse, Ascend and Recall. With these new powers, Link can grab objects in the game and combine them together to make all manner of new contraptions and even vehicles to traverse the world more easily. If you played BoTW and enjoyed it, ToTK is a must-play game that really shows just what the Switch is capable. Stay tuned for our full The Legend of Zelda: Tears of the Kingdom review.
48. Persona 5 Royal
Although Persona 5 Royal was once a PlayStation exclusive, it's now available on the Nintendo Switch along with Persona 4 Golden and Persona 3 Portable. The latest entry in the Persona series is the best yet as it allows you to explore modern Tokyo alongside a cast of interesting characters. Also, this updated version of the original game comes with 40 DLC items and you can play it in either English or Japanese.
If you're not familiar with the Persona series, by day you attend high school classes while at night, you explore palaces while fighting off enemies known as Shadows. However, you also have some free time that you can spend engaging in activities to boost your social stats. Persona 5 Royal is one of the best JRPGs around and on the Nintendo Switch, you can dive back into its 100+ hour campaign whenever you want.
Read our full Persona 5 Royal review
47. Golf Story
Part retro-style golf game and part RPG, Golf Story is a charming top-down adventure game based on the sport of golf. While it was originally intended for the Wii U, the two-person team at Sidebar Games ended up releasing it on the Nintendo Switch instead. After not playing the game for 20 years, the game's main character tries to rekindle his love of golf while making his way to the pros. Alongside your coach, you play across eight different courses while meeting a diverse cast of lovable characters. The dialog is quite witty and if you're playing in handheld mode, Golf Story makes great use of HD rumble. Unfortunately, Sidebar Games' follow-up game, Sports Story didn't receive anywhere near the critical reception that Golf Story did when it released in 2017.
46. Super Mario 3D All-Stars
Super Mario 3D All-Stars packs three of the most beloved 3D platformers of all time into a single, highly nostalgic package. This collection gets you Super Mario 64, Super Mario Sunshine and Super Mario Galaxy, allowing you to experience the evolution of 3D Mario games from the Nintendo 64 all the way to the more modern Wii era. Rounding out the package is access to the full soundtrack for every game, so you can rock out like it's 1996.
Note however that Nintendo stopped selling this game on March 31 2021, since the game was meant to be a time-limited tie-in with the 35th anniversary of the Super Mario series. This means it might be hard to find copies going forward.
45. Clubhouse Games: 51 Worldwide Classics
Clubhouse Games is a virtual treasure trove of classic board, card and sports games, packing dozens of titles you probably grew up playing — and some you haven't. From staples like chess, checkers, poker and air hockey to international hits like Mahjong and Shogi, Clubhouse Games offers a staggering amount of great multiplayer content for just $40. You'll find generic takes on beloved games like Connect Four, Uno and Rock 'em Sock 'em robots, surprisingly solid golf and bowling games, and a whole lot more.
44. No More Heroes 3
Suda51's latest game is yet another demonstration of his inimitable talent for style and weirdness in games. Once again you take the role of assassin Travis Touchdown, with the mission this time of battling a series of alien enemies. The story does continue on from the previous two games, but generous exposition makes sure even new players are up to speed with what's going on.
It's not a game you'll want to pick up on a whim since the idiosyncratic nature of the gameplay plus a reliance on pop culture references will put off quite a few potential players. It's still worth a look however since it's a project with a refreshing amount of independent thought poured into it, compared to other staling genres.
Read our full No More Heroes 3 review
43. Streets of Rage 4
A glorious comeback for the beloved Sega beat-em-up series, Streets of Rage 4 preserves the joyfully nostalgic action of the original games while masterfully modernizing things for a new generation. Classic characters like Axel and Blaze are joined by newcomers Cherry and Flloyd, as you punch and kick your way through Wood Oak City with up to four players locally or two online.
42. Dragon Ball Z: Kakarot
The familiar story of Son Goku's rise from elite warrior to even-more-elite warrior is captured in this game, which follows the story of the anime faithfully from the Saiyan Saga to the Buu Saga. There are no narrative surprises as a result, but fortunately the gameplay helps add novelty.
With the addition of open-world elements, side quests and plenty of open arena fights, it's a blast (sometimes literally) to help Goku fight through the galaxy's most dangerous beings. The RPG elements help confer the series' running theme of growing ever stronger too, but there's still more we wish the game had tried to add depth to a story we've been experiencing for the past several decades already.
41. Pokémon Brilliant Diamond/Shining Pearl
Whether you're new to the fourth generation of Pokémon or want to revisit the fond memories of the first time you made the journey, the remakes of Brilliant Diamond and Shining Pearl are a fantastic way to do so.
Very little is different compared to the originals, unlike previous remakes Nintendo have published, which can be argued to be either good or bad. However the well-refined formula of catching and battling the game's eponymous unique creatures has withstood the test of time well.
Read our full Pokémon Brilliant Diamond review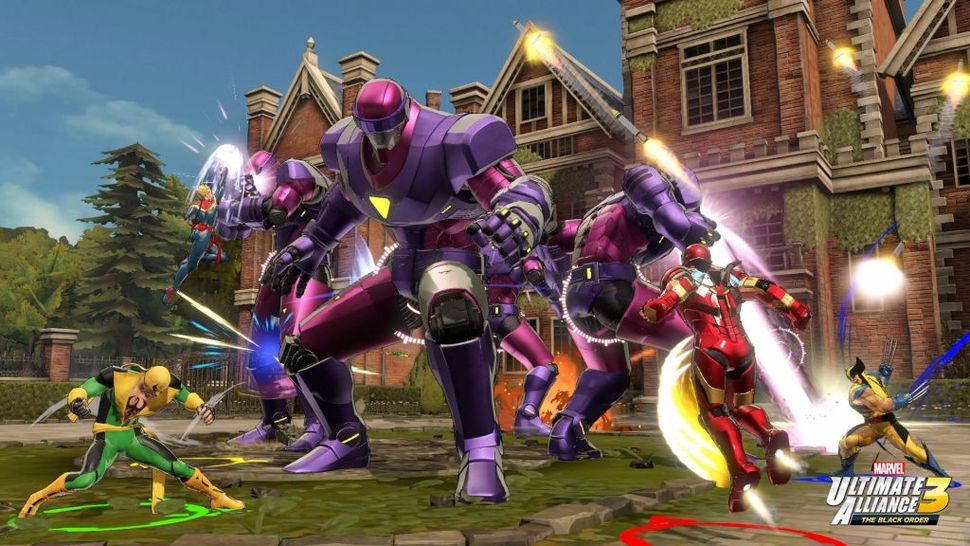 40. Marvel Ultimate Alliance 3
Marvel Ultimate Alliance 3 is a fun fan-service frenzy, allowing you and up to three online or offline friends to hack and slash your way through enemies using your favorite Marvel characters. The game's 36-character roster includes iconic heroes such as Wolverine, Captain Marvel and Iron Man as well as deeper cuts like Spider-Gwen, Elsa Bloodstone and Ms. Marvel, which you can mix and match in all kinds of fun ways with different synergy attacks and team bonuses as you attempt to stop Thanos from getting the Infinity Stones.
Read our full Marvel Ultimate Alliance 3 review
39. Super Mario Maker 2
Super Mario Maker 2 improves on Nintendo's beloved Wii U level-creating game in every single way, introducing a ton of new creation tools, a full-fledged story mode with 100 Nintendo-made levels and multiplayer options that let you play co-operatively and competitively with friends. New level parts like slopes, swinging claws and on/off switches allow you to get more creative (and devious) than ever, and a robust new set of online options let you work your way up the leaderboards as both a player and creator. Super Mario Maker 2 is already a great game now, and could serve as an endless supply of great community-made Mario courses for years to come.
Read our full Super Mario Maker 2 review
38. Monster Hunter Rise
You start off as an ordinary villager called to join the guild of hunters. However it quickly becomes clear you'll have more than you bargained for when signs of a new "Rampage" emerge.
Pick this best Switch games member if you're a fan of hunting large beasts and upgrading yourself with the spoils from slaying them. New to MH:R however is the palamute, a cliff-scaling mount that can also assist you in the fight, the ability to ride and control other monsters while fighting them wirebugs, which gives new movement options to quickly turn the tables on your quarry. You can go out adventuring alone with your animal companions or join up with other human players online to take on the biggest and most dangerous predators.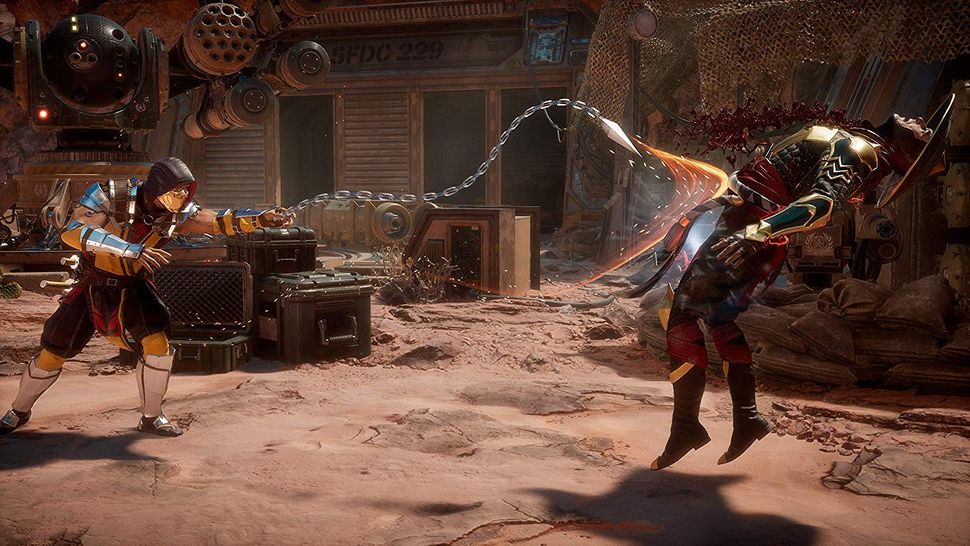 37. Mortal Kombat 11
The Nintendo Switch has become quite the formidable fighting game machine over the past few years, and the Switch port of Mortal Kombat 11 delivers a full AAA brawler experience that you can play on the go. Mortal Kombat 11 is absolutely dripping with content, including a robust cinematic story mode, a suite of online modes and a massive roster that lets mainstays like Scorpion and Sub-Zero mix it up with guest stars like Spawn and The Terminator.
Read our full Mortal Kombat 11 review
36. Mario Party Superstars
Relive the joys and frustrations from Mario Parties past with this new installment in Mario's party game library. Like the All-Star remasters of the 2D and 3D Mario platformers, this game takes mini-games from all previous Mario Party titles, plus game boards from the original three Mario Party games on Nintendo 64, to create a mix of the series' best bits from across the years.
Like always, you'll be moving around a game board via dice rolls, trying to gain coins and stars in order to win, and hoping to avoid hazards and opponents' power-ups that will deprive you of these. Those opponents can play alongside you on the same system, via local wireless multiplayer or online, meaning you can always find someone to party with.
Read our full Mario Party Superstars review
35. Astral Chain
Astral Chain is one of the most unique and satisfying action games you can find on the Switch -- or any platform, for that matter. This futuristic anime adventure puts a unique twist on Platinum Games' signature brand of stylish combat, allowing you to create all kinds of crazy combos by controlling both your main character and and array of humanoid Legion companions in tandem with one another. Astral Chain's supremely satisfying fighting is complemented by detective missions, fun environmental puzzles, and a vibrant sci-fi world that comes alive with a thumping techno-meets-metal soundtrack and some of the best visuals of any Switch game.
Read our full Astral Chain review
34. Mario + Rabbids Kingdom Battle
Mario + Rabbids Kingdom Battle is a bizarre, unexpected mashup that works exceptionally well. This turn-based strategy game sees Mario teaming up with Ubsioft's mischievous Rabbids to save the Mushroom Kingdom, setting the stage for a series of surprisingly tactical battles that let you chain together attacks and special abilities in all kinds of delightfully satisfying ways. The game's gorgeous, colorful worlds clash with the Rabbids' crude potty humor, resulting in a goofy, charming and strategically deep experience that's unlike any Mario game you've played before.
Read our full Mario + Rabbids Kingdom Battle review
33. Pokémon Sword and Shield
Pokémon Sword and Shield have all of the addicting monster catching, battling and exploring that makes the series great while making some significant evolutions to Game Freak's beloved RPG formula. The game's Britain-inspired Galar region features the most dynamic environments the franchise has seen yet, with open-world-style Wild Areas filled with wild Pokémon that provide a real challenge for seasoned trainers.
32. Hyrule Warriors: Age of Calamity
This prequel to The Legend of Zelda: Breath of the Wild (another of the best Switch games), shows us the world before it all went to chaos. Instead of adventuring around solely as Link, in this game you can play as all the kingdom's heroes as you take on vast armies controlled by Calamity Ganon. Alongside friendly soldiers and an optional co-op partner, you have to take to various battlefields across Hyrule, completing specific objectives in each area and smashing through waves of enemies with your special moves.
31. The Witcher 3: Wild Hunt - Complete Edition
One of the most beloved role-playing games of this generation (and arguably of all-time) has finally landed on Nintendo Switch. As its name suggests, The Witcher 3: Wild Hunt - Complete Edition packs in every bit of content found in CD Projekt Red's massive open-world adventure, plus all previously released downloadable content (including the popular Hearts of Stone and Blood and Wine expansions). While The Witcher 3's Switch port sacrifices visual quality in the name of playability, it still features the same massive world, gripping story with branching narratives and satisfying combat that make Geralt of Rivia's third outing so memorable. It's one of the best Switch games if you're not keen on Nintendo's usual family-friendly titles.
30. Scott Pilgrim vs. The World: The Game - Complete Edition
After being unavailable for over six years, the beat-em-up based on the popular comic series and movie is finally on sale again.
Just like the series, you're tasked with defeating Ramona Flowers' seven evil exes in order for Scott to date her in peace. This being the Complete Edition, you also have access to the DLC packs that let you play as Wallace Wells and Knives Chau as well as the basic cast of Ramona, Kim, Stephen and Scott.
29. Xenoblade Chronicles 3
A perfect starting point for newcomers, the third mainline Xenoblade Chronicles game is a fantastic game to immerse yourself in, thanks to the in-depth combat and buckets of story and lore to check out. The game doesn't forget about series veterans though, as while there are no direct links to previous games, there are certain references and parallels that only you will get.
JRPGs like this aren't everyone's thing, but there's not been a better chance to try out the genre in a new title. Just make sure once you're hooked, you try out the other best JRPGs on Nintendo Switch.
28. Mario + Rabbids: Spark of Hope
The strange mix of turn-based strategy and goofy comedy works great in Spark of Hope, even better than in the original Mario + Rabbids game that's also on our list. In fact, Spark of Hope is one of our favorite Nintendo Switch games from the past year.
There's plenty of challenge to be had in this game, which you may not expect from the tone of the light-hearted tone; although things are still approachable for younger or less-experienced players. Plus, a lengthy campaign means you'll have plenty of time to get in deep with the mechanics and customization, and explore the environments fully in order to defeat the latest baddie threatening Mario, his friends and their Rabbid copycats.
27. Heaven's Vault
Heaven's Vault is an archeological adventure across an open world that tasks you, as researcher El, to translate an ancient language as you explore ruins across the moons of The Nebula. What makes this one of the best Switch games is the freedom you have as a player, both in exploration and in translation. There are always several options to choose from, and those decisions pile up to give you different dialogs with the other characters, and eventually one of several potential outcomes to the story.
26. Untitled Goose Game
The hills of gaming are alive with honking. Part stealth game, part prankster heaven, Untitled Goose Game became one of the internet's best Nintendo Switch games picks by placing gamers in the webbed feet of a despicable goose out to ruin the days of everyone in a quaint little suburb. While its amazingly simple controls may trick you into thinking it's going to be a cakewalk, the difficulty ramps up enough to turn this adorably-drawn puzzler into a true challenge.
Read our full Untitled Goose Game review
25. Knockout City
If you like dodgeball, but wish it had a few more power-ups, then here's your best Switch game pick. Thanks to its free trial option, you can sample the game before actually putting your money down on a copy.
Like the original game, the object is to hit others with dodgeballs you find around one of the game's several maps, and to avoid return fire and environmental hazards. You can enhance your throws with abilities such as explosives, anti-gravity and traps, or launch yourself or your teammates in ball-form for a surprise attack. Naturally, with this being a multiplayer-focussed game, there's a ton of unlockable accessories for you to customize your character with, making it a great alternative multiplayer obsession to the usual battle royale or FPS games.
Read our full Knockout City review
24. TMNT: Shredder's Revenge
Dripping in nostalgia, this pixelly side-scrolling brawler lets you take up the weapons and fists of the Teenage Mutant Ninja Turtles and their allies against Shredder, Krang and their hordes of goons. It's a lot like the classic Turtles in Time game, except designed for modern consoles and players with higher expectations.
There's six-player co-op available for maximum carnage, as well the option to play with or without the classic arcade lives system for added challenge. That's more than enough flexibility for fun with however many people you have controllers for, and whatever their skill level may be.
23. The Legend of Zelda: Link's Awakening
The Legend of Zelda: Link's Awakening is a masterful reimagining of the 1993 Game Boy classic, preserving the original game's clever dungeons and puzzles while wrapping it in a gorgeously vibrant new art style (seriously, has Link ever looked more adorable?). While Link's Awakening hews pretty close to the original game's overall structure, it does spice things up with the ability to create your own dungeons. If you're craving some old-school 2D Zelda action or just need something to hold you over until Breath of the Wild 2, Link's Awakening is yet another great Zelda adventure for your Switch.
Read our full The Legend of Zelda: Link's Awakening review
22. Tetris 99
Even Tetris has gotten in on the battle royale craze. Tetris 99 has you and 98 other players play Tetris against one another in real-time, clearing lines and sending blocks to enemies' play areas until there's one competitor left standing. There's a surprising amount of strategy here, as you can choose to attack specific players or let the AI decide who gets flooded with blocks as you frantically clear spaces. But most importantly, Tetris 99 is just fun, fast-paced Tetris, and you'll quickly wonder where the time has gone as you tell yourself you'll play just one more game. Tetris 99 is free to Nintendo Switch Online members, though anyone (including non-subcribers) can purchase the $10 Big Block DLC to gain offline play as well as new modes.
21. The Legend of Zelda: Skyward Sword HD
Originally made for the Wii but now available on the Switch, Nintendo's done more than just refresh the paint job with Skyward Sword HD. It's now made the game's divisive motion controls optional, making the game easier to control consistently and more accessible to more players.
The story, while nothing like the most recent hit entry, Breath of the Wild, is still an interesting look at the very start of the LoZ timeline, and features entertaining characters, tricky dungeons and a whole sky to explore. It's a good choice for new players or for those who played the original but want to try it again in a new refined form.
Read our full The Legend of Zelda: Skyward Sword HD review
20. Pokémon Scarlet and Violet
The latest mainline Pokémon adventure isn't quite as much of a breath of fresh air as Legends: Arceus was, but it's still great fun to head out on a new monster-capturing adventure.
This time you're adventuring through the Paldea region, with Team Star your ever-present rival and new mechanics like Titan Pokémon and an open world map providing fresh challenges. But naturally, your overall goal is to be the very best, training your party of Pokémon to become capable of beating the best trainers around.
Read our full Pokémon Scarlet and Violet review
19. Lego Star Wars: The Skywalker Saga
Replay the nine main movies of the Star Wars franchise in this game, only in a brick-ier form.
Like previous games covering smaller spans of the story, you get to play key moments in the form of platforming, puzzle and combat challenges, with your secret weapon being the ability to swap characters on the fly to use whichever powers you need. There have been some updates though from the originals, like improved movement controls, more in-depth melee combat and an upgrade system for your characters.
There's plenty of replayability on offer in the form of collectibles and characters to unlock, plus DLC on the way if you want to pay for even more. So if you don't mind the overall familiar feeling of the game compared to previous Lego Star Wars games, you can keep yourself busy and entertained for a long time with this game.
Read our full Lego Star Wars: The Skywalker Saga review.
18. Fire Emblem: Three Houses
The long-running strategy series' first entry on the Switch is the biggest ever, building on the classic turn-based strategy game with a free-roam hub, additional tactical options with the addition of supporting battalions and less rigid system of unit counters for additional freedom in all elements of the game.
As a mercenary with a mysterious past, you begin the game by being recruited to teach at the Officers Academy at Fodlan's Garreg Mach Monastery. Here you'll select one of the titular three houses to teach and lead into battle, while also interacting with other students and faculty members to bolster your ranks and improve your skills. In the meantime, a story of continent-wide conflict and powerful heroic Crests unfolds during and between your many fights.
Read our full Fire Emblem: Three Houses review
17. Stardew Valley
Stardew Valley is a serene farming simulator that seems so simple, you'll wonder how you just lost three straight hours playing it. This laid-back role playing game tasks you with turning a messy field into a thriving farm, one filled with vibrant characters, gorgeous pixel art and no shortage of fun activities. Stardew Valley's many townspeople are charming and memorable, and whether you're meticulously planting crops for a big payday or are exploring the mysterious mines, it's easy to get completely lost in developer ConcernedApe's 16-bit world. And thanks to a recent multiplayer update, you can even enjoy the game with friends.
16. Subnautica: Below Zero
The next installment in the water-based survival series takes things in a much chillier direction. The new frozen biomes are a treat to look at and help freshen up the compelling scavenging/building loop that the game is built around.
Unlike the original, there are dangers both above and below water, so you'll need to stay vigilant at all times. Fortunately as you ascend the tech tree to improve your tools, shelter and vehicle options, you'll gradually feel like a master of the environment. While the core of the game is about survival, there is a more chilled-out "Freedom mode" for players who just want to take in the sights.
Read our full Subnautica Below Zero review
15. Luigi's Mansion 3
Despite being based around a ghost-hunting vacuum, Luigi's Mansion 3 most certainly doesn't suck. The latest installment in Nintendo's spooky ghostbusting series is one of the best Switch games you can buy, giving you a toybox of new spectre-slaying tools to play with as you explore a labyrinth hotel that becomes King Boo's latest haunted mansion. With the addition of Gooigi, Luigi's gooey spectral doppleganger, you'll control two characters at once as you work your way through some of the most satisfying environmental puzzles the series has delivered yet. And with new combat moves such as a satisfying ground slam and no shortage of memorable, challenging boss fights, the actual ghostbusting is a blast, too. If you're looking for a breezy adventure game that's as clever as it is charming, Luigi's Mansion 3 delivers big.
14. Bayonetta 3
The third game in the Bayonetta series isn't too drastic a departure from the previous two, but that's for the best. Bayonetta 3's spectacular battles remain as thrilling as ever, and the bizarre cast and story only continue to spiral out of control in the best possible way.
It's definitely a game that would benefit from more powerful hardware though, even if it plays smoothly enough on the Switch's aging and underpowered processor. As you may expect, the game has its difficult moments, even though you'll feel all the more powerful when you finally break through the barriers.
13. Cuphead
One of the best platformers of the decade is finally on Nintendo Switch, and it's as fun, beautiful and brutally difficult as ever. Cuphead marries airtight, extremely challenging bullet-hell 2D sidescrolling action with a delightful jazz soundtrack and hand-drawn 1930s inspired artwork that looks ripped right out of a classic Disney cartoon. The result is a crushingly hard game that you'll feel compelled to push through thanks to its satisfying shoot-em-up action and entrancing aesthetics. Studio MDHR's indie masterpiece feels especially at home on Switch, whether you're taking on the Devil and his cronies with a friend in local co-op or knocking out a few bosses on the go.
12. Celeste
In a sea of excellent indie platformers on Switch, Celeste stands out as one of the absolute best Nintendo Switch games available. This pixelated, ultra-tight 2D sidescroller is simple yet immensely satisfying, as you'll use your jump, dash and wallgrab to avoid spikes, pits and all manner of spooky spectres in screen after screen of precise platforming challenges. Celeste's best-in-class 2D action is complemented by a touching and cleverly told story about dealing with mental illness, and the whole package is wrapped up in an unforgettable synth soundtrack that alternates between serene and haunting. If you own a Switch, you need Celeste -- period.
11. Super Mario Odyssey
Super Mario Odyssey is the plump plumber's most expansive and inventive 3D adventure yet, setting you lose in a series of brilliantly designed sandbox worlds filled with exciting secrets. It's a constant barrage of joyful discovery, whether you're taking control of a T-Rex or a stack of Goombas with your sentient hat Cappy or warping into a wall for some classic 2D Mario gameplay. Odyssey is accessible, gorgeous and wonderfully weird, marrying the pure fun of Mario's best 3D outings with no shortage of awesome surprises. It's easily one of the best Nintendo Switch games out there.
Read our Super Mario Odyssey review roundup
10. Splatoon 2
Splatoon 2 is more Splatoon, and that's fantastic. Nintendo's vibrant online shooter gets even better on Switch, thanks to new weapons and abilities that let you dual-wield pistols, fire barrages of rockets and perform powerful-ground pounds as you race to cover the battlefield in colorful ink. The game's solo campaign serves as an excellent off-the-wall platformer, while the new Salmon Run mode provides a serious co-op challenge for you and up to three friends. And it's just an absolute joy to look at and listen to.
Read our full Splatoon 2 review
9. Pokémon Legends: Arceus
After decades of making only modest changes to the core Pokémon formula, we've now got something quite different. Taking place in the world's distant past, complete with steam-powered Pokéballs, you have to find and capture "noble" Pokémon which have been rampaging since you arrived, while you search for the mythical Arceus and bring an end to the trouble.
It's not the most mechanically smooth or attractive game, but that's as much the fault of the Switch as it is the game. Don't let the visuals put you off though, this could be the Pokémon game for you if you used to be a fan but have struggled to get excited for other recent installments.