One of the better things about getting older is that you finally know what you really want when shopping for a new device. Whether you're on the hunt for one of the best laptops, a new TV or even a new webcam, you already have a list of features in mind before you start hunting for your next upgrade.
Although everyone may not necessarily be that tech savvy, wisdom comes with age and instead of just picking up what's popular, you're more likely to have a checklist in mind when shopping.
For me personally, there's one feature I look for in every device I buy regardless of whether it's a mechanical keyboard or a home security camera: I want the cable that connects it to a computer or even a power outlet to be detachable. This adds to the price on the manufacturing side but for the end user, detachable cables make things a whole lot simpler.
I'll admit I do make mistakes from time to time and end up with devices that have non-detachable cables — like I recently did with my new TV — but for the most part, it's one of the biggest selling points that leads me to choose one device over a similarly-featured one.
If you haven't given much thought to the benefits of a detachable cable over a non-detachable one, here are five reasons why I'll gladly pay more for a device with a removable cable.
Replace the cable, not the device
As hard as you may try to keep them protected, cables just break. Whether you've wrapped them too tightly, mishandled them or one of your pets chewed through them, no cable is completely safe.
If a device with a busted cable uses a detachable cable though, it's easy to swap it out with a new one. This is a bit more difficult with devices that use proprietary cables but most of the time, you can reach out to the company you bought it from to get a replacement.
While I used the original Echo Auto to add Alexa to my car, I recently reviewed the new Echo Auto (2nd Gen) and ended up sticking with it. The new look and slimmer design are great but to downsize the product, Amazon went with a hardwired USB cable over a detachable one. Compromise is one of the main reasons besides cost that companies opt for non-detachable over detachable cables.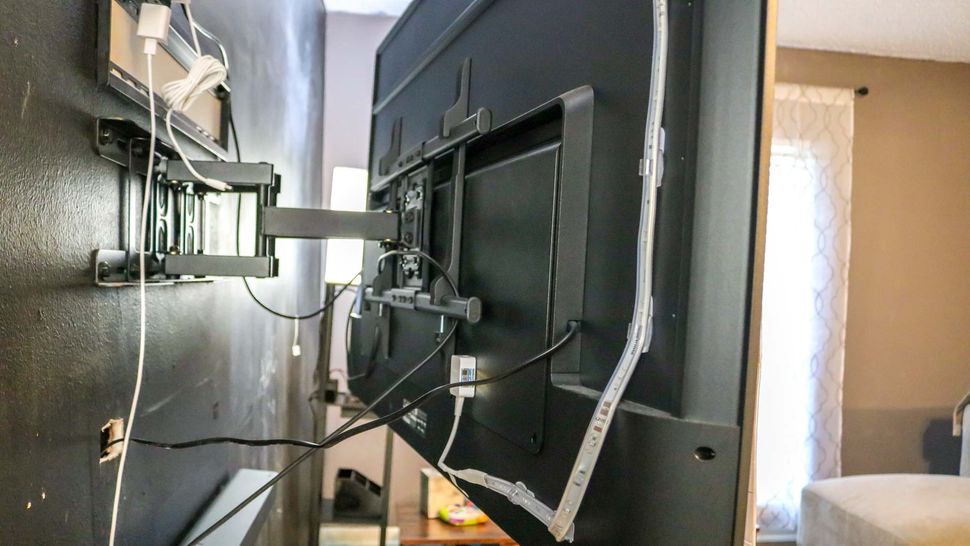 Last year, I upgraded my TV and even managed to sync it with my smart lights. However, I was so concerned with picture quality and local dimming, I forgot to read the fine print. Unlike the other Vizio TVs I've owned in the past, this one had a non-detachable power cable. Since I used one of the best TV mounts to hang it up and ran its cables through a hole in the wall for a cleaner look, its non-detachable cable made things a real pain.
These are just two examples of devices with non-detachable cables but they share one thing in common: if the cable breaks you're out of luck. Sure, you could try to fix it yourself or send it back to the manufacturer to get repaired but with a bigger device like a TV, this would not only be expensive but a real hassle.
Instead, it's much easier to replace a broken cable than being forced to replace an entire device even if it did allow the company who made it to manufacture it at a slightly cheaper price.
Easy mounting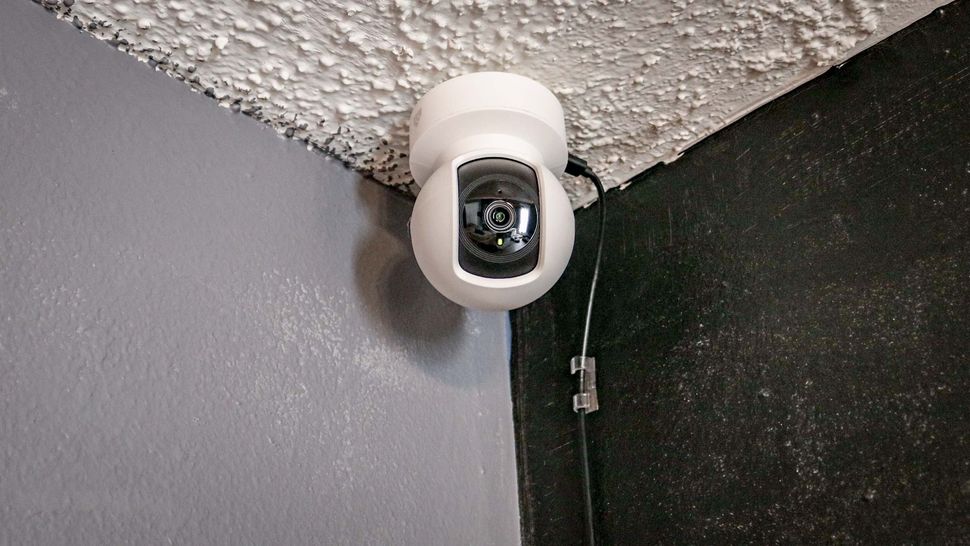 Just like with my TV, it's much easier to mount a device with a detachable cable. Instead of having to mind the cable when you're up on a ladder, you can mount the device first and then run a cable up to it afterwards. You can also swap out the cable the device ships with for another cable that blends in better.
For instance, with the Kasa Indoor Pan/Tilt Smart Security Camera ($35, Amazon) pictured above which is one of the smart home devices I can't live without, it came with a white cable to match the camera. With the other units I have in my kitchen and living room, using the included cable wasn't a problem as those rooms have white walls. However, my game room has a black chalkboard wall at the front. For this reason, I bought a long, black micro USB cable and used that instead. The wire may stick out a bit in this picture but in person, it blends right into the wall.
Bring your own cables
High-quality, braided cables no longer cost an arm and a leg and you can pick them up in all kinds of different sizes and varieties online. One of the best things about devices with detachable cables is that for most of them, you don't actually need to use the cables they ship with.
Instead, you can get a nice looking braided cable in a color that matches the rest of your desk setup and plug it into your keyboard, webcam, macropad or any of the other devices you might have on top of your desk.
Braided cables really give wired products a premium look and now that they're super affordable, why not go nuts and get rid of all those cheap-looking, plastic cables. Your devices will still work the same way but they'll look a lot better.
One cable, many devices
Besides being easily replaceable, another great thing about devices with detachable cables is that you're not limited to using a single device with one cable. You can swap out the devices you use with a particular cable and plug in something else. This is what I do when I'm finished working at one the best standing desks.
When it's time to take a break, I just unplug my keyboard and plug in one of the best PC game controllers instead. Wireless controllers are great when you're sitting on the couch but wired controllers are convenient when you're at your desk since you just plug them in and don't have to worry about whether they're charged or not.
I also use the detachable cable connected to my keyboard to plug my phone into my computer as well as to charge my other devices when I'm not working.
Extra cables at hand when you need them
Apple and other companies may have stopped including charging bricks with their products but they still throw in a charging cable whether you need it or not. The same goes for when I add another controller to my collection or pick up any other kind of device.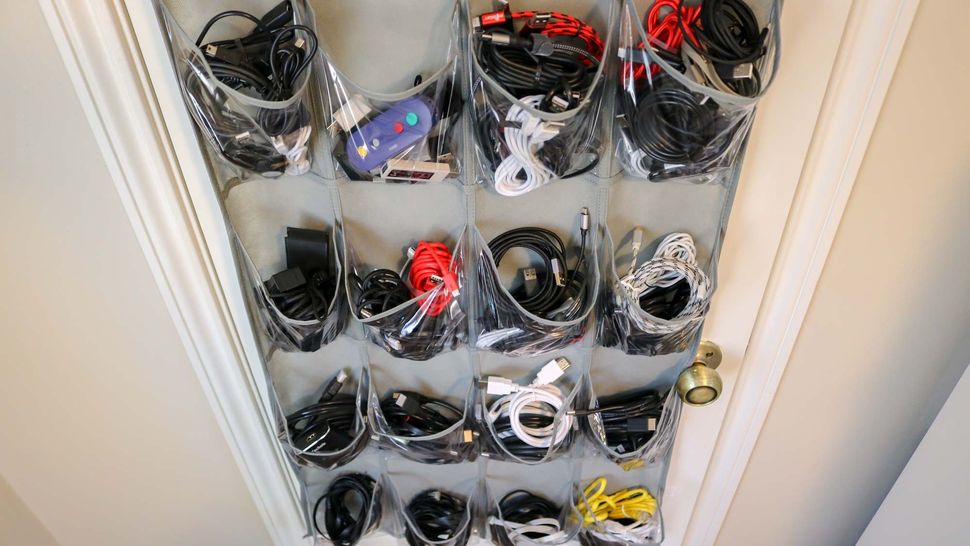 Instead of tossing out these extra cables or throwing them into a box, I use a hanging shoe rack on the closet door in my office to keep them all organized. Then, when I need a cable, I know exactly where to find one. Even though I may prefer braided USB cables, the cheap plastic ones are great for when I want to plug something in and know that I'll be hiding the cable. They're also really handy when someone comes over to my house and needs a spare cable to charge their phone.
A small thing that makes a big difference
Detachable vs non-detachable cables isn't likely the kind of tech feature that will get people into a heated discussion like Apple vs Android. However, over the years, it's become a sticking point for me whenever I buy a new gadget.
Things have certainly improved and you're now less likely to see devices with non-detachable cables. Still though, you need to look extra carefully at checkout to avoid making a similar mistake like I did with my recent TV purchase. Unfortunately, many retailers don't highlight whether a device has detachable or non-detachable cables on their listing pages which is why it always pays to read reviews and do plenty of research before you buy anything.
More from Tom's Guide