The $499 Xbox Series X is the most powerful console that Microsoft has ever created, with impressive specs, a promising lineup of games, robust backwards compatibility and unprecedented compatibility with both the Xbox One and gaming PCs.
Microsoft's claims for the Xbox Series X are pretty bold. The system will aim to run most games at 4K resolutions and 60 frames per second framerates. Certain games could go up to 8K resolutions and 120 fps framerates — although probably not at the same time. From its powerful SSD, which will reduce load times, to its ray tracing capabilities, which will deliver more realistic lighting effects.
Game-wise, the Xbox Series X won't have any true exclusive titles, as every Xbox Series X game will be available on both the Xbox One and the PC, at least for the next few years. But gamers will be able to enjoy entries in popular first-party series, such as Halo Infinite and Senua's Saga: Hellblade II.
For comprehensive information on the Xbox Series X's price, specs, controller, pre-order information and more, read on.
Latest Xbox Series X news (October 20)
Halo Infinite may see separate release dates for its campaign and multiplayer components. The game is still slated to launch in 2021.
The Xbox Series X will draw less power and generate less noise than the Xbox One X, hopefully making it an easier entertainment center accessory.
A new report says that the Xbox Series X dashboard is rendered in 1080p, while the PS5 delivers a sharper 4K dashboard. But there could be a good reason for this.
Xbox Series X cheat sheet: What you need to know
What it is: Microsoft's most powerful game console ever
Release date: November 10 (pre-orders start Sept. 22)
Price: $499
Key features: 4K visuals at 60 FPS, 8K and 120 fps support, ray tracing, near-instant load times
Key games: Halo Infinite, Senua's Saga: Hellblade II, full Xbox One backward compatibility
Specs: Custom AMD Zen 2 CPU, 1TB NVMe SSD, 16GB GDDR6 memory, 12 teraflop RDNA 2 GPU
Xbox Series X release date
Xbox Series X is slated to launch on November 10, 2020, the same day as the lower-spec Xbox Series S.
Xbox Series X price
The Xbox Series X will cost $499 when it hits stores. If you'd rather pay for it monthly, you can get a Series X via the Xbox All Access program, which allows you to lease the console and get 24 months of Xbox Game Pass Ultimate starting at $34.99 a month.
Xbox Series X pre-order
Pre-orders for the Xbox Series X are now underway, and Tom's Guide has put together a whole page on how to get yours. At the time of writing, stock is selling out quickly, and the storefronts are experiencing some difficulties trying to accommodate all of the pre-orders. For the moment, all we can say is keep trying, and if you don't get one today, Microsoft may release additional stock over the next few weeks.

The best stores to check include Amazon, Target, Walmart, Best Buy, GameStop and Newegg.
Xbox Series X specs
The official Xbox Wire officially revealed the Xbox Series X specs back in February, with a deeper dive in March. We've provided more comprehensive details in a chart below, but some impressive specs include an AMD Zen 2 RDNA GPU with 12 teraflops of power, 16 GB RAM and a 1 TB SSD with optimized architecture for gaming.
Most games should run at 60 fps at 4K resolution, but other games may be able to go up to 8K resolution or 120 fps. The console will also support ray tracing, as well as 4K UHD Blu-ray discs.
| | |
| --- | --- |
| Price | TBD |
| Release date | November 2020 |
| Processor | 8-core, 3.8-GHz AMD Zen 2 |
| GPU | 12 teraflop AMD RDNA 2 |
| RAM | 16GB GDDR6 |
| Storage | 1TB custom NVMe SSD |
| Ray Tracing | Yes |
| Maximum resolution | 8K |
| Optical drive | 4K UHD Blu-ray drive |
| External storage | USB 3.2 external HDD support |
| Maximum framerate | 120 frames per second |
| Key features | Quick Resume for suspending multiple games, Dynamic Latency Input, Variable Refresh Rate |
The Xbox Series X specs have a slight edge over those of the PS5, at least on paper. For example, the Series X has 12 teraflops of graphics muscle, whereas the PS5 offers 10.3 teraflops. The Series X's 1TB SSD also boasts a higher capacity than the 825GB SSD you'll find in Sony's next-generation console.
If you were particularly curious about the Xbox Series X's SSD, Tom's Guide has written a primer on the subject. In it, you'll learn how SSDs work, as well as how the Xbox Series X could leverage that technology for much faster load times. While we won't know exactly how the SSD works until we see the console in action, the primer explains why SSDs are so much faster than traditional drives, and why a console SSD could have better optimization than a PC SSD.
Xbox head Phil Spencer has cautioned fans not to expect graphics that look radically different from current-gen systems. Instead, he explained that the Xbox Series X's big advancement will be in latency and frame rate. This isn't radically different from what other developers have said, focusing instead on the system's SSD and faster load times, as the Xbox One X can already present games at 4K resolutions.
The Xbox Series X's hardware upgrades seem like they'll deliver a big improvement to real-world play, if the first Xbox Series X previews are indication. Critics noticed dramatic reductions in load times for games such as Control and Red Dead Redemption 2, as well as big framerate improvements for games like Sekiro even without any additional developer patches. Reviewers were also quick to point out how seamlessly the system's Quick Resume feature works, allowing you to suspend multiple games and switch between them without losing progress.
Xbox Series X games
Of all the confirmed Xbox Series X games, Halo Infinite just might be the biggest. In a substantive gameplay demo, we learned how the game will perform on the Xbox Series X, and some of the new (and old) tricks Master Chief will have at his disposal during his latest adventure.
While Halo Infinite was originally planned as an Xbox Series X launch title, it's been delayed until 2021, leaving fans to wonder what the Xbox Series X's must-have title will be this November. Microsoft itself has been keen to highlight the Xbox Series X's extensive backwards compatibility features instead of one particular new game.
Another big reveal was Fable 4 (or perhaps just "Fable"), which could be a remake, a reboot, a sequel — it's hard to tell. The bottom line is that Fable fans will get another entry in the series on the Xbox Series X, and that Microsoft will probably share more information on the game later this year. Other major exclusives slated to arrive over the next few years include a new Forza Motorsport and a promising new RPG from Obsidian called Avowed.
After the Xbox Series X gameplay reveal back in May, we learned about some of the console's third-party titles. The company spent the most time discussing Assassin's Creed Valhalla, the latest entry in Ubisoft's historical action/stealth series. Here's a trailer with (some) in-engine gameplay footage:
Vampire: The Masquerade - Bloodlines 2 also made a big splash, with a trailer that shows off a lot of the supernatural powers you can acquire during the game. (It also has a catchy retro soundtrack, giving the trailer some definite BioShock vibes.) Fans have been eagerly awaiting this game, and it seems like it should run well on the Xbox Series X.
Other titles include colorful racing game Dirt 5, psychological horror game Scorn, over-the-top crime game Yakuza: Like a Dragon and perennial sports game Madden 21.
Xbox has promised that the exclusives available on the Series X will also be playable on the Xbox One and PC, marking it from Sony's PS5-or-nothing approach to its launch games. It may sacrifice potential sales if players see they can get the same games on a platform they already own, but it's a gentler approach than Sony's taking, which may keep Microsoft in gamers' good books during the launch period.
Xbox Series X controller
The Xbox Series X will have a slightly upgraded version of the current-gen Xbox Wireless Controller. The new peripheral will feature a dedicated Share button for screenshots and video clips, as well as an improved D-pad, similar to what you'd find on the Xbox Elite Series 2 Controller. Textured dots on the bumpers make theme easier to find, while matte finish on certain buttons makes them more resistant to wear and tear. Like the current Xbox Wireless Controller, the new version will work on Windows PCs as well as mobile phones.
Almost all existing Xbox One accessories will continue to function on the Xbox Series X, so there's no reason to ditch specialty gear that you already own.
Xbox Series X backwards compatibility
Microsoft has confirmed that all existing Xbox One games and accessories will work on Xbox Series X. That includes all of the best Xbox One games, as well as the hundreds of Xbox and Xbox 360 titles that are backwards compatible with Xbox One. Microsoft says that backwards compatible titles will enjoy better framerates and resolution on Xbox Series X, all with no extra developer work needed.
There's also the Xbox Series One X's Smart Delivery feature, which Microsoft fully fleshed out in a recent blog post. This technology ensures that whether you buy a game for Xbox One or Xbox Series X, you'll receive a complimentary copy for the other system. Your save data will sync between all versions of the game, and your system will automatically download and run an optimized build.
Microsoft further explained this feature in a blog post about the "Optimized for Xbox Series X" label. These cross-gen titles will load faster, with better graphics and smoother frame rates, on the Xbox One X as opposed to the Xbox One. A partial list of games is now available on Microsoft's website, and a number of highly anticipated titles, including Assassin's Creed Valhalla and Halo Infinite have already made the cut.
One ambitious aspect of the Xbox Series X's backwards compatibility is that it may be able to boost old games beyond their original performance parameters. A recent Microsoft blog post explained that the Xbox Series X could run certain older games at frame rates up to 120 fps, and resolutions of up to 4K. Considering that many of these games originally maxed out at 30 fps and 1080p, that's a marked difference. Of course, not every game will get this treatment.
What about Xbox Series S?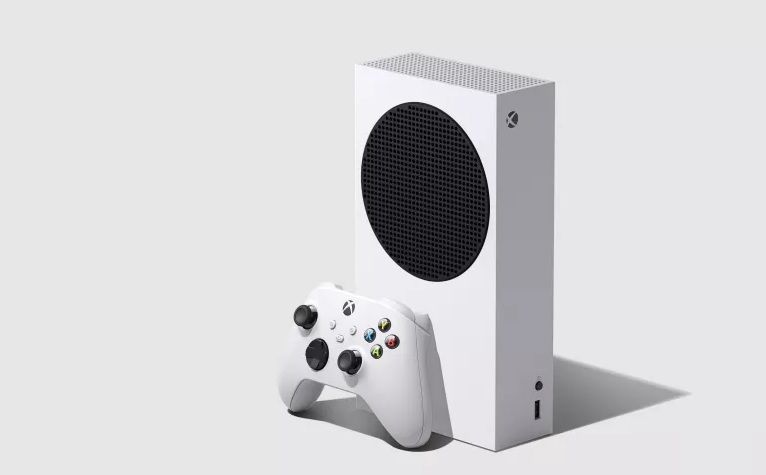 The Xbox Series X will be joined by the Xbox Series S, a $299 console that promises next-gen gaming at a lower price point. The Series S can play games at up to 1440p and 120 frames per second, and includes many key Series X features such as ray tracing and fast SSD loading. However, the console has a much smaller hard drive at 512GB compared to the Series X's 1TB drive.