It looks like the Samsung Galaxy Buds 2 will be Samsung's next pair of true wireless earbuds. First uncovered in a Samsung APK teardown, details on the Galaxy Bud 2's price, features and design have been trickling out ever since. Even the AirPods 3 hasn't recently been the subject of so many apparently.
Following the Samsung Galaxy Buds Pro, this new pair doesn't sound to be quite as high-end, though you should still expect significant upgrades on both the original Samsung Galaxy Buds and the Galaxy Buds Plus. We might not need to wait long to find out, either: there's a Samsung Galaxy Unpacked event scheduled for August 11, and the Galaxy Buds 2 could very feasibly get an official reveal.
In the meantime, here's everything we know about the Samsung Galaxy Buds 2 so far, including design, price and release date info — plus a few things we'd like to see.
Latest Galaxy Buds 2 news (updated July 22)
Samsung Galaxy Buds 2 price rumors
It may be telling that Samsung's own APK refers to a "Galaxy Buds 2" as opposed to, say, a new version of the Galaxy Buds Live or Galaxy Buds Pro. This naming suggests that the upcoming earbuds have more in common with the original Galaxy Buds, which weren't as advanced as Samsung's recent models but were considerably cheaper.
Backing up this theory is the Galaxy Buds 2 product code, SM-R177. This puts it a lot closer to the Samsung Galaxy Buds (SM-R170) and Galaxy Buds Plus (SM-R175) than the Galaxy Buds Live (SM-R180) and Galaxy Buds Pro (SM-R190).
Right now, you can probably expect a price between the $99 Galaxy Buds Plus and the $199 Galaxy Buds Pro. MySmartPrice has previously quoted "anonymous sources" that the Galaxy Buds 2 price could land somewhere between €180 and €200, which is roughly $213 to $237 before tax adjustments. The same later revised the rumored figure to a much more reasonable €149, which is about $175 before taking into account tax differences.
TechRadar also reported on a potential price point around $175, though since the Galaxy Buds Pro can be found as low as $169 with discounts, we're hoping the Galaxy Buds 2 turn out a little cheaper.
Samsung Galaxy Buds 2 release date rumors
While there's been no solid indication of a Galaxy Buds 2 release date, we may be about to find out just when the new earbuds will make their debut. Samsung is holding an Unpacked event on August 11 at 10 a.m. ET. And while the focus of that launch event will almost certainly be new phones — the Samsung Galaxy Z Fold 3 and Galaxy Z Flip 3 are the likely candidates — the Galaxy Buds 2 could be among the products announced at that time.
Leaker Evan Blass certainly thinks so, including the Galaxy Buds 2 among the products he believes will be unveiled at the next Unpacked. (That prediction came prior to Samsung officially setting the August 11 date.)
A 2021 release fo the Galaxy Buds 2 would make sense, anyway: Samsung has previously released new earbud models within a few months of each other, not annually like its Galaxy S-series smartphones. With the Galaxy Buds Pro half a year old by now, a new release would fit the pattern.
Unveiling the Galaxy Buds 2 in the second half of 2021 would likely put it in direct competition with the AirPods 3, though nothing is official there either. The OnePlus Buds Pro, however, is confirmed to release on September 1.
Samsung Galaxy Buds 2 specs rumors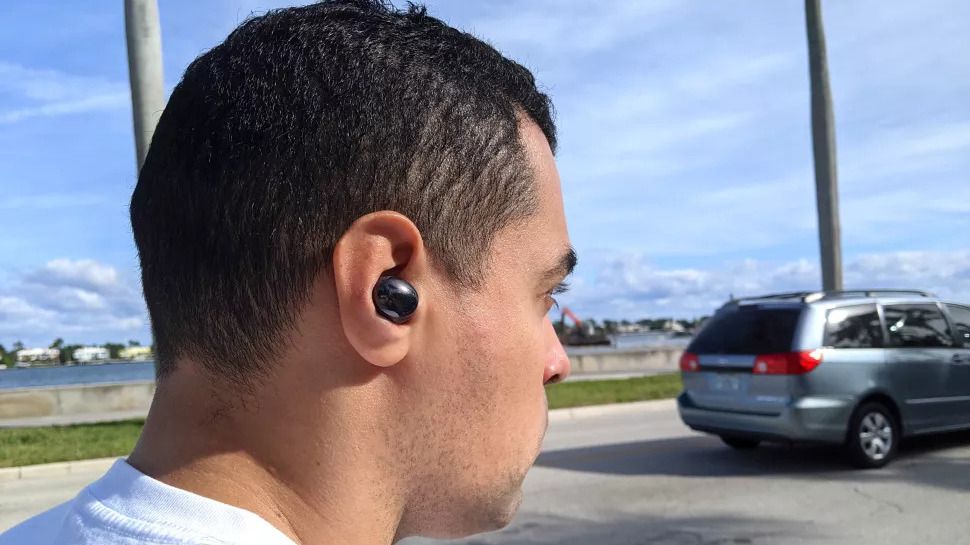 Even from the relatively small leaks thus far, we can determine certain Galaxy Buds 2 features. For instance, the phrase "supportMultiConnection="true" appears in the aforementioned APK teardown, and points towards multipoint support: a feature that would let it connect to several Bluetooth devices simultaneously, making it faster to switch between them.
This could also hint at the Galaxy Buds 2 supporting the same automatic device switching feature as the Galaxy Buds Pro. This lets the premium earbuds switch sources when detecting video or music playback on a different, but previously-paired device, though it only works with specific Samsung Galaxy phones and tablets.
That said, the same line of code in the APK leak includes the phrase supportNonSamsung="true"," so the Galaxy Buds 2 may play nicer with devices outside of Samsung's ecosystem.
Assuming a more affordable price, we'd also expect the Galaxy Buds 2 to go without some of the more advanced features Samsung introduced on its more recent earbuds. That said, one tip from Twitter leaker Ice Universe claimed that the Galaxy Buds 2 will feature active noise cancellation. Ice Universe later posted a screenshot of what looks like the Galaxy Buds 2's companion app, showcasing an active noise cancellation option.
This is a feature the cheaper Galaxy Buds skipped, with only the Galaxy Buds Live and Galaxy Buds Pro supporting ANC. So it makes sense that Samsung may upgrade it's entry level wireless earbuds this way.
Even so, we'd be extremely surprised if Samsung included its 360 Audio system. On the Galaxy Buds Pro this adds a 3D surround sound effect to compatible video content, similar to Apple's spatial audio — very cool, but likely to stay reserved for Samsung's premium headphones.
Samsung Galaxy Buds 2 design rumors
A Galaxy Buds 2 design leak has shown official-looking renders of the new earbuds, which could come in four colors: white, black, a lavender purple and a lime green. The renders suggest that while the charging case will match the chosen colors of the buds, this will only be present in its lining, with the outside a glossy white.
These renders have more recently been backed up by a number of animated Galaxy Buds 2 images, tweeted by reliable leaker Evan Blass. These also show white, purple and green variants, and also corroborate previous reports that the Galaxy Buds 2 will adopt a uniform glossy texture. This would replace two-tone matte and glossy finish applied to the original Galaxy Buds and Galaxy Buds Plus.
More recently, Blass has also tweeted what appear to be higher-quality render images of the buds design and case. Once again, they include white, black, purple and green models, and show a uniform glossy finish with a Galaxy Buds Pro-style curved shape.
Twitter leaker Tron also posted images that reportedly show the Galaxy Buds 2 design as seen in its FCC documentation. It looks less like the original Galaxy Buds and more like the Galaxy Buds Pro, with its rounded exterior. Copying all of the Galaxy Buds Pro's features might be unrealistic, but it seems this new pair of buds could much more easily take cues from its design improvements.
What we want from the Samsung Galaxy Buds 2
Drawing up a wishlist for the Galaxy Buds 2 is a little tricky, as by contemporary standards the original Galaxy Buds leaves lots of room for upgrades. But at the same time, the new version can't stuff itself so full of high-end tech that the price becomes unpalatable. Here are some design traits and features we think would make for both effective and realistic improvements, should the Galaxy Buds 2 appear, as rumored, at Samsung's August 11 event.
Longer battery life: We got a little under 6 hours normal usage from the original Galaxy Buds, which by today's standard is decent yet nothing special. Although the potential inclusion of ANC complicates things, 7 or 8 hours should be the target baseline for battery life.
Water resistance: The Galaxy Buds' weak IPX2 rating leaves much to be desired on the waterproofing front. If cost is a factor, the Galaxy Buds 2 doesn't need to be completely immune to submersion, but improved water resistance at the least would be a big help. An IPX4 rating or higher would ensure sweat-proofing and protection from heavy rain.
Sleeker design: The Galaxy Buds Pro is Samsung's best-looking and most comfortable pair of earbuds yet. We'd love to see the Galaxy Buds 2 adopt a similarly sleek design, even if it's just a refinement of the rounded Galaxy Buds.
Improved call quality: Phone calls have typically been a weak spot on Samsung's earbuds, even on the Galaxy Buds Pro. Even on a cut-price pair like the Galaxy Buds 2, Samsung should address this with improved microphone performance that won't make the user sound so choppy and distorted when speaking.
Wide non-Samsung compatibility: Although we don't know what kind of special features Samsung has in mind for the Galaxy Buds 2, we hope they don't all need a recent Galaxy smartphone to function. This was a disappointing issue with the Galaxy Buds Pro: all the coolest toys, including automatic switching and 360 Audio, would only work when the buds were paired to a Galaxy device running Samsung's One UI 3.1 software. Hopefully the Galaxy Buds 2 will be more platform-agnostic.