Best headphones with a mic: Quick Links
1. The list in brief
2. Best overall
3. Best value
4. Best Sony
5. Best Apple headphones
6. Best value Bose
7. Best earbuds overall
8. Best budget buds
9. FAQ
10. How to choose
11. How we test
The best headphones with a mic demonstrate how audio tech associated with listening to music can also help with two-way communications. The majority of today's headphones incorporate an array of tiny microphones in the headset. Primarily, these are inlcuded as part of any built-in active noise cancelation technology, but bring additional benefits with two-way voice and video calling, too.
Of course, not all models are created equal, and as our tests demonstrate even some upmarket designs can disappoint with low-quality mics that affect call quality for the person listening at the other end.
We've been testing headphones as a useful working from home tool since before it became a thing. All the headphones listed here have been assessed for call quality in different environments, to make sure they work equally well on work teams calls, or catching up with family or friends while you're out and about.
Our reviewer has their favorite options for working from home, but rest assured that each of the picks below are the best models we've reviewed when it comes to voice quality when making calls.
Check out the list below to discover our pick of the best models at all kinds of budgets.
The Quick List
Already know what type of headphone you're looking for? Here's a quick list of our winners, so you can save time and jump right into the reviews. Still not sure? Just scroll on to see all our full list of recommendations.
The best headphones with a mic for voice and video calls you can buy right now
Best over-ear headphones for call quality
Bose is the class leader when it comes to active noise cancelation (ANC) on headphones, and its mastery extends to voice calling quality as well. That's why the Bose 700 are the best pair of headphones for making calls, and by a comfortable margin too.
The 700's extensive microphone array picks up your voice with outstanding clarity while simultaneously blocking out loud ambient noises, allowing fewer distractions on calls even when you're in busy places. Combine that with a comfortable fit, excellent sound quality for music and the absolute best ANC on the market, and the Bose 700s are worth paying a little extra for.
Find ways of saving on your order with our Bose coupon codes.
Read our full Bose 700 review.
Best value over-ear headphones for call quality
Sennheiser Accentum are a mid-priced ANC pair of headphones with plenty of flagship features. Probably the most outstanding thing about the Accentum noise-canceling headphones, though, is the 50-hour battery life and quick charge that's achieves up to 5 hours of listening time from a 10-minute top-up.
Our review mentioned that voice calls with the Accentum were loud and clear via the two built-in microphones. Background interference and wind noise was kept to a minimum, although a few people complained about the reviewer's voice sounding tinny at certain points. The SideTone feature was useful for increasing how loud I sounded on calls and helped to keep conversations feeling natural.
ANC mode was also very effective at reducing background sounds to a pool of silence, and Transparency mode was effective during my testing, too. Multipoint seamlessly switches from one Bluetooth device to another, so you don't have to worry about connectivity when calls come in.
Read our full Sennheiser Accentum review.
Best Sony headphones with a mic for call quality
The Sony WH-1000XM4 over-ear headphones had been wowing us for a while, although call quality wasn't one of their strongest features. But the surprise launch of the WH-1000XM5 back in May 2022 introduced significant advances in a new design that we didn't bargain for. Call quality is one area where significant improvements have been made, thanks to the XM5's eight mics which help it exhibit call quality quite easily described as 'exemplary'. Wind-noise is kept to a minimum, and both ends of a conversation prove distinct and direct.
If you need to be aware of your surroundings from time to time, Transparency Mode steals the show with up to 20 levels of ambient control. The mics are strong enough to pick up sounds and conversations around me, and is particularly handy when listening out for fast food deliveries. In terms of music listening, Sony's sound profile has been tweaked to produce crisper mids and highs, while maintaining its signature punchy and energetic presence. The XM5s are are one of the most versatile headphones around right now.
Read the full Sony WH-1000XM5 review.
Best headphones with a mic for iOS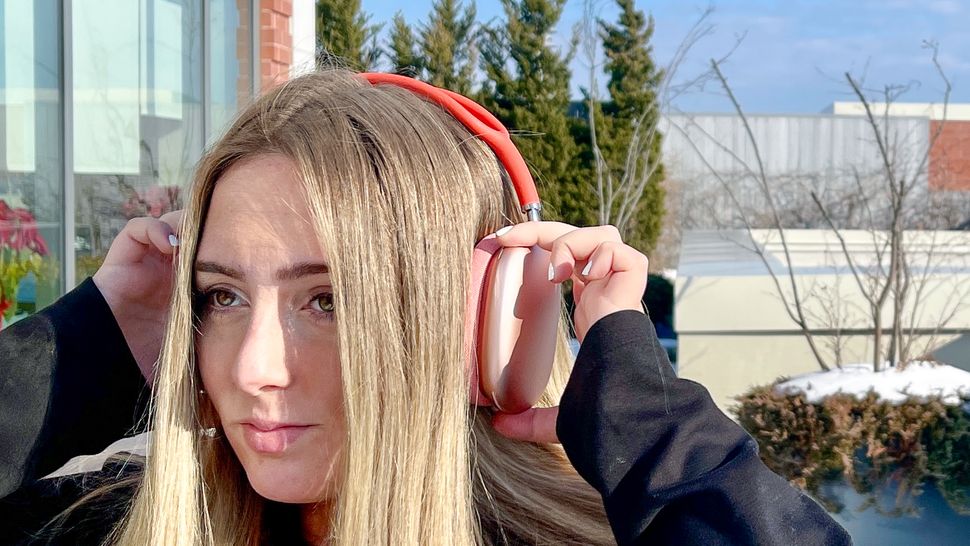 While not quite on Bose's level, Apple knows a thing or two about making headphones that can double as great calling headsets. Its best effort is also the most expensive, but the AirPods Max has a few tricks that help justify the higher price. Transparency mode is one: this lets you hear you own voice when speaking, which in turn helps you moderate your own volume and make sure you're coming through clear.
Not that the latter takes much effort, as the AirPods Max do fine work in reducing the impact of ambient sound on the microphones. These ANC headphones also feel a lot lighter on the head than their weight might suggests, which is useful for longer listening sessions or meetings — or just if you have particularly talkative friends.
Read our full Apple AirPods Max review.
Best headphones with a mic for battery life
The Bose QuietComfort 45 have been quietly replaced by the QuietComfort Headphones, but the QC45 continue to be available and are a great value Bose option.
During our QC45 review, we found that the mic array was powerful and demonstrated great intelligibility with voice commands when using the native assistant. The mics worked well for voice and video calls, and the QC45 produced loud and clear results in most environments, though resistance to wind noise isn't the strongest. Battery life runs to 24 hours on a full charge, but you can't turn ANC mode off to increase battery life further.
Read our full Bose QuietComfort 45 review.
Best earbuds for call quality
Bose did a big revamp of its line up in 2023, and despite being superseded by the QuietComfort Ultra Earbuds, the QuietComfort Earbuds 2 continue to be available and are the best wireless earbuds for voice calls. They deliver great sound, strong call quality and ANC performance, while proprietary technologies like ActiveSense and CustomTune balance sound and noise neutralization extremely well.
The QC Earbuds 2 kept vocals prominent over noisy backgrounds during our voice call tests. Using the Self Voice feature via Bose Music app increases vocal volume to hear yourself louder on calls, which our reviewer recommended.
Read our full Bose QuietComfort Earbuds 2 review.
Best low-cost buds for voice calls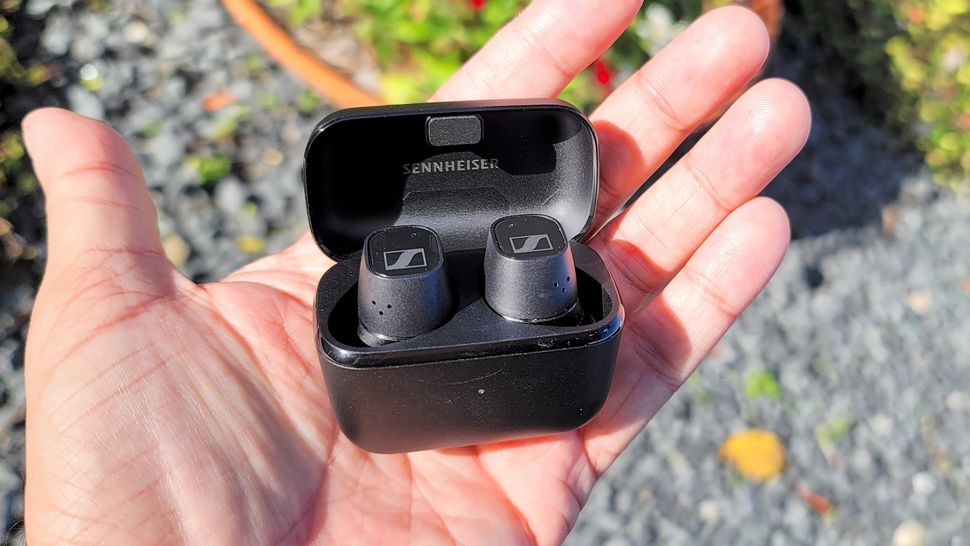 At $180, the Sennheiser CX Plus face stiff competition, but they're a bargain worth pursuing for $130 and one of the top models at the price. Articulate, high-quality sound combined with normal playtimes, effective ANC, and dependable connectivity make them an enticing package.
Music lovers will swoon over the sound quality that delivers clarity and depth to feed your ears a well-balanced dose of deep lows, rich mids, and detailed highs. There are compromises in terms of fit and lack of features sported by some rivals, but even so there's plenty of value in these buds.
Read the full Sennheiser CX Plus review.
A worthy addition to the list, Samsung's three-mic array produces loud, clear-sounding calls with minimal background interference. Whisking effects were reduced heavily when chatting with the missus outside. There was mention of minor muffle, which occurred in all settings, but nothing too worrisome. The buds were also reliable for video conferencing, with several clients complimenting the loudness and clarity on my end.
Samsung's ANC holds its own against the best ANC models and blocks out close to 90% of ambient noise although it's disappointing to see such a short ANC playtime. Sound alone makes the Galaxy Buds 2 Pro worth the investment, though, giving you a high quality audio experience and compelling 3D sound with precise head tracking. The Galaxy Buds 2 Pro are a versatile option with excellent mic quality for calls.
Read our full Samsung Buds 2 Pro review.
Available exclusively from Best Buy, these are Jabra's best buds for call quality and a great productivity companion to have, be it working from home or in the office. Sound is vibrant, battery life is lengthy, and cool features like multipoint technology allow for seamless switching between devices. Had noise cancelation and comfort been better, these would have earned a higher rating, but a 4-star review still makes them worth checking out.
These are a well-featured set of buds and come packaged with a wireless charger. Call Experience enhances call quality, and you can adjust how loud you sound on calls and turn on functions like auto-answer or mute through wear detection, while soundscapes acts as a meditative tool that plays different ambient sounds to mask distractions around you, which could be useful at the end of the working day.
Read the full Jabra Connect 5T review.
Best headphones with a mic FAQ
How to connect headphones to your work device?
To get your headphones working with your computer, laptop, or mobile device, it's usually a simple case of pairing them to your device once. The next time you put on the headphones, you'll be connected automatically. Volume can usually be adjusted via the controls on your playback device to make voices sound louder or quieter in the earpieces.
Which are the best wireless headsets for office calls?
The Bose 700 headphones have been the absolute best design for voice and video calls for some time, and by a comfortable margin too. They pick up your voice with outstanding clarity while simultaneously blocking out loud ambient noises, allowing fewer distractions on calls even when you're in busy places. Combine that with a comfortable fit, excellent sound quality for music and the absolute best active noise cancelling (ANC) performance on the market, and the Bose 700s are worth paying a little extra for.
If you're looking for an in-ear design with outstanding performance, go for the Bose QuietComfort Earbuds 2, which are the best earbuds for voice and vide calls as well as the best noise-cancelling earbuds overall.
Also consider the Sony WH-1000XM5 over-ear headphones, which offer strong performance across the board.
How to choose the best headphones with a mic for voice and video calls for you
First, consider whether you'd prefer over-ear headphones or a pair of in-ear buds. There's no rule of thumb that suggests one style is inherently better than the other for calling quality, though both have their pros and cons.
Wireless earbuds, for example, are more portable but don't create a seal around your ear; as a result, over-ear headphones might be better if you expect to take calls where there's a lot of ambient noise that could make it harder to hear what other call participants are saying.
Over-ear headphones also tend to have longer battery life, though most true wireless earbuds will last upwards of 4.5 hours between charges. That's enough for all but the longest voice and video calls.
Don't forget, also, that the main benefit of buying a pair of headphones over a headset or standalone microphone is that you can use it for music and podcasts too. So think about whether you want to pay extra for ANC, which enhances your listening experience in busy areas or on transport, as well as how important sound quality is for you more generally.
How we test the best headphones with a mic for voice and video calls
We test the calling capabilities of mic-equipped headphones exactly as you'd expect: by making calls. This lets us make sure each pair delivers the sound quality needed to ensure other callers are clearly audible, and we ask whoever we call for their feedback on how we sound. This helps us identify any problems with microphone volume or clarity — or, conversely, if we sound clear to others.
This is one of many tests to which we subject each pair of headphones. We also judge overall audio performance by how well each pair handles a variety of music genres, and will measure how long we get out of the battery before it runs empty.
To test comfort, we make sure to use the headphones over several days, including sessions wearing them for 2-3 hours at a time. This gives a good indication of how comfy each pair is, and whether that comfort is maintained in extended use.
Finally, we score each pair of headphones on a 1 to 5 scale. 1 is the lowest, 5 is the highest, and the most impressive headphones might get an Editor's Choice badge as well.
Discover more about our reviewing process and how we test headphones.
Contributions from: Alex Bracetti
More from Tom's Guide