Samsung Galaxy Z Fold 3: Specs
Price: $1,799 (256GB), $1,899 (512GB)
CPU: Snapdragon 888
RAM: 12GB
Storage: 256GB, 512GB
External display: 6.2 inches (2268 x 832) 120Hz Adaptive
Internal display 7.6 inches (2208 x 1768) 120Hz Adaptive
Rear cameras: 12MP wide (f/1.8); 12MP ultrawide (f.2.2, 123-degree FOV); 12MP telephoto (f/2.4, 2x optical zoom, 10x digital zoom)
Front camera: 10MP (f/2.2)
Under-display camera: 4MP (f/1.8)
Battery: 4,400 mAh
Charging: 25W (charger not included)
Size: 6.2 x 2.6 x 0.56 to 0.62 inches (closed); 6.2 x 5 x 0.25 inches (open)
Weight: 9.55 ounces
Update: Samsung now has the Galaxy Z Fold 4, which offers an improved 50MP main camera, a sturdier display, slimmer hinge and narrower bezels. And it offers a new taskbar along with better multitasking. Check out our Samsung Galaxy Z Fold 4 review.
The Samsung Galaxy Z Fold 3 is so good that it might just win over foldable phone skeptics. Samsung addressed some of the durability concerns. The display, for example, is up to 80% tougher, and the whole phone is water resistant. Want to do more with a massive 7.6-inch screen? There's S Pen support, plus an under-display camera to make for a more immersive display.
Think foldable phones cost too much? Well, we can't help you much there. This sequel is still pricey at $1,799, but at least it's $200 cheaper than its predecessor at launch. If you're looking for a truly affordable foldable, the new $999 Samsung Galaxy Z Flip 3 is a better bet. (For a deeper comparison, see our Galaxy Z Fold 3 vs. Galaxy Z Flip 3 face-off.) Or you could turn to our Samsung promo codes to help you knock a few dollars off those hefty price tags.
Other notable Galaxy Z Fold 3 upgrades include a brighter display and enhanced multitasking features, complete with a Windows-like taskbar. However, the battery life could be better, the design is still quite bulky, and Samsung should have included the S Pen. (Read our comparison between the Galaxy S22 Ultra and Galaxy Z Fold 3 S Pen)
While this foldable remains a niche device, our Galaxy Z Fold 3 review shows that Samsung has refined the best foldable phone you can buy, making it an excellent choice for power users who want a phone and tablet in one gadget.
However, if you're planning on buying a Z Fold 3 any time soon, you may want to look at the Galaxy Z Fold 4. This improves on the Z Fold 3 in a number of ways, so read our Galaxy Z Fold 4 vs Galaxy Z Fold 3 to learn more.
Galaxy Z Fold 3 review: Quick pros and cons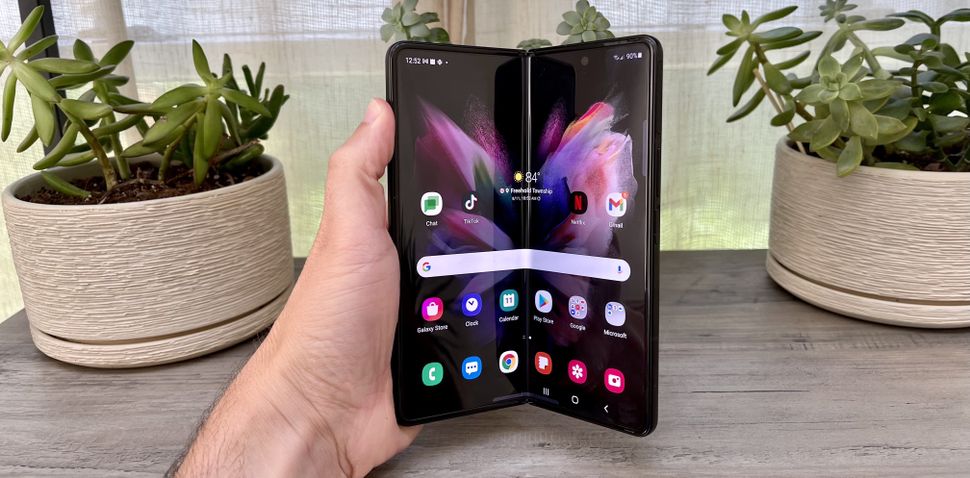 The under-display camera on the Galaxy Z Fold 3 impresses with its ability to disappear when you're viewing content. However, the 4MP resolution is not great for selfies.
The main 7.6-inch display is easier to view outdoors, as the panel gets up to 30% brighter. The cover display now has 120Hz refresh rate.
I really like the Taskbar feature, which lets you pin your favorite apps to the side of the display and follow you to any app. It's just like Windows. However, you have to dig in the Labs setting to turn this on.
There's no getting around the fact that the Galaxy Z Fold 3 is a thick phone when closed. You will definitely notice this phone-tablet combo when it's in your pocket.
It's good to see that more apps have been optimized for the Galaxy Fold 3, including Spotify, Gmail, Chrome and TikTok.
S Pen support is a great addition but we wish Samsung didn't charge extra for this accessory.
The overall camera quality is very good from the Galaxy Z Fold 3, with it taking sharp and colorful images for the most part. But the iPhone 12 Pro is better.
The Galaxy Z Fold's 3 battery life could be better. The foldable lasted under 8 hours on our web surfing test, while other flagships last 10 hours or more.
Samsung Galaxy Z Fold 3 review: Release date and price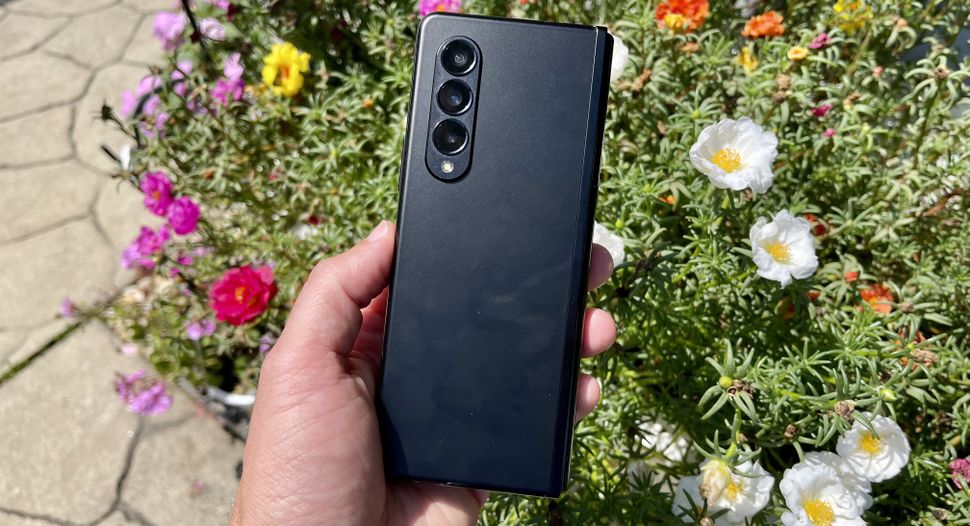 The Galaxy Z Fold 3 was released on August 27. The Galaxy Z Fold 3 has a starting price of $1,799 for the 256GB model, and the 512GB version costs $1,899.
Check out our best Galaxy Z Fold 3 deals page for all the biggest discounts, and you might also find our guide to the best Samsung Galaxy Z Fold 3 cases helpful. If you do pick up a Galaxy Z Fold 3, make sure to check out what we think is the first app you should install on your Samsung Galaxy phone.
Galaxy Z Fold 3 review: Design and durability
The Galaxy Z Fold 3 adds a lot of in the way of durability, even if it's still on the bulky side.
Right off the bat, you'll be glad to know that the new Galaxy Z Fold is IPX8 water resistant, which means it can withstand being in up to 1.5 meters of water for up to 30 minutes. I doubt most people will dunk this foldable, but it's good to know it can handle everything from splashes to rain.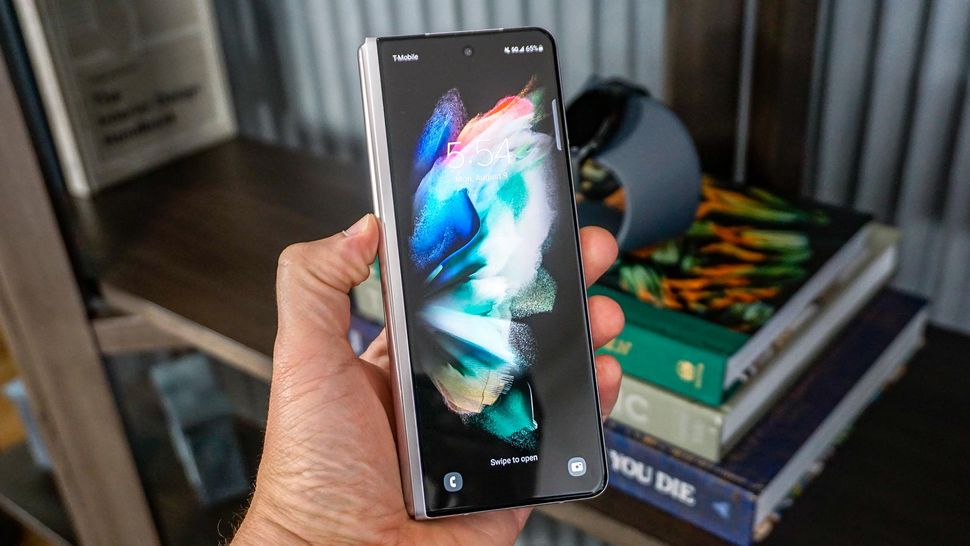 Unfortunately, we are not able to test water resistance on our review sample, but we have purchased a Galaxy Z Fold 3 and will put that unit to the test and update this review. Just note that the Z Fold 3 is not dust resistant, so I wouldn't feel comfy bringing this foldable to the beach.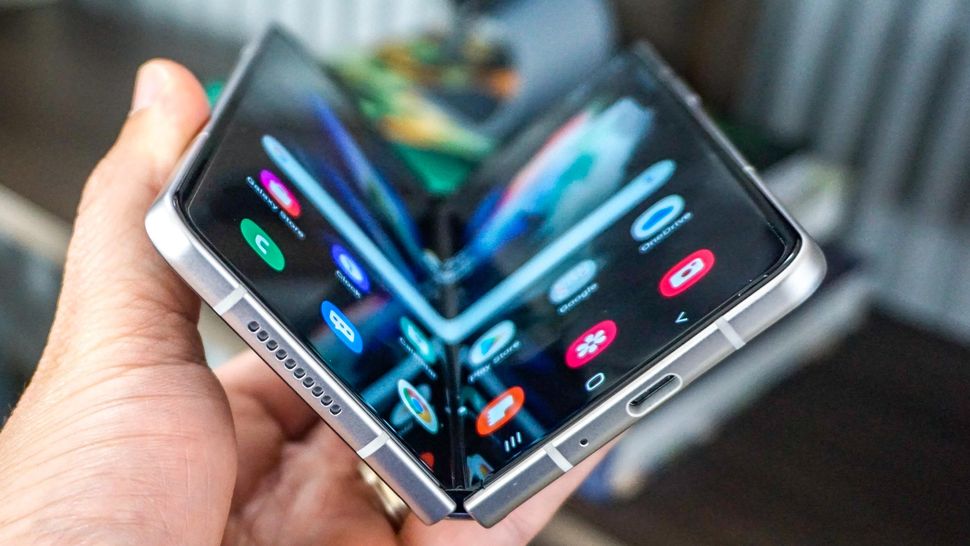 To further fortify the Galaxy Z Fold 3, its stronger Armor Aluminum body and Gorilla Glass Victus display are designed to resist scratches and drops. Last but not least, Samsung claims that the Z Fold 3 employs a new protective PET film that when combined with "optimized" main screen layers results in a 80% more durable screen.
If that isn't enough to convince you that the Z Fold 3 you're thinking of buying will be safe, take a look at the best Samsung Galaxy Z Fold 3 cases you can get for additional peace of mind.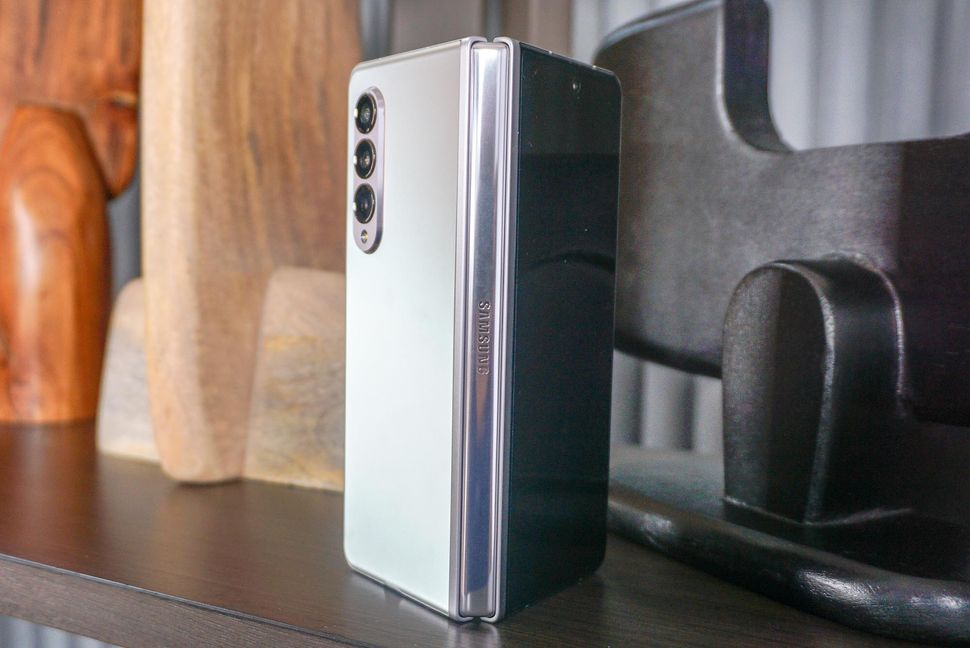 The Galaxy Z Fold 3 measures 6.2 x 2.6 x 0.56 to 0.62 inches when closed and 6.2 x 5 x 0.25 when open. And it weighs 9.5 ounces. Compare that to 6.2 x 2.6 x 0.66 inches (closed), 6.2 x 5 x 0.27 inches (open) and 9.9 ounces for the Galaxy Z Fold 2. Still, this is way thicker and heavier when closed then most phones, so you'll feel it in your pocket.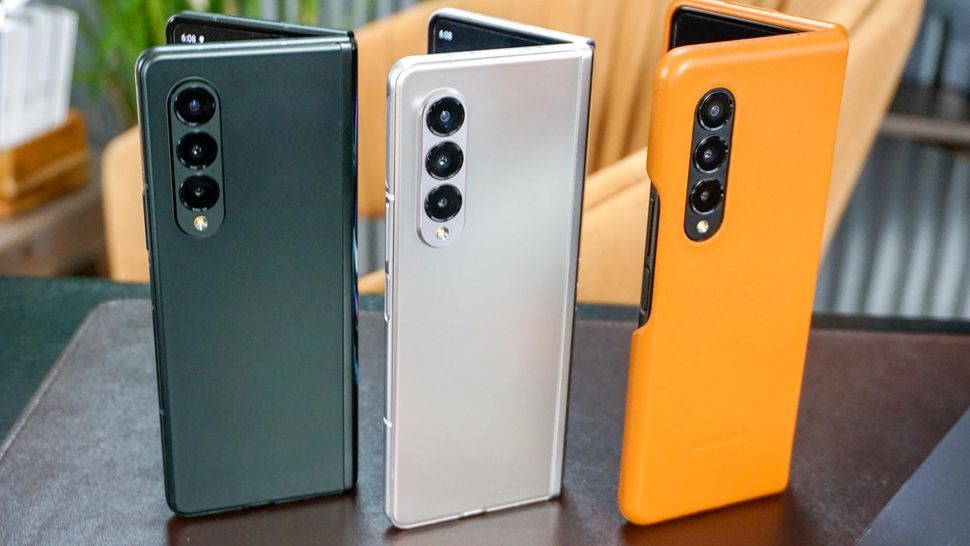 The Galaxy Z Fold 3 comes in three main colors: Phantom Black, Phantom Green and Phantom Silver. I'm a fan of the silver because it pops most.
Samsung Galaxy Z Fold 3 review: Displays and audio
The Galaxy Z Fold 3 once again features two displays: a 6.2-inch OLED cover display and a 7.6-inch main screen that's revealed once you unfold the device.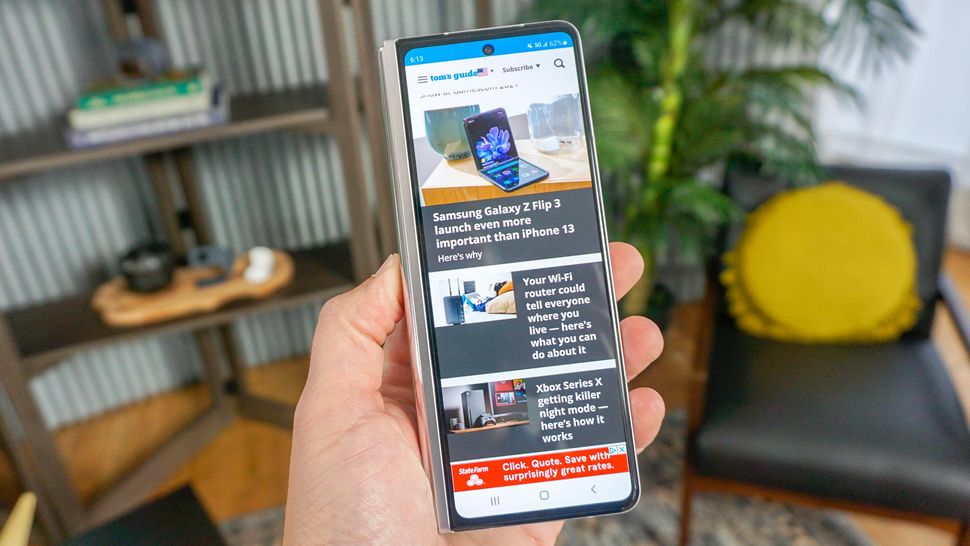 Both panels offer a 120Hz adaptive refresh rate, and I experienced smooth scrolling and overall performance during my hands-on time with the phone.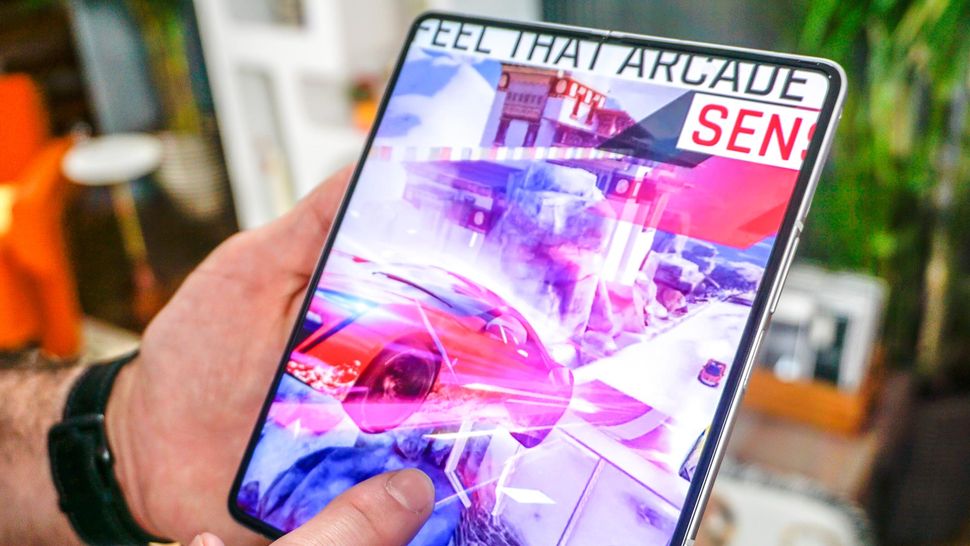 The resolution for the interior screen is the same as before at 2208 x 1768 pixels, but the good news is that the new display is rated to be 29% brighter than before, thanks to new Eco display technology.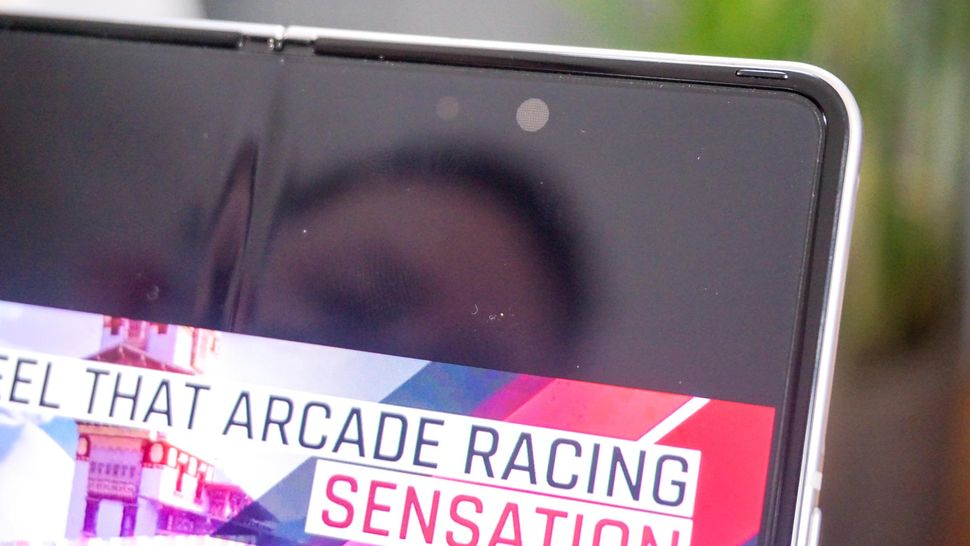 The Galaxy Z Fold 3's main display looks pretty stunning, and a big reason for that is a new under-display camera. Instead of having to stare at a notch or punch hole, the UDC on the Galaxy Z Fold 3 is nearly invisible, especially when you go full screen on content like photos and videos. When the display is dark, say on the home screen, you can make out the tiny hole, but it's not that noticeable.
Unfortunately, the Galaxy Z Fold 3's display averaged 422 nits of brightness in our lab testing. That's okay but nearly half what the Samsung Galaxy S21 Ultra turned in (821 nits), and the iPhone 12 Pro Max also hit a relatively high 654 nits.
The Galaxy Z Fold 3's speakers are quite powerful and delivered clear and loud sound while listening to Spotify and when making calls. The sound can get a bit muffled when you stand the Z Fold 3 on a desk (one of the speakers is on the bottom) but overall the audio is solid from this foldable phone.
Samsung Galaxy Z Fold 3 review: Softwares and special features
The Galaxy Z Fold 3 Is a multitasking powerhouse. Thanks to the Multi-Active Window feature, you can run two apps side by side (dragging and dropping content between them) or run up to three apps at once. And now the enhanced App Pair feature lets you create shortcuts for two apps later in the same way you had them open.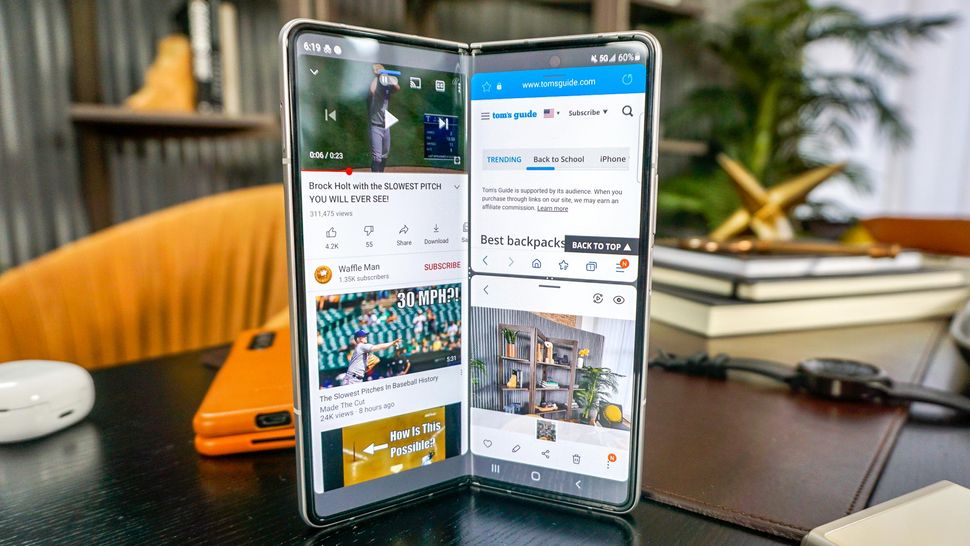 Don't feel like constantly swiping in from the right side to open the Edge Panel to see these and other apps? Samsung added a new Taskbar feature that lets you switch between apps on the fly; it just sits there on the right side of the display, similar to the Windows taskbar. To get the Taskbar to work, I had to dig into the Settings menu and activate Samsung Labs, which most people won't know how to do.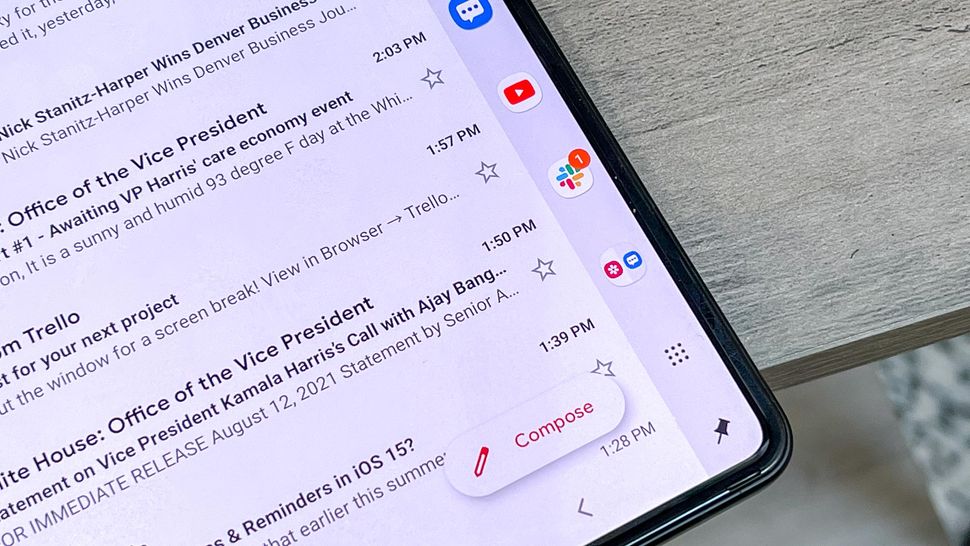 Once activated, the Taskbar is a great addition. I love that I can quickly glance at how many notifications I might have in Slack, for example, then quickly switch to that app. Or I can quickly open my favorite App Pair: Gallery and Messages.
Samsung Labs can also force apps that are not optimized for foldable displays to work in Multi-Active Windows mode. For example, I could park Netflix on the left side of the display and continue watching Outer Banks while keeping an eye on messages on the right side of the screen.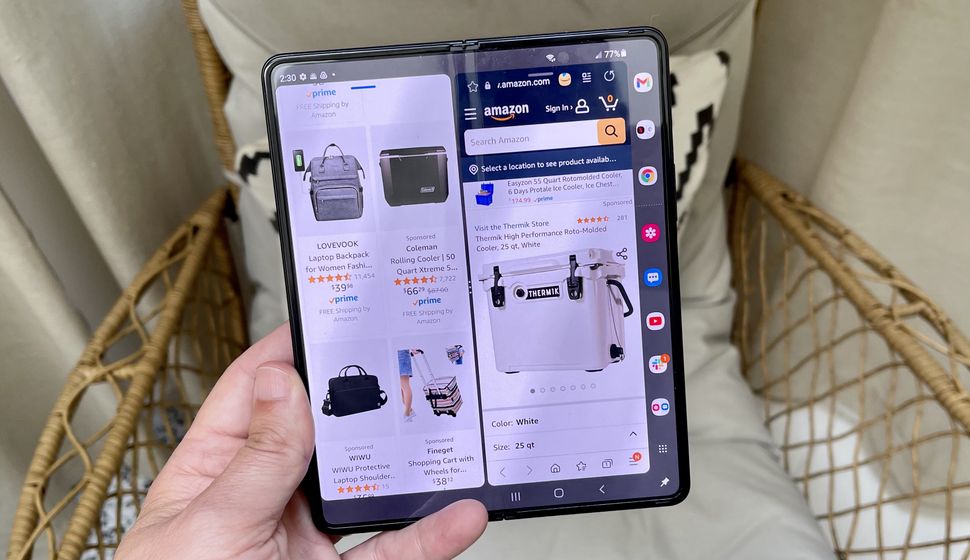 Another cool feature is drag and split. For example, if you're in the Samsung browser and you're looking at items on Amazon, you can simply drag one over to the right to open a new window. That way you can look at the details on one product while comparing other products on the left. Other apps that support this feature including Samsung Message, MS Office, One Note and more.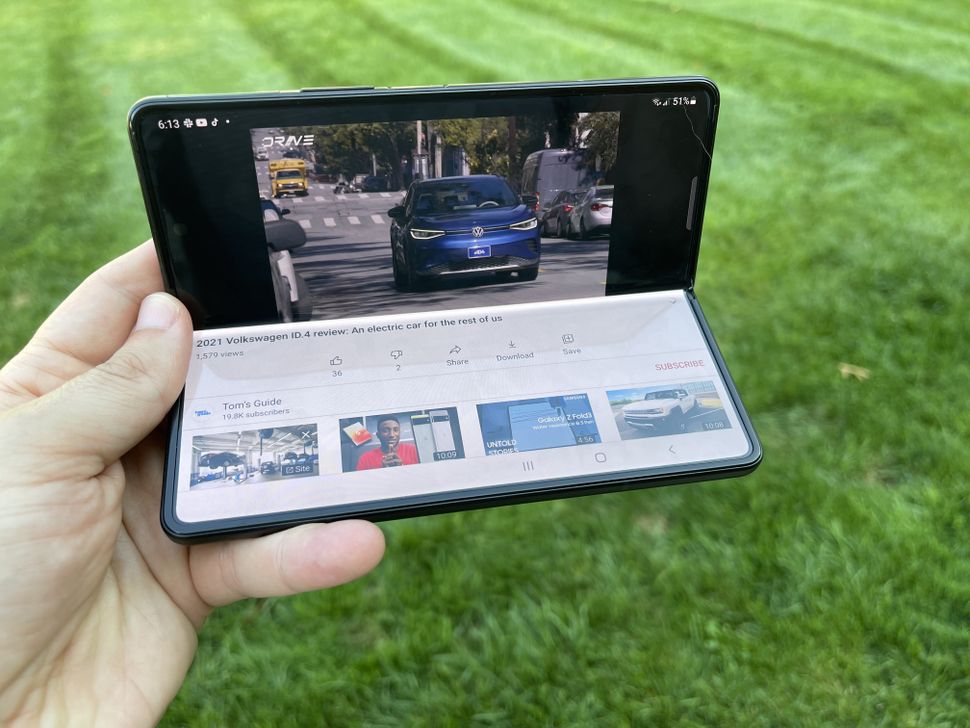 When you fold the Galaxy Z Fold 3 like a laptop, a number of apps support Flex mode, which puts the content up top and controls on the bottom portion on the display. This works in YouTube and the Camera app, and I also used it during a hands-free Google Meet video call. You can even force Flex mode to appear in apps, but I'd rather see more developers just embrace the feature.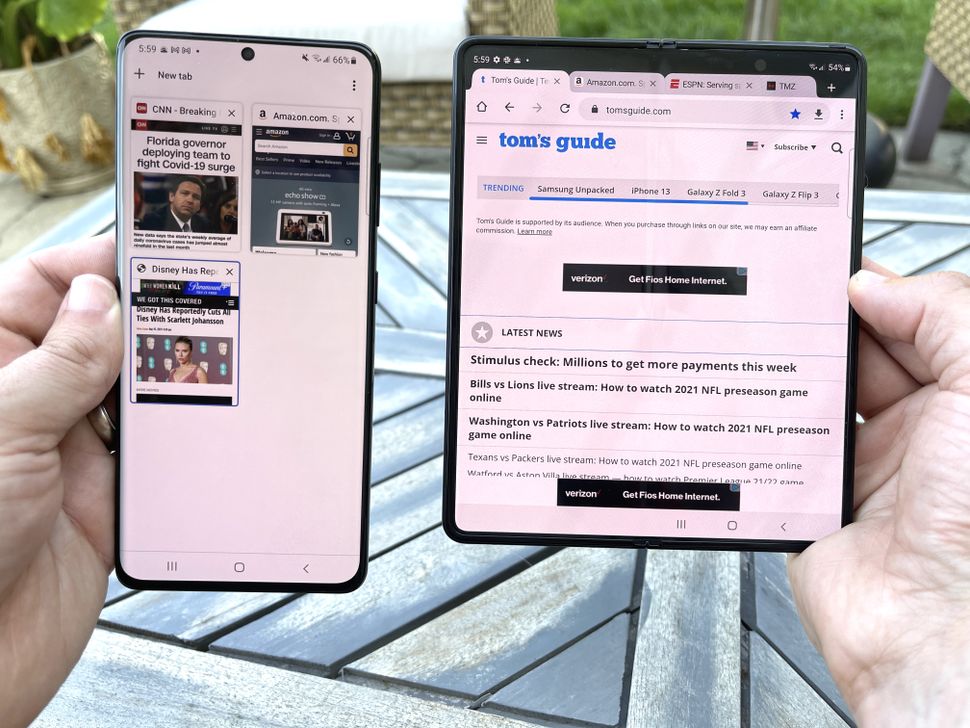 Samsung is also working closely with third-party developers to roll out more apps that work natively with the Galaxy Z Fold 3. These include Snapchat, TikTok, Netflix, Spotify and YouTube. For example, when you're using Spotify, you'll see the Now Playing window on the bottom left side and the rest of the discover menu on the right side, making it easier to multitask.
But my favorite optimized app for the Galaxy Z Fold 3 is Chrome. I like being able to see all my tabs at the top and move them around, just as I would on the desktop.
Samsung Galaxy Z Fold 3 review: S Pen
Given that I've always found using a stylus on even the biggest phablets cramped, it's refreshing to see Samsung add S Pen support to a 7.6-inch foldable phone. There's simply more room to take notes, sketch or mark up documents without needing to constantly zoom in.
But right away, there's an issue with the Galaxy Z Fold 3's S Pen support. While the stylus will work with the foldable phone, it's not included, nor is there a built-in slot for the stylus like there is with Galaxy Note models. Instead, the S Pen is an accessory that you buy separately on top of the $1,799 you're already spending on your phone. If you want a way to store the pen, you'll need a specially designed case, which is another purchase.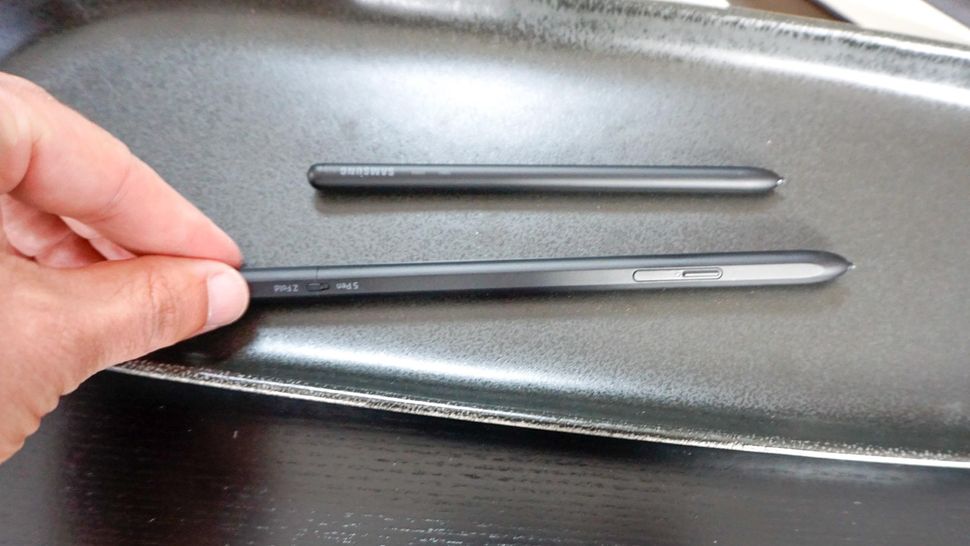 You've got two S Pen options — the $49 S Pen Fold Edition and the $99 S Pen Pro. The latter offers Bluetooth connectivity for supporting features like Air Gestures and other remote control capabilities. The S Pen Fold Edition is merely a writing instrument, albeit one that's been specially designed with a collapsible tip to work with the Galaxy Z Fold 3's screen.
We tested the S Pen Fold Edition, and it's a good sturdy stylus in a uniform black. We struggled to find the S Pen's button at times, and that's unfortunate since you'll need to press that button to activate features like off-screen memo or quick note. Just hovering the pen over the Galaxy Z Fold 3's active screen summons up the S Pen menu, though, giving you access to various tasks you can perform with the stylus.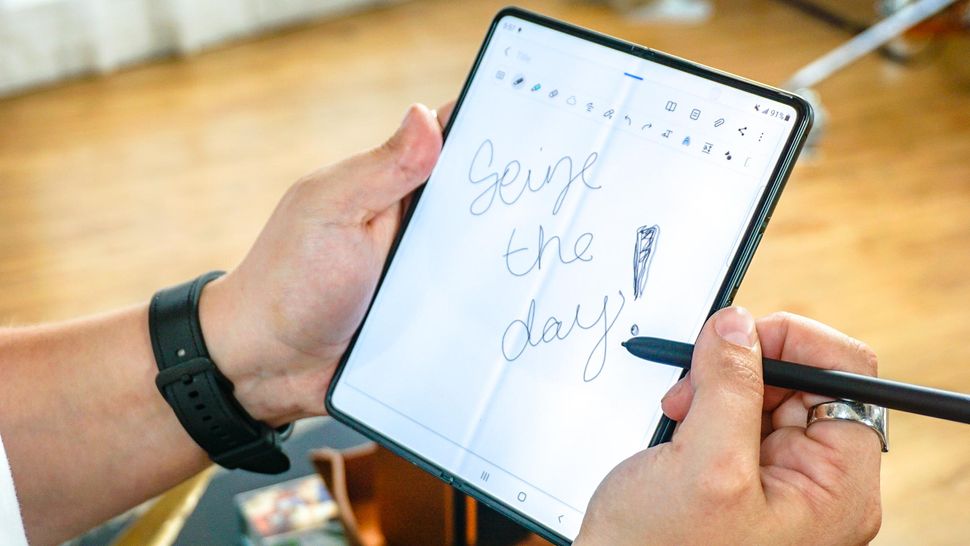 The Galaxy Z Fold 3's expansive 7.6-inch canvas offers ample space to jot down a quick note — just hold that button on the S Pen and tap the screen to start writing things down. If the screen is turned off, all you have to do is press and hold the S Pen button and tap the screen to create an off-screen memo.
Other S Pen-powered features include productivity boosters such as Screen Write (a markup feature), Smart Select (pull text and pictures out of other apps) and translate (where you can tap words to find out what they mean in different languages). Other features like Live Message — where you can capture an image and add text and doodles — or AR Doodle for superimposing your drawings over real-world objects are less about productivity and more about fun.
Note that you can only use the S Pen on the Galaxy Z Fold 3's main screen. The cover display doesn't support input from the stylus. This seems like an oversight, as if you want to jot down a quick note, maybe you don't want to bother with unfolding the device.
Samsung Galaxy Z Fold 3 review: Cameras
There's really not much new to report on the camera hardware front with the Galaxy Z Fold 3, with the exception of the under-display camera. But Samsung has brought some of the best camera features over from the Galaxy S21 Ultra, including Single Take (Dynamic Video) and Director's View (for using the front and back cameras at once). Other highlights include rear camera selfie and a Capture View Mode that lets you see your photos on the left and your live preview on the right.
The rear cameras once again include a trio of 12MP lenses: an f/1.8 wide-angle shooter, an ultra-wide f/2.2 camera with a 123-degree field of view, and a 12MP telephoto camera. Based on our photo comparisons, the Galaxy Z Fold 3 takes colorful and mostly sharp photos. But it's a step behind the iPhone 12 Pro in terms of details and more realistic hues. And you miss out on the zooming power of the Galaxy S21 Ultra.
But now that the Galaxy S22 is the new kid on the block, Samsung has announced that it's bringing some of that phone's camera features to the Galaxy Z Fold 3, like nighttime portraits with the telephoto lens. The Fold 3 is also getting Expert RAW and support for the telephoto lens in Pro Mode.
You can see in this shot of portulaca flowers that the Galaxy Z Fold 3 is capable of delivering vibrant colors, though the details could be a bit better in the petals when I zoomed in. I slightly prefer the contrast offered by the iPhone 12 Pro Max.
In this portrait, the Galaxy Z Fold 3 does a mostly fine job with the bokeh effect, blurring out most of the background, though the leaves on the right side are fairly pronounced. My blue shirt really pops, and there's a good amount of detail in my hair, but my skin tone is a bit washed out, with the iPhone 12 Pro offering a warmer and more realistic take.
Once again the Galaxy Z Fold 3 produces a colorful shot here of various peppers, offering saturated hues of green, orange, yellow and red. And this time the detail remained fairly strong as I zoomed in on the sign and even the stickers on some of the produce. It's nearly a draw with the iPhone 12 Pro Max, though once again the added contrast gives Apple's phone a slight edge, and the oranges are a bit richer.
In this beach scene you can see that the Galaxy Z Fold 3 struggles to deliver the same amount of detail and subtlety as the iPhone, especially when it comes to the translucence of the water, the variations in sunlight and the bark in the tree on the right side.
With Night mode engaged, I compared the Galaxy Z Fold 3 and Galaxy S21 Ultra, and the Fold has an edge with more realistic colors. The S21 Ultra's shot is brighter but has an orange tinge to it.
To test out the Galaxy Z Fold 3's selfie capabilities I used both the 4MP under-display camera and 10MP front camera, and it's no contest. My face looks blurrier and washed out with the UDC photo, and my hair, shirt and the surrounding grass just look better with the 10MP camera. For more on this UDC see my Galaxy Z Fold 3 under-display camera test results.
It's too bad that you get just a 2x optical zoom and 10x digital zoom with the Galaxy Z Fold 3. The Galaxy S21 Ultra, for example, packs dual telephoto lenses with 3x and 10x optical zoom, and that phone's Space Zoom (digital) goes up to 100x.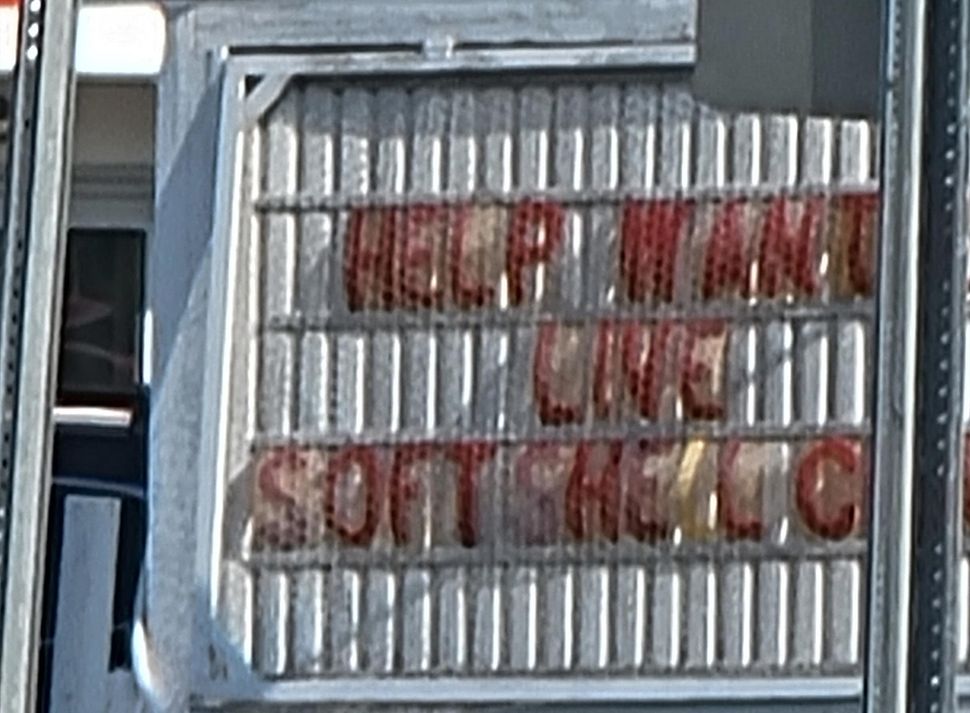 In the above photo the Z Fold 3 delivers a shot that's nearly as good as the S21 Ultra at 10x, even if the pic is a bit too bright. But the Galaxy Z Fold 3 pushes much further, as you can see in the above shot taken with the 50x zoom setting.
Samsung Galaxy Z Fold 3: Performance
The Galaxy Z Fold 3 proved mostly snappy in our hands-on time, and that's because it has some pretty beefy hardware under the hood. A Snapdragon 888 chip runs the show, and it's backed by 12GB of RAM. There's also 256GB of internal storage standard, though you can opt for 512GB.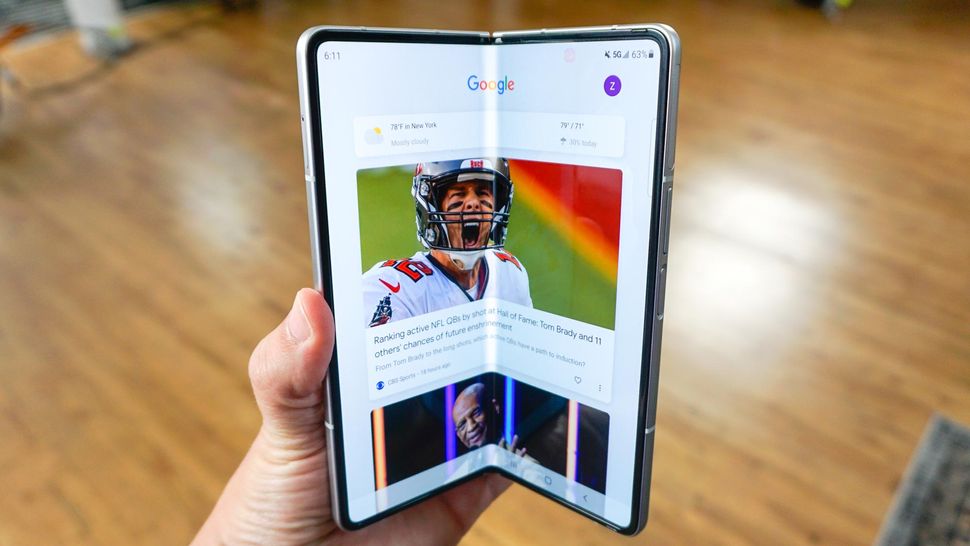 In everyday use the Galaxy Z Fold 3 provided swift performance, whether I was running three apps at once or racing around the track in Asphalt 9. However, I did notice some glitches at times, such as when going from the cover display to the main display.
On Geekbench 5, which measures overall performance, the Galaxy Z Fold 3 notched 3,418 on the multi-core portion of the test and 1,107 on single core. That's on par with the the Galaxy S21 Ultra (3,400/1,123) but well behind the iPhone 12 Pro Max (4,100/1,600).
The Galaxy Z Fold 3 wasn't as far behind the iPhone 12 Pro Max on the 3DMark Wild Life graphics test. The Samsung mustered 33 frames per second, compared to 39 fps on the iPhone.
On our video editing test using the Adobe Premiere Rush app, the Galaxy Z Fold 3 took 50 seconds to transcode a 4K video to 1080p. That's faster than the Galaxy S21 Ultra's 1 minute and 2 seconds but still slower than the iPhone 12 Pro Max's 28 seconds.
Samsung Galaxy Z Fold 3 review: Battery life and charging
The Galaxy Z Fold 3 packs a 4,400 mAh dual battery, which is a bit smaller than the Z Fold 2's 4,500 mAh pack. And we were disappointed in the results of our web surfing battery test, which involves surfing the web over 5G on 150 nits of screen brightness.
The Galaxy Z Fold 3 lasted just 7 hours and 52 seconds in 60Hz display mode, and even less on adaptive mode (up to 120Hz) at 6:35. The Galaxy Z Fold 2 lasted a much longer 10:10 and 9:05, respectively, on the same screen modes. Last year we used T-Mobile's network so that may account for some of the difference. We will report back with more test results.
As expected, the Galaxy Z Fold 3 doesn't include a charger, so we used a 25W Samsung charger to test the charge time. After 30 minutes, the phone reached 47%, which isn't bad.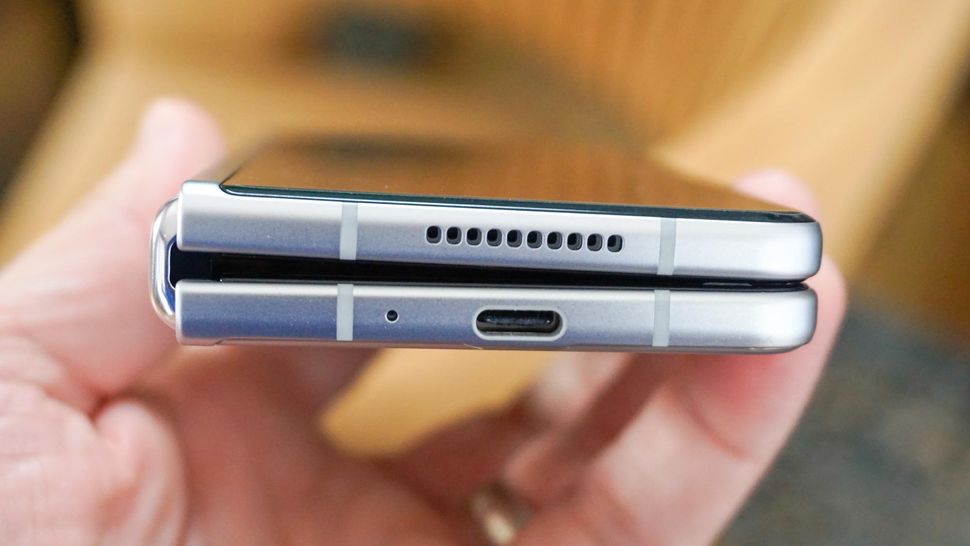 The Galaxy Z Fold 3 also supports up to 10W wireless charging. You can also use the back of the Z Fold 3 to reverse wireless charge other devices up to 4.5W.
Samsung Galaxy Z Fold 3 review: One UI 4.1
In mid-March, Samsung announced some new features coming to older Galaxy phones in the One UI 4.1 update. Most of these relate to Galaxy S22 camera features that will start trickling down to these handsets, including the Galaxy Z Fold 3.
We've detailed everything that's coming to the Fold 3 in the One UI 4.1 update. The foldable is getting access to Samsung's ExpertRAW app, letting you take RAW photos that you can tweak to your heart's content.
The Galaxy Z Fold is first up for the One UI 4.1 update.
Samsung Galaxy Z Fold 3 vs. iPhone 13 Pro Max vs. Galaxy S22 Ultra
Foldables are a category of their own and Samsung is essentially the only player right now. While Apple allegedly prepares its own foldable, we can only draw comparisons to what's available right now, and that's the iPhone 13 Pro Max.
It's a bit unfair to compare these phones in some regards due to the differing form factors, but Samsung has to convince people to buy the Fold 3. And when compared to the new iPhone, the Fold 3 falls far short in several areas. Key among these are battery life and camera quality. In fact, the iPhone 13 Pro Max has earned a spot on our best phone battery life and best camera phones lists.
Foldables are still in their infancy, but when you get an arguably better phone for several hundred dollars less, the Galaxy Z Fold 3 is a tough sell in some respects. It's still a neat and novel phone/tablet and it's by no means bad, but Apple knocked it out of the park this year. The Fold 3 has trouble keeping up in some places.
And then there's Samsung's latest flagship, the Galaxy S22 Ultra. This beast brings back the Galaxy Note with a blocky design and a built-in S Pen. It's a productivity powerhouse for those who like the stylus life. Like the iPhone 13 Pro Max, it's almost unfair to compare these two phones, but no device exists in a vacuum.
The Galaxy S22 Ultra features better zoom, more power, a brighter display, better battery life and the built-in S Pen. The Galaxy Z Fold 3 is a great device, but it flounders a bit when compared to its newer cousin.
Samsung Galaxy Z Fold 3 review: Verdict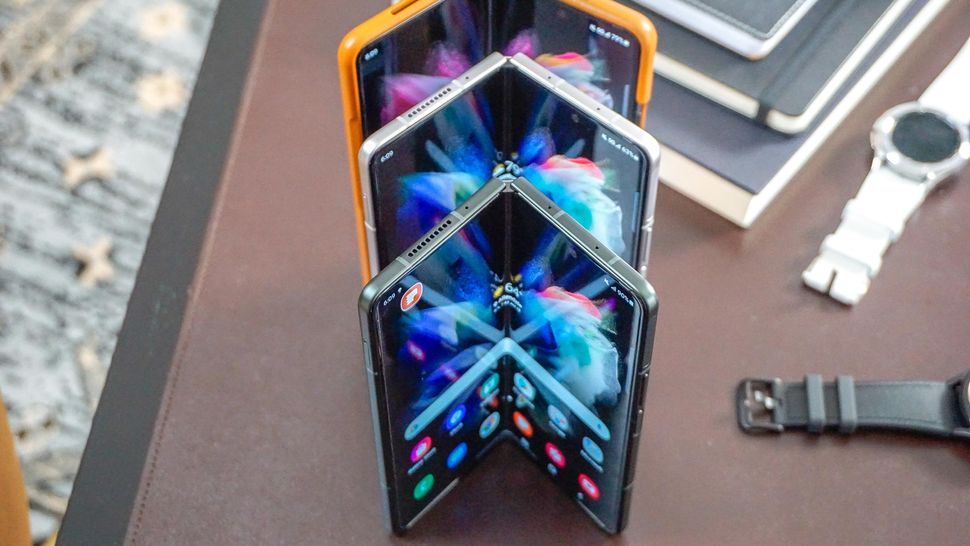 With the Galaxy Z Fold 3, Samsung retains the title of best foldable phone, and that's not just because there's really no competition right now. You get a more durable design, improved multitasking and better displays for a little less money than last time around.
The under-display camera is a step forward in terms of design, letting you see more of the screen when not in use. But you'll need to trade off some image quality from this 4MP shooter.
Samsung also deserves credit for working with developers to optimize more apps for foldables. However, while I appreciate the S Pen support, Samsung should have included the stylus for $1,799. Plus, the battery life could be better and the overall design slimmer.
Overall, the Galaxy Z Fold 3 is a winner, but it's only for those users who are willing to pay a premium for a phone that can double as a tablet.