Live in a small apartment? Love having guests over? Then you might want to get yourself a comfy sofa bed.
It's perhaps fair to say that the words 'comfy' and 'sofa bed' don't usually go together — they're almost an oxymoron — but the reputation of the convertible couch has been given a makeover by newer models coming in from Australia's many mattress companies. And Emma Sleep is one of them.
The Emma Sofa Bed, as we said in our review, is arguably one of the best we've tried when it comes to comfort. It's so new to the Aussie market that it's still in pre-order. Our only complaint about the new expandable couch was its price tag — AU$3,999 is a hefty price to pay for a sofa bed, no matter how good it might be.
However, it's currently got a 55% discount going for Emma's Summer Sale. That's an even better bargain than the 50% off it's had since it was announced late last year.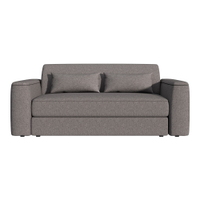 Emma Sofa Bed | AU$3,999 AU$1,799.55 at Emma Sleep (save AU$2,199.45)
For now, the Emma Sofa Bed is available in just a single dark-grey colour and one size (three seater), but it's worth every penny of this discounted price. Easy setup, excellent build and supreme comfort as both a couch and a bed makes it one of the best sofa beds available today and a great buy at 55% off.
Admittedly there are cheaper sofa beds on the market, so why would we be recommending the Emma? For several reasons.
Firstly, it's supremely comfortable as both a sofa and a bed. The seat doesn't sink unevenly in places when you sit on it and the firmness of the mattress when expanded into a bed is ideal for a good night's sleep. Yes, it is on the firm side, but it's this firmness that makes it so great. No lumps, no sagging, no poking bits and bobs — just a comfortable couch and bed.
Secondly, there's a five-year warranty and a 100-night trial for you to take advantage of. This is a very well-built piece of furniture, as sturdy as they come. And if you don't like it, you can always arrange to have it picked up for free within the trial period.
Another reason we like it is how easy it is to put together. The seat/mattress is a single piece, and all you need to do is slide the armrests into place. No tools needed and so no wear-and-tear if you need to take it apart repeatedly every time you need to move home. And it transforms into a bed and back to a couch in seconds. And you get a couple of lumbar pillows in the box too.
Reason number four is the additional storage those armrests offer. They're hollow top to bottom and, although narrow, have enough space to squeeze pillows, a large blanket and sheets into. You can stuff towels, books, even your phone or tablet in there.
And, lastly, if you're someone who cares about the health of the planet, know that most of the materials used to build this piece of furniture are either recycled or sourced sustainably — the fabric wrapping the sofa bed is made from 90% recycled plastic.
We really couldn't find anything to complain about when testing the Emma Sofa Bed except for it's RRP — it's been beautifully and thoughtfully designed, with slim dimensions still getting you a full three-seater couch and a queen-sized bed. Perhaps the only reason we see anyone hesitating is the fact that, at the time of writing, the Emma Sofa Bed is only available in a single colour and in one size. Still, not really a deal breaker we think, especially with a whopping 55% off it's very high RRP — get it now for just AU$1,799.55.
Don't need a sofa bed? Emma Sleep also has excellent mattresses that also get up to 55% off.