7 Reasons Why Xbox One Beats PS4
Why Xbox Wins
It may seem like the PS4 has already won the latest console war by a landslide, with over 50 million players and a bigger library of must-have exclusives. But what if I told you the Xbox One was still a better buy?
Microsoft's home console might not have Uncharted or Horizon: Zero Dawn, but it does a ton of cool things that the PS4 can't in terms of both hardware and software. From backwards compatibility to a superior online experience, here are 7 reasons why the Xbox One beats the PS4.
Backwards Compatibility
Unlike the PS4, the Xbox One doesn't make your old games obsolete. The console currently plays over 300 Xbox 360 games (with more being added every month), including such major hits as Red Dead Redemption, Grand Theft Auto IV, Dark Souls, BioShock and the entire Mass Effect series. Want to play PS3 games on PS4? Your only option is to pay up for PlayStation Now, which allows you to stream (not download) a selection of older games for a hefty $20 per month.
Seamless Cloud Storage
The Xbox One saves all of your data to the cloud by default, meaning that you can start a game on your home Xbox One and pick up on a friend's console without skipping a beat. If you want cloud storage on PS4, you'll need to be subscribed to PlayStation Plus ($60 per year). Even then, you'll be limited to 10GB, and will have to send your saves to the cloud manually.
Superior Shooters and Racing Games
The PS4 is king of the big-budget blockbuster -- Uncharted 4, Horizon: Zero Dawn and Bloodborne are in a class all their own. But if you mainly play shooters or racing games, Microsoft's console is for you. Xbox One is the exclusive console home of Gears of War and Halo, while still supporting third-party hits like Call of Duty, Destiny and Battlefield. Microsoft also publishes the best-in-class Forza racing franchise, which consists of the hyper-realistic Forza Motorsport series as well as the open-world fun of Forza Horizon.
Xbox Play Anywhere
Virtually all first-party Xbox One games released as of fall 2016 or later support Xbox Play Anywhere, which means that you can buy a digital copy once and play it on both Xbox One and Windows 10. This makes games such as Gears of War 4 and Forza Horizon 3 a tremendous value, as you can start them on your Xbox One and pick up right where you left off on your gaming desktop or laptop — all without having to buy two copies.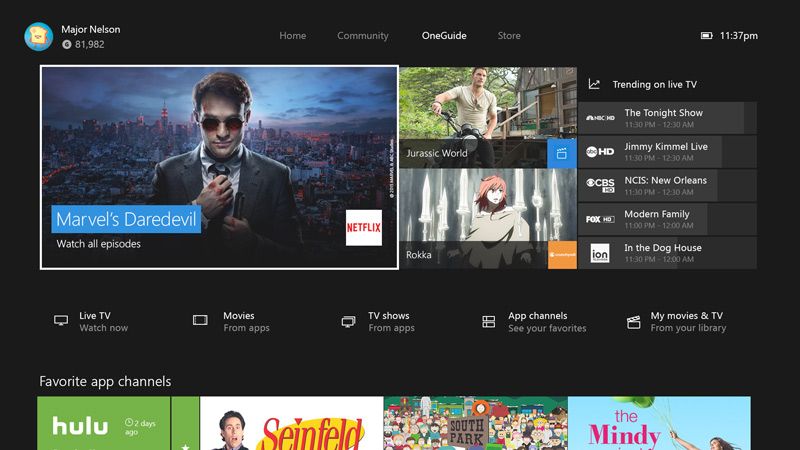 TV Integration and 4K Blu-Ray Support
The newer Xbox One S is hands-down the best console for entertainment -- especially if you have a 4K TV. On top of offering 4K streaming, it's currently the only home console that can play 4K Blu-Rays. And even if you're rocking an older Xbox One, you can plug your cable box or HD antenna into your console and seamlessly switch between TV and games.
EA Access
If your favorite franchises include Madden, FIFA and Battlefield, then the Xbox One is a better place to play. Microsoft's console is the exclusive home of EA Access ($30 per year or $5 per month), which provides access to an all-you-can-play buffet of games that includes major hits such as Star Wars Battlefront and Dragon Age: Inquisition as well as Xbox 360 classics like Skate 3 and Battlefield: Bad Company 2. You also get 10 percent off all digital EA purchases, as well as pre-release trials of some of the company's biggest games.
Better Online Experience
Multiplayer games are no good without a great network to play them on, and Xbox Live has long been king in this arena. Sony's PlayStation Network has suffered some pretty significant outages, and in an IHS study from 2016, Xbox Live was reported to offer better speeds and overall reliability than PSN. Also, Xbox Live Gold ($60 per year) offers two free Xbox One and Xbox 360 games per month, which means four free games thanks to backwards compatibility, compared to PlayStation Plus' two PS4 games.
Photo: ArtSimulacra / Shutterstock.com