AT&T - The #3 Phone Carrier
Editors' Note: We've published the results of our latest network testing. Current rankings reflect 2017's results, but we plan to update scores along with new customer service rankings for wireless carriers shortly.
While Verizon and T-Mobile slug it out for the top spot in our carrier rankings, AT&T quietly put in a solid all-around performance that landed the company in third place.
The carrier slipped a little in our customer service ratings this year, and its recently unveiled unlimited-data plans are the least appealing of any of the major carriers. But AT&T also offers an attractively prepaid plan, and its network performance remains strong, firmly keeping this carrier in the upper rank of cellphone service providers.
Network Performance (36/40 points)
When we tested LTE speeds in 2017, AT&T had the second-fastest download speed nationally, but fell behind T-Mobile on upload speeds and our app download test. When we tested LTE networks this time around, though, AT&T had the second-fastest app download time, helping it edge past T-Mobile in our new performance rankings. We'll update our scores to reflect these results soon; when we do, look for AT&T's performance grade to improve.

Third-party network-testing firms also see AT&T's network as a solid performer. OpenSignal says AT&T continues to be the leader in 4G response time, though it ranks Verizon and T-Mobile higher in other categories. RootMetrics characterizes the carrier as a solid second-place performer behind Verizon in its testing, though AT&T did split top honors with Verizon for texting performance in the latest report. As for Ookla's speed testing, AT&T finished behind T-Mobile and Verizon, but ahead of Sprint.
One other word about AT&T's current network, which the carrier dubs 5G Evolution. That's not to be confused with 5G, which AT&T is in the process of rolling out. (We tested AT&T's 5G network in Las Vegas, even though the carrier is only offering 5G devices to select business customers.) Instead, 5G Evolution is a form of advanced LTE similar to what other carriers offer. (And according to OpenSignal, AT&T's 5GE performance lags behind other carriers' LTE speeds.)
Plans (20/25 points)
AT&T was a latecomer to the unlimited-data-plan game, previously offering limitless data only to customers who also subscribed to the company's DirecTV service. Now, anyone can get an unlimited-data plan from AT&T, which has just renamed its plans and offered new features.
AT&T plansView Deal
AT&T's Unlimited & More and Unlimited & More Premium, both feature free access to WatchTV, a streaming service that features 35-plus channels. The $80 Premium plan offers more benefits — you can stream videos at HD quality, you get 15GB of LTE hotspot data, and you get a premium entertainment streaming option too — your choice of HBO, Showtime, Amazon Music, Pandora and others. The $70-a-month Unlimited & More plan caps video streaming at 480p and offers no hotspot data. Still, it's a better value for families, with four lines costing $160 a month versus $190 for four lines of Premium.
AT&T still has tiered-data plans, and they've recently been updated with more generous data allotments. A 3GB plan costs you $50 a month, though you'll get more data from the 9GB $60 plan. Families use the same pool of data. AT&T doesn't charge overage fees if you go over your allotment though it will slow your data speeds
MORE: AT&T Phone Plan Buying Guide
Prepaid plans are more compelling. AT&T's best prepaid option offers 8GB of LTE data for $50 a month, and autopay enrollment can save you $10 off that plan. AT&T has two tiers of unlimited plans for prepaid customers, with the cheaper option subject to throttling if AT&T's network is congested; the higher priced option doesn't have that restriction, and you can also stream HD video and enjoy 10GB of hotspot data.
For families, AT&T offers escalating discounts on its prepaid plans as you add more lines: Take $10 off the second and third line you add, while the fourth line qualifies for a $20 discount.

Customer Service (17/20 points)
AT&T had been our top-rated carrier for customer service before instituting a new automated phone-tree system. When we tested phone support, this new system routed us to the wrong department on a couple occasions, marring an otherwise positive experience. So AT&T tumbled below Verizon and T-Mobile in our latest rankings, though we'll be finishing another round of testing soon.
MORE: Full Report: AT&T's Customer Service
AT&T still has plenty going for it on the customer service front. The carrier's online help is extensive, its phone reps are knowledgeable, and its Twitter and Facebook accounts provide basic, if delayed, answers to support questions.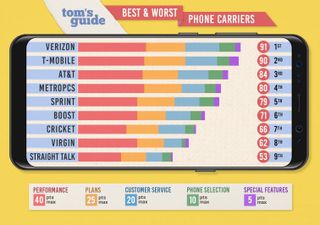 Phone Selection (8/10 points)
If there's a major flagship phone out there, chances are it's going to be available on AT&T. Not only will you find the latest iPhone and Galaxy models, but AT&T also sells the previous generation of these phones if you're looking to save a few bucks. Verizon's wrapped up a greater number of noteworthy exclusives, but AT&T can boast a few "gets" of its own, such as the BlackBerry KeyOne.
Featured AT&T Phones: Galaxy S10, LG G8 ThinQ, Galaxy Note 9, iPhone XS, iPhone XR, iPhone XS Max, Razer Phone 2, Red Hydrogen One
MORE: Best AT&T Phones
Special Features (3/5 points)
AT&T Locker offers 50GB of free storage, which is more than you can get with a service such as Google Drive. Other AT&T apps, including AT&T Navigator and Family Map, duplicate navigation and device-finding features offered elsewhere, while charging you $9.99 a month.
If you've got an unlimited plan, you can roam in North America without worry, as AT&T offers text, talk and data in Canada and Mexico. As for other international plans, AT&T's $10 per day International Day Pass allows users to take their existing plans with them to more than 100 countries. For travelers on longer trips, AT&T offers the Passport travel plan, which starts at $60 and lasts 30 days; it now offers 1GB of data when you travel, addressing a major complaint about AT&T Passport.