The best GPS trackers for kids give you peace of mind for when your children set out on their walk to school and provide a helpful tool for pinpointing their location when you lose sight of them in a crowd. A tracker can let you know when they've gotten to a location safely and where they are when an emergency strikes. Some devices even let you communicate directy with your kid.
The Quick Menu
1. Quick list
2. Best overall GPS tracker for kids
3. Best GPS watch
4. Best for older kids
5. What to look for in a GPS tracker
6. How we test GPS trackers for kids
7. Options for seniors and pets
GPS trackers come in many forms, but the ideal models either snap onto backpacks or fit on a wrist, making them convenient to tote around. Regardless of the design, though, the best GPS tracker for kids should be easy to operate, letting you know if your child made it safely from point A to point B or where they are when you've lost track of them in a crowd. (These trackers also can work for older family members, though you'll want to find a model that features a less kid-centric design.)
That's why we consider ease of use when looking for the best GPS trackers for kids. Other key factors include how comfortable a tracker is to wear and what kind of information it provides parents. We highlight whether a device can let your kids send out alerts to you and other care-givers if they run into trouble. We also look at the ongoing cost of kid trackers — besides what you pay for the tracker itself, you're usually on the hook for a monthly fee for network connectivity.
We recommend kid-specific trackers since they're designed specifically for children, making them easy to use in an emergency. We'd steer you away from using Apple's AirTag to track anything other than objects, and not just because Apple recommends against that type of use case. That tracker's use of Ultra Wideband may make it tempting to use with kids or pets, but the range isn't as good as a dedicated people tracker.
The Quick List
Best overall
Best overall GPS tracker for kids
We like the jiobit tracker because it's unobtrusive, attaching easily to a backpack or jacket. It's got a durable design, too, with good tracking features.
Best GPS watch
2. Lil Tracker Kids' GPS Tracker Watch
Best GPS watch for kids
If you prefer a wristwatch design, Lil Tracker is the one to get. You'll appreciate its two-way calling features while kids will like the comfortable fit.
Best for older kids
It's not designed as a tracker, but Apple's entry-level smartwatch does have tracking features through the Family Setup feature.
Best GPS tracker for kids overall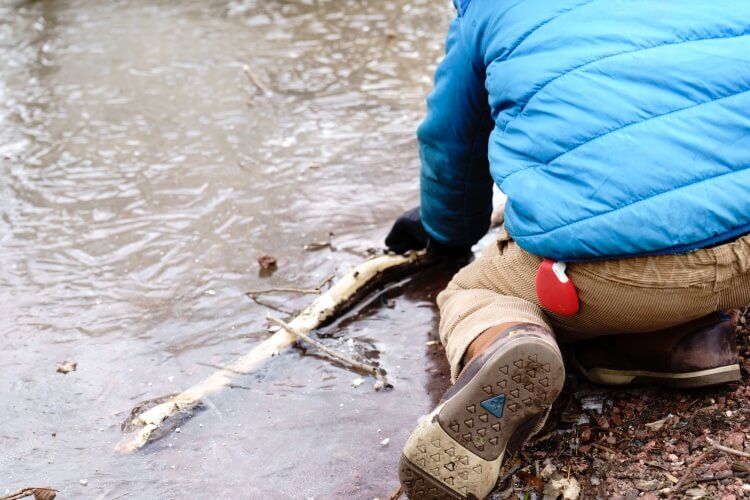 Our pick for the best GPS tracker for keeping tabs on kids, pets and older adults has been the Jiobit, which is small and light (2 x 1.5 x 0.5 inches, 0.6 ounces). A loop lets you attach the tracker to a backpack, shoe, belt loop, keychain or necklace, and we found we only had to charge it every five days or so.
The makers of Jiobit have rolled out a new version, the $129 Jiobit Next that promises better battery life and more accurate tracking, thanks to a new antenna design. Support for low-power wide area networks should help the Jiobit Next perform better in areas without great cellular coverage. We plan on testing the device.
As for the original Jiobit, with no screen, microphone or speaker, it feels very durable. It's shock-resistant and waterproof with an IPX8 rating — I doubt my 6-year-old could destroy it without a dedicated, sustained effort. We threw it on the ground, stepped on it and left it on the driveway during a rain shower, and it kept working just fine.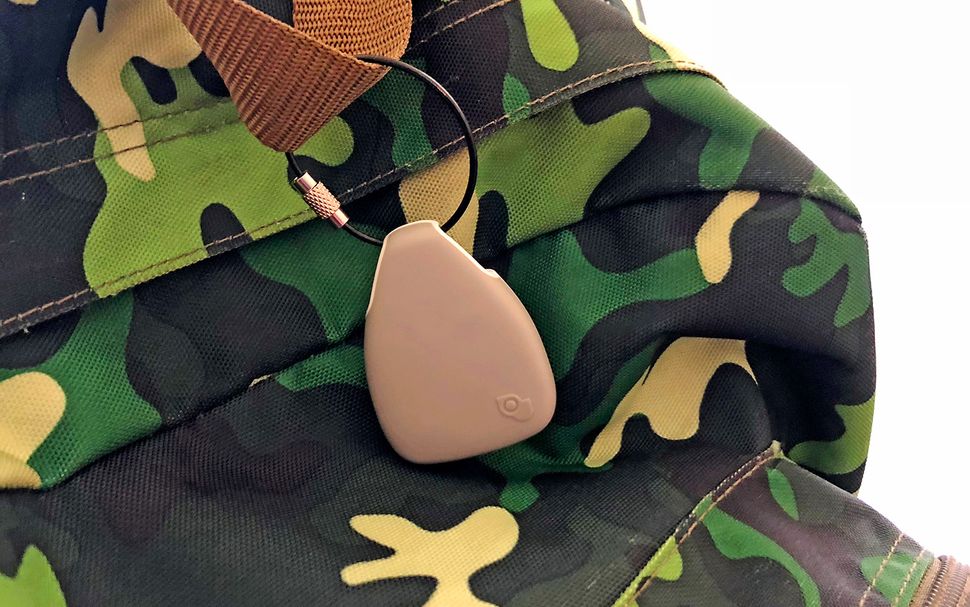 The best part for parents is how the Jiobit app for iOS and Android lets you know not only where your child is but also who she's with. If your child has multiple caregivers and they all use the Jiobit app, the tracker and the caregiver's phone will connect with Bluetooth whenever they're in range. That way, you can see in the app that your son left school at 3 p.m., accompanied by his dad, or his stepmom, or his babysitter, or whoever was supposed to pick him up.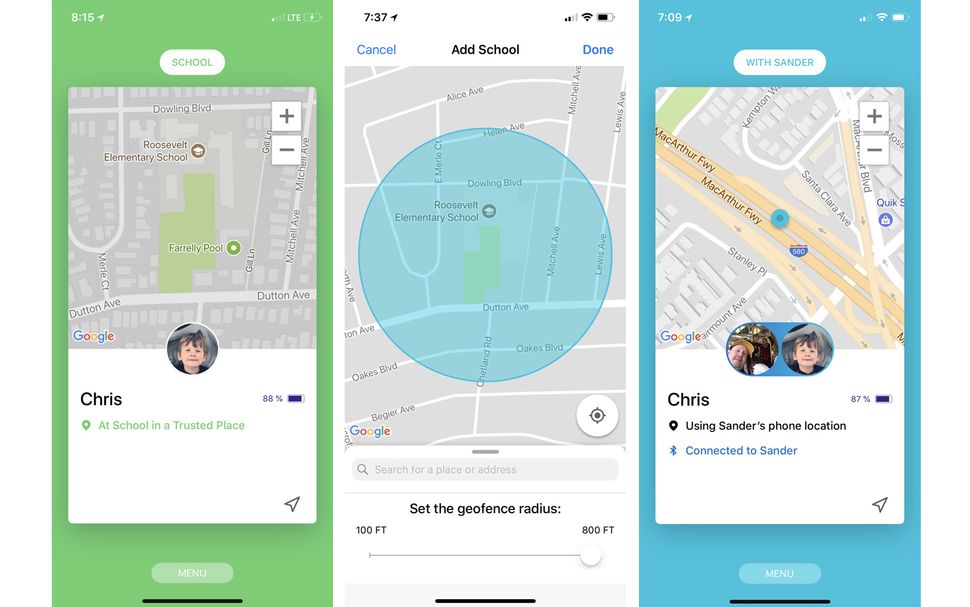 Even better, you aren't notified when your child arrives at or leaves a trusted place with you. After all, you don't need a push notification to tell you that you just picked up your kid from school. But you do want a notification if she leaves school alone or with someone else. Trusted Places are easy to set up in the app, and you can choose to be notified when the tracker enters, leaves or both.
You add other caregivers to your Care Team by phone number. They'll receive a link over SMS (text) to download the Jiobit app, and when they set up an account, they enter their own phone number. Care Team members can choose to be notified when the Jiobit enters and leaves the trusted places you've set up, and they can see the Jiobit on the map and which caregiver is in range. They just can't set up additional trusted places or change any of the Jiobit's settings.
With a combination of Bluetooth, GPS/GLONASS and Wi-Fi, the Jiobit got a good signal indoors and outdoors — the app always found it within a second or two of launching. Tapping the top of the smartphone screen lets you enter tracking mode, where the location updates on the map as the tracker moves, leaving a track between points. Live tracking for long periods will wear down the Jiobit's battery, so the app asks you after 2 minutes if you want to keep tracking or go back to the map, which still refreshes every few seconds if the tracker is moving, just without creating a trail.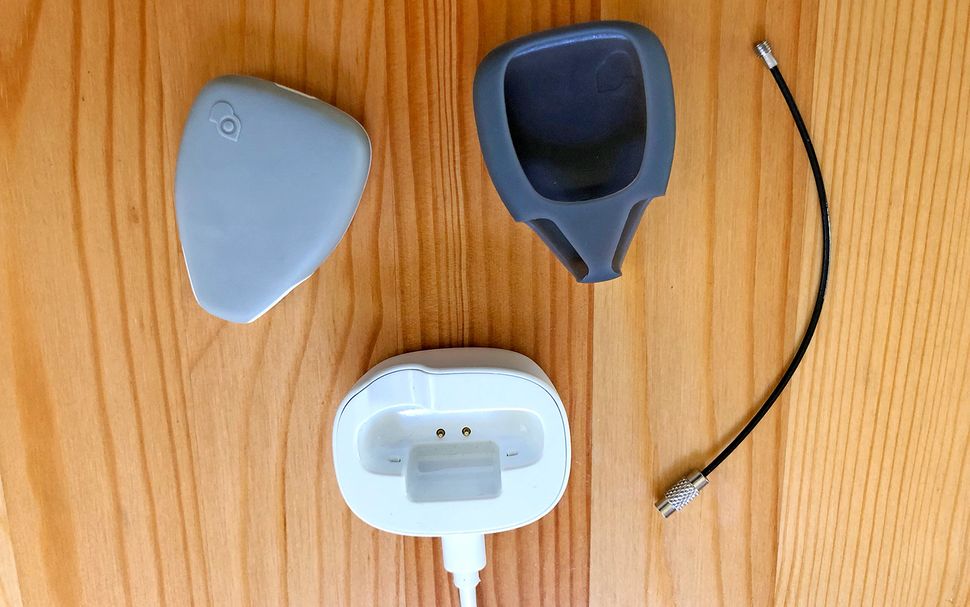 Even though Jiobit's app looks great, it could have a few more features. There's no History to show where the tracker has been during the day. The original Jiobit lacked an SOS button that your child could press if there's trouble, but the new version of Jiobit rectifies that omission.
If you're trying to locate the Jiobit, there's no augmented-reality view to guide you to its exact spot. But when you're paired by Bluetooth, you'll notice a little bar in the app that connects your photo, representing your phone, to your child's photo, representing the Jiobit. That bar grows longer or shorter based on how close you are, which can help you home in on the device. Then, you can tap the little bell icon, and the Jiobit will make a noise and flash its LED, in case you've lost it under the bed, for example.
The original Jiobit costs $149, with a service contract available for $14 a month. Sign up for two years of service and you lower the cost to $9 a month. (In either case, your first 30 days are free.) Additional Jiobit trackers can be added to either plan for $6 a month, with the same pricing for the device. The tracker uses AT&T's and T-Mobile's networks to send the GPS data.
The original Jiobit was the best GPS tracker for kids, with a long battery life and an easy-to-use app that make this device easy to recommend. We hope that the sequel lives up to the high standard this edition set. Check back for our updated review.
Best GPS watch for kids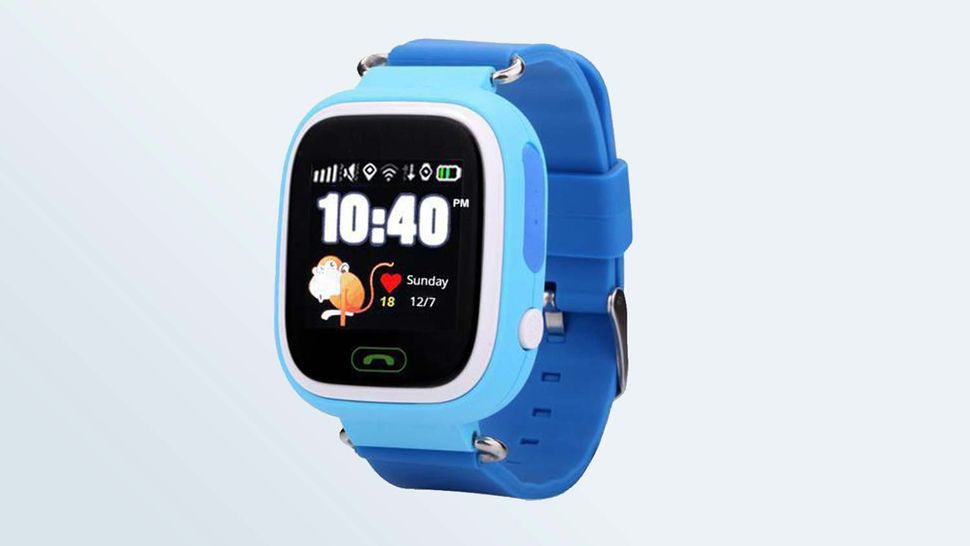 Before we delve into the Lil Tracker's merits as one of the best GPS tracker for kids, let's talk availability. The Lil Tracker can be hard to find on online retailer sites like Amazon, but you can always buy directly from Lil Tracker itself if you decide that this is the GPS tracker for you. We reviewed the 2G version of the Lil Tracker, but there's now a 4G version available for $129.
No matter the version, the Lil Tracker is a full-featured GPS watch aimed at kids, but it may be a little too full-featured once you get a look at the app. You have to provide your own SIM card (more on that in a bit), but that enables GPS tracking, as well as two-way voice calls, texts and one-way calls in which you can just listen to what's going on at your child's location.
Weighing only 1.5 ounces, the watch is light, with a comfortable silicone band and a metal buckle. It has a 1.2-inch color touch screen with a friendly animated monkey that accompanies the time display. It's rugged and splash-proof, and there's also a completely waterproof version for $20 more. Battery life depends on how much you use the device, of course, but the Lil Tracker is designed to last 12 hours; I had to recharge it every night.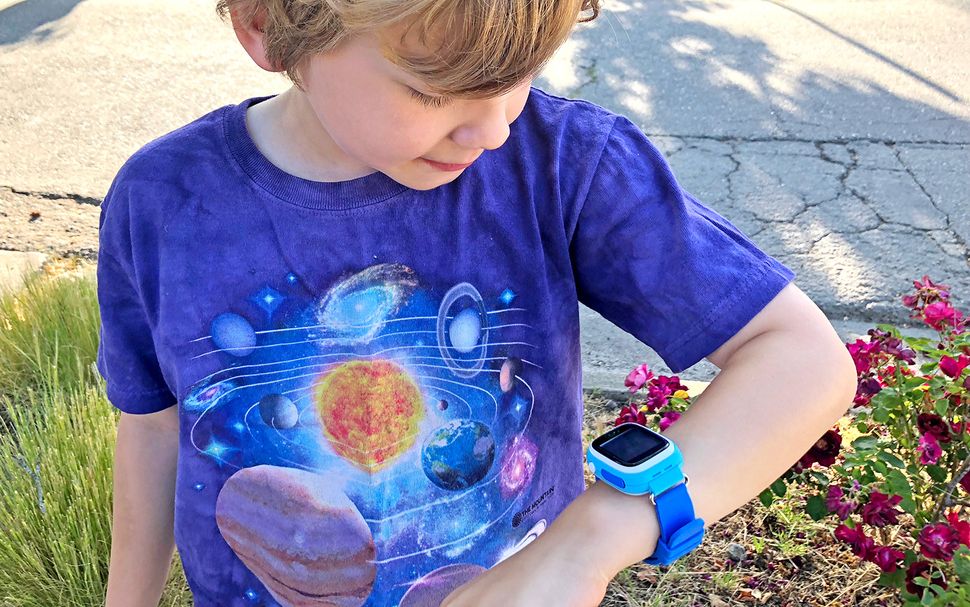 The Lil Tracker stands out from other trackers with its two- and one-way calling. For two-way calls, you call the watch from the app on your smartphone; the watch accepts calls only from numbers you've authorized in the app. Kids can call those approved contacts too, by swiping and tapping the touch screen. Holding down the SOS button on the side of the watch will call up to three preprogrammed numbers, in order, until someone answers. (We reviewed the classic version of the Lil Tracker, but there's a waterproof version available for $20 more. As for seniors, there's a $99 version of the watch available in more mature colors.)
Calls between the watch and the app connected quickly in my tests. The sound quality was only so-so, but it was good enough for a quick check-in. My 6-year-old son could understand me just fine over the watch's speaker, but I sometimes had a hard time telling what he was saying when he was outdoors. When he was indoors and speaking right into the watch, the call sounded a lot better.
One-way calls, called "Sound Guardian" in the app's menu, are kind of like the Drop In feature on Amazon Echo devices. Parents use the app to call the watch, and they can hear what's going on around it, but the watch doesn't ring or make any indication that someone is listening in. This worked well: My son's watch called me right away, and I could tell he was at school — but he didn't know I was calling, so he didn't say anything to me. The sound quality was only so-so and varied based on ambient noise.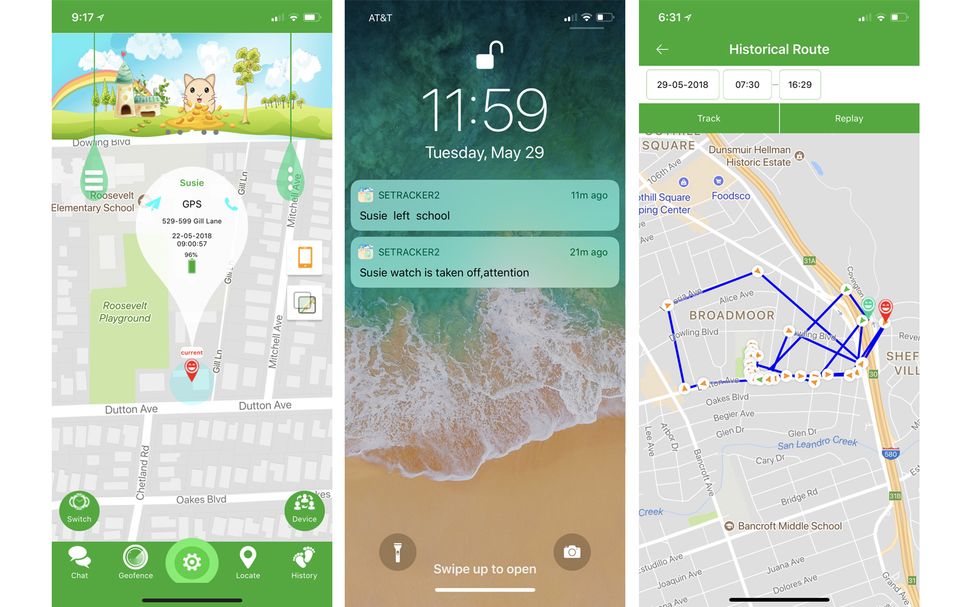 The app (which, weirdly, is called SeTracker2, not Lil Tracker, on iOS and Android) has a lot of other features, too. Some are a lot more important than others. Useful features include the ability to set multiple geofences, track route histories and remove detection alerts (though mine went off when my son took off the watch because his wrist was getting sweaty). The watch can track steps taken and distance, estimate calories burned and count how many times your child turns over in her sleep. (But the watch is pretty bulky to keep on at night, and you need to charge it overnight.) You can send text chats to the watch, including emoji if your child isn't a reader yet. They can't text you back, though.
Unfortunately, the app is riddled with spelling errors and messages that make no sense. (An item called Make Friends brings up a message that reads: "Note: app delete function only for friends to pay a single friend devices; devices can cross multiple friends need to device the end delete." Huh?) Time zone selection is confusing, as you have to calculate how far away you are from Greenwich Mean Time. And the app's main screen has a decorative banner above the map that flips through five images that don't add anything to the app — they're just distracting. Worse, though, is that the app often displays an actual full-screen ad upon launching, even if you're launching it by tapping a push notification.
When we reviewed Lil Tracker, the company didn't offer a package that included a SIM card or service for customers. That means you shop around for cheap service or turn to your carrier to add a connected device to your current wireless plan. That provides flexibility, but it also places the burden on you.
The Lil Tracker watch is passable — and affordable — but the app is disappointing and hampers the experience. It's too bad, because with an all-new app, the Lil Tracker would be a contender for the best GPS tracker for kids. The one-way calling, which lets you listen in on what's happening around your child, is a compelling feature for parents who want to know more than the kid's location.
Best GPS tracker for older kids
The Apple Watch SE may not have been designed specifically as a GPS tracker for kids, but it's easy enough to set it up for that purpose. Using Apple's Family Setup feature, you can manage the Apple Watch SE for another person — a child, say, or even older parent. That lets you monitor locations from afar, and if you buy the cellular version of the watch, your child will be able to send texts and make calls, whether it's to check in or ask for help in an emergency.
For that reason, we think the Apple Watch SE is one of the best GPS trackers for kids, particularly if you want tweens and teens to stay in contact with you.
The 2022 version of the Apple Watch SE is powered by the same updated processor that's found in the Apple Watch Series 8. And the SE mirrors other Apple Watch 8 features as well including crash detection where the watch can determine you've been in a crash, notifying both emergency services and your contacts.
As with previous watches, the latest Apple Watch SE can deliver 18 hours of battery life, which should let your child get through the day before needing to recharge at night. For those times when you need to squeeze out more battery life, a new low-power mode turns off power-draining features. In our testing, low-power mode allowed us to get more than 24 hours of use out of the Apple Watch SE. That gets the Apple Watch SE's battery performance a lot closer to that of a dedicated GPS tracker for kids.
The most recent watchOS 10 software update adds a number of new features to the Apple Watch SE. Parents will be particularly interested in additions that look to reduce the risk of developing myopia, by tracking the amount of time they spend outdoors each day using the Apple Watch's sensors.
You can opt for a more expensive Apple Watch like the Series 8, which comes equipped with more sensors such as ECG, a blood oxygen reader and a new skin temperature sensor. But the Apple Watch SE (2022) — available in Silver, Midnight and Starlight colors — costs much less than the Apple Watch 8, especially after Apple cut the starting price of this model to $249. (The price drops further thanks to the best Apple Watch deals, with sales occurring more frequently as of late.) While you have to give up more sophisticated sensors found on other models, the Apple Watch SE still can count steps and monitor heart rate.
That said, the Apple Watch SE won't be an ideal solution for everyone who just wants basic tracking features. But for older kids who balk at some of the less sophisticated looks of dedicated trackers or for older parents who need to be monitored, the Apple Watch SE (2022) delivers a nice blend of fashion and functionality. Apple's not expected to release a new model of the SE in the fall, so you can buy this watch with confidence that it's not going to be replaced in a month or two.
Read our full Apple Watch SE (2022) review.
How to choose the best GPS tracker for kids
Here are the criteria we consider when determining the best GPS tracker for kids.
Features: In addition to tracking location, many GPS devices offer a multitude of features, including one- and two-way calling and the ability to set up geofenced zones that alert you when your child has left a designated area. We look at which devices went beyond the basics and how those features were implemented.
Performance: You want a GPS tracker that accurately displays a person's location, with frequent updates when he or she is on the move. We took note of how accurately each device pinpointed our location. We've found that generally trackers work better in wide-open locations, with less accurate signals when we tested in dense downtown areas.
Design: We considered the size of the GPS tracker and whether it was something a child could easily carry around. We also looked at durability: Could the device withstand rough-and-tumble trips to the playground?
Ease of use: We wanted to find devices that were easy enough for a small child to use, certainly, but also ones that wouldn't give mom or dad fits during the setup and activation process. Here's one universal tip: Make sure to activate your GPS tracker in as wide of an open space as possible — not from inside a building. Trackers hate being enclosed, especially at the beginning.
Price: In addition to paying up front for a GPS tracker, there are monthly service fees. We considered what each GPS tracker will cost you on a monthly basis and whether you're required to sign a service contract. We also note when GPS trackers include the cost of service in the initial price tag, such as offering the first year of service for free.
Security: Check what security protocols your GPS tracker follows. And when setting up the device, make sure to change any default passwords or user names.
How we test GPS trackers for kids
In the past few years, we've tested a half-dozen kid-friendly GPS trackers; initially we also tested alongside a trio of generic GPS trackers. (Some of the kid trackers we initially tested are no longer available, as they relied on AT&T's since-discontinued 2G network; we've removed reviews of those products from this guide for the best GPS tracker for kids.) We conducted tests in both New York and the San Francisco Bay Area, using trackers to follow young children both from afar and to find them in a crowd.
To see what each tracker offers, we enable all push notifications and test all voice features, except for ones that would trigger 911 emergency calls. We also keep an eye on how the batteries in each device held up as we traveled from spot to spot.
We go through the companion apps for each tracker, taking note of the features that are available and testing them with the GPS tracker itself. We also research the monthly service cost for each tracker we review.
GPS trackers for seniors and pets
Kids aren't the only members of your family that you may want to keep tabs on. Trackers can also help you be aware of where seniors and pets are. And as you might imagine, the companies that make the best GPS trackers for kids also have devices better suited for older members of the family or pets that might run off.
In the case of Jiobit's tracker — both the original version and the Jiobit Next — it looks neutral enough so that either kids or grandparents can wear it without standing out, and so Jiobit sells the same device at the same price for people of all ages. For pets, Jiobit includes a fabric pouch attachment that can fasten onto a pet collar, but the tracker and service plan cost the same.
As noted above, Lil Tracker's watch for seniors comes in a more conservative black color and costs a little more than the version for children, at least for the 2G version of the tracker. 4G Lil Tracker watches costs $129 for seniors and children alike. The company has a version of its tracker for pets, but it's listed as sold out as of this writing.
The Apple Watch SE (2022) has a stylish design that appeals to seniors, and the LTE version of that smartwatch costs the same no matter who's wearing it.
If you're interested in reviews of dedicated products for pets, our sister site PetsRadar looks at the best pet trackers for cats and dogs.