Sony has confirmed the PlayStation Play May lineup for subscribers at the Extra and Premium tiers, and this month ,subscribers are being treated to a seriously compelling collection of games. The lineup even boasts a brand-new release in the form of Humanity which hits the service from day one.
From Tuesday, May 16, PlayStation Plus members with an Extra or Premium tier account will get access to 18 games playable on PS5, with Premium subs getting a further four titles. The lineup includes Ratchet & Clank: Rift Apart which is not only a flagship first-party exclusive, but is also an entry on our list of the best PS5 games you can play right now.
The revamped PlayStation Plus has quietly become a series rival to Xbox Game Pass, and May's selection of games is particularly strong. With so many excellent titles to choose from we've picked some of our favorites down below to give you a starting point. Plus, we've all listed the lineup in full so you can see everything you'll have access to starting next week.
PlayStation Plus May lineup — top picks
Ratchet & Clank: Rift Apart
Back in 2021, we labeled Ratchet & Clank: Rift Apart "the game the PS5 was born to play" and that holds true even almost two years on from its release. Not only does the action-adventure game look jaw-droppingly good on Sony's flagship console, it takes full advantage of all the next-gen features of the PS5 utilizing the speed of the SSD for dimension-hopping set pieces and the implementation of the DualSense controller's haptics add to the immersion. It's also the best Ratchet & Clank game to date with a compelling story and tons of invention weapons to unlock. Plus, the new Lombax character Rivet is an absolute joy and gives even the titular duo a run for their money in the likability department.
Humanity
Following in the footsteps of Stray and Tchia, Humanity is dropping into the PlayStation Plus lineup from launch. So while we can't comment on its quality having not played it for ourselves yet, it's always exciting to get a new release as part of any gaming subscription. The game is touted by developer THA Limited as a "unique blend of puzzle-solving and action-platforming that puts the fate of all mankind in your hands." Oh, and if that doesn't capture your interest enough, you also play as a dog, which is perhaps the game's biggest selling point.
Tomb Raider Trilogy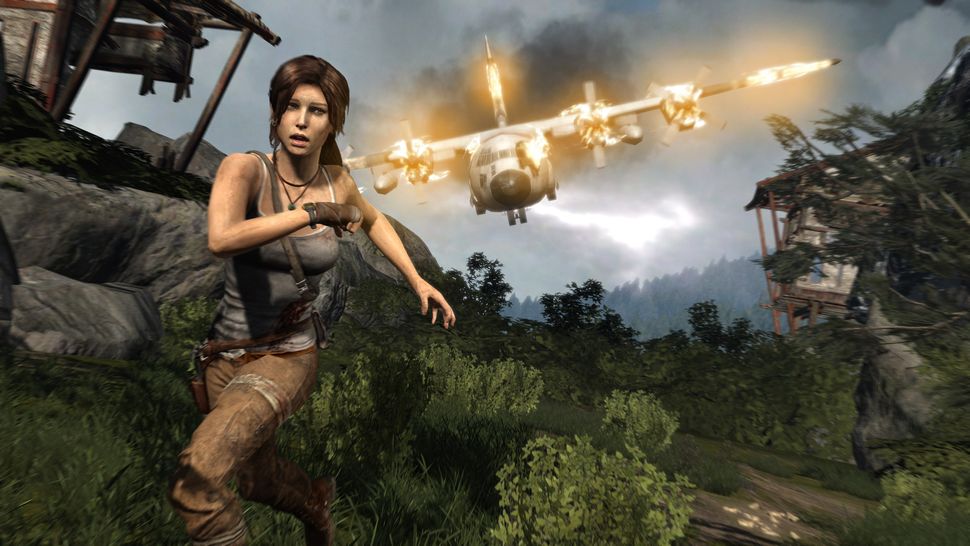 We're sort of cheating here by recommending three games at once but the entire Tomb Raider reboot trilogy is dropping on PlayStation Plus this month. This trio is comprised of Tomb Raider: Definitive Edition, Rise of the Tomb Raider: 20 Year Celebration and Shadow of the Tomb Raider, and all three games are worth playing. Taking clear inspiration from PlayStation exclusive franchise Uncharted, the rebooted Tomb Raider trilogy grounds Lara Croft and tells some of her most personal stories to date. But there's still a healthy dose of blockbuster action and even a few supernatural elements to keep things interesting.
Watch Dogs: Legion
Watch Dogs: Legion was far from a critical darling at release in November 2020, but the development team at Ubisoft Toronto has done an admirable job supporting the game with a variety of post-launch fixes and a slew of additional content (some free, some paid DLC). In its current state, it's a rather unique world-open game that allows you to take control of pretty much anybody you meet on the street and then induct them into your gang of freedom fighters. The setting of a dystopian London is also refreshing, and the majority of missions can be tackled in multiple ways depending on the strengths and abilities of your chosen character.
PlayStation Plus April catalog — Extra/Premium
Ratchet & Clank: Rift Apart
Humanity
Watch Dogs: Legion
Dishonored 2
Dishonored: Death of the Outsider
Sakuna: Of Rice and Ruin
Tomb Raider: Definitive Edition
Rise of the Tomb Raider: 20 Year Celebration
Shadow of the Tomb Raider
Bus Simulator 21: Next Stop
The Evil Within 2
Wolfenstein: Youngblood
Thymesia
Rain World
Lake
Conan Exiles
Rune Factory 4 Special
Soundfall
PlayStation Plus April catalog — Premium
Syphon Filter: Logan's Shadow
Blade Dancer: Lineage of Light
Pursuit Force
Ghostbusters: The Video Game Remastered
---
Overall, it's a very strong month for PlayStation Plus with a large assortment of critically-acclaimed games in the lineup, and the inclusion of a brand-new release always adds additional excitement.
If you're on the base Essential level, your three monthly games are already available to download and play. And this month's selection includes a seriously underrated medieval multiplayer game that is one of the best PS5 games you've (probably) never played.
Don't forget that the PlayStation Store just launched its latest promotional sale. Called the Big Games, Big Deals sale, this collection of discounts includes serious money off some of the biggest games of 2023 to date including Dead Space and Like a Dragon: Ishin.
More from Tom's Guide