Dead Space remake review: Specs
Platforms: PC, PS5 (reviewed), Xbox Series X
Price: $70
Release Date: January 27, 2023
Genre: Horror
On the surface, the closest comparison points for the Dead Space remake may appear to be Demon's Souls and The Last of Us Part I. Both of those titles were practically one-to-one recreations of their source material which, just like the original Dead Space, were released during the seventh generation of video game consoles.
However, the Dead Space remake is actually significantly closer in ambition to the critically-acclaimed Resident Evil 2 and Final Fantasy VII remakes. Like those games, it takes the bones of its forebearer and reworks them in several interesting ways. And just like those two reimaginings, this new version of Dead Space still manages to feel wholly respectful of its predecessor even when mixing things up.
Newcomers to the long-dormant survival horror franchise are in for a real treat, but veteran players have serious reason to return as well thanks to a smattering of new content and some smart tweaks to the original game's design. Plus, the game looks absolutely stunning on PS5. Read on for our full Dead Space remake review…
Dead Space remake review: Story
Dead Space remake sees you step into the boots of everyman engineer Isaac Clarke as he embarks on a repair mission that quickly turns into a living nightmare. Your goal is to discover why the massive deep-space mining vessel the USG Ishimura has gone dark. But the stakes are also personal for Isaac as his girlfriend Nicole was serving as the ship's medical officer.
Arriving on board, Isaac, along with a small crew, discover the ship's inhabitants slaughtered and deformed Necromorph creatures roaming the metallic corridors. Now Isaac needs to find a way off the Ishimura and unearth what happened to Nicole while also trying to keep his sanity together.
It's a simple but highly effective sci-fi horror story that tips its cap to many classic movies of the genre including Alien, The Thing and Event Horizon. The majority of the main narrative in the Dead Space remake is the same as it was in the 2008 original, but a handful of moments have been slightly tweaked. These changes are mostly for the better and further tighten the pacing.
The biggest change is that Isaac now speaks. Unlike the original game, Isaac is not a silent protagonist in this remake. Gunner Wright, who voiced Isaac in Dead Space's two sequels, returns and gives a fitting performance. As a fully-voiced character, Isaac feels much more like an active participant in the story. But the decision has meant that much of the original dialogue has had to be rewritten to include Isaac's input which may disappoint purists.
Those who love digging into expanded lore are in for a real treat as the Dead Space remake includes a slew of collectible text and audio logs, as well as some impressive environment storytelling. There are also new optional sidequests that further develop Nicole's character as well as one of the game's fiercest antagonists.
Dead Space remake review: Gameplay
The gameplay fundamentals of Dead Space are entirely unchanged in this remake. This is a survival horror game in the truest sense. Be prepared for very limited resources and enemies that can easily overwhelm you if they're not dispatched efficiently. You really do need to make every single shot count.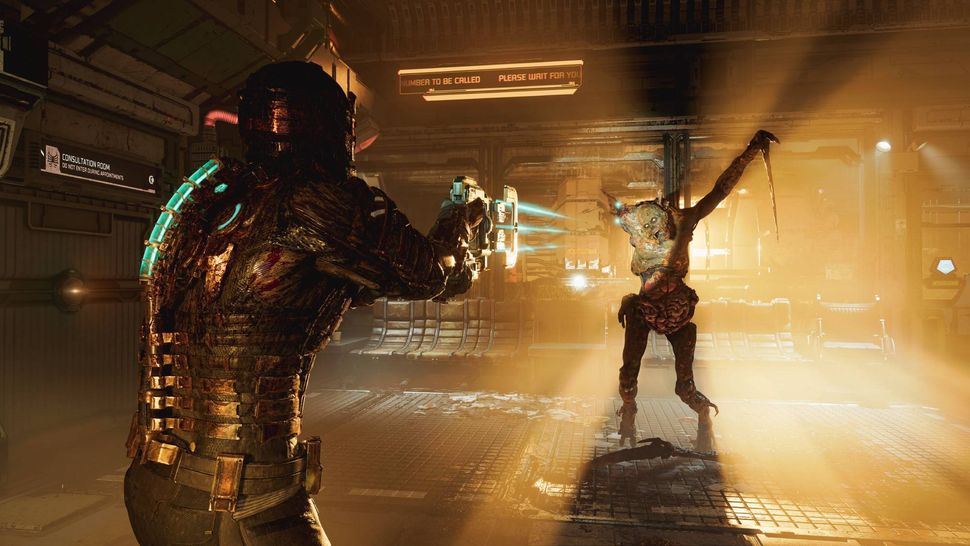 Like the original, combat in Dead Space remake revolves around the "strategic dismemberment" system. And while that sounds like nothing more than a marketing buzzphrase, it's actually what makes Dead Space's enemy encounters so thrilling. To emerge alive, you can't just pump enemies full of lead. You need to carefully aim your shots to effectively sever their limbs from their grotesque bodies.
The focus on dismemberment forces you to approach each enemy encounter in a carefully considered manner rather than just aiming for headshots. However, it's a shame the setpiece boss encounters aren't quite as interesting. Most of them boil down to avoiding clearly-telegraphed attacks until you spot a luminescent weak spot to shoot. These types of boss battles were a staple of PS3 and Xbox 360 games but they feel very antiquated in 2023.
Your arsenal is comprised of various mining tools repurposed as weapons, and thanks to limited ammo you're encouraged to make use of them all. There's no denying that some are better than others — the starter Plasma Cutter is elite — but each weapon has its uses in specific situations. Upgrading your weapons with salvageable power nodes is also highly worthwhile which makes exploring every single inch of the ship feel rewarding.
Aiming and general movement feels a tad slower, and the QTE sequences when grabbed by an enemy lack sufficient feedback. But otherwise, combat will feel instantly familiar to anybody who has prior experience with the franchise. The real tweaks have been made to the game's puzzles and exploration.
For starters, some of the more egregious sections of the game have been entirely redesigned. Yes, the painfully clunky turret section has been nixed. And when entering zero gravity spaces, you now have the ability to freely fly through the air using rocket boosters rather than hopping between surfaces as you did in the original. Naturally, this means that some puzzles have been reworked to accommodate your expanded move set.
As mentioned, there are also new optional sidequests to undertake. Unfortunately, these are really just glorified scavenger hunts that often have you revisiting previously explored areas of the ship. But they further flesh out the story, and fresh enemy encounters prevent them from feeling like pointless padding. Plus, during your backtracking, previously seal doors and containers can be unlocked to help you obtain fresh supplies.
Much like the original, it should take you around 10-12 hours to beat the game your first time around. But a New Game Plus mode offers a strong incentive for another playthrough. Not only do you start with all your previous unlocks but there's a new suit upgrade, fresh enemies and a secret alternative ending to discover. Considering Dead Space remake costs a hefty $70 at launch, it's a good job that there's an adequate reason to play it a second time.
Dead Space remake review: Visuals and sound
Dead Space remake is a phenomenal visual overhaul of the original game. Built from the ground up for modern hardware, it's an impressive technical achievement in a myriad of ways.
The Ishimura itself has never been more immediately striking. When the intense opening intro sequence ends you'll likely spend your first few minutes just admiring the graphics. And when you encounter the game's fearsome foes, you'll be undoubtedly spooked but also probably quite impressed at the way they contort their bodies in a thoroughly unnerving fashion.
When you slice off enemy limbs with your weapons you'll see flesh tear, bones crack and cartilage melt. These bloody effects continued to impress me even after dismembering literally hundreds of creatures. And if you really like your gore, some of the grotesque death animations will delight you — but those with a weaker stomach might want to look away.
The game's brilliant sound design also compliments the stunning visuals. The moans and screams of the Necromorphs are spine-chilling, and the excellent musical score ratchets up the tension in all the right places. I played using the Sony PlayStation Pulse 3D Wireless Headset, and on more than one occasion I felt the need to take a quick pause just to lower my rapidly rising heart rate.
The PS5's speedy SSD has been leveraged to create a truly seamless experience. There is no loading whatsoever, apart from a very brief screen when you die. This helps to make the Ishimura feel like a real explorable place rather than a collection of linear levels separated by loading screens as it somewhat did in the original.
Credit should also go to developer Motive Studio for retaining the original's distinct aesthetic style even when every itch of the game has been given a dramatic graphical facelift. That's a clear sign of the care and attention that has gone into this remake.
Dead Space remake: Verdict
Dead Space remake is one of the best remakes of all time. It deeply respects its progenitor but also fixes the parts of the original game that haven't aged particularly gracefully. There are still a few issues, such as the lackluster bosses and overall short length, but there's no disputing that this is now the definitive version of the first Dead Space.
If you were disappointed by last year's underwhelming The Callisto Protocol, Dead Space remake is the ideal palate cleanser and a well-timed reminder of just how special the franchise is overall. Whether you've survived the Ishimura before, or are psyching yourself up for a first trip into hell, Dead Space remake is a vital horror experience.