During my most recent session of Chivalry 2 on PS5, I found myself engaged in a one-on-one duel with a hulking enemy knight clad in shiny silver armor. Though I fought valiantly, I lost the battle when my opponent sliced my head clean off with a sharp two-handed glaive.
As if the humiliation of losing this intense skirmish wasn't enough punishment already, my assailant then proceeded to pick up my decapitated head and pummel one of my teammates to death with it. And yet despite my ignominious defeat, I was audibly laughing the entire time. That small anecdote is Chivalry 2 in a nutshell.
This criminally overlooked online medieval combat game is part of the PlayStation Plus monthly lineup for May. And trust me this is a game you'll be playing well beyond this month. I've been hooked since it launched back in the summer of 2021, and my love for Chivalry 2 has only grown deeper since then.
Chivalry 2 is downright hilarious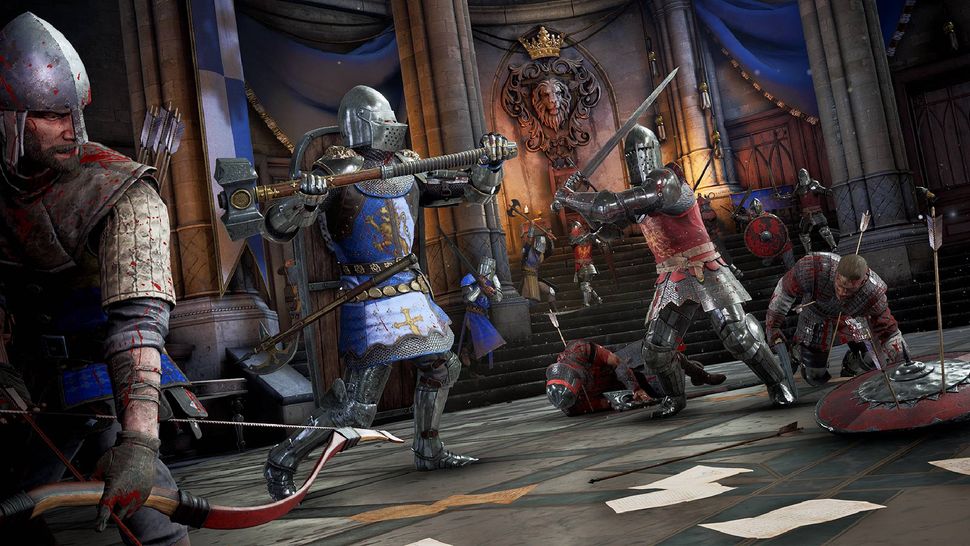 I have a bit of a love-hate relationship with multiplayer games. As much as I enjoy the likes of Call of Duty: Modern Warfare 2 and even Battlefield 2042 (now it's been patched into a better state), I find it hard to relax while playing these titles. The need to be constantly switched on and alert, not to mention the frustration that comes when playing poorly, means I need to be in the right frame of mind before sitting down for a session.
Conversely, Chivalry 2 is one of the rare online games that avoids that potential pitfall simply by being unashamedly silly regardless of whether you're winning or losing. Played from a first-person or third-person perspective — you can switch with a button press — Chivalry 2 sees you step into the muddy boots of a medieval soldier. Charging into battle you can wield a large assortment of weapons from huge war hammers to curved swords, or you can use a bow and arrow or crossbow if you'd rather snipe enemies from range.
There are a variety of modes available, including a variant on team deathmatch that is pure chaos, but the flagship offering is the 32v32 player team objective mode which casts one side as the attackers and the other as defenders. Similar to the iconic Rush mode in the Battlefield series, this is where Chivalry 2 shines brightest. The player-versus-player combat is still enjoyably frantic but everybody is focused on an objective, and this gives each game some much-needed structure.
Speaking of combat, battles in Chivalry 2 are brutal, bloody and seriously bonkers. Initially, you'll likely find yourself rushing headfirst into battle with reckless abandon, poking literally anybody that gets in your way with your weapon of choice. And because team damage is switched on, it's entirely possible for newbies to end up doing more harm to their teammates than the enemy.
But even as you're getting to grips with the basics, you'll be having too much fun to care that you might be ranking lower down the leaderboards. Chivalry 2 is one of the few online games where I find myself having just as much fun when getting brutally hacked to pieces as when I'm the one doing the hacking. Either way, I'm usually grinning at the absurd madness of it all.
More than mindless fun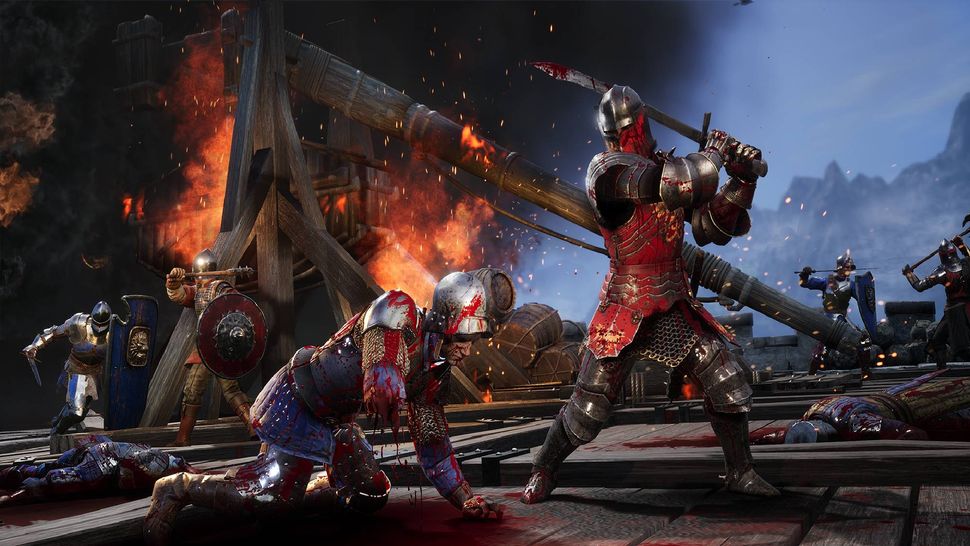 However, Chivalry 2 can be much more than mere medieval madness. If you're willing to invest the time to learn its system and the intricacies of its melee-focused combat system, you'll find a richly rewarding experience. There are multiple advanced moves to learn, and if you can really master the parry, riposte and counter abilities, you'll quickly become a nearly unstoppable force on the battlefield.
However, the difficulty curve is most definitely steep, and that's why it's such a good thing that even failure is fun in Chivalry 2. But just know that if you crave combat depth, you'll certainly find it here. And once you've got a basic understanding of the game's core pillars, emerging from a dual victorious is a seriously satisfying feeling.
In fact, the substantial tactical depth does result in one of the game's few faults: High-level players have a serious advantage over newcomers. Death in Chivalry 2 may be funny more than it's frustrating, but it's not particularly pleasant to feel like the fight was never fair in the first place. Fortunately, the influx of new PlayStation Plus players should greatly alleviate this potential issue as there's now plenty of fresh meat to play with and against.
Don't skip Chivalry 2 on PlayStation Plus
Chivalry's arrival on PlayStation Plus is well timed as developer Torn Banner Studios has just released the Raiding Party update which adds a new map for the aforementioned team objective mode, and it also allows players to create parties across all platforms (The game is also available on PC and Xbox).
This significant free update is just the latest in a sizeable stable of post-launch content released over the past two years. While Chivalry 2 was arguably a little content-lite at launch, it's been significantly beefed up since, and there is now a healthy assortment of maps, weapons and classes to pick from.
If you're looking for something new to play this month, and you already have a PlayStation Plus subscription, be sure to give Chivalry a try. It's one of the most hilariously entertaining games I've played on the PS5 to date — and for the low cost of "free," you can't lose.
And if you're looking for more gaming freebies, be sure to check out Prime Gaming. This often-overlooked perk for Amazon Prime members includes its own rotating selection of monthly games and offers loads of free in-game content for popular PS5 games including FIFA 23, Overwatch 2 and Genshin Impact.
More from Tom's Guide