Samsung Galaxy Unpacked is less than an hour away, but as is often the case with these sorts of announcements, a massive last-minute leak has revealed almost everything. Serial leaker Evan Blass has posted what appear to be official marketing images for the Galaxy Z Fold 5 and Galaxy Z Flip 5 — and more.
Blass posted the images over on his Twitter page, which is protected and only viewable by his followers. Fortunately, we can see what he has to show and can pass on all the various details. There's a lot to get through, so buckle up.
Samsung Galaxy Z Fold 5 leaked details
According to the materials Blass posted about the Galaxy Z fold 5, Samsung is promising "PC-like power" in your pocket and described the phone as a "mobile movie theater." Evidently, the point is that Samsung really wants to emphasize the Z Fold 5's capabilities as a powerful multi-screen multitasking device. This is certainly one way to handle the increased competition, in the face of rather boring-sounding specs leaks.
Part of this will apparently involve "Multi Control," which offers keyboard and mouse support, alongside drag-and-drop collaboration with the Galaxy Tab S9.
So what else does this phone have to offer? According to this material, there's a 7.6-inch folding display on the inside. The exterior display isn't mentioned, but rumor has it we'll get the same 6.2-inch display that could be found on the Galaxy Z Fold 4. But that inner display will apparently offer 1,750 nits of brightness, even in direct sunlight. That's significantly brighter than the Z Fold 4.
A lot of the focus is on the Z Fold 5's new design, which comes thanks to the new "Flex Hinge" that "bends to your will." That means the phone will apparently be able to fold completely closed, with a closed thickness of 13.4mm (0.52 inches) and a weight of 253 grams (8.9 ounces). The whole idea is that this is the slimmest and most portable Z Fold device so far.
Battery specs revealed here include a 4,400 mAh dual-battery system, which Samsung claims will last "longer than ever before" thanks to "an advanced processor." Further down it reveals this processor is the Snapdragon 8 Gen 2 for Galaxy — the same one found in the Galaxy S23 series.
The sheet claims this offers a 32% increase in graphics power, a 25% increase in neural processing power and an 18% boost to the CPU. The battery is apparently rated for 73 hours of listening time, or 21 hours of watching time.
The sheet also promises the "most portable S Pen yet," though it appears you'll need a special case to carry it around with you. That suggests there's no internal S Pen storage, though that isn't hugely surprising given the loss of thickness this year.
Camera specs include a 50MP wide-angle lens, a 12MP ultrawide, 10MP telephoto (with 3x optical) zoom, 10MP selfie and a 4MP under-display camera. These are the same hardware specs as the Z Fold 4, but no doubt Samsung has improved the software to improve the image quality. Lowlight in particular is mentioned — offering increased clarity this time round.
Colors are set to include Icy Blue, Phantom Black and Cream, while the phone itself features an aluminum frame and a stronger hinge. Water resistance is also touted, but the sheet doesn't reveal an official IP rating.
Samsung Galaxy Z Flip 5 leaked details
Now onto the Z Flip 5, the latest generation foldable flip phone. As we were expecting, a bunch of the emphasis is on the larger 3.4-inch cover display — which Samsung has called the "Flex Window." Though Samsung is also reprotedly emphasizing portability, as it did with the Z Fold 5.
Judging from the images here, the renders and leaks had the design right. That means the screen takes up an entire half of the Z Flip 5's exterior, with a little fin of space alongside the camera. Unlike the Motorola Razr+, the dual camera lenses don't seem to be sticking out of the screen itself.
Unfortunately, it does look like the cover displays is widget-based, rather than letting you open full apps. While the sheet is hyping all the different ways you can use widgets to personalize the cover screen, that seems like a huge missed opportunity. But the example widgets shown include all your basics, at least. Media, weather, calendar, phone, SmartThings, fitness and stocks.
The sheet promises that this screen offers the "best selfie experience on a Galaxy smartphone yet," thanks to the larger screen acting as a viewfinder. This is called FlexCam, and like so many other foldables you can use the folding mechanism to set up a picture without using a tripod.
Camera specs aren't revealed here, but Samsung claims that the camera will improve the brightness of your night-time videos. The new Night Photography mode records in 4K and 60 fps, and implies you won't lose image quality just because the sun went down.
The 3,700 mAh battery will apparently offer 57 hours of listening time and up to 20 hours of viewing time. Apparently, it's even more efficient this time around, and we assume that the Snapdragon 8 Gen 2 for Galaxy is partly to thank for that. Speaking of which, the chipset will apparently offer a 25% boost to the GPU, 20% boost to the NPU and 17% boost to the CPU.
Colors available apparently include Mint, Graphite, Cream and Lavender. Like the Z Fold 5 it has the new Flex Hinge, an aluminum frame and an unspecified level of water resistance.
Samsung Galaxy Tab S9 leaked details
On to the Samsung Galaxy Tab S9. Maybe not quite as exciting as new foldable phones, but there seem to be plenty of things to talk about. Like the fact this tablet is apparently powered by the Snapdragon 8 Gen 2 for Galaxy, and will be available in three different sizes: the 14.6-inch Tab S9 Ultra, the 12.4-inch Tab S9 Plus and the 11-inch Tab S9.
Those tablets weigh a respective 732g (25.8 oz), 581g (20.4oz) and 498g (17.5oz) with thicknesses of 5.5mm (0.21 inches), 5.7mm (0.22 inches) and 5.9mm (0.23 inches).
The screen is a Dynamic AMOLED 2X display with a 120Hz refresh rate and support for HDR10+. It's not clear whether that refresh rate is adaptive or not, so we'll have to wait to find out later. Samsung has also included a "Vision Booster" feature which will recognize when you're outside and boost the screen brightness accordingly.
The sheet doesn't go into great detail about the Tab S9's performance, only that the Snapdragon 8 Gen 2 for Galaxy should be a major boost to gaming performance. Samsung is also touting the "immersive" sound here as well, with AKG speakers that support Dolby Atmos content.
The Tab S9 comes with two cameras on either side of the device. On the front you have a wide-angle and ultrawide lens, both offering 12MP resolution, and housed in a notch at the top of the display. The rear cameras include a 13MP wide-angle lens and an 8MP ultrawide.
One of the more interesting things of note is the durability of the Tab S9. Apparently, this is the first Galaxy S tablet to offer water and dust resistance with an IP68 rating. The smooth metal edges will also supposedly help enhance drop and shock protection.
The S Pen also gets that IP protection, while also offering improved performance — including "enhanced tip sensitivity" that makes it less prone to accidental clicks. It's powered by magnetic charging, much like the Apple Pencil 2. S Pen notetaking has apparently been optimized for the larger screen, and Samsung claims use has been "elevated" thanks to the new NotePaper Screen. Supposedly it's "the next best thing to pen and paper".
Of course, multitasking is mentioned, as is the new connectivity with the Z Fold 5 and Z Flip 5 — with a new seamless drag-and-drop system for file sharing. There is also microSD support up to 1TB, alongside up to 1TB of internal storage. Samsung is also promising a longer-lasting battery, but doesn't actually reveal any specifics on the documents Blass has posted.
Samsung Galaxy Watch 6 leaked details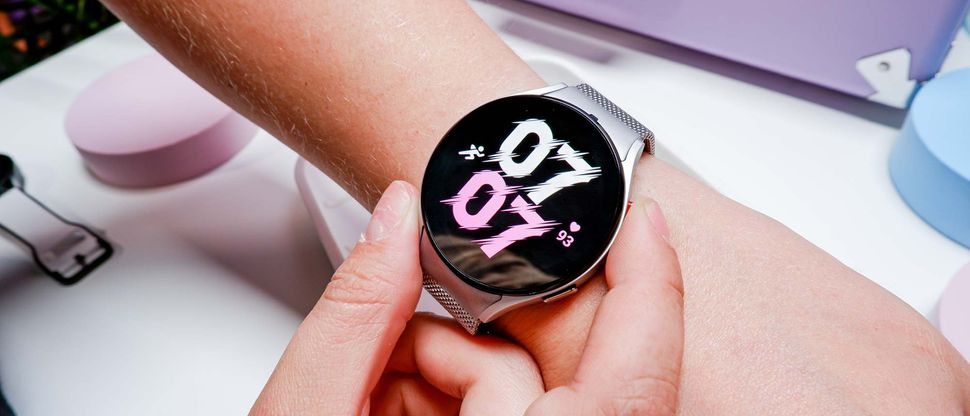 Now onto the Samsung Galaxy Watch 6, the final device Blass's extensive leak has included. There are two devices to be aware of this time around — the Watch 6 and the Watch 6 Classic. The latter of which is designed to look more like a traditional watch than a wrist computer.
The big change this year is that the Watch 6 has a larger screen and a thinner bezel, which Samsung says makes the device 20% larger and 30% slimmer than before. Both Watch 6 variants will apparently be available with 37.3 mm (1.4-inch) and 33.3mm (1.3-inch) watch faces. Those screens are made from sapphire glass, which Samsung claims is resilient to scratching.
Processing is around 15% faster this year, while the battery life will apparently clock in at around 40 hours. That means you won't need to take the watch off to recharge at night, and potentially miss out on the sleep-tracking capabilities.
Other features of note include a range of health-centric features, Samsung Wallet, LTE support for calls and messages, international roaming, IP68 water and dust resistance, and a whole range of bands to suit your needs and style. Z Flip 5 and Z Fold 5 owners will also be able to use the watch as a Bluetooth remote when taking photos.
---
Galaxy Unpacked starts pretty soon, and you can tune in to all the announcements as and when they happen. Just check out our guide on how to watch Galaxy Unpacked. Alternatively, we will have all the latest news and rumors in our Galaxy Unpacked live blog, for you to follow along without having to listen to actually watch anything.
The whole thing kicks off at 7 a.m. ET or 12 noon GMT, so we don't have very long to wait before Samsung is able to confirm (or deny) all these leaks for us.
More from Tom's Guide