When the Apple Vision Pro was announced, Apple's first VR headset promised a brand new world of spatial computing with no controllers needed and adjustable immersion.
However, it failed to promise access to any of the best VR games. The launch video instead ignored VR gaming, opting to show off a PS5 DualSense controller connected via Bluetooth playing NBA 2K in Apple Arcade.
Thankfully, Apple isn't abandoning VR gaming with its first headset. In fact, the Vision Pro just hit a major milestone for ensuring VR games will be playable on the visionOS platform. As reported by TechCrunch, the game engine Unity announced that it has opened up PolySpatial, a platform for developing VR games and experiences for visionOS and the Apple Vision Pro.
While Unity has been a popular VR engine for some time, it seems that PolySpatial will be a new tool specifically for development on the Apple Vision Pro. The beta for PolySpatial opened up for prospective developers today, so hopefully there will be plenty of VR games to choose from once the Vision Pro starts shipping in early 2024.
For those unfamiliar, Unity is a popular game engine that actually began as a macOS X game engine. Since its debut though, it's expanded to a number of platforms, finding a foothold in mobile and VR game development.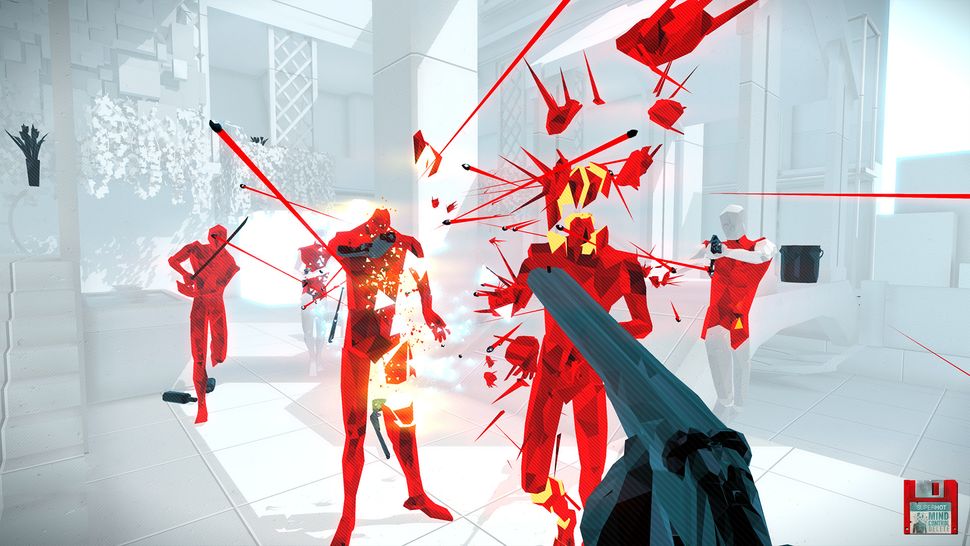 One of my favorites from our list of the best VR games out there — Superhot VR — runs on Unity along with numerous other VR games.
What apps can be created using PolySpatial?
Thanks to its mixed reality focus, the Apple Vision Pro constantly blends the real world with the virtual, using a combination of VR immersion, full-color passthrough and augmented reality overlays to provide an experience that can do everything from replicate the world around you to completely take you out of it.
As such, there are two different types of apps that can be created for the headset — immersive and windowed — both of which can be developed by using PolySpatial from Unity.
For immersive apps, Unity says there are a few options. The first is the most obvious and could easily build up the visionOS games library — developers can port over an existing virtual reality game (for example, Superhot) or "create a new fully immersive experience, replacing the player's surroundings with your own environments."
This method would create games that are similar to the current VR games, though hopefully with notably improved graphics. The major question mark that would remain at that point would be is PolySpatial able to completely port over the game and replace controls with hand tracking and gesture recognition, or would players still need to connect a VR controller to the Apple Vision Pro. My hope is it's the former, as a controller-free experience is key to setting the Vision Pro apart from the competition.
The next option is using mixed reality full-color passthrough to create games and experiences that blend digital content with the real world.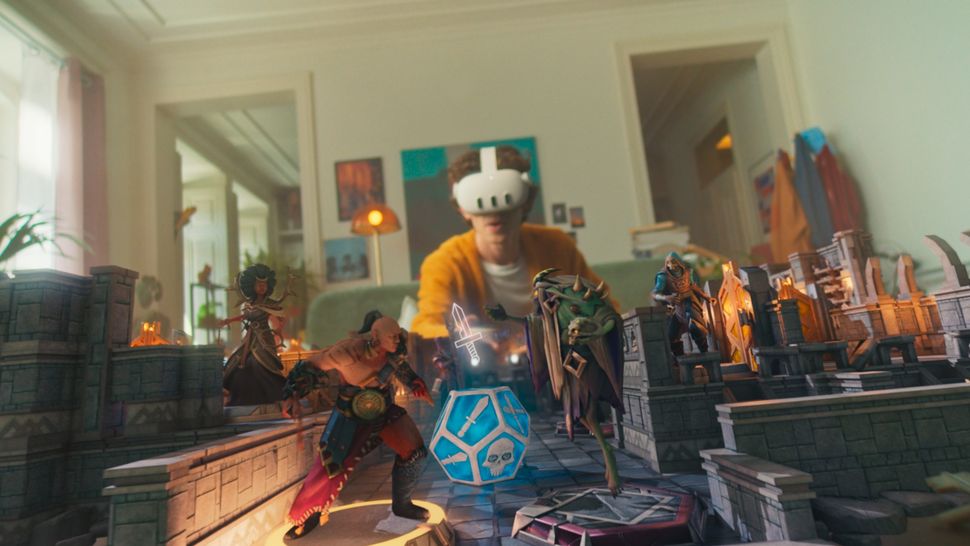 We've already seen what this could look like, as it's one of the features Meta is touting as a reason to get the Meta Quest 3 headset. If you watch the sizzle reel for the Quest 3 announcement, you can see a VR gamer playing the game Demeo overlaid on a real table, which shows off exactly how this blending could work.
Finally, developers can create games and experiences that "run multiple immersive applications side by side within passthrough while in the Shared Space." Shared Space is a feature new to PolySpatial and you can see it in action in the photo above.
Then there are windowed apps, which would look very similar to the NBA 2K experience Apple showed off in the Vision Pro announcement trailer. This option would be used to bring mobile and desktop games or applications to visionOS, allowing the windows to be resized, move, and appear to exist three-dimensionally in the user's field of vision. However, the window would essentially operate as a 2D space, like viewing your TV screen to play a game on your Xbox Series X or PS5.
Outlook: Unity PolySpatial could instantly give Apple a massive library
Unity's PolySpatial tool could be huge for ensuring that the Vision Pro doesn't fall behind the Quest 3 or the PSVR 2 in terms of VR gaming. If porting existing games is simple, then numerous developers could put the best VR games on Apple's headset by the time it is ready to launch.
So hopefully that's the case! Otherwise, while Apple's VR headset will clearly have more firepower than anything on the market, you might be grabbing a different headset to get your gaming fix and that would certainly lack vision by Apple.
More from Tom's Guide