You need to get some of the best VR games once you get one of the best VR headsets. There's no better way to get started in VR than strapping on a headset and diving into an immersive, interactive new world. And all of the best headsets can handle VR gaming — even if some have better processors and superior graphics than others.
And you're not necessarily getting thrown into the deep end with VR gaming. While there are plenty of brand-new, designed for VR-only games, there are also ports of popular console and PC games as well as new chapters in familiar franchises in the world of gaming. So now matter what you prefer, there's something for you in our list of the best VR games you can play right now.
For each title, we list where you can buy the game to experience it for yourself. Some games are available on a number of platforms whereas others may be exclusive to a single platform
The best VR games you can buy today
1. Cities VR
If you love Cities: Skylines, but want to get in even closer to your metropolis, then Cities: VR was made for you. The same basic gameplay of designing and managing a city is the same as the original game, except the controls are reworked for more comfortable use in VR.
It's worth taking a look at Cities: VR if you find the original too overwhelming also. The game's limited size means you're less likely to make an unmanageable sprawl. Plus, you can now explore your city at street level, allowing an even closer look at how your public services and neighborhoods are working.
Get Cities: VR at the Oculus Quest store for Meta Quest 2 now or for PSVR 2 at the PlayStation store.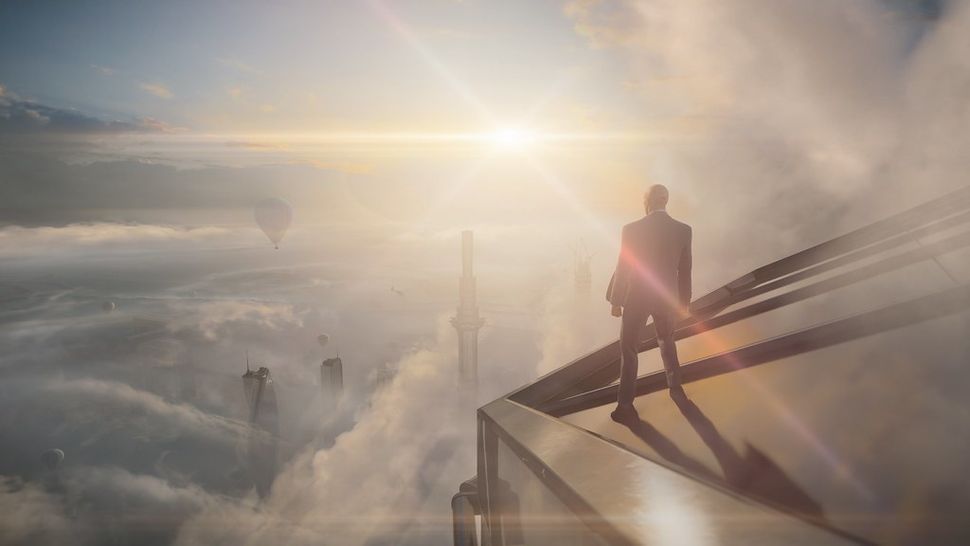 2. Hitman 3
If you already bought the third installment of the World of Assassination Trilogy, you can get a free update that will enable VR for it. If you want to blend into Agent 47 just like he blends into a crowd, it's a fun way to try out your favorite missions again.
Be warned though that the PC VR version is essentially the same as the old PSVR version of the game. That means no matter how much better your gaming PC's hardware is you won't notice much of a performance difference. Go into the game expecting some rather mediocre graphics and then you'll be able to enjoy sneaking and strangling fully.
Get Hitman 3 at the Steam store now.
3. Jurassic World: Aftermath
The recently updated Aftermath lets you explore the wreckage of the titular dinosaur theme park between the first and second films of the rebooted franchise. Stuck there while on a mission to find crucial research information from the labs, you've got to solve puzzles and hide from some familiar flesh-eating foes however you can.
While being stalked by killer lizards from the past is scary, the game actually looks quite fun with its cell-shaded graphics. It'll be a novel experience for fans used to the more realistic look of the main series of movies, but sneaking through facilities and attractions to avoid scary dinosaurs is an exciting premise that'll inspire any VR gamer.
Get Jurassic Park: Aftermath at the Oculus Quest store or for PSVR 2 at the PlayStation store.
4. Stride
Freerunning is a great fit for VR (provided you have the stomach for it), and Stride has arrived to fill the niche. Leap, slide and wall-run across an unlimited city of rooftops in a challenge of how long you can keep going.
It's a very physical game, requiring lots of arm movement to control your character. That only gets more difficult as the game introduces gunmen who try to take you out as you're running, but at least you've got a weapon of your own to attack back. With endless, timed and arena modes already in place, and a story mode on the way, this is a game with plenty of potential for virtual thrills.
Get Stride at the Oculus Quest store, Steam store or PlayStation store now. Note: PlayStation version is PSVR compatible only — it does not work with PSVR 2.
5. Thumper
You've never played a rhythm game like Thumper before. While it's still a matter of getting your inputs timed correctly to the music, the environment and tracks themselves are deliberately brutal, making each stage feel like a battle.
Playing as a shiny "space beetle", you have to correctly hit the pads on the track while shifting lanes and avoiding dangerous spots or even enemy attacks. Once you've made it through, you can go on to the next level or try again for a high score. Or, considering the unrelenting tone of the game, perhaps you'll just need to take the headset off and take five.
Get Thumper at the Oculus Quest store, Steam store or PlayStation store now.
6. Subnautica (PC)
Immerse yourself in the unending ocean of planet 4546B with Subnautica's VR mode. The survival game's underwater-focussed gameplay works brilliantly, with your headset feeling like a diving helmet as you venture deeper into the water. Just remember to breathe.
Your goal is the same as the usual game — collect resources to allow you to survive while you find a way off-planet. You'll build your bases and vehicles to make this easier, and to protect yourself from the more aggressive wildlife. Plus, while you're out scavenging, you may come across snippets of the game's narrative, explaining the history of the planet, and what became of your crewmates after your starship crashed under mysterious circumstances.
Get Subnautica at the Steam store now.
7. Microsoft Flight Simulator 40th Anniversary Edition
Even without a VR headset, the stunning views and meticulously detailed aircraft of this flight sim are simply delicious to experience. But adding a compatible headset into the mix makes Microsoft Flight Simulator 40th Anniversary Edition, without a doubt, one of the best VR games around.
With the first-person viewpoint offered by your helmet, you can examine all the buttons and switches up close, and gain an extra level of immersion as you take off and land at airports around the world, fly through the clouds and admire the landscapes below.
If that sounds a bit overwhelming to you, then you'll be glad that the game lets you tailor how much of your plane's controls are automatically or manually controlled. If you want something more relaxing, you can just let the game take care of the hard stuff for you and enjoy flying around. But if you want to feel like an actual pilot, then you can take off the training wheels and tinker to your heart's content.
Get Microsoft Flight Simulator 40th Anniversary Edition at the Steam store now.
8. Star Wars: Squadrons
With a first-person view out of your X-Wing or TIE Fighter cockpit, Star Wars: Squadrons is the latest and greatest way to experience space combat set in the timeline of the saga's original trilogy.
Your chosen fighter, out of a list of famous Star Wars spacecraft, can also be customized to make it look and perform more like you want and need, depending on the mission at hand.
In classic Star Wars tradition, there's a single-player campaign to enjoy too, with the Rebels and the Empire both getting their own sides of the story. But if fighting CPU-controlled opponents isn't satisfying you, there's also online multiplayer where you can assert your position as a flying ace.
Get Star Wars: Squadrons at the Steam store or PlayStation store now. Note: PlayStation version is PSVR compatible only — it does not work with PSVR 2.
9. Falcon Age
It's you and your pet bird of prey against the world in this adventure game. Your home planet has been taken over by a robot empire, and after breaking out of prison with your new falcon friend, the only logical thing to do is start fighting back.
As your falcon grows from chick to adult, it learns new tricks and abilities to help you on your way. Plus you can dress it up in cute costumes.
With the falcon on one arm and a stun baton in the other, you'll be tasked by the resistance to free up areas of the map from machine control, bringing hope back to a community that's not got a lot of it left. It's one of the best VR games for players trying to lose themselves in a virtual world, with its uplifting story set in a beautifully rendered world.
Get Falcon Age at the Oculus Quest store, Steam store or PlayStation store now. Note: PlayStation version is PSVR compatible only — it does not work with PSVR 2.
10. Vader Immortal: A Star Wars VR Series
Within a fortress on the planet Mustafar, surrounded by lava and burning rock, dwells the most famous Sith Lord in all the galaxy. And though you play just a common smuggler, you've got to infiltrate the place and find out what Vader is looking for.
The game takes place over three parts, with your involvement in the story slowly becoming clearer as you venture further. Your path forwards is blocked by enemies, that you can take down with your lightsaber, and puzzles, which you'll need to use your mind and physics objects to conquer instead.
If you want a break from the story, you can open up the game's included Lightsaber Dojo, where you can train in the art of wielding your elegant weapon from a more civilized age.
Get Vader Immortal: A Star Wars VR Series at the Oculus Quest store or PlayStation store now. Note: PlayStation version is PSVR compatible only — it does not work with PSVR 2.
11. Pistol Whip
A mix of FPS and rhythm games, Pistol Whip takes you to a world with a striking art style of simple shapes in exotic colors. Once you select a level, playing the game is exceptionally simple: point and shoot at enemies, point at the floor to reload and dodge bullets by moving your head. You're moved along on rails, but your focus is on shooting enemies to the beat of the game's EDM soundtrack, which awards you more points.
When you feel like you're getting the hang of things, that's the moment you can start to play around with the game's bagful of gameplay modifiers or buy the game's newly released Pistol Whip 2089 expansion DLC. It's a game you'll want to play over and over to either beat your high score or savor the feeling of making a string of headshots to a rapid synth bass riff.
Get Pistol Whip at the Oculus Quest store, Steam store or PlayStation store now.
12. Marvel's Iron Man VR
Here's one of the best, if not the best VR games for pretending you're in the Avengers. You take control of the Iron Man suit, staring through its familiar HUD, navigating obstacles in the environment and throwing punches and firing energy blasts to take down your foes. Back at base you can customize your suit (still in first-person), giving you a different side of the Tony Stark experience.
There's a story to experience too (although this isn't a canon story if you care about such things), the game's campaign pitting Stark and company against hacker super-villain Ghost, but other characters good and evil will turn up too.
Get Marvel's Iron Man VR at the Oculus Quest store or PlayStation store now. Note: PlayStation version is PSVR compatible only — it does not work with PSVR 2.
13. Half-Life: Alyx
This game allows you to return to the world of Half-Life after 13 years of silence, except not in a way you will fully recognize. Taking the place of Alyx Vance rather than Gordon Freeman, you'll be fighting through City 17 at a time before the unlucky physicist arrives.
That means engaging in shootouts with Combine soldiers and other alien enemies and solving puzzles that rely on your new VR control scheme to solve.
It might be hard to forgive Valve for making fans wait so long for another installment of this game series, but you're not going to find a much better expression of what VR can do than with this game.
Get Half-Life: Alyx at the Steam store now.
14. No Man's Sky
The famous (and infamous) space exploration game can also be enjoyed on a VR headset. You're taken right into the heart of the new worlds you discover or can sit and truly appreciate the massiveness of space from your ship's cockpit. And since the galaxy is so enormous, you'll never run out of new things to see and find as you hunt for resources to improve your ship and travel even greater distances.
If you haven't paid attention to No Man's Sky and its numerous updates since its rocky launch, you may not know what else you can now get up to in-game. Multiplayer, capital ship and fleet management, base building and more are all part of No Man's Sky's recent expansions and all will work with the VR version (itself a part of these expansions). It's the ideal way to explore the game, whether it's for the first time or after hundreds of hours of the original.
Get No Man's Sky at the Steam store or PlayStation store now.
15. Beat Saber
Beat Saber is a fast, kinetic rhythm game in which the player slashes color-coded blocks to the beat of the music playing in the background, and one of the best VR games for working up a sweat. Using two motion controllers, you'll swipe in the air vertically or horizontally and occasionally hold your controller in a position to rack up points.
Beat Saber comes with 10 songs. However, PC players can use a track editor to create their own custom tracks from within the game, and with some light modding, they can even download other users' tracks.
Get Beat Saber at the Oculus Quest store, Steam store or PlayStation store now.
16. The Elder Scrolls V: Skyrim VR
For a game that seems to be available on every console around, a full VR translation of 2011's single-player, open-world epic, was inevitable. Skyrim VR gives players a much closer look at the world of Tamriel. The game features fully tracked motion controls for your left- and right-hand equipment, so you'll be able to swing your sword and block incoming attacks using realistic gestures.
All previously released DLC expansions, like Dawnguard and Hearthfire, come with this version of Skyrim. The only negative is that the graphical upgrade seen in Special Edition is missing from the VR version of Skyrim, so some visuals may look a bit dated.
Get The Elder Scrolls V: Skyrim VR at the Steam store or PlayStation store now. Note: PlayStation version is PSVR compatible only — it does not work with PSVR 2.
17. Doom VFR
Doom VFR is best described as a VR adaptation of Doom (2016), rather than a full port of that game into VR. This means Doom VFR features a different story and campaign, with heavily tweaked combat dynamics designed with VR in mind.
This title is best suited to a standing or room-scale setup, as the game will frequently require you to raise and lower your profile and turn around quickly to deal with enemies coming from all directions. This title adds free movement using a controller, but the game was originally designed to use a teleportation system when covering large distances.
This is no longer the newest Doom title since Doom: Eternal came out recently. But that's not available in VR, which makes Doom VFR currently the best option for tearing demons apart with maximum immersion.
Get Doom VFR at the Steam store or PlayStation store now. Note: PlayStation version is PSVR compatible only — it does not work with PSVR 2.
18. Rec Room
Rec Room is one of the best VR games for kicking back and relaxing, or for beginners wary of trying out more intense games for fear of motion sickness. This game provides a low-impact and free social sandbox of places to go, things to pick up and toss, objects to interact with, and some minigames to play solo or with others online. You can play this title suitably from either a seated or standing position, and it works well with room scale.
Rec Room is designed primarily as a social experience, so expect a lot of people to be on the mic, and consider taking part in the chatter yourself. You won't find an infinitely replayable game world to explore here, but Rec Room should help people who need to get their VR sea legs before they tackle more in-depth experiences.
Get Rec Room at the Oculus Quest store, Steam store or PlayStation store now. Note: PlayStation version is PSVR compatible only — it does not work with PSVR 2.
19. Star Trek: Bridge Crew
In Star Trek: Bridge Crew, you can fulfill your dream of joining Starfleet, with a choice of four different key roles onboard the USS Aegis: a Captain who keeps track of the objectives and gives orders; a Tactical Officer for managing sensors and weaponry; the Helm Officer who controls the ship's course and speed; or the Engineer who takes care of power management and any repairs the Aegis may need.
Bridge Crew will require constant communication with your crewmates as you explore space, defend yourself from enemies and avoid natural hazards. The game works best in online multiplayer, but you can also issue specific voice commands to three AI crewmembers in single-player mode if you're playing offline.
Get Star Trek: Bridge Crew at the Oculus Quest store, Steam store or PlayStation store now. Note: PlayStation version is PSVR compatible only — it does not work with PSVR 2.
20. Superhot VR
Like the original Superhot, Superhot VR is a combat puzzle game in which you must clear a room full of enemy AI humans using a limited arsenal and one key mechanic: Time moves only when you do.
The VR version of the game is primarily a standing experience; you won't be walking around your environment, but you'll need to be able to turn around and duck behind cover in the space you have. You can take weapons directly out of enemies' hands, and you can fire bullets at incoming bullets to deflect them; in general, Superhot VR is one of the best VR games you can play on any platform.
Get Superhot VR at the Oculus Quest store, Steam store or PlayStation store now. Note: PlayStation version is PSVR compatible only — it does not work with PSVR 2.
How to choose the best VR game for you
Before buying any of the best VR games, you'll need to make sure which system it's for. Some are exclusive to the PC, PlayStation or to Meta or other headsets, so don't get excited for a game you won't actually be able to play.
Another key thing to check is how much room you'll need to play the game. Some work fine when played sitting down, but others need you standing, and some of those will expect you to be actually moving around the space a little too. Ensure whatever you fancy playing works with your VR set-up.
Finally, the golden rule when trying out lots of games on one of the best VR headsets is to start with free demos and trials. This way you can sample as much as possible without wasting money on something that you don't end up liking. Also, check your existing game library for titles that are already VR-compatible for more experiences that you don't need to pay out for again.
If you just bought a Quest 2, make sure to check out these seven games to play first. And for the brand new PlayStation VR 2, there are five games you should play first, though if you're feeling adventurous you can check out our list of every game announced so far for the new PlayStation headset.