It's time to see how an Apple Vision Pro vs Meta Quest 3 face-off shakes out now that we have gone hands-on with both the Apple Vision Pro and the Meta Quest 3.
Apple's headset still has yet to appear outside of Cupertino. The Vision Pro made its debut at WWDC 2023 and we managed to get some time hands-on with the Vision Pro at the event. The Vision Pro a true mixed reality headset that is designed to handle what Apple refers to as "spatial computing." It interacts with the physical world around you and keeps you engaged with it as well thanks to its EyeSight feature.
But it's not the only mixed reality headset out there because Meta CEO Mark Zuckerberg beat Apple CEO Tim Cook to the punch by launching the Meta Quest 3 at Meta Connect. The Quest 3 is aimed more at your everyday VR enthusiast. And despite also being a mixed reality device with full-color passthrough, its default setting feels — for now — like a VR headset with AR capabilities. However, at $499, it costs a fraction of the Vision Pro's $3,499 asking price.
So now that we've spent some time with both devices, it's time to take a closer at an Apple Vision Pro vs Meta Quest 3 comparison. Will either one of them become the best VR headset we've ever tested? Here's what we know so far.
This is a developing story
Apple Vision Pro vs Meta Quest 3: Specs
Swipe to scroll horizontally
| Header Cell - Column 0 | Apple Vision Pro | Meta Quest 3 |
| --- | --- | --- |
| Price | $3,499 | $499 (128GB), $649 (515GB) |
| Release date | Early 2024 | Oct. 10, 2023 |
| Chipset | 1 x M2 chip, 1 x R1 chip | Qualcomm Snapdragon XR2 Gen 2 |
| Display resolution | 4K (per eye) | 4K+ Infinite Display (2 LCDs with 2064 x 2208 pixels per eye) |
| Storage | TBA | 128GB, 512GB |
| Battery life | 2 hours (with external battery) | 2.9 hours (rated) |
| Size | TBA | 184 mm x 160 mm x 98 mm |
| Weight | About 1 pound | 515 grams |
| Sensors | 12 cameras, 6 mics and 5 sensors | Two RGB cameras and a Depth Projector |
| Eye tracking | Yes | No |
| Controllers | No controllers but you can connect Bluetooth controllers | Touch Plus controllers and Direct Touch hand tracking |
Apple Vision Pro vs Meta Quest 3: Price
The Apple Vision Pro will cost $3,499 when it goes on sale in early 2024. That makes it the most expensive consumer-facing headset among the mainstream headsets before you account for accessories or custom Zeiss optical inserts for those who need glasses. Apple has yet to reveal the prices for those add-ons. You also may need an in-store appointment to buy the headset. You can check out our guide on how to get the Apple Vision Pro if you want to pre-order the headset.
Meanwhile, the Meta Quest 3 will cost $3,000 less than Apple's headset. The Quest 3 starts at $499/£479/€549/AU$799 for the 128 GB model and costs $649/£619/€699/AU$949 for the 512GB model. You can bring your own glasses to use with the Meta Quest 3, so there's no need for add-ons unless you want some Quest 3 accessories.
The Quest 3 is available for pre-order now with a release date of October 10.
Apple Vision Pro vs Meta Quest 3: Design
When it's powered off, the Apple Vision Pro could be mistaken for the Meta Quest Pro. However, once it is turned on, the result is literally eye-opening. The Vision Pro uses a feature called EyeSight so that anyone around you can see your eyes so that interactions feel more normal.
With the Vision Pro, your eyes are hidden underneath a curved sheet of 3D laminated glass that also serves as the lens for the headset's camera array. The Vision Pro comes loaded with 12 cameras, six microphones and five sensors to track your eyes, hands and voice to control the headset, which otherwise lacks external controllers.
The Vision Pro's design is all about a custom, comfortable fit. While it's not made to order, there's a variety of sizes for the modularly designed Light Seal and Head Band to ensure the curved custom aluminum alloy headset fits the geometry of your face. The Head Band also features a knob for micro-adjustments once you've selected the correct size.
The Meta Quest 3 takes more of a one-size-fits-all approach, though that size is slimmed down from the Meta Quest 2. Meta says the Quest 3 is 40% slimmer than its predecessor, thanks to pancake optics, which allow for higher-resolution lenses in smaller spaces by layering optical film.
And while the Quest 3 cameras and sensors aren't as powerful as the ones on the Vision Pro, Meta's headset does get a brand-new camera array on the front of its visor. This array includes dual 4MP RGB color cameras and a depth sensor in between them to create a more accurate representation of the area you're using the Quest 3 in along with full-color video passthrough.
There's no EyeSight equivalent on the Quest 3, given Meta put its camera array where Apple put the Vision Pro's custom curved glass. The other thing that's lacking is the equivalent of the digital crown at the top of the Apple headset that controls your level of immersion. However, Meta has said that by double-tapping the headset you should be able to toggle back and forth between full immersion and color passthrough.
The Apple Vision Pro meanwhile, lives in mixed reality passthrough by default. But turn that digital crown, and you can immerse yourself into a virtual world. The Quest 3, conversely, seems to primarily reside in the virtual world, with the addition of mixed reality passthrough being largely determined by whatever app you are using.
Aside from these design elements, there are a few other Apple Vision Pro vs Meta Quest 3 differences. The Quest 3 opts for a Y-shape rather than the Vision Pro's custom modular Head Band, though the straps connect near the headset's speakers for both the Vision Pro and Quest 3.
Additionally, the Vision Pro doesn't appear to need the IPD of its lenses adjusted and if you wear glasses it opts for custom Zeiss lens inserts rather than allowing space for glasses. The Quest 3 doesn't go this route, but it does introduce a wheel to adjust IPD and the ability to adjust lens depth so you can use the Quest 3 without the need for a spacer. That should deliver a significant quality-of-life improvement over the Quest 2.
Meta also has the Zenni VR Prescription Lenses for Meta Quest 3 which cost $49. I tried the headset with these inserts and definitely didn't feel the need for my glasses.
In terms of speakers, Apple promises spatial audio with its "audio pods." Meanwhile, Meta says the Quest 3 produces 3D spatial audio with improved volume output (40% louder than Quest 2), increased bass and is compatible with headphones via a 3.5mm headphone jack or Bluetooth 5.2.
One last big design difference before we move on to the displays — only the Quest 3 is a true standalone headset. The Apple Vision Pro requires that you plug the headset into your wall outlet or into an external battery pack that fits in your pocket. The Quest 3 has no such restrictions, keeping the battery in the headset visor like Meta did with the Quest 2.
Apple Vision Pro vs Meta Quest 3: Displays
The Apple Vision Pro's hefty price tag is caused in no small part by its cutting-edge displays. Aside from the front display behind the laminated glass that shows off the EyeSight feature, there are two 4K Micro OLED displays in the headset, one per eye. Apple says these displays feature "wide color and high dynamic range" though it's unclear if that means the displays support HDR content in formats like HDR10 or Dolby Vision or if they just hit a certain level of peak brightness and color gamut representation.
Pixel density is also a big calling card for the Vision Pro displays. Between the two displays, there are 23 million pixels, and Apple says that the Vision Pro has 64 times the pixel density of the iPhone, as each display is just the size of a postage stamp.
Meanwhile, the Quest 3 also manages 4K resolution, but not in each eye. The 4K+ Infinite Display is made up of two 2 pancake lens LCDs, each with 2064 x 2208 pixels per eye. this produces 25 pixels per degree (PPD) in virtual reality and 1,218 pixels per inch (PPI).
The resolution does take a dip in full-color video passthrough, something that the Apple Vision Pro seemingly doesn't do. In mixed reality, the resolution is 18 PPD powered by the two RGB cameras rather than 25 PPD. However, this is still an upgrade, as Meta says this is "over 10x more pixels in Passthrough compared to Quest 2 and 3x more pixels compared to Quest Pro."
So overall, the Vision Pro wins by a mile here, but in terms of value it'll be interesting to see if it's a worthwhile upgrade. Having used the Quest 3, the resolution looks noticeably better than the Quest 2 and certainly isn't one of my complaints about the headset.
Apple Vision Pro vs Meta Quest 3: Controllers
This is where the Apple Vision Pro enters groundbreaking, game-changing territory. There are no controllers — none at all.
Instead, the Apple headset uses its combination of cameras, sensors and microphones to allow you to control the Vision Pro with just gestures and voice commands. The gestures are meant to be natural as well, as the cameras can capture your movements with your hands in natural positions rather than directly in front of the headset.
And you don't even need to use your hands for some tasks. Thanks to a ring of LED lights in the headset, the eye tracking should be particularly impressive. One example Apple showed off in its reveal of the Vision Pro was the ability to just glance at a search bar and start dictating what you want to search for. The Vision Pro would then automatically start typing out the query, all without you lifting a finger.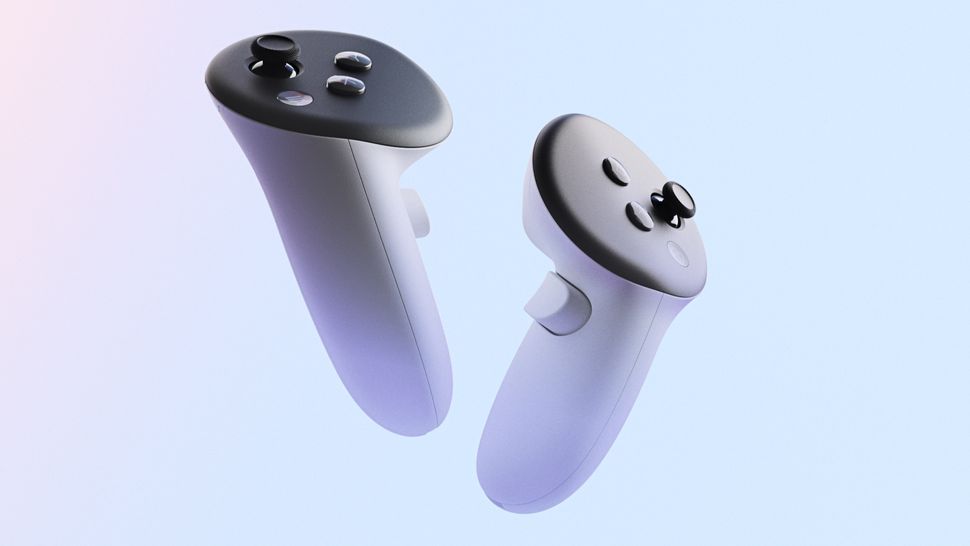 Unfortunately, you don't get a controller-less experience with the Meta Quest 3, though it does come with Direct Touch hand-tracking capabilities to reduce your reliance on controllers. At least the Quest 3's Touch Plus controllers are sleeker, losing the tracking ring from the Quest 2 controllers. The controllers also come with TruTouch haptics, a feature borrowed from the Meta Quest Pro Touch Pro controllers.
Having used the controllers myself, they may be my favorite Quest 3 upgrade and I wish I could get them for my Quest 2. The ergonomic fit is perfect.
The Touch Plus controllers may actually give the Quest 3 an edge when it comes to VR gaming, but it's still too early to tell because we have yet to see how native VR/XR games work on the Vision Pro. We do know that Apple's headset will support popular Bluetooth controllers like the PS5 DualSense for playing Apple Arcade games, and it also supports the Apple Magic Keyboard, Mouse and Trackpad in case you don't want to rely on hand gestures or a virtual keyboard.
Apple Vision Pro vs Meta Quest 3: Performance
While Apple hasn't given full performance details on their respective headsets, we can likely say that the Apple Vision Pro will be the more powerful headset. This is simply down to what we know is under the hood powering each device.
The Apple Vision Pro will get power akin to an entry-level MacBook thanks to the M2 chip doing the heavy lifting for the mixed-reality headset. It will also feature a second chip — a brand-new R1 chip that processes sensor inputs and ensures the display doesn't lag behind. Apple says the R1 chip keeps the input lag of the Vision Pro's displays at just around 12ms, which is on par with a lot of the best TVs.
That's not to say that the Meta Quest 3 won't have any power. Meta is calling the Quest 3 "Our most powerful headset yet" and the Qualcomm Snapdragon XR2 Gen 2 SoC chipset "delivers more than twice the graphical performance as the previous generation Snapdragon GPU in Quest 2." Plus, using a mobile chipset allows Meta to maintain a wireless standalone form factor, which could be considered an advantage overall even if it weakens the performance.
Apple Vision Pro vs Meta Quest 3: Battery life
Time for the first real mark against the Apple Vision Pro. To power this computer for your face, you're going to need to sacrifice either portability or battery life. The headset only works plugged in — either to a wall outlet for all-day use or to an external battery that delivers 2-hour battery life. If Apple announces you can also plug it into a MacBook that would be a small consolation, though we imagine that would drain your laptop battery awfully fast.
In terms of battery life, the Quest 3 is not going to be an upgrade over the Quest 2 but it just beats out the Vision Pro's external battery pack. According to Meta, the battery lasts 2.2 hours on average with a peak battery life of 2.9 hours when used for media playback.
Apple Vision Pro vs Meta Quest 3: Apps, Games and OS
With the Apple Vision Pro, Apple also introduced its first new operating system in years — visionOS. This operating system allows developers to natively create 3D mixed reality applications, though so far those are few and far between. In his hands-on review, our editor-in-chief Mark Spoonauer cited Mindfulness and Encounter Dinosaurs as two visionOS apps that really show off the Vision Pro's mixed reality capabilities.
And thanks to Apple's work as a TV show and movie production company, it may give the Vision Pro an edge when it comes to watching content. Reportedly, Apple has been filming some shows with 180-degree cameras, making it so the Vision Pro becomes a truly unique way to watch Apple TV Plus content. Apple is also reportedly in talks to bring NBA games to the Vision Pro, with NBA Commissioner Adam Silver saying "the league is working with Apple to bring a tech-enhanced viewing experience" to the Vision Pro.
But it's not just native mixed reality apps and experiences coming to Apple's first headset. Apple is also bringing iOS and iPad OS apps into the Vision Pro App Store, giving you literally thousands of apps to choose from as soon as you power on the device. Apple also says that more than 100 games from Apple Arcade will be playable on the Vision Pro, including NBA 2K.
And thanks to Unity, many of the most popular VR games could make it onto visionOS and the Apple Vision Pro. The game engine developer has launched PolySpatial, which allows developers to port existing games or create brand new experiences.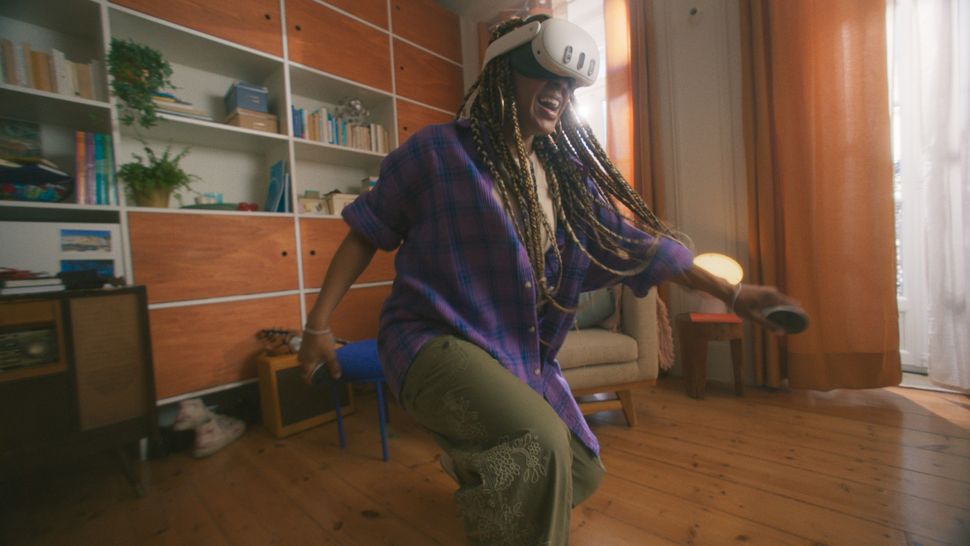 Meanwhile, the Meta Quest 3 is going to be backward-compatible with the entire Quest 2 games and apps library. That means you can play all 500-plus Quest 2 games at launch. And eventually, we expect developers to take advantage of the Quest 3's combination of a better processor and new mixed reality features to make exclusive games and apps for the Quest 3. Meta says that over 100 new Quest 3 apps and upgraded Quest 2 apps are coming to Meta Quest 3 through the end of the year, giving you a pretty vast mixed reality library.
Meta also announced that Xbox Game Pass will allow Xcloud Cloud Gaming on the headset in December 2023, adding to the content library. It's also getting the ability to watch NBA games with XStadium, which Meta has said will be free on Quest 3 when XStadium launches.
Ultimately, the Apple Vision Pro appears to be geared at being more of a productivity device than a VR gaming machine like the Quest 3 or PSVR 2. But if Unity is able to facilitate ports of existing games easily, Apple's headset could end up with most of the popular Quest games in addition to its own exclusive games.
So if your main interest is VR gaming, the Quest 3 may be the better choice, especially for the price. But if you want an all-around device that can handle a wide range of apps, games and experiences, the Vision Pro and visionOS are the more compelling offering so far.
Apple Vision Pro vs Meta Quest 3: Mixed reality
While both devices tout mixed reality features, these two headsets take different approaches. The Apple Vision Pro keeps you almost constantly in the real world to a degree, even with the crown that allows you to adjust your immersion level. The default setting appears to be overlaying apps and screens on top of the real world around you, constantly being fed to the headset thanks to the array of cameras, sensors and microphones.
Not that the Vision Pro completely eschews virtual reality — EyeSight, of course, duplicates your eyes onto a front display rather than having them be visible naturally. But that's not the only way Apple duplicates your person. There's also Digital Persona, which digitally replicates you for use in FaceTime. It's a fairly realistic representation of yourself — a vast improvement over Meta's avatars — but it's still a digital recreation of your facial expressions and body movements rather than the real thing.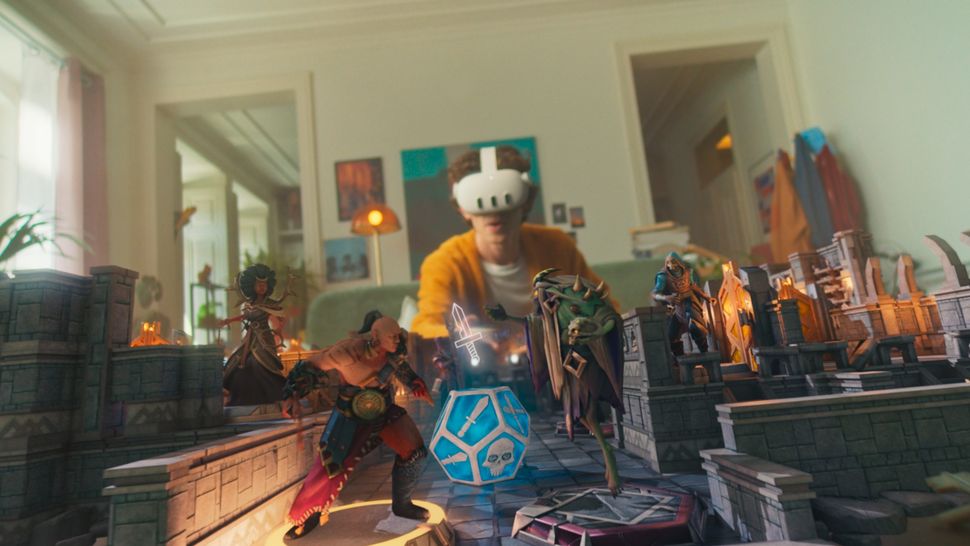 The Quest 3 does look like it will take advantage of its mixed reality capabilities as well, though they appear a bit more limited. The full-color video passthrough will allow games and apps to add screens and AR holographic overlays to your surroundings, but it's unclear whether this will be the space within which you normally operate. It seems more likely that an app will need to be designed to utilize the Quest 3's mixed reality capabilities for you to enter mixed reality.
In our testing so far, the mixed reality features have not been front and center on the Quest 3 but we still have yet to fully test the device. Once we have reviewed the Quest 3, we should have a better idea of just what you can do in mixed reality.
While Meta has yet to show off its full power mixed reality on the Quest 3, it did give us a preview in the announcement video. Watch that video, and you'll see a Quest 3 user playing the VR game Demeo. Instead of being forced to play on a virtual tabletop, the game takes place on a real table.
I actually managed to play Demeo in mixed reality at Meta Connect and it was really cool to see it in action. This is definitely a vast improvement over the Quest 2, though it seems outside of VR gaming, the Quest 3 will lag behind the Vision Pro when it comes to fully embracing XR.
Apple Vision Pro vs Meta Quest 3: Which headset is best for you?
Let's be clear — the Apple Vision Pro sounds like the better mixed reality headset overall. Thanks to phenomenal specs that put it on par with a MacBook rather than a reliance on mobile chips, this headset keeps you in the physical world, adding levels of immersion as you see fit. If you wanted to replace your MacBook or iPhone, the Vision Pro might actually be capable of doing it, even though it's not as portable as either.
But the Meta Quest 3 may be the better VR headset of the two, in part because it's the only one of the two that really embraces virtual reality. And at $499, it could take you between virtual reality and the real world in one headset at a price you can actually afford. The Apple Vision Pro's $3,499 price is prohibitive for most people.
So, if you want a true mixed reality device, you'll want to save up for the Vision Pro or wait for a cheaper counterpart to come in a few years. But if you just want to experience VR gaming while getting a taste of mixed reality features, all in a standalone headset, the Quest 3 seems the best choice of the two headsets.
We'll know for certain once the two devices have been reviewed and we have the chance to do definitive Apple Vision Pro vs. Meta Quest 3 testing.
More from Tom's Guide