The arrival of the iPhone 15 this fall will mean a chance to get familiar with Apple's latest handset. But it's also a time to bid farewell to some current models, which will likely drop out of Apple's iPhone lineup to make way for the new models.
The iPhone 15 release date is still months away at this point, so we have no special insight into Apple's plans. But the company does stick to a few tried and true approaches to filling out its phone lineup, giving us a pretty good ideal of what iPhones will still be around come September and which ones will be put out to pasture.
And that's important to know ahead of time. While Apple is certain to drop some older phones to make room for the iPhone 15 models, some more current devices are likely on the chopping block, too — including some of the best iPhones you can buy right now. If you're considering whether to get one of those models now may be the time to act, particularly if you can lower the price even further through an iPhone 14 deal.
Below, you'll find our best guesses for what the iPhone lineup will look like this fall after the iPhone 15 arrives. That includes the current models we think Apple plans to drop later this year.
Apple's current iPhone lineup
As a reminder, here's what the current lineup of iPhones looks like. Note that this reflects the phones available directly from Apple — you may find other models on sale at wireless carriers and retailers.
So Apple currently sells eight different iPhone models — four that came out last fall with the iPhone 14 release, plus another 2022 model in the form of the iPhone SE. The iPhone 13 models came out in 2021, while the iPhone 12 will be celebrating its third birthday in the fall.
iPhone 15: What models are coming this fall
Initial iPhone 15 rumors predicted a new model joining the iPhone lineup this year — an iPhone 15 Ultra that would supposedly offer even more premium features than Apple's Pro models. Subsequent reports contend that while an Ultra device is under consideration at Apple, it won't arrive until 2024 at the earliest.
That leaves us with four likely iPhone 15 models — and they're the usual suspects from recent Apple iPhone launches.
iPhone 15
iPhone 15 Plus
iPhone 15 Pro
iPhone 15 Pro Max
It's all but certain we're going to see a 6.1-inch iPhone 15 model that's the entry-level flagship in Apple's lineup. We're also hearing a lot of iPhone 15 Pro rumors, with a 6.1-inch Pro model and a 6.7-inch iPhone 15 Pro Max very much in Apple's plans. As with the iPhone 14 vs. iPhone 14 Pro, the iPhone 15 Pro models figure to get the most premium features to distinguish themselves from Apple's regular phones. (Our iPhone 15 vs. iPhone 15 Pro comparison goes into greater detail.)
That leaves a fourth slot in the iPhone 15 lineup that will likely be filled by an iPhone 15 Plus. With iPhone 14 Plus sales reportedly lower than other models, there had been some speculation Apple might drop its other 6.7-inch device. But recent reports include a Plus model in the iPhone 15 lineup, so it sounds like Apple's keeping that option for at least another year.
Which current iPhones could disappear from Apple's lineup?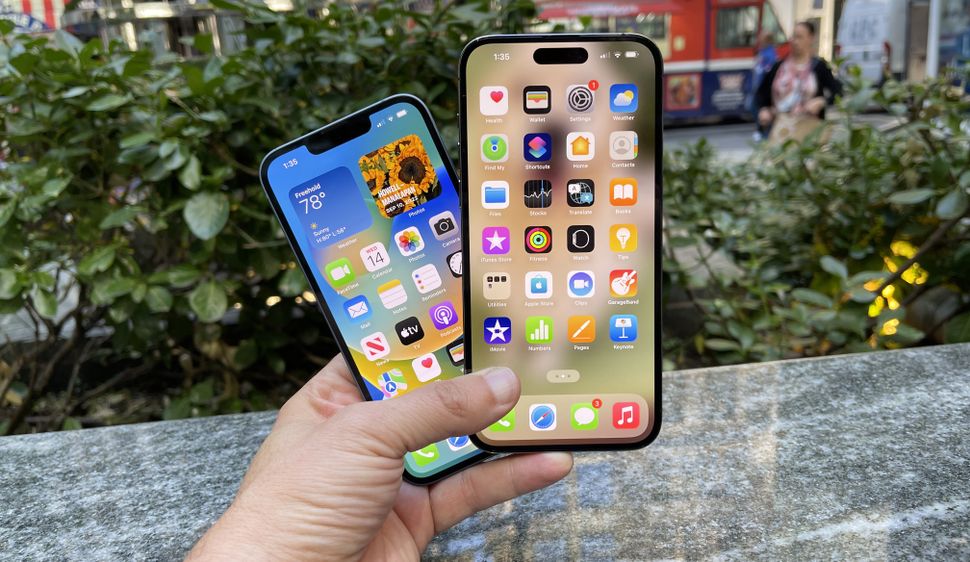 With four new iPhones arriving in the fall, Apple will have to do some trimming if it decides to keep its lineup at or around its current size. So which models are on the chopping block?
Start with the most obvious drop — we can't remember the last time Apple kept a three-year-old iPhone around, so September will likely mean the end of the road for the iPhone 12. Its position as an older discounted model will likely be filled by the iPhone 13, which we imagine Apple would keep around but at a lower price than before.
Two other likely goners include the iPhone 14 Pro models. That's no reflection on quality, as the iPhone 14 Pro Max in particular ranks highly on our list of best phones. Rather, it's an acknowledgement that Apple usually drops its Pro models after one year of sales — a practice likely to continue even though this year's Pros are rumored to be Apple's top sellers, thanks to all their features.
We'd imagine the standard iPhone 14 to stay around, though Apple will likely drop the price by $100. That's typically what happens to the base model iPhone every year, making the iPhone 14 a prime candidate to remain as Apple's $699 option.
That leaves us with the iPhone 14 Plus and iPhone 13 mini, with the fate of either phone anyone's guess. We'd imagine the iPhone 13 mini is likely to be eliminated from the lineup — reports claim the mini phones haven't sold particularly well over the years, and the iPhone 12 mini was dropped two years after its initial release.
The only reason Apple might keep the iPhone 13 mini around longer is that it would give the company a $499 option, assuming the usual $100 price cut, and it would serve as an option for the handful of small phone fans. Otherwise, though, there's no reason to expect the iPhone 13 mini holds out for another year.
The iPhone 14 Plus' fate is harder to determine, as this is the first time Apple's offered such a phone. However, with an iPhone 15 Plus and iPhone 15 Pro Max coming in the fall, a third 6.7-inch phone seems superfluous. Plus, a $100 price cut to the iPhone 14 Plus would put it at the same likely starting price as the iPhone 15. Apple can eliminate a lot of confusion just by dropping the iPhone 14 Plus.
Fall iPhone lineup outlook
All of these comings and goings leaves us with just seven iPhones on sale through Apple this fall — four new iPhone 15 models joined by the iPhone SE and the discounted iPhone 14 and iPhone 13 offerings.
As a reminder, that's all guesswork — Apple could surprise us by keeping extra iPhones around. And our likely iPhone lineup assumes the new iPhones will cost the same as their predecessors. If the iPhone 15 Pro models go up in price, for example, it's easier to imagine Apple keeping around an iPhone 14 Pro as a discounted option.
Until we hear more concrete rumors about iPhone 15 pricing, though, we're pretty confident that Apple's fall iPhone reshuffle will feature the usual additions and subtractions. Stay tuned to see if we're right.
More from Tom's Guide