Prime Day is here at last, and with it we're seeing an onslaught of deals across all kinds of tech and products. Whether you want to treat yourself to Prime Day TV deals, Prime Day laptop deals, or even the latest Prime Day robot vacuum deals, there's discounts to be had across the board. In fact, I test air purifiers for a living — and this 50% off Prime Day deal is the one I'd buy.
But, before you get carried away and start adding to your shopping cart, know that there are mistakes you can make on Prime Day. Mistakes that can waste your hard-earned cash and leave you with a subpar item. So before you excitedly scan the pages and look for the biggest reductions, read this first and make sure you're indeed getting a bargain. We will include some of our top tips when shopping on Prime Day as well as bad habits to break.
For more advice on which deals to buy, check out our Amazon Prime Day live blog for up-to-date savings.
1. Buying based on price
While the price is no doubt important — that's why you're shopping on Prime Day in the first place — you should not be guided by this alone. Depending on what you're looking to buy, the performance will vary between models, and this should always form a part of your decision. After all, if it costs a small amount more for a better product, then that's the way to go.
Remember that the price can reflect the features the product includes as well. If you're looking at Prime Day coffee machine deals, a more expensive model may come with an additional milk frother, or a capsule set to get you started. Take a look at what's included with the product to be sure it's suitable for your needs — don't just buy based on a reduced price alone. You may need to spend a little more to get the functions and accessories you need.
Likewise, don't judge solely on percentage reductions. While this promises the greatest saving, it may have been overpriced in the first place. Of course, keeping a budget in mind is essential to avoid overspending, and you should always check you're within it before purchasing. So we're not saying to overlook the price by any means. Just try to consider if the product offers what you need so you're not spending aimlessly.
2. Not checking reviews
So how can you gauge the product's performance before you buy? The easiest way is by checking out online reviews. Amazon offers a clear average 5-star rating at the top of each product's page. Take this into account, and make sure there's an ample number of reviewers to help guide you. 1,000 reviews will give a more trustworthy average versus 10. Look out for reviews which average 4.5 or higher for a consistent quality of performance. We recommend going one step further too. Go into the reviews themselves and scan through those that rate the product poorly. Look out for any common problems or faults — these can warn you before you purchase. And watch out for reviews that sound fake or sponsored. (These are usually overly positive in tone).
Amazon isn't the only source of reviews either. Product reviews are widely available online, with Tom's Guide being a reliable source. We test all kinds of tech, fitness products and home appliances, using each item at home exactly as you would. For example, when we test the best robot vacuums, each model has to collect a measured amount of Cheerios, kitty litter and pet hair to be assessed. Do your research before you buy and make sure you can be confident of the quality and suitability of the product. As Prime Day is a timed event with limited supplies, it can put unnecessary pressure on you as you shop.
3. Buying something you don't need
A great deal on what you know is a good product can be very tempting. For instance, the Apple Watch SE just hit lowest price ever for Prime Day. But, a bargain can be so enticing that we end up purchasing items we never intended. Consequently, it can be a waste of money, with such items becoming clutter in our homes. Personally, I have purchased and collected more appliances than I know in my kitchen — there's a bread machine, a blender and a food processor literally gathering dust in my cupboards.
Only set out to buy products you need and intend to use and don't be seduced by a bargain alone. Remember to take the size of what you're purchasing into account as well. Anything large, like a vacuum cleaner, will need to be stored. If you're unsure about buying a product, but you're being enticed by the limited Prime Day prices alone, you can always use a price checker to see how good a deal it really is. CamelCamelCamel can show the price history for Amazon products; so you can see if it's the cheapest it's ever been, or if it's not much of a reduction from the norm.
4. Not clicking the coupon button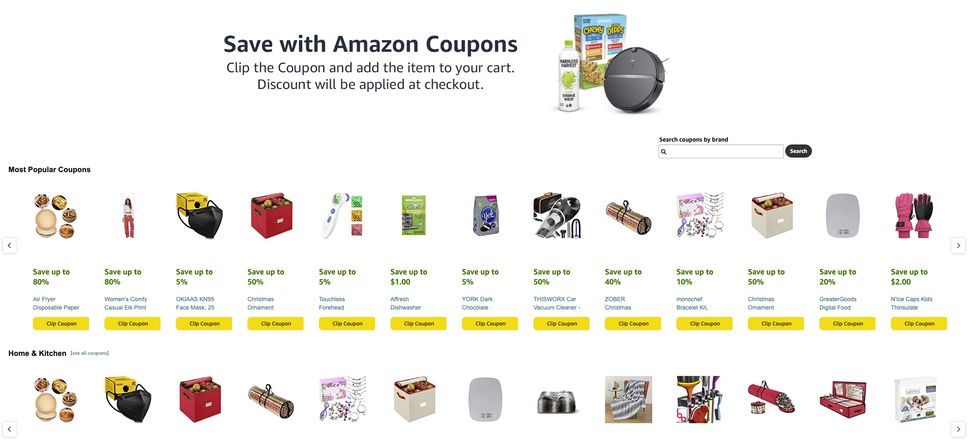 This is a smaller point, but still an important one. Look out for the coupon button when purchasing items from Amazon. This small check box, which is sometimes found underneath the price, will reduce the final price by a select amount of dollars. The savings here can be greater than you expect as well, ranging up to the $100's. There's no harm done in ticking this, and no signing up to anything. It's literally just deducting money from the price of the product.
This isn't an automatic process because it encourages you to make a purchase. Plus, this extra step as you shop makes you feel like you're making more of a saving too. While Amazon coupons are a sales tactic, it's still something not to miss out on if you're purchasing the product anyway. There aren't so many of these about during Prime Day itself, but they're still available on certain products, and something you should look out for over the rest of the year as well.
5. Forgetting to cancel Amazon Prime
For those who aren't subscribed to Amazon Prime, some of these deals are so enticing that we sign up just to get access to them. While this gives you a number of benefits, including access to the streaming service, you're still spending $14.99 a month plus tax once the 30-day trial is over. Even if you forget to cancel the trial one day late, you're effectively adding $15 to the price of what you've purchased.
If you're signing up for a free trial and have no intention of using the service after Prime Day, remember to set yourself an alarm once the sales are over. When this alarm sounds, make sure you unsubscribe as soon as you can. Don't put off this chore — it's all too easy to leave a membership running and waste money.
6. Not looking elsewhere
There's some great sales to be found this Amazon Prime Day, but it's not the be all and end all of sales. Before you make a purchase, always take a look around to check your product of interest is not reduced further elsewhere. Best Buy and Walmart each have their own sales running at this time of year, so there could be even more discounts on offer.
If the product you're keen to buy doesn't seem to be reduced anywhere, it may be worth waiting to see if it goes into the next round of sales — particularly if a newer version of the same product is soon to be released.
7. Getting carried away
It may sound like common sense, but whatever you do, don't go trigger happy on the add to cart button. With prices being as cheap as they are this Prime Day, it may seem harmless to buy whatever takes your fancy. But, prices can quickly add up, and before you know it you've overspent your budget on a list of items you never intended.
Take your time as you browse the sales and try to have a purpose behind each of your purchases — don't just buy a collection of items on a whim or a 'you never know' basis.
More from Tom's Guide