At a time when the world is getting ever more polluted — especially in New York — air purifiers are now good purchases. But they aren't cheap. Enter the Amazon Prime Day deals, which can take pricey purifiers and make them a bit of a bargain.
Case in point, you can get the Blueair Advanced Air Purifier 7470i for $288 at Amazon. The deal cuts the Blueair's price by 52% from $599; that's the cheapest it's ever been. There's currently a range of Blueair models on sale for Prime Day, but we've picked this one out in particular — not just because it's an amazing deal, but because we've tested it, and we know it's a capable air purifier to have at home. Not to mention it's as smart as they come.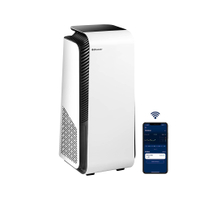 Blueair Advanced Air Purifier 7470i: was $599 now $288 @ Amazon
This air purifier can cover a large space, with a suggested room size of 418 sq. ft. Its average CADR scores of 275 across dust, smoke and pollen, mean it will effectively filter a range of pollutant sizes from the atmosphere too. However, as you'll see in our Blueair HealthProtect 7470i review, its smart features are where it stands out from the crowd. You can connect your phone to the appliance for live readings and guidance on the quality of your air.
Based on our Blueair 7470i review, this is pretty much as advanced as air purifiers come. By connecting it to your phone and accessing it via the Blueair app, you get live data on the quality of your air, including varying particle levels and information on carbon monoxide and sulphur dioxide. If you don't have your phone to hand, the quality of air is displayed via the LCD screen too — color coding helps to indicate this. Plus there's information on the local temperature, filter lifetime remaining and humidity too.
The app shows a graph to represent the current air conditions. This can help you solve what's contributing to sudden poor air quality — be it smoke from the kitchen, hairspray or even deodorant. But, it can also help you see the overall difference the air purifier is making, which is something these appliances often lack. If you're worried about the conditions outside of your home, the app lists information on this too, so you can better prepare yourself and best judge when to leave the house.
We were pleased with more than just the smart features when we put this model to the test. It scored 270, 275 and 280 for its CADR across smoke, dust and pollen — which means its an effective and fast-acting air purifier. It's also quiet in use, reaching 35.2 dB on its lowest setting during testing. On top of that, it's relatively intuitive to use, despite all that extra data. Be warned though, it does consume more energy than your standard air purifier, requiring 0.241 kWh over 24 hours.
Such a design is usually only available at a premium price, but thanks to Prime Day, it's at a more affordable $228 for a limited time. In the past, it's been reduced as far down as $299, but this latest deal discounts it by another $71 — so this is as cheap as we've seen it. For that reason, if you want to invest in a premium air purifier, but the hefty price tags have put you off in the past, this deal is seriously worth considering.
For more savings, check out all the best Prime Day deals we're rounding up in TVs, laptops, appliances, phones and more.