Casper is having a huge final sale on the Snug boxed mattress and this weekend you can get a king size Casper Snug for just $357 (was $595) at Casper. This deal is proving so attractive that the twin and twin XL sizes have already sold out, and we won't be surprised to if the queen sells out too at a mere $297 (was $495). All sales are final on the Casper Snug though, so there's no trial and no returns or exchanges.
In our opinion, the king size Snug is the best Black Friday mattress deal to pick here as with it you get an affordable and large mattress for under $400. Will it suit you though? It could be the best mattress for you if you enjoy sleeping on a lower profile, firm bed. We recommend firm mattresses to stomach and back sleepers, as the firmer feel keeps them on top of the mattress where their spine is better aligned.
Casper makes some of the best mattresses in a box for hot sleepers and those with joint pain. And while it's true that there are much better Casper beds than the Snug, if you have a smaller budget and need a mattress that offers maximum sleep space, decent comfort, and is surprisingly cool for a cheap model, you can't beat this one. Especially when a king is selling for just $357, plus free shipping.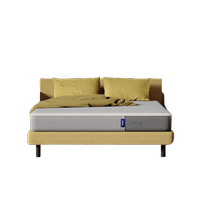 Casper Snug by Casper
Was: from $425
Now: from $255 (full size and up) at Casper
Saving: up to $238

Summary: This isn't a mattress that offers excellent pressure relief, fancy and powerful cooling technologies or even robust edge support. So if you're after all of that, we'd recommend checking out the best hybrid mattresses in this year's holiday sales instead. However, the Casper Snug is a good cheap mattress made by a trusted sleep brand. It offers firm support, which is great for stomach and back sleepers in particular, as well as kids and growing teens who need a firmer bed with a little bit of give and modest pressure relief. The Snug would make a good memory foam mattress for couples choosing their first bed together on a small budget, and a perfect guest room option. The only other alternative that comes close is the Sienna Memory Foam Mattress, which is 50% off at Sienna Sleep, driving the cost of a queen down to $399. It's more expensive than the Snug, but it does come on a 180-night trial.
Price history: From our analysis of past discounts, the best Casper mattress sales and deals offer from 8-15% off most months, but we don't always see savings on the Snug. That's probably because it's already so cheap, and with these new savings for Black Friday, we doubt it will drop any further. Considering how some sizes are selling out, we'd recommend buying soon to avoid potential disappointment.
Benefits: Free shipping | 2-10 year warranty from $39.99
Are cheap mattresses worth it?
We're still in a global cost of living crisis, and even though a mattress is incredibly important to the quality and duration of your sleep each night, it's still a big purchase. The good news is that affordable mattresses have come a long way in the last few years, with the best cheap mattresses punching above their weight in terms of support, temperature regulation and pressure relief.
Of course they won't do any of those things as well as better made (and therefore more expensive mattresses), and they won't last as long as a well-made mattress (eight to ten years on average, though latex beds last longer).
When considering buying a cheap mattress, look for the following to give you peace of mind that your budget is being spent as wisely as possible:
It offers a sleep trial of at least 30 nights – final sale options won't though
It comes with a limited warranty of at least one year (five years is better)
It contains materials to help dissipate heat
It has free shipping and returns