Apple is expected to debut its new Apple Watch Series 9 at today's Apple event. I love my Apple Watch 8 and while I don't plan on upgrading to Apple's latest flagship, I'll be tracking all Apple Watch deals from day one.
As deals editor at Tom's Guide, it's my job to find the best sales and provide the best buying advice. So if you plan on upgrading to the new Apple Watch 9, there's only one store I think you should watch — and that's Amazon.
In previous years, Amazon has been the first retailer to offer discounts on Apple's newest smartwatches. Additionally, Amazon has been unmatched when it comes to deals on the Apple Watch 8, Apple Watch SE 2022, and Apple Watch Ultra.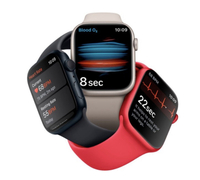 Apple Watch 8: shop all from $309 @ Amazon
The Apple Watch 8 is currently on sale for $309 at Amazon. That's $30 shy of its all-time price low and the second-lowest price we've seen for the Apple Watch 8. It's worth noting that the Apple Watch 8 hit an all-time price low of $279 on Prime Day and could see that price point again during the October Prime Day. In our Apple Watch 8 review, we called it the best smartwatch hands down.
Price check: $399 @ Best Buy | $324 @ Walmart
When will the first Apple Watch 9 deals appear?
The first Apple Watch deals will likely appear within a week of Apple's unveiling. Amazon has consistently been the first retailer to offer deals on the GPS models. If you're interested in the GPS + cellular models, the best deals will come from the likes of Verizon and AT&T.
However, keep in mind that carrier deals are conditional and will likely require that you purchase or upgrade to a new phone. If you were already planning on shopping for iPhone 15 preorders, then you could score yourself a discounted or free Apple Watch 9. Otherwise, I'd advise waiting a few weeks for better deals on the new watches.
What kind of Apple Watch 9 sales can I expect?
The first wave of Apple Watch 9 deals will be very modest. Last year, the base Apple Watch 8 saw a $10 discount just days after its announcement. It wasn't until early October — during the Prime Early Access Sale — that the Apple Watch underwent a more noteworthy price drop to $349. Amazon has confirmed there will be a Prime Day 2 this October and I'm confident that the Apple Watch 9 will see a $50 discount during Amazon's member's only event.
Note that Amazon hasn't confirmed a date for its October Prime Day. However, if you miss Amazon's event or if you're still unsure the new watch is for you, I predict we'll see the $50 discount again when Black Friday deals start to ramp up in November.
Bottom line: The first Apple Watch 9 deals will be modest and take up to $10 off the base models. I recommend waiting till October when retailers like Amazon could take up to $50 off.