The Meta Quest 2 may be a few years old, but it's still the best VR headset for most people. Its standalone design makes it super easy to use, and the vast library of Quest 2 games and apps means you'll never run out of things to do.
You can even play PC VR games on this device thanks to the Link cable or Air Bridge, which means the vast majority of the best VR games are playable on Quest 2, even if there isn't a version specifically for Meta's platform.
Granted, there are tradeoffs and sacrifices. PC VR headsets and the PSVR 2 are far more powerful than the Quest 2 — and may even be more powerful than the recently announced Meta Quest 3. And the battery life isn't the most impressive, but frankly, no VR headset manages killer battery life.
But here's the thing — PC VR headsets can cost over $1,000 and then still require a gaming PC to power the headset. That makes the PSVR 2 look affordable in comparison, but it still costs $549, plus a further $499 for a PS5. Meanwhile, the Quest 2 just got a massive price reduction to just $299 for the 128GB storage model.
This makes it probably the best time ever to get a Meta Quest 2. It's never been cheaper, there's a vast library and indications from Meta are that they'll keep developing for the Quest 2 for a while. And Meta is giving customers more value than ever through services like Meta Quest Plus — which gives you two games a month for $7.99 — and maybe even some giveaways to select users.
So with that in mind, here are three reasons why you should buy the Meta Quest 2 right now.
It's never been cheaper to buy a Meta Quest 2
Full disclosure: while it's never been cheaper to buy the Meta Quest 2, it's admittedly been this cheap before. When the Quest 2 launched back in 2020 as the Oculus Quest 2, it launched at $299 for a 64GB model. This was later replaced by a 128GB model at the same price point.
But then Meta upped the price by $100 in August of last year and it seems to have been a mistake. Ever since the initial price hike, Meta has gone through a series of promotions and price reductions, including a massive one in March that dropped the 256GB model by $70.
Now, it looks like Meta is keeping the price low — permanently. You can get the 128GB model for $299, or you can get the 256GB model for just $50 more. At $349, the 256GB model truly has never been cheaper, and paying an extra $50 to double your storage is worth the upgrade. So if you waited till now to buy a Quest 2, you've never gotten better value for your money.
Meta will continue updating Quest 2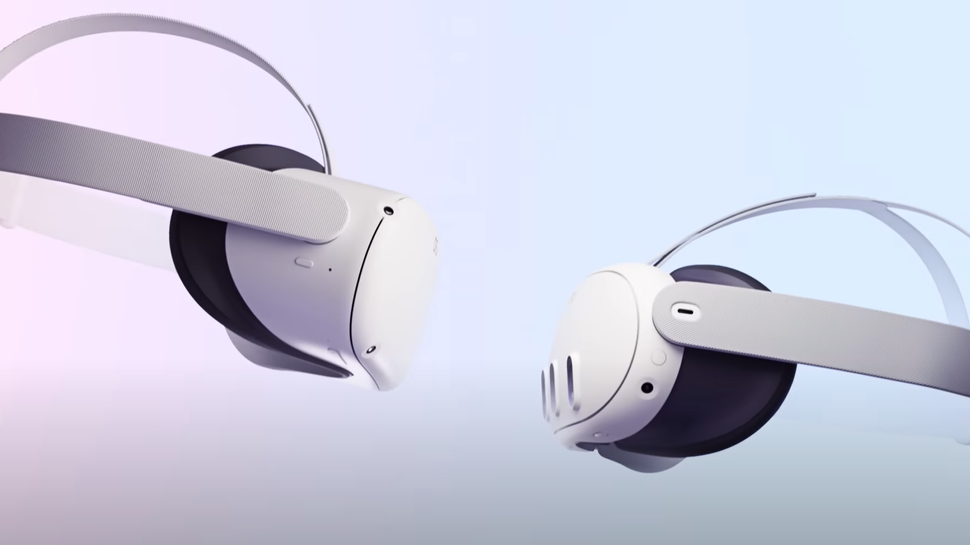 Of course, you could read this and conclude that Meta is lowering the price on soon-to-be-obsolete hardware. But all indications from Meta are that they view the Meta Quest 2 as part of a larger Quest product line with the Quest 2 at the entry level and the Meta Quest 3 at the top.
In its blog post announcing the Quest 3, Meta gave some specific details about what it has planned for the Quest 2. There was the price reduction already mentioned, but Meta also announced that it'd be dropping software updates to improve the performance of the Quest 2. In this software update, Meta was going to improve the Quest 2's CPU performance by 26% and its GPU performance by 19%. This update has since come out as v55.
Not convinced that the Quest 2 is still sticking around? How about this quote from the next paragraph in the blog post? "We'll continue to sell Quest 2 and Pro alongside Quest 3, and we'll keep shipping new software updates to make the Quest experience even better."
Granted, trusting Meta to keep its word could be considered by some to be a tall order, but this seems pretty unequivocal in stating that the Quest 2 is sticking around. And while it will no doubt eventually be sunset, you can at least feel confident that the Quest 3 launching won't render your Quest 2 obsolete.
You can great games for a very cheap price
Recently, a Meta Quest 2 user took to Reddit to show off an email indicating that Quest 2 users could be getting a free accessory. And while it would be awesome to see Meta just giving away stuff for free, there's no indication that this promotion will be coming to every Quest 2 owner.
But every Quest 2 owner can get Meta Quest Plus. Quest Plus may be yet another subscription service with an unoriginal name, but it does have an enticing price point of just $7.99 a month. With that, you get two curated games every month that you can redeem and play as long as your subscription is active. If you cancel your Quest Plus subscription you lose access to the games, but you can get access back as soon as you reactivate your subscription.
And in its first month alone it could save you some serious money. One of the first Quest Plus games — Pistol Whip — is $29.99 normally. But for $7.99 a month, you can get it and Pixel Ripped 1995 from July 1 to July 31.
If you want to get Quest Plus access even cheaper, you have options there, too. An annual subscription is $59.99 a year, saving you over 37% over the course of a year. And if you're not convinced about Quest Plus, you can try it right now for just $1. That promotional offer will expire on July 31, 2023, so make sure to take advantage of it before it's gone.
Honestly, for $1, it's worth it just to play Pistol Whip for a month. Not only is it one of our favorite VR games of all time, but it's also one of the seven games we recommend playing first when you get a Meta Quest 2.
More from Tom's Guide