The best PC games of 2020
Best PC Games
PlayStation 4 Pro or Xbox One X? How about neither? PC gamers have been playing games at 4K resolution for a while and at a much higher framerate than 60 frames per second. You can get The Outer Worlds on other platforms, but you'll have the best time with it on PC. And while console players have been able to enjoy Red Dead Redemption 2 since 2018, PC players can finally experience Rockstar's western epic on their much more powerful hardware. 
But for the time being, whether you're a PC pro or a newbie, here are the best PC games to play right now on your gaming PC or gaming laptop. Need something more immersive? Be sure to also check out our roundup of the best VR games.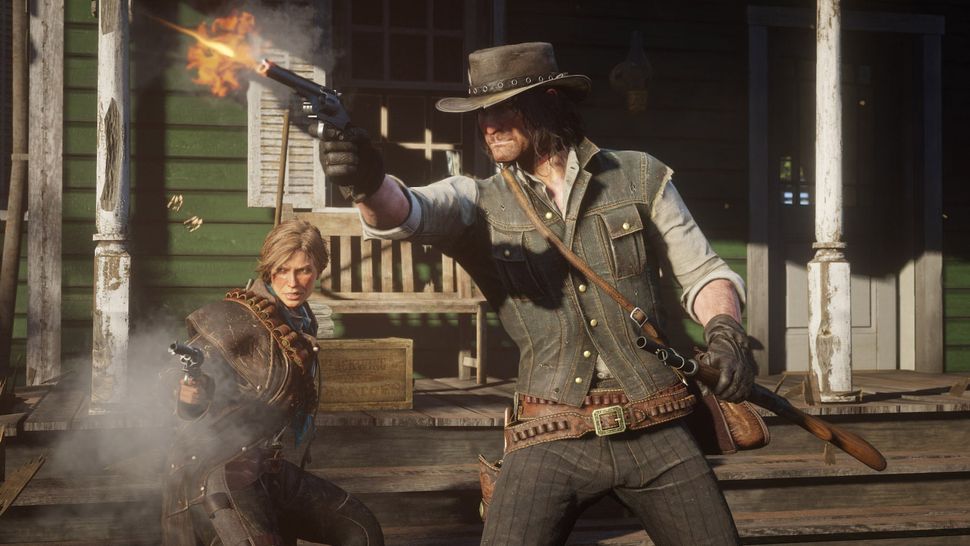 Red Dead Redemption 2
The Wild West is becoming just the West in 1899, but you play Arthur Morgan, one of the last outlaws still operating as part of the Van der Linde gang. You and your fellow members must outrun the law while stealing enough to survive.
Aside from fighting with lawmen and bounty hunters and engaging in thievery, hijacking and other criminal pursuits, there's a wealth of detailed systems to explore, such as hunting, cooking, gambling and duelling, plus numerous random encounters to find on your way through the world. It's going to be a long journey whether you take your time or try to rush through the game, but RDR2 is well worth a look.
Credit: Rockstar Games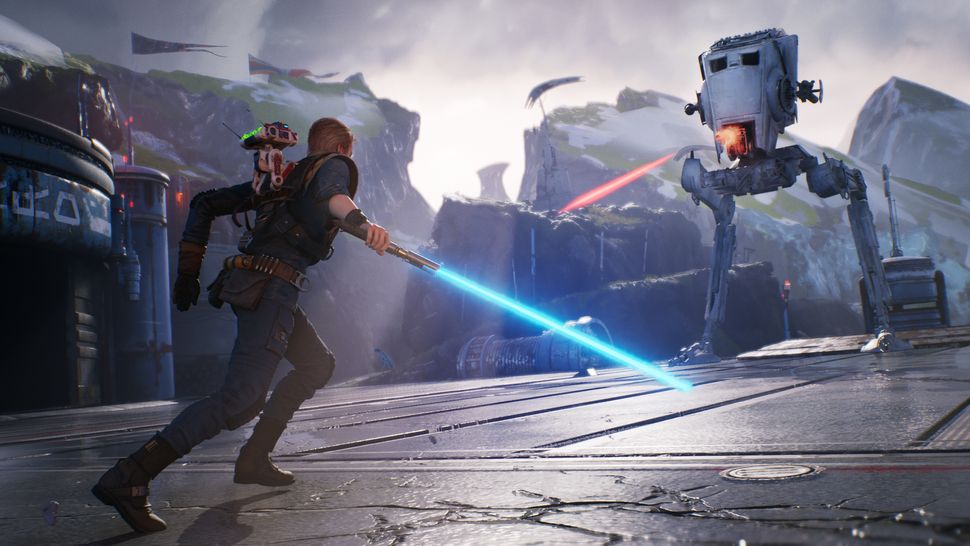 Star Wars Jedi: Fallen Order
After the Galactic Empire has risen, and almost every Jedi has been hunted down and killed, you play young Padawan Cal Kestis trying to continue his training in order to survive.
You'll travel between planets you know from existing Star Wars stories, plus some new ones, alksdjf;a and progressing the story of Cal on the run from an Empire Inquisitor. You'll fight both Empire soldiers and unfriendly wildlife with your customizable lightsaber and Force powers, while also traversing the environments with acrobatic movements and solving puzzles, which will mean visiting planets several times to get everything you need. The thrill of wielding Jedi powers and the well paced building of your skills means you're always eager to keep playing for your next upgrade.
Credit: Electronic Arts
Planet Zoo
Whether you want to design a zoo from scratch, operate an existing one in a unique scenario or create one without the limits of space or money, Planet Zoo will let you put together a wildlife experience 
There's plenty of depth to explore in this game, as your responsibilities don't end when you place an enclosure. You'll have to make sure the animals within are well fed, kept within suitable environments and cared for by well trained zookeepers, otherwise your guests will be replaced by protestors. But since the exotic beasts you can look after are modelled with such detail, you'll be strongly motivated to give them the best life possible before releasing them back into the wild.
Credit: Frontier
Phoenix Point
After a long-dormant alien virus emerges and mutates much of life on Earth, you take command of the soldiers of one of a few surviving human enclaves in 2047 trying to push back the tide of monsters and enemy factions.
Much like the original Xcom, the creator of which also worked on Phoenix Point, this game relies on slowly venturing your way through environments swarming with enemies, and carefully planning your sequence of attacks and use of special gadgets when you come across them. This is then combined with a higher strategic layer of making your way across the world, making friends and enemies and researching new technology to get an edge in future fights. It's super tense, but the turn-based system means you can take things at your own pace, and think your way out of almost any problem.
Credit: Snapshot Games
The Outer Worlds
Awaking after decades of being lost on your way to a distant colony, you find that life moved on without you, with corporations ruling every aspect of the people's lives. Travelling between the different outposts, you must fight or charm your way to the centre of power, with the help of companions with their own storylines to follow. Will you find a place in the company hierarchy, or will you become an antitrust guerilla taking them down? The game lets you make this and many other tiny choices as you go.
Credit: Obsidian Entertainment
Disco Elysium
You're a detective in the city of Revachol, and are suffering from just as many issues as the town itself. When a murder victim is discovered hanging from a tree, you and your more stable colleague from the next precinct over are tasked with solving the case. Use your brains or brawn to get to the bottom of this crime, improving your skills and gaining new quirks as you go. You'll either under up a credit to the force, or a disgrace.
Credit: ZA/UM
Untitled Goose Game
Make mischief as a goose determined to spoil the peaceful climate of a small village. Armed with your beak, wings and a loud honk, you will complete a list of tasks around town to open up new areas, where you can then find new people and objects to mess with. With a simple but cute art style, this is a gentle way to work out a day's frustrations though unprovoked avian chaos.
Credit: House House
Control
Within The Oldest House, the headquarters of the Government Bureau of Control, something evil and alien has emerged, and it isn't friendly. As Jesse Faden, a victim of a related incident, you navigate and fight your way through this strange facility using conventional(ish) weapons and superpowers bestowed upon you by the contents of the Oldest House's vaults. It's a mindbending challenge for fans of government conspiracy stories and incomprehensibly enormous forces.
Credit: 505 Games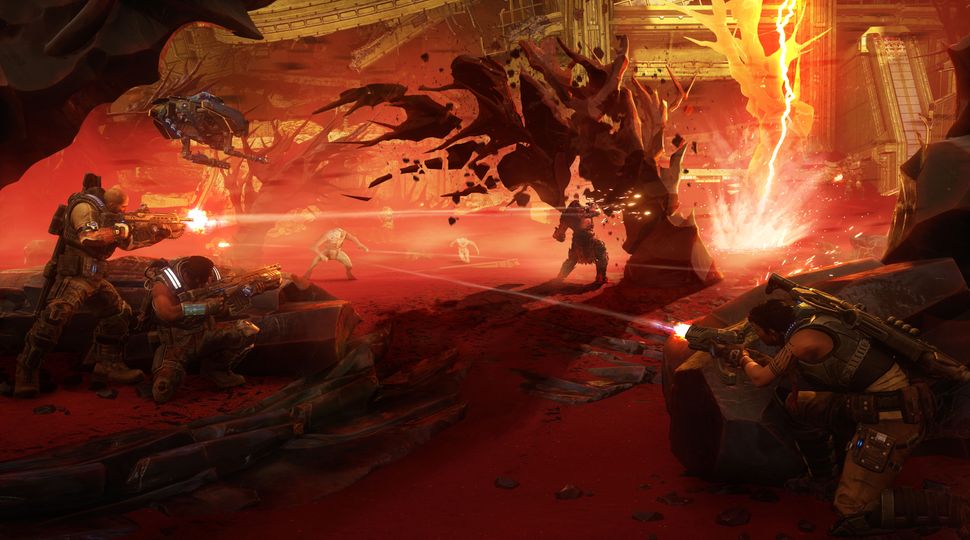 Gears 5
Changing enough to keep it fresh but keeping most of what made the series so beloved, Gears 5 is the new highpoint for the Microsoft-exclusive third person shooter franchise. Following on from the story in Gears of War 4, Kait, JD and Del rejoin the COG Army to take on the Locust Horde once again and save what remains of the human race. And once you're done with the campaign alone or in co-op, you can try out your combat skills with your friends in Horde or Escape mode, or against them in traditional multiplayer modes.
Credit: Microsoft
Moonlighter
Moonlighter is a colorful little pixelated dungeon crawler/capitalism simulator. A lot of inventory management is required to succeed at the game's main objective of finding the best dungeon loot to pawn off back at your shop in Moonlighter's financially prosperous main hub, the village. You can hire employees, fulfill customer orders, fight monsters and risk exploring extra-hard dungeons at nighttime, if you dare. If you've ever wanted to role-play as an employee at an Amazon order-fulfillment center (that specializes in killing creepy creatures), this is the quirky, cute, 2D Zelda look-alike for you.
Credit: 11 bit studios
Monster Hunter: World
Monster Hunter: World is an open-world action adventure RPG which has you suit up to take down massive monsters across expansive, exotic maps. The game's core appeal revolves around upgrading your gear so you can take down bigger, badder beasts, and it's a blast. The gameplay is tight and exhilarating, the graphics are stunning and there's a wealth of content to keep enraptured players busy for a long while. You can play through the entire game alone or with friends, to boot, though MH:W does suffer from some noteworthy network connectivity issues. Barring that one issue, though, World is a monster hunting romp that's fun to experience solo or with friends.
Credit: Capcom
Devil May Cry 5
Dante's back and better than ever. At long last, Capcom released Devil May Cry 5, which brings the crew from the four previous games to fight a new threat of the demonic nature. That's right, not only do you get to see Donte back in action with all his signature tricks, Nero and his devil arm is on deck, ready to punch evil into oblivion. And if that's not enough, there's a new protagonist named V, who uses demon familiars to beat foes into submission. Together, they'll drive back the demon hordes the only way they know how -- in smokin' sexy style.
Credit: Capcom
Destiny 2
At long last, PC gamers can get in on the Destiny craze. Destiny 2 marks the first time a game in the series will be available on PC and it was definitely worth the wait. Boasting breathtaking backdrops and deeper character development, this first-person shooter is bigger and grander than ever before. You'll step into the shoes of a Guardian fighting against Ghaul and the Red Cabal army as he attempts to steal the light of the mysterious Traveller. There will be scores of intergalactic firefights, but thanks to the multiplayer feature you won't have to do it alone. Are you ready to battle Ghaul and collect some exotic loot along the way? Then suit up!
Credit: Activision
Return of the Obra Dinn
History, puzzles, mystery and a magic stopwatch, the Return of the Obra Dinn is a compelling title that drew lots of critical acclaim. Created by Papers, Please developer/publisher Lucas Pope, the game has a black and white monochromatic design that mimics the animation of home computers from back in the day. After being lost at sea for six years, the Obra Dinn miraculously reappears, but without any of its crew. As an insurance adjuster for the East India Company, it's your job to find out what happened to the crew using deductive reasoning and the Memento Mortem stopwatch, which allows you to see the moment when a person on animal dies.
Credit: 3909
Assassin's Creed Odyssey
Forza Horizon 4 dreams big in a way racing games rarely do anymore. You get an absolutely massive map with hundreds of endlessly modifiable cars, but what makes Horizon stand out isn't simply the breadth of its content — it's the life of its world and the understanding that you are in command of your own destiny every time you step in it. It's the title anyone who has a passing interest in going fast should purchase because it does practically everything well. 
It's Nazi-hunting season. Picking up from 2017's critically-acclaimed Wolfenstein II: The New Colossus, Wolfenstein: Youngblood follows the exploits of Jessica and Sophia Blazkowicz, the twin daughters of series protagonist B.J. Set 20 years after Colossus, the girls embark on a journey to track down their father who's gone missing during a mysterious mission in Paris. Expect all the bloody action you've come to know in love from Wolfenstein times two since you can either play by yourself or do co-op with a friend. 
Credit: Bethesda
Assassin's Creed Odyssey winds the clock back to 431 B.C.E. and casts players as a Spartan mercenary during the tumultuous Peloponnesian War. Exploring the enormous ancient Greek world is a delight. Fighting feels tighter and more challenging than before. Naval combat makes a triumphant return. The series has never had a bigger, more detailed, more customizable game. 
Credit: Ubisoft
Cuphead
Cuphead is like a heaping helping of nostalgia, combining the teeth-grinding difficulty of games like Contra with the whimsical art style of a 1930s cartoon. Following the exploits of Cuphead and his brother, Mughead, you're tasked with collecting soul contracts from a variety of characters in the game's world. Collect enough, and you can keep the devil from collecting your soul. But be warned: The battles aren't easy, and you're going to die over and over again. It's one of the most deceptively challenging games to come out in a long time. 
Credit: StudipMDHR Entertainment Inc.
Phoenix Wright Ace Attorney Trilogy
Take that! At long last, the world's favorite attorney makes the jump to PC. Phoenix Wright and company will try to find the guilty party in a bundle that includes the first three Ace Attorney games (Phoenix Wright: Ace Attorney, Phoenix Wright: Ace Attorney − Justice for All and Phoenix Wright: Ace Attorney − Trials and Tribulations). Each game has been updated with high-definition graphics so Wright will look his best as he dukes it out in the courtroom. 
Credit: Capcom
Resident Evil 2
Resident Evil 2 has been released more times than we can count. But trust us on this –– you need to play it this time around. This time around RE2 is more than a re-release, it's a full remaster as it's been rebuilt from the bottom up, ditching the loathsome tank controls and updating the graphics to near photo-realistic quality. It's even scarier and more gore-soaked than the initial entry. Plus, you've got the terrifying Mr. X, who's become an early 2019 meme star.
Credit: Capcom
Octopath Traveller
This love letter to RPGs has finally made the leap from the Nintendo Switch to PC. Square Enix is one of the masters of pixel art, and Octopath Traveller is another beautiful feather in the company's cap. In the sprite-based artwork, 2D characters move in a gorgeous 3D world that's covered in 16-bit textures.The combat is familiar, yet novel enough to keep you guessing. And the idea of exploring different potentially non-converging stories in one shot is definitely intriguing. 
Credit: Square Enix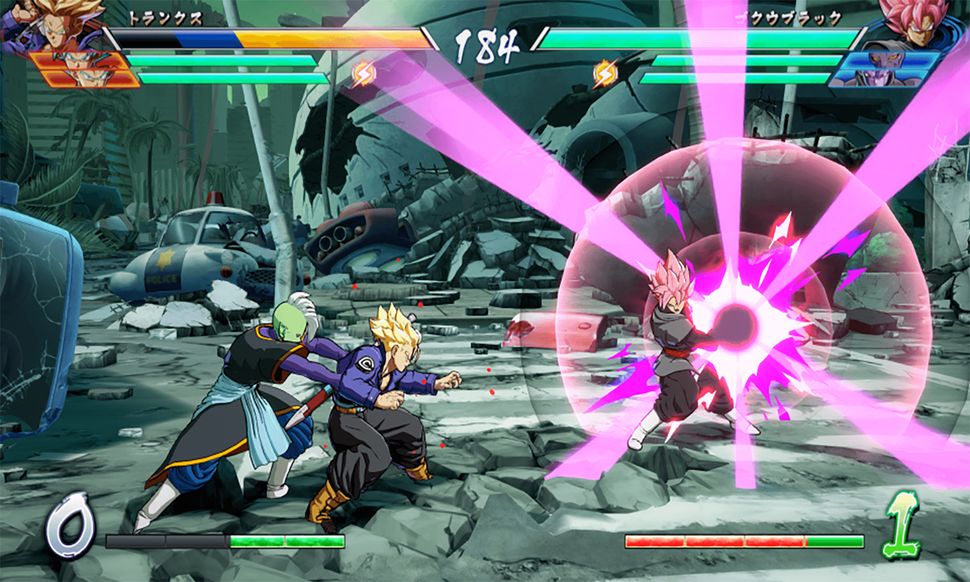 Dragon Ball Fighterz
Calling all Dragon Ball Z fans! Ever wish you could rewrite Yamcha's unfortunate end at the hands of the Saibamen? How about letting Vegeta get his revenge on Hit? Now's your chance with the new Dragon Ball FighterZ. Created by the team behind the Guilty Gear games, Fighters is one of the most gorgeous, well-presented fighting games we've ever seen. Stuffed to the gills with your favorite DBZ fighters throughout the years (and a few new characters), the game looks like it was ripped straight from the anime complete with the devastating Kamekameha blast, instant transmission teleportation and you've-got-to-see-it-to-believe-it combos. Not a DBZ fan? Not to worry, there's an excellent fighting game beneath all that Dragon Ball Z fan service. 
Credit: Bandai Namco Entertainment
Okami HD
When it debuted back in 2006 as a PlayStation 2 title, Okami quickly became a critical darling for its gorgeous Japanese watercolor art style and innovative paint-themed combat mechanics. Gamers will once again have the chance to save the world one brush stroke at a time with the remastered Okami HD. It's an ageless classic that deserves a place in your collection.
Credit: Capcom
God Eater 3
Get ready to hack, slash and unleash a wide swath of destruction. The latest entry in the Bandai Namco action RPG series, you're once again hunting down giant monsters dubbed Aragami, determined to consume Earth and its resources. You are a God Eater, mankind's last hope for survival against the unyielding threat. Wielding a devastating weapon known as God Arcs, you take the battle to the Aragami in a desperate fight for survival. 
Credit: Bandco Namdai
Bloodstained: Ritual of the Night
After four long years of waiting, Bloodstained: Ritual of the Night has arrived to scratch our itch for another Castlevania. What started as a Kickstarter by former Castlevania developer Koji Igarashi, blossomed into a beautiful game that plays homage to beloved series while still standing on its own. You play as Miriam, a young Shardbinder on a mission to stop/save her fellow binder Gebel as he's opened a portal to Hell in revenge for horrific events 10 years prior. Use a mix of knives, whips, swords and guns to drive back the forces of evil in this pretty gothic side-scroller. 
Credit: 505 Games
Dark Souls III
Got a few hours to kill and love a good mystery? Then you should check out What Became of Edith Finch, a story-driven first-person experience. Lasting 2-3 hours, the game lets you explore the vast Finch home as the titular Edith. You're tasked with learning about each family member's lives as well as their end at what might be a family curse. It's a beautiful celebration of life and death that's emotionally and visually gripping.
Credit: Annapurna Interactive
Sonic Mania Plus takes the already jamming, pixelated perfection that was Sonic Mania and gives it an extra shot of Red Bull. Plus adds 4-player splitscreen multiplayer, Ray the Flying Squirrel, Mighty the Armadillo and some neat tweaks to the game's original levels. When you add that on top of the original Sonic Mania experience, which was freakin' fantastic, this budget-friendly 2D speed platformer is a no-brainer for anyone craving an impulse buy. Seriously, have you heard the soundtrack?Existing owners of Sonic Mania can upgrade to Plus by buying the Encore DLC ($4.99) on Steam.
If you're looking for a deep puzzle game to sink your teeth into, then The Witness is what you want. While the puzzles may seem simple at first, the masterful way in which The Witness builds upon on previous challenges to create increasingly complex tasks results in an immensely satisfying learning experience that gets better and better the further you go. And that's even before you get to the game's gorgeous visuals and its overarching goal of uncovering the secret of the deserted island where the games takes place. For just $40, this game is a steal.
With the release of its new expansion, Stormblood, Final Fantasy XIV has never been better. Stormblood introduces new dungeons, raids, gear and a higher level cap for players to experience as they explore a whole new story centered in Ala Mhigo. There are even two new jobs to try out — the red mage and the samurai — so even veterans have their work cut out for them. And if you don't want to spend weeks grinding through old content to see what's new in Stormblood, you can also use level boosts and scenario boosts to skip ahead and jump right into the thick of things.
Credit: Square Enix
For fans of From Software's signature blend of tight sword-and-sorcery, or people simply looking for a solid RPG, Dark Souls 3 is a must-play. Not only does it provide 40-plus hours of intense fireball throwing, dodge-rolling, sword-and-board action, DS3 also looks to finally resolve the struggle between the Age of Fire and the Age of Dark. And now that Dark Souls 3's latest DLC is out, The Ringed City, there's even more sword-swinging, shield-blocking, and spell-throwing combat to love.
And if you're a new players having a hard time getting used the ins and outs of Dark Souls combat, check out our handy guide for lots of tips and tricks.
Credit: Bandai Namco Entertainment