Tomorrow's Concepts from E-Tech Conference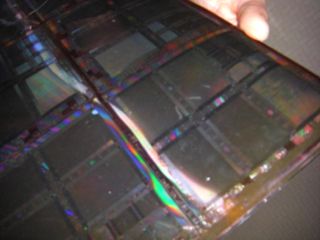 Cheap Low-Power Screens
Your next netbook could have a low-cost display called 3Qi that combines features from the low-power, One Laptop Per Child XO PC with an even lower-power, electronic-paper-style display with triple the resolution. The screen could also be able to display full-scale graphics for when you want to enjoy video. The company, 3Qi, will sell 10" screens to laptop makers this year. The 3Qi is an LCD screen made of glass, but if manufacturers switched to plastic, it would be cheaper to produce since components can be printed onto it directly. That's because HP spin-off Phicot has worked out how to etch 3D components on a plastic sheet without slippage or stretching. This control layer is only the first step, and there are still problems to iron out, but Phicot screens could eventually serve as high-quality e-paper at a tenth of the cost of today's cheapest LCD display.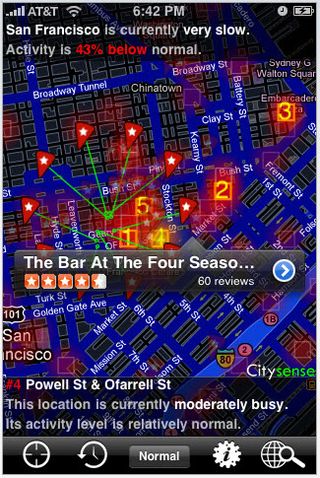 Learning About People From Phones
Is the credit crunch changing behavior? Well, people with GPS phones in San Francisco are going out on the town 30% less often than they used to, according to Sense Networks. Sense Networks compares location data from phones to taxi journeys to business locations and demographics to find out what kind of person you are based on where you go. Run the free Citysense app for iPhone and BlackBerry, and in exchange for using your anonymous location, you can see where people like you are hanging out and what bars and restaurants you might like best, without ever telling the system anything about yourself. Today, it's just San Francisco, but Sense wants to give you the flow of people from place to place in many cities around the world.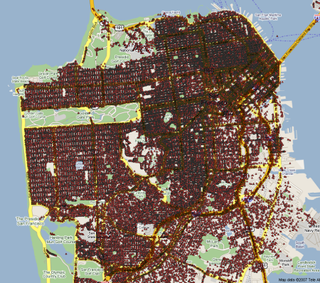 Using WiFi For Location
GPS isn't the only use for location data. There are millions of San Francisco WiFi hotspots in homes and in businesses. They don't move very often so Skyhook drives around creating a massive database of locations to turn the hotspots into an accurate navigation tool (it powers location in Google Maps on smartphones). It's not as accurate as GPS, but it'll pinpoint your location within 20 to 30 yards, which is enough to find you on a street. The next step will be what Skyhook calls XPS, a system that uses cell location and GPS along with WiFi locations to find you quickly, helping phones and PNDs zero in on your location.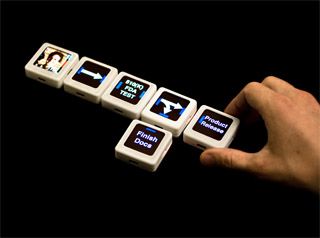 Siftables: Dominoes Meet Flow Charts
Imagine tiny computers that you can arrange like dominoes or Scrabble tiles in order to play a game, tag photographs, or create a sequence of music. Each Siftable has a tiny screen, accelerometer, proximity sensor, and Bluetooth radio so you can put two Siftables side by side, or "tip" information from one to another. Tilt a Siftable forward to play music or back to rewind. Sort Siftables showing photos into piles to organize them as they make arranging information like arranging physical objects. There's no price or launch date yet, but MIT and Taco Labs are talking with factories about producing Siftables cheaply.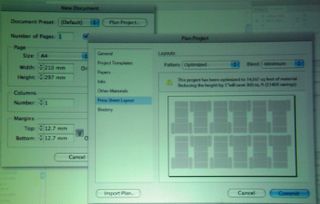 Adobe Will Help Designers Generate Less Paper Waste
There's a lot of paper out there and much of what's printed on it was created with Photoshop and other Adobe design tools. Adobe's CTO Kevin Lynch talked about how Adobe can help designers use sustainable inks and materials and less paper. This feature won't be in the next version of Photoshop, but one day the "Print Dialog" screen might show you how much cash and how much carbon you'll save on a big print job.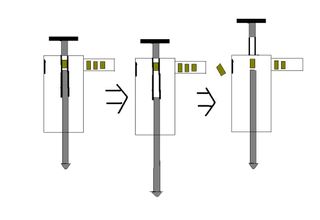 Bang! Bang! You're Healthy!
At the Energetic Materials Research and Testing Center, industrial diamonds are made from massive explosions that produce immense amounts of heat and pressure. Scientists know a lot about the chemistry needed to make explosives, so why not find new ways of harnessing their energy? The future may not just be explosive-powered jackhammers, but also tiny medical explosives imploding tumors and clearing out clogged arteries. You could even use them to cook food, explosively making popcorn in a bag, and even tap the heat of an explosive to warm your home.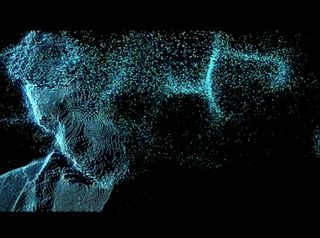 Robot Cars and Radiohead Videos
Aaron Koblin used the same Velodyne lidar laser scanning system that guides robot cars in the DARPA Grand Challenge to make Radiohead's "House of Cards" music video (the close-up shots of faces use a geometric scanning system to get a more detailed image). He has created visualizations of flight patterns over the United States and turned data based on long-distance phone calls and network connections in and out of New York into things that look more like art than boring charts. He unveiled his latest project at Etech: a Bicycle Built for Two Thousand, using Amazon's Mechanical Turk to recreate "Daisy Bell," the song HAL sang in the movie "2001: A Space Odyssey" (which in 1962 was the first time a computer was used to synthesize music). The song is based on the combination of audio fragments sung by 2,088 people.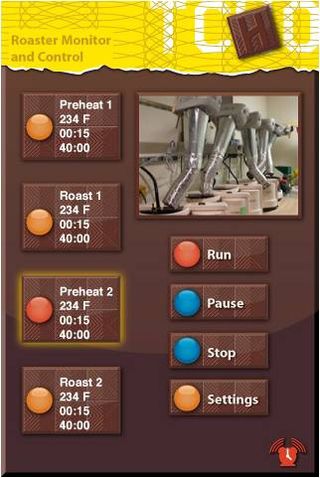 Chocolate 2.0
Add Web 2.0 techniques to the art of chocolate-making and you get better chocolate. Like many other fair-trade companies, San Francisco chocolate maker Tcho works directly with cacao bean growers. But beyond simply suggesting better ways to ferment and dry beans, the company collects data directly from temperature and weather sensors and feeds that into a detailed database. Tcho also has its very own iPhone app for checking and controlling the machinery in the chocolate lab remotely. It's not just for fun as growers and traveling chocolate scientists can collaborate with workers in the lab more easily if they can see what's happening. And like any good technology company, Tcho offers beta versions of new flavors.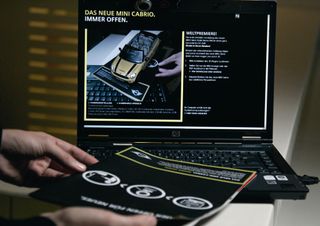 Layering Virtual Reality On Top Reality
There's real reality and virtual reality, but then there's augmented reality where the real and the virtual are blended together. Metaio is using this technology to help companies build and repair cars and even sell them, with a series of interactive advertisements from Mini Cooper that use a Web cam to turn a magazine page into a 3D animated model of a car. But, it isn't just for cars. Curious just how that chair will fit in your room? Metaio has an iPhone application that will do just that.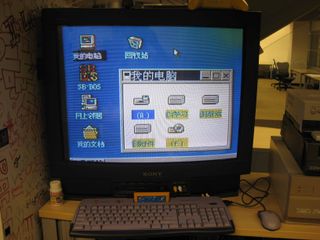 The $100 computer? Try The $12 Computer
Emerging technologies don't have to be new. Take the $12 PC, for example. It's already here in the shape of millions of Super Famicon clones all across the developing world. Hooked up to TVs, these game computers make ideal educational machines. Playpower is working with veterans of the demo scene and chiptune music composers to create a new generation of 8-bit educational games for these ultra-cheap PCs. These "TV Computers" have the same chipset as the old Apple II and the Commodore 64 do, which were machines that introduced computing to millions in North America and Europe.